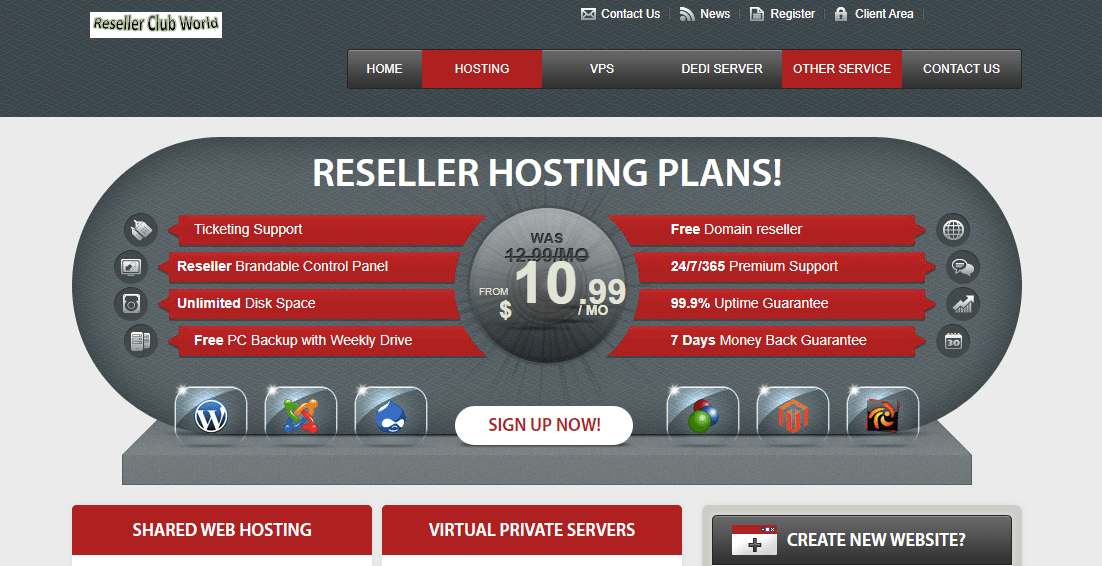 Reseller Club World has been in business since 2009. It offers domain registration, web hosting, business email, and web development. It has hosted more than 12,000 clients in 96 countries and caters to both individuals and businesses. Its servers are located in Washington, Seattle, Dallas, and Bangalore. Its webpage is available in English only.
Features and Ease of Use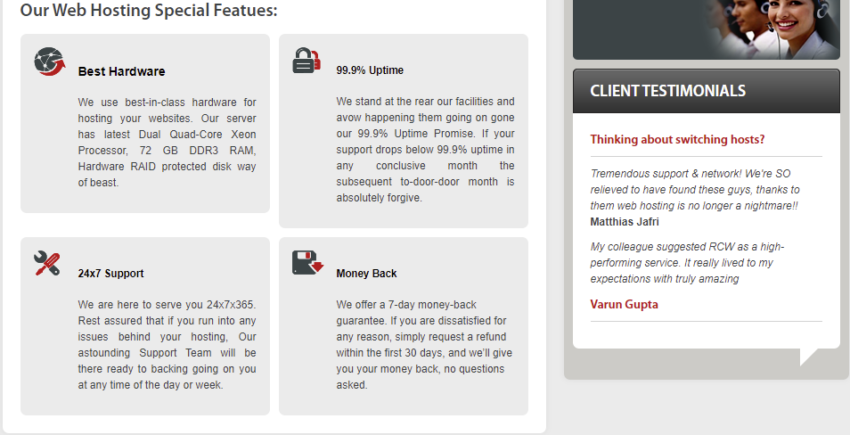 Reseller Club World offers three shared hosting plans that should work for small business websites. These are its provided features:
99.9% uptime
1GB, 10GB, or 20GB storage
One, three, or unlimited add-on domains
Anywhere from 10GB to unlimited bandwidth
Setting up and installing applications wasn't so easy in the past, especially for people that are new to the environment. You could set it up in a totally wrong folder or fail to simply set a configuration file. An application installer can take care of most things for you; all you need do is choose your domain and everything else is taken care of. Thankfully, Reseller Club World provides one.
Many people run to site builders these days due to ease of set-up and use. They aren't bad, but sometimes you want to control your hosting. Reseller Club World provides both worlds – hosting with a website builder tool.
Hardware failure happens but without an extra source of your data, you'd be left in despair. Reseller Club World knows that and uses disks in RAID to ensure that there's a viable data source if one disk fails.
Customers get the latest Dual Quad-Core Xeon processor and shared hosting customers share 72GB RAM. Be aware, though, that the company states its servers take 10,000+ customers together, so the RAM isn't great for that bulk.
If you need more features, its VPS plans offer those with support for Ubuntu, RedHat, CentOS, Debian, and Gentoo Linux.
Finally, given that its name is Reseller Club World, it wouldn't be fair to write about its other features without mentioning the reseller hosting. It has two categories: reseller and master reseller. The Reseller plans allow ether 20, 50, or unlimited cPanel accounts, while the master reseller allows more cPanel accounts as well as WHM accounts. Depending on the reseller plan you choose, you can get free SSL certificates, free WHMCS, and a free payment gateway.
Pricing and Support
Reseller Club World offers low-cost reseller and VPS plans, which you can pay for on a monthly basis. The dedicated servers aren't expensive, either. However, the shared hosting plans are not all cheap for the features on offer. The top plan, for example, is priced quite high. I expected less for the features I saw, especially when compared with similar offers from its competitors.
Also, despite displaying monthly rates on the shared hosting page, it is only available with an annual subscription.
Fortunately, there's a money-back guarantee of 30 days along with an SLA guarantee for seven days. If you experience uptime below 99.9%, you can get a credit of one-month hosting, but you must claim it within seven days of the monitoring dropping below 99.9% uptime.
Customer support works 24/7. You can reach them through phone and support ticket. The company promises that tickets will be replied to in 30 minutes or less, else you can request a refund. However, in my experience, I never got a response even more than two weeks later.