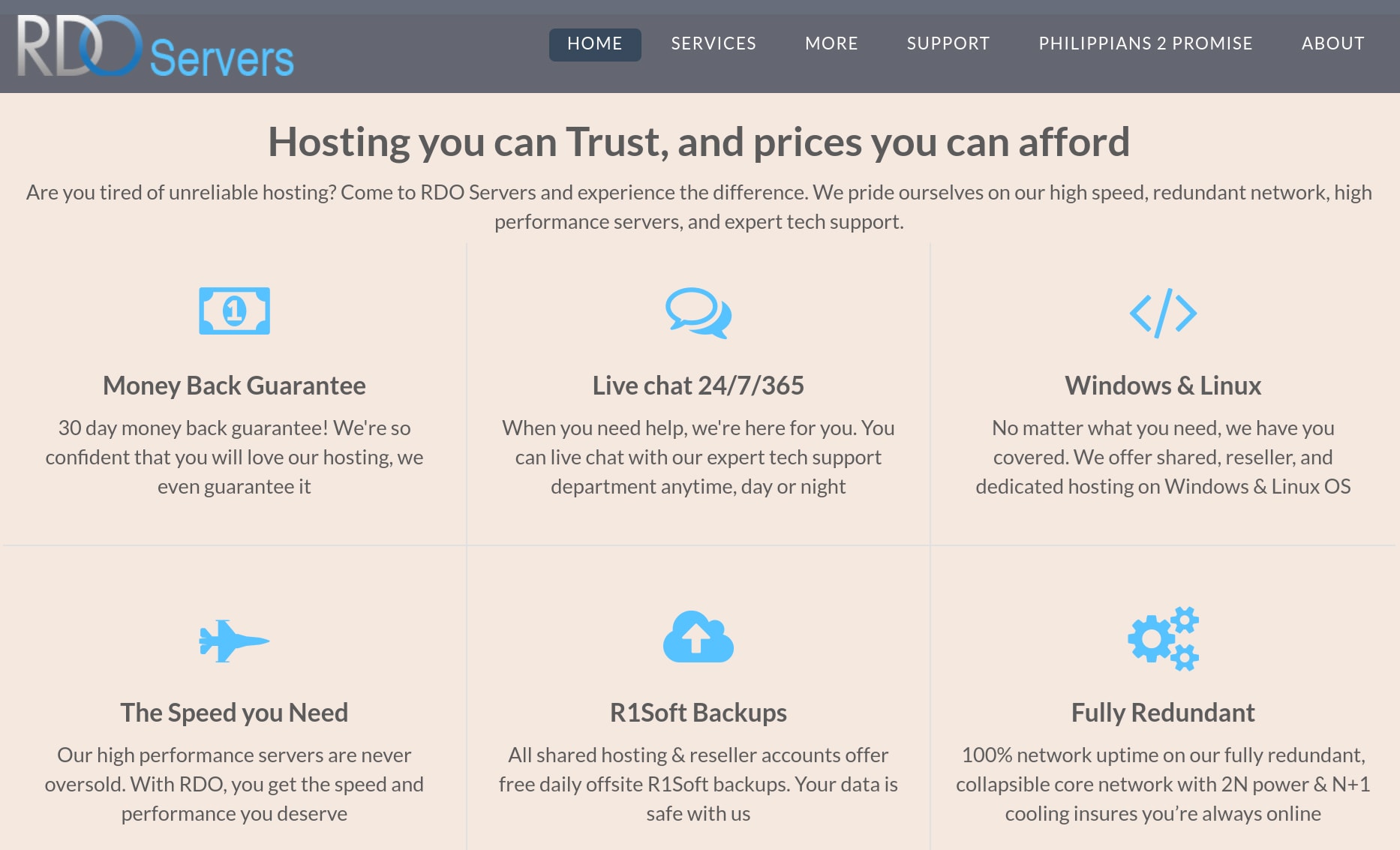 Web hosting company RDO Servers was founded in 2009 as a web development company, but in 2014 it became a fully-fledged web hosting company. Now it provides shared web hosting, reseller hosting, VPS, and dedicated servers to business enterprises in the U.S. and around the world.
RDO Servers is located in the United States and has its head offices in Chester, South Carolina. Its modern-looking website is in English.
Features and Ease of Use
RDO Servers' web hosting solutions support both Windows and Linux operating systems. The Windows hosting solutions use the latest version of the IIS web server whereas the Linux hosting solutions are powered by the LiteSpeed Web Server that is up to six times faster than the Apache web server.
There are three Windows shared hosting packages and three Linux shared hosting packages: Blog (5 GB disk space, 100 GB monthly bandwidth, 1 domain, and 10 email accounts), Professional (50 GB disk space, 1000 GB monthly bandwidth, 15 domains, and 100 email accounts), and Business (100 GB disk space, 5000 GB monthly bandwidth, unlimited domains, and unlimited email accounts).
The website hosting solutions also feature the following:
Plesk or cPanel control panel
MySQL or Microsoft SQL Server 2014 databases
Cloudflare CDN and Railgun integration
99.99% server uptime guarantee
R1Soft backups
Shared and reseller accounts provide free daily offsite backups powered by R1Soft Server Backup Manager. This vendor also offers EV SSL certificate packages.
Pricing and Support
RDO Servers' hosting solutions are competitively priced, and they include a 20% discount for first-time customers. You can sign up on flexible billing cycles – monthly, semiannual, or annual – and pay for your plan in U.S. dollars.
With this provider, you get a 30-day money-back guarantee and a 99.99% server uptime guarantee.
The 24/7 customer support team is available via live chat and email/ticketing system, but not via telephone. I found the support team to be very responsive, and I enjoyed a very fruitful conversation about the company's hosting solutions: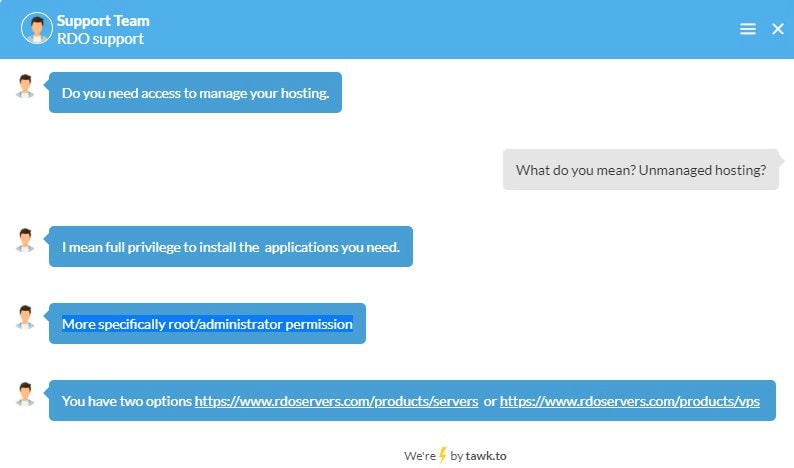 It's particularly important that the one-to-one support is so good because the self-support knowledge base is almost empty.
How much does RDO Servers cost?
RDO Servers offers multiple plans priced highest to lowest. The price depends on which type of hosting plan you choose. You can see the updated pricing table (updated weekly) below.

Which RDO Servers plan should I get?
My recommendation is to start with a cheaper plan. You can always upgrade later on. RDO Servers can help you with the migration to a more expensive plan. The increase in visitors many times takes longer than expected and you shouldn't pay a lot of money until the need arises. Of course, your needs may vary, and you can consult with a hosting expert from RDO Servers
here
.
How good is RDO Servers's customer support?
RDO Servers is not ranked as one of our top web hosts. But that can also be a result of RDO Servers being a small, under the radar, hosting provider. There are advantages to a small hosting company – as a customer, you are more important to them. You can also check out our comparison of the
most popular web hosting services here
.