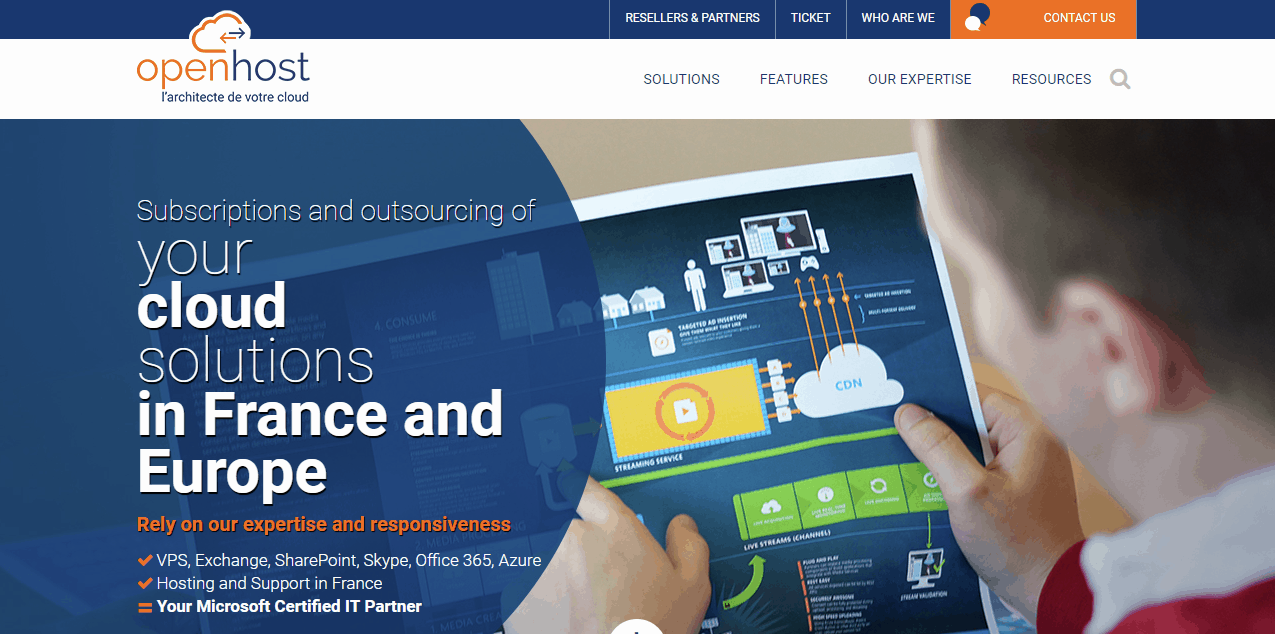 To compare the best web hosts, we hosted the same WordPress website on each one and tested performance, customer service, and value for money.
Check out the results here.
According to its LinkedIn page, Openhost was founded in 2010. This company provides more than the average web hosting, VPS, and servers. It's focused on cloud technology, IT security, business IT infrastructure, electronic document management, and more.
Its servers are located in Paris and Nantes, France. Its website is only available in French.
Features and Ease of Use
Amongst Openhost's many services is Virtual Private Servers (VPS) which I'll concentrate on for the sake of this review. Openhost has special offers for SaaS hosting and VPS plans for websites and hosting other files.
Customers on any of its 16 VPS plans get the following:
99.95% uptime
Automatic daily backups
Anywhere from 20GB to 800GB SSD
From one to 16 vCPUs, depending on the plan
Its daily backups have three-day retention. You can increase how long the backups are retained if you contact the company and make arrangements for that. The backups are kept in two offsite data centers for better reliability and you can create a restore point of your server with snapshots.
Being online leaves you open to malicious traffic and all sorts of attacks. Openhost has an Intrusion Detection System (IDS) in its VPS to inform its personnel when a network intrusion may be taking place. This will help them know where it's coming from and directed to, and possibly the type of attack it is and ensures that there's a fast response to attacks.
Openhost's security measures extend to firewalls with pfSense, which is a firewall that also handles threat management and load balancing.
This web hosting company supports all Windows operating system versions in its VPS. You can also deploy Linux and FreeBSD distributions such as Ubuntu, Debian, RedHat, CentOS, and SUSE.
Pricing and Support
Openhost's VPS is divided into two categories – Premium and Basic VPS. There are eight plans in each category, each offering different levels/sizes of disk space, RAM, and vCPUs. It provides great performance for medium to large websites.
The prices offered on these plans are reasonable for the high-level service that is included. Customers can pay for the plans month-to-month, but you'll have to contact customer support to make an order.
Also, if your needs exceed what it offers on the plans, you can contact customer support to build a custom VPS and quote for you, and you can also take any of the plans and scale up your server resources as needed.
The company provides support throughout all seven days of the week and its promised response time ranges from 15 minutes to less than six hours, depending on the severity of your issue. You can send an email, call the phone number listed, or submit a ticket. There's also a knowledge base with some tutorials.
I sent an email and received a response with answers to all of my questions.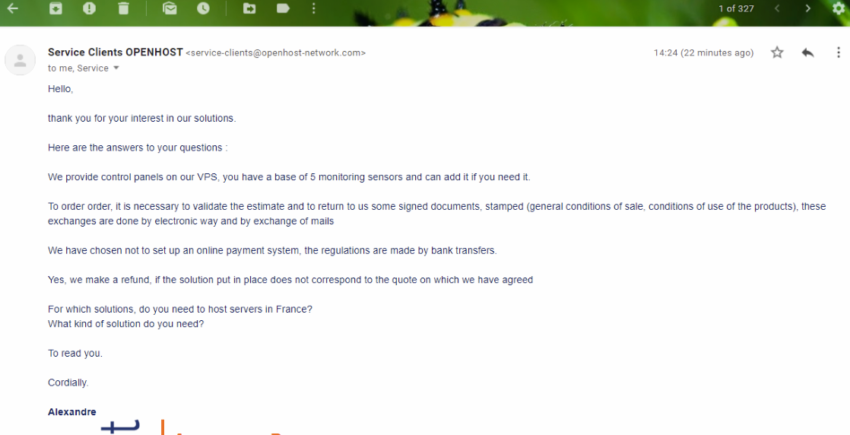 How much does Openhost cost?
Openhost offers multiple plans priced highest to lowest. The price depends on which type of hosting plan you choose. You can see the updated pricing table (updated weekly) below.

Which Openhost plan should I get?
My recommendation is to start with a cheaper plan. You can always upgrade later on. Openhost can help you with the migration to a more expensive plan. The increase in visitors many times takes longer than expected and you shouldn't pay a lot of money until the need arises. Of course, your needs may vary, and you can consult with a hosting expert from Openhost
here
.
How good is Openhost's customer support?
Openhost is not ranked as one of our top web hosts. But that can also be a result of Openhost being a small, under the radar, hosting provider. There are advantages to a small hosting company – as a customer, you are more important to them. You can also check out our comparison of the
most popular web hosting services here
.