Neq3Host is one of the newest website hosting solutions provider in the market. Established in 2016, they already have over 6,000 active customers and host over 30,000 websites. Neq3Host is an award-winning hosting services provider based in Luxembourg. It has ten data centers packed with powerful servers that guarantee high quality hosting to all their clients. The Neq3Host website is only available in English.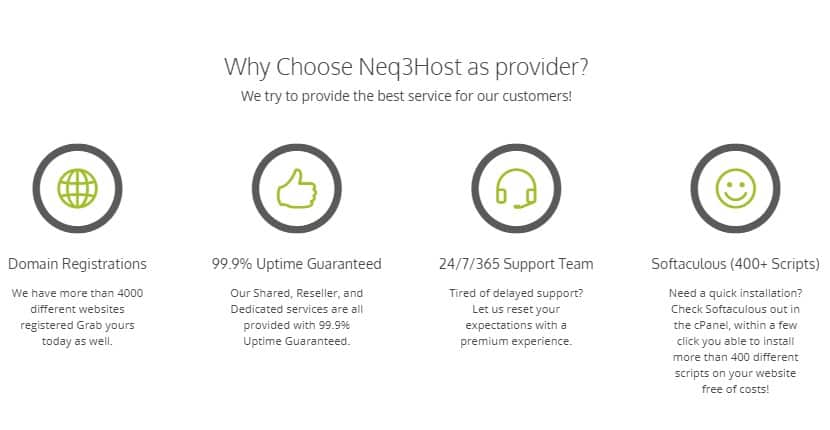 Features and Ease of Use
From the very start, Neq3Host was determined to offer high-quality solutions packed with an array of innovative features, enough to persuade people to abandon their existing hosting providers. Some of the features you will find in their hosting offerings include:
99.9% uptime guarantee
A long list of cPanel features
Automatic weekly backups
DDoS protection
Other features included in most of their hosting plans include:
Domain registration – Neq3Host has already registered over 4000 websites in the short time it has been in business.
Softaculous – This helps users install the over 400 scripts included in the Neq3Host packages with a few simple clicks.
LiteSpeed Powered Servers – These servers make it possible for Neq3Host to provide fast hosting solutions for super-fast websites. LiteSpeed is nine times faster than the standard server setup that uses Apache.
Pricing and Support
With the unparalleled flexibility of its hosting solutions and the long list of features it includes in its hosting plans, it is quite surprising that their hosting services are some of the cheapest in the industry. This is true whether you are purchasing their cheapest Shared Hosting plans or the most expensive Dedicated Servers plans. However, the company has no free version available to its customers, nor do they have a free trial period. In addition, the vendor offers no money back guarantee. Nevertheless, the overwhelming number of positive reviews the company continues to receive from people who have used their services is a true testament to the value for money offered. For a new entrant into the competitive world of website hosting, it is not an exaggeration to say that the company has done well.
Technical support is a big determinant of how loyal web hosting customers will be. Give them a raw deal and the next thing you know, they are planning to migrate to another vendor. It is, therefore, quite an achievement for this relatively new vendor to retain most of the clients it has acquired over the last few years. This is a clear sign that it has great customer support. Neq3Host has a 24/7 support team on standby to answer any queries its customers might have. All the customer has to do is submit a ticket and he will receive a response, often in less than an hour.
The company commits to always maintaining a full-time support staff of at least six people so that customers can get round-the-clock support 365 days a year. That said, the company does not have a support phone number or a live chat. However, this does little to erode the confidence I have in this vendor, based on the ticket I opened and made a number of queries. Not only were they addressed promptly, the explanations were easy to understand and extremely helpful.