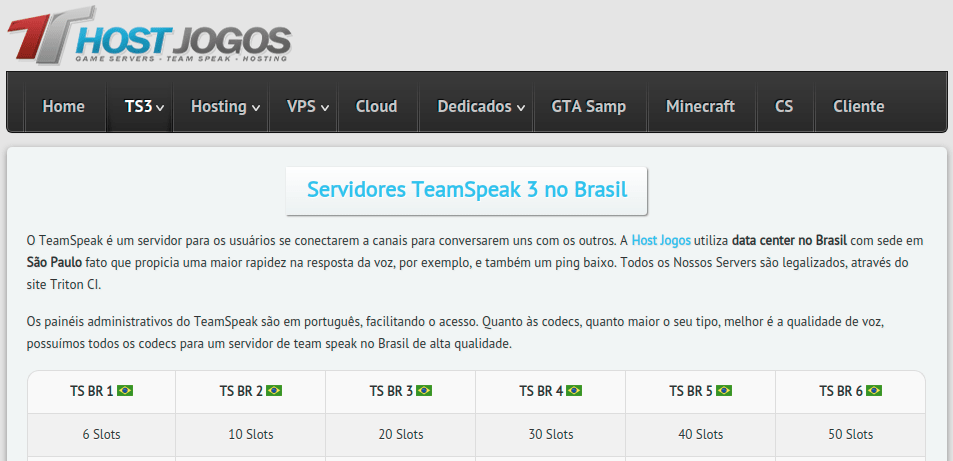 With the copyright footer reading 2013-2018, Host Jogos seems like it was started around 2013. The hosting vendor specializes in offering cloud servers, VPS, and dedicated to its customers in Brazil and the U.S. 
It also offers other services such as TeamSpeak servers, Minecraft servers, and GTA stamp services. The Host Jogos website is only available in Portuguese.
Features and Ease of Use
Host Jogos cloud server solutions come with the following standard features:
Fixed IP addresses

Unlimited monthly bandwidth

Anti DDoS protection

Windows and Linux operating systems
Host Jogos cloud, VPS, and dedicated servers are housed in data centers located in the U.S. as well as in Brazil. That said, its TeamSpeak and game servers are only hosted in Brazil data center. The vendor's hosting packages are powered by SSD storage web servers that help maximize its customer's website loading speeds.
It is important to note that, although Host Jogos seems to offer shared hosting and dedicated servers, the links to these solutions are invalid. And it seems like it has not fully developed the hosting solutions. Additionally, its web hosting packages lack the support of significant features such as SSL certificates and backup services.
The Host Jogos website has a very simple and straightforward design that is very easy to navigate through. The website is managed by another web hosting vendor, Blunet Host. All the same, the website has not been updated for over a year, with the copyright footer reading 2013-2018. This can only suggest two things: either the vendor does not have the necessary team of professionals to help keep the website updated or the vendor might, at the moment, be out of business.
Pricing and Support
Host Jogos website hosting solutions seem pretty standard, although they are very limited in terms of features. The hosting solutions come with monthly billing cycles and the prices are listed in Brazilian real. Nonetheless, the contract bar is nonfunctional, returning a "server IP address could not be found" message. My attempts to purchase a hosting plan were unsuccessful.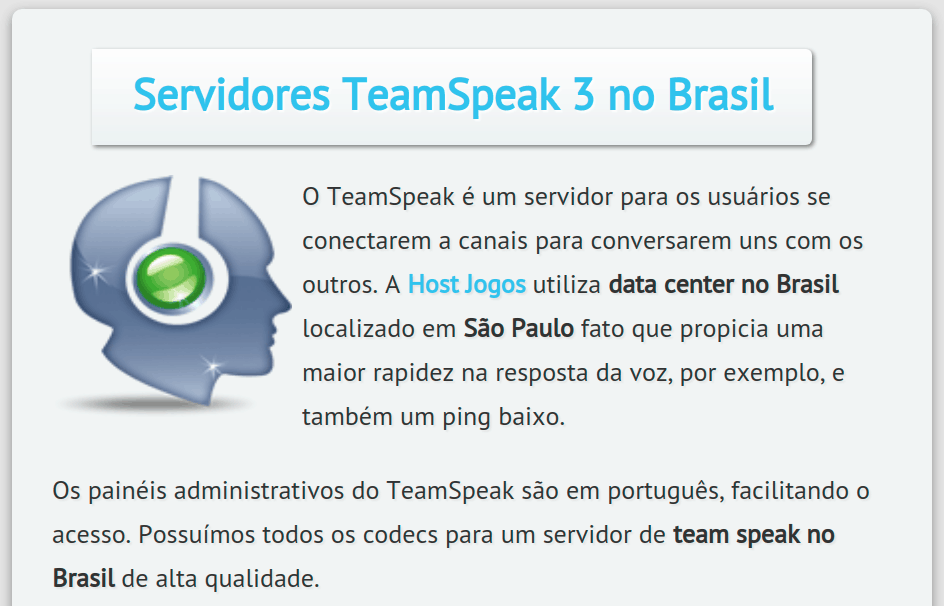 With that in mind, the vendor offers no free trial period or return policy. It also has not made available an uptime network guarantee.
Unfortunately, there are no communication means through which you can get in touch with the Host Jogos support desk. No telephone, email, ticketing system, or live chat support is advertised on the website. This is an indication to us that Host Jogos might be out of business.
And finally, as you may have guessed from the rest of the support details, the Host Jogos website has no knowledge base section.