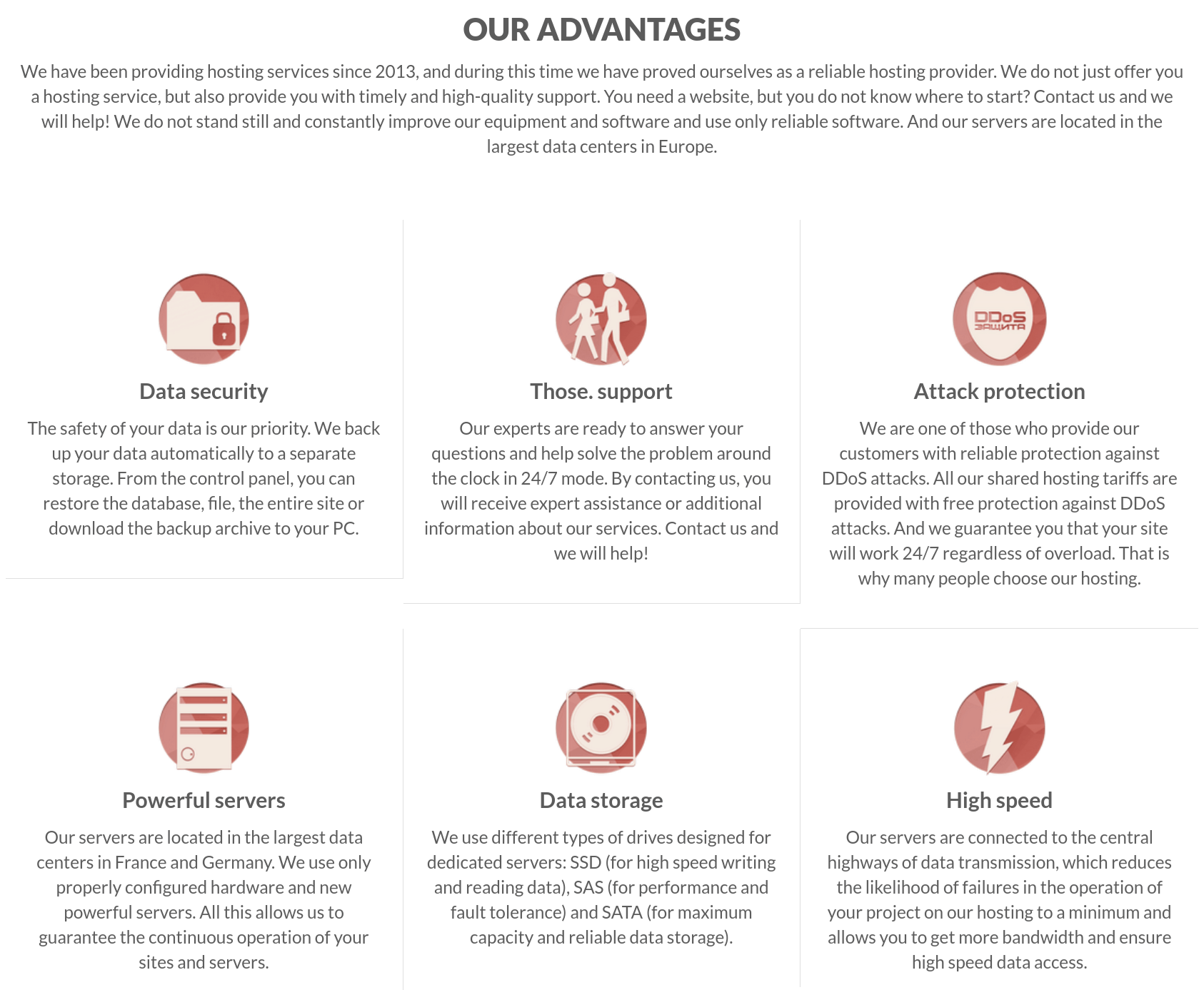 Host-i7u is a Russian web hosting service provider that has been operating since 2013. It offers servers in Russia, France, Canada, the U.K., Poland, and Germany. This vendor's website and support are only available in Russian.
Features and Ease of Use
Host-i7u offers shared hosting plans for Linux, with some of the standard features being:
MySQL
One-click integration with Joomla and WordPress
Site backups
With SSD storage coming as standard, and support for PHP 7.0, beginner and small-scale webmasters will find all the performance they need here. Advanced webmasters will be attracted by the support for advanced programming language(s) and the unlimited traffic.
However, it's not all good news. I was unable to verify what uptime is available, even though figures from 99.10% to 100% are mentioned on the vendor's website. This lack of clarity could be disconcerting for webmasters running medium to large online stores.
In addition to the shared hosting plans, this host also offers VPS hosting plans that feature:
 OpenVZ/KVM
Full root access
RAM and memory upgrades
The VPS plans provide excellent proximity to the European and North American markets thanks to servers being located in Russia, France, Canada, the U.K., Poland, and Germany. The only downside is that all VPS plans are managed, which means you might be paying for assistance that you don't really need.
Support and Pricing
The shared pricing plans are competitively priced for the volume of storage space available (1 GB – 50 GB). However, there is no uptime guarantee, and the low memory cap (3 GB) will most likely be too low for a site using 50 GB of storage. On the plus side, refunds are offered on the unused portion of hosting plans and are credited within five business days.
You can get get a 100% increase in capacities for a 50% increase in price at the low and mid-level tiers, and the highest tier offers 4 times more speed but with no additional storage. Although it looks like a good deal, the huge jump really only serves to highlight the speed issues undercutting the value of all the plans.
Put simply, small and medium merchants get a lot of value here, but large merchants will have to make performance tradeoffs.
The value of the VPS plans depends on the server location. Russian servers are priced relatively high compared to the competition, but EU servers offer better value with as much as 3 CPUs, 300 GB storage, and 12 GB memory.
I'd say that support is average. The small knowledge base only answers the most basic questions, so you'll have to resort to summoning support by Telegram, telephone, Skype, or email. A live chat invitation pops up on the home page, but (as you can see) the live chat didn't work very well for me as an English speaker: