Introduction

Hemsida24 was founded in 2008 to offer an internet-based tool for creating online stores and websites easily without needing any tech knowledge. Today, 100,000+ companies use its website tools to build, manage, and customize their websites. The company offers shared hosting services in association with Miss Hosting that was founded in 2014. You can also get domain registration with free WhoIs protection and SSL certificates as well as G Suite email and Flock email solutions from Hemsida24. Its website supports Swedish.
Features and Ease of Use
Hemsida24 offers 3 cloud-based shared hosting plans in partnership with Miss Hosting, which is part of the Miss Group. With these plans, you'll get
Free domain (with the 2 higher plans)
99.9% guarantee uptime
1-unlimited hosted sites
cPanel control panel
100GB-unlimited disk space
1-3 CPU core
Unlimited traffic
Support for PHP (v4.4-7.3)
Free SSL certificate (Let's Encrypt/Comodo Standard SSL)
Daily backup
24/7 monitoring and DDoS protection
SiteBuilder for e-shop with the highest plan
Since these plans offer a one-click app installer with 150+ free apps, you can install several popular apps like WordPress, Drupal, Magento, phpBB, etc. with a single click without needing any tech expertise. By using Miss Hosting's SiteBuilder with a user-friendly drag-and-drop feature and 100 unique templates, you can build your mobile-adapted website easily without needing any web development or coding experience.
You can also use the Sitebuilder of Hemsida24 (3 paid plans are available) that comes with mobile customization, drag-and-drop tools, 25+ customizable templates, 20+ different content block, 31 different fonts, and lots of maps, forms, photos, and videos. Using it, you can easily create your SEO and Google-friendly portfolio, website, or online store with just a few clicks. If you need powerful email solutions, you can use the company's G Suite or Flock email packages.
Pricing and Support
Shared hosting plans of Hemsida24 are priced competitively. To pay for these plans in SEK (Swedish Krona), you can use PayPal, credit cards (Visa/Mastercard), Bankgirot (which is a Swedish proprietary clearing system for transactions), and Swish (Swedish mobile payment system). Available billing cycles are annual, biennial, and triennial. With biennial and triennial billing, you'll get 8% to 20% discounts.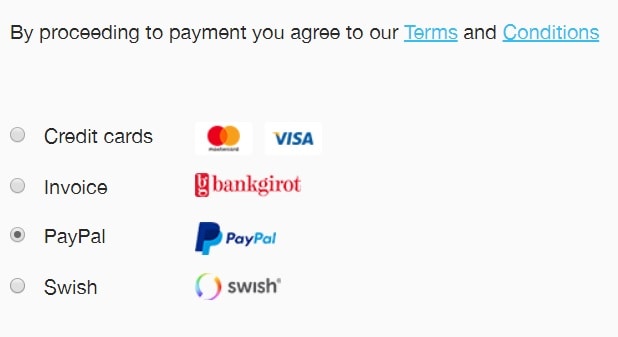 Hemsida24 offers a forty-five-day money-back guarantee on its web hosting plans. It also lets you try its Sitebuilder for free for thirty days though you'll have to create an account to enjoy this offer.
You can reach Hemsida24's customer support via live chat (available 24/7), phone (8 am to 5 pm, Monday-Friday), and email. I used their live chat to get quick answers to my queries.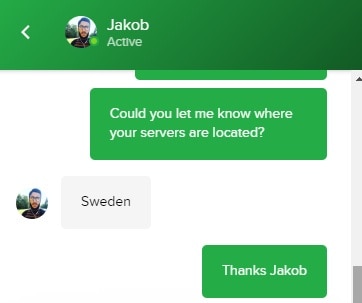 You can take a look at Hemsida24's blog or its Help Center to get self-help though they don't offer anything related to web hosting as far as I can see.