Hard Hat Hosting is a Kansas City, Missouri-based company that's been offering web hosting and other services since 1999. They currently provide cloud-based VPS hosting and dedicated servers to more than 30,000 websites, including those of several prominent bands. Support is offered in U.S. English.
Features and Ease of Use
Hard Hat Hosting only offers managed VPS and dedicated server hosting. No shared hosting plans are available, so users looking for a straightforward plan to host a simple, basic website may have to look elsewhere.
The company's most unique feature is their "create your own" web hosting plan, ensuring you'll never pay for resources you don't need. It gives you complete control over the amount of resources in your package, such as disk space and bandwidth. In addition, their location in Kansas City, United States gives webmasters access to servers in the geographic center of North America. For larger e-commerce merchants selling merchandise throughout the United States and Canada, this affords them better and more consistent speeds for visitors coming from across the region.
There aren't a lot of integrations offered. Instead, customers get full root access and can install advanced software and customize their servers as they wish. That said, the popular Magento e-commerce platform is one of the few integrations included for free, as well as Pinnacle Cart and X-Cart.
There is no uptime guarantee listed for any plan. However, this is counterbalanced by a "no overselling" policy that ensures the server has adequate resources to handle the maximum capacity for every website hosted on it.
PHP version 5.3x and MySQL version 5.1x are the highest versions listed (although the company does say these are "upgradeable" without providing any details about thresholds). This could indicate that speeds will be below the acceptable industry average. In addition, SSL certificates must be purchased separately.
All plans also come with Plesk 11.5. The entry level "Basic" plan comes with a ten-domain license of the control panel, while the highest level "Extreme" plan comes with a 100-domain license. However, domain registration is not provided with any plan and must be purchased separately.
Additional features included in all plans include:
Fault-tolerant RAID disk arrays with SSD storage

Unlimited subdomains

Unlimited MySQL databases

Daily off-server backups

Unlimited FTP accounts

Firewall setup

24/7/365 technical support
Pricing and Support
All of Hard Hat's servers come with a 14-day money back guarantee. However, despite neither supporting PHP 7.x nor offering an uptime guarantee, the price for their entry-level plan is more than what you'll find from competitors for U.S.-based hosting.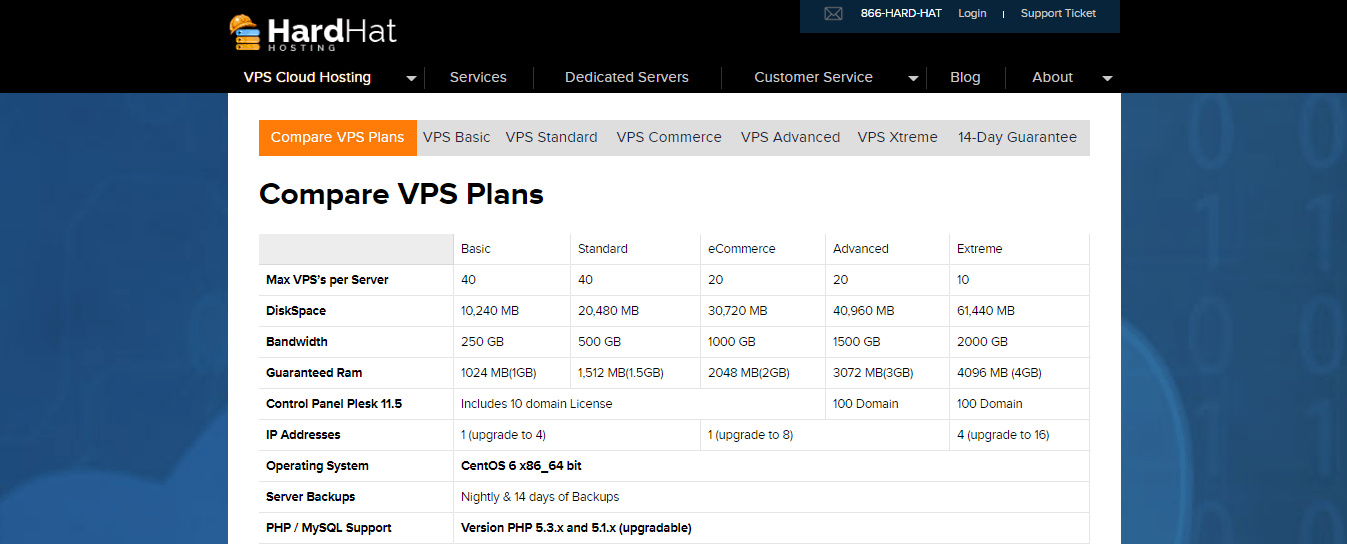 There is a small silver lining to this. Prices don't increase much as you move up the tiers, but the speeds and available memory do. The top-tier "Extreme" plan offers a sixfold increase in disk space and tenfold increase in bandwidth but only costs four times the entry-level price, making the higher-tier value much better than the entry-level plans. In addition, the entry-level plan comes with 10GB storage and 250GB bandwidth, which combined with their "no overselling" policy and top-notch support are better than average.
Support options are in American English. A self-help knowledge base offers more than 100 different video tutorials that answer basic technical questions and a few medium and advanced ones as well. In addition, there's a 24/7 support ticket system that answered my basic pre-sales questions within a day. Phone support is also available, and representatives spoke American English and were able to answer most questions quickly. No live chat options are offered.