There are many free website builders out there, but many of them are too limited to use for a serious website. In today's world, a nonprofit needs a strong online presence, and you don't want to invest a lot of time in building a site that's going to make your organization look like a joke.
I spent several weeks testing all the major site builders to see which ones offer free plans that provide everything you need, from attractive website templates to donation buttons to online community features. I found the builders that don't hold back and let you build and publish a fully functional website for free.
My top choices are also the most user-friendly – if you know how to drag and drop, you can easily create a website that looks like it was designed by a professional.
Short on Time? These Are the Best Website Builders for Nonprofits:
Wix – A generous free plan that includes access to advanced features like newsletters, volunteer signups, and much more.

Zyro – A beginner-friendly builder that allows you to collect donations through your website.

Squarespace – Not free, but worth every penny; gorgeous templates and tons of built-in functionality for nonprofits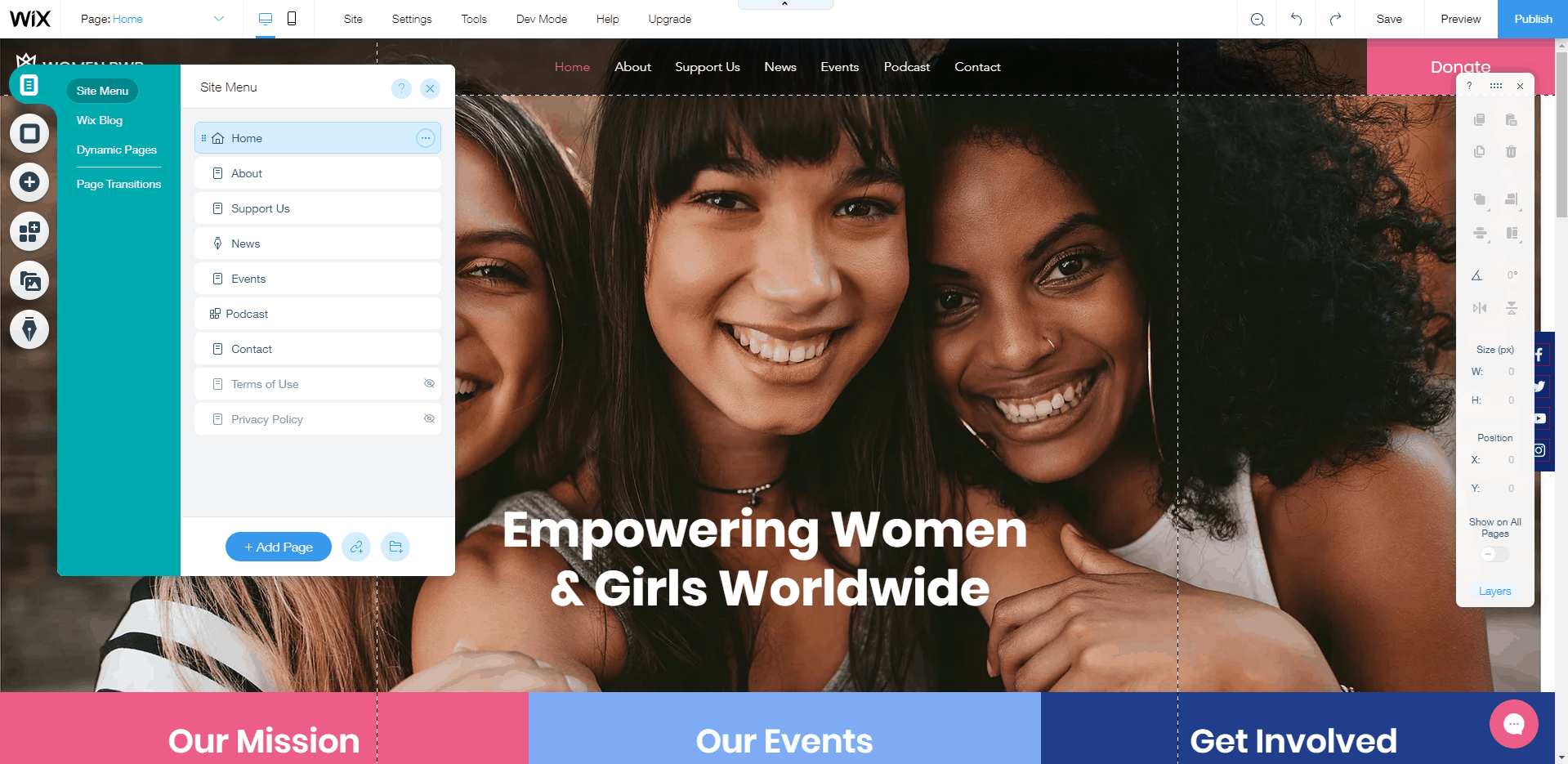 Wix has around 20 templates specifically designed for nonprofit websites, and what's great about them is that they're all fully customizable. You can use the intuitive drag-and-drop editor to change colors and fonts, add new pages, and even add free apps to your site for extra functionality. It's easy to see why Wix is a favorite among users.
The only major drawback is that in order to use Wix's e-commerce features and receive donations, you have to sign up for one of the paid plans. SITE123, by contrast, offers a donation option right in its free plan.
Features
An easy drag-and-drop editor. This powerful tool makes it easy for you to add text and content to your web pages. As this is a WYSIWYG (what you see is what you get) editor, you always have a preview of how your website is going to look.
Apps particularly suited for nonprofit websites. In some templates, Wix offers drag-and-drop apps that allow volunteers to sign up, subscribe to a mailing list, and make donations directly.
Great SEO wizard. You don't need to be an expert in SEO to get your website to rank well in search engine results pages.
Mobile-friendly websites. Google prioritizes mobile-friendly websites in search engine result pages, so if your website isn't optimized for mobile devices, you're going to miss out on valuable ranking. Wix automatically provides mobile-friendly versions of your website optimized for different screen sizes (e.g., smartphones and tablets), which you can tweak further using the separate mobile view editor.
| | |
| --- | --- |
| Free plan available? | Yes, forever free |
| Donations on the free plan? | No |
| Templates for nonprofits? | 20 in the Religion & Nonprofits category |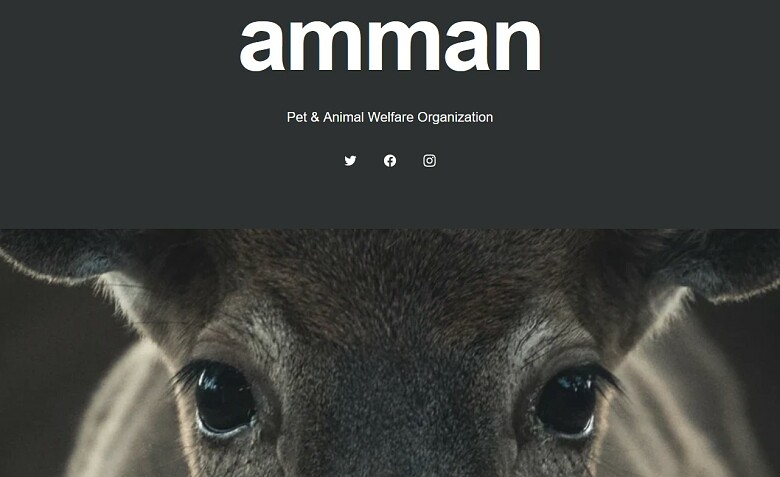 Zyro is a user-friendly website builder with built-in artificial intelligence (AI) tools that can enrich your nonprofit site by generating the content, and tracking how site visitors navigate each page. You focus on your nonprofit, and Zyro handles the words – teamwork!
The builder is tailor-made for people who have zero coding skills and has the usual built-in features that any beginner would need. There's a large library of mobile-responsive templates, an easy-to-use editor, free hosting, a free SSL certificate, and a 30-day money-back guarantee for the "just in case".
Zyro has around 70 templates to choose from, including several in the nonprofit category that would be perfect for a nonprofit site. The templates have been designed with aesthetics in mind, so they are clean, sleek, and built to highlight your work.
Features
AI writer for the content. Zyro has a built-in AI Writer that analyses copy from each industry niche, and then generates text for your site. Plus, it follows best practices for SEO.
AI Heatmap to track your site visitors. This tool shows you how your visitors are navigating through your pages so that you can rearrange your elements to maximize conversions.
Online store. Zyro has the most basic of basic e-commerce functionalities (e.g., there's no help when it comes to figuring out how to tax or ship your products). But, if all you need is the capability to accept credit card payments for your nonprofit, why complicate things with e-commerce features you won't need?
Unlimited bandwidth and storage. The very reasonably-priced paid plans for Zyro (besides the Basic plan) come with unlimited bandwidth and storage so that you can upload as many files to your site as you need to. Currently, you can't upload videos – you can only embed them from other third-party sites.
| | |
| --- | --- |
| Try for free? | No, but there is a 30-day money-back guarantee |
| Donations on the free plan? | N/A |
| Templates for Nonprofits | 7+ |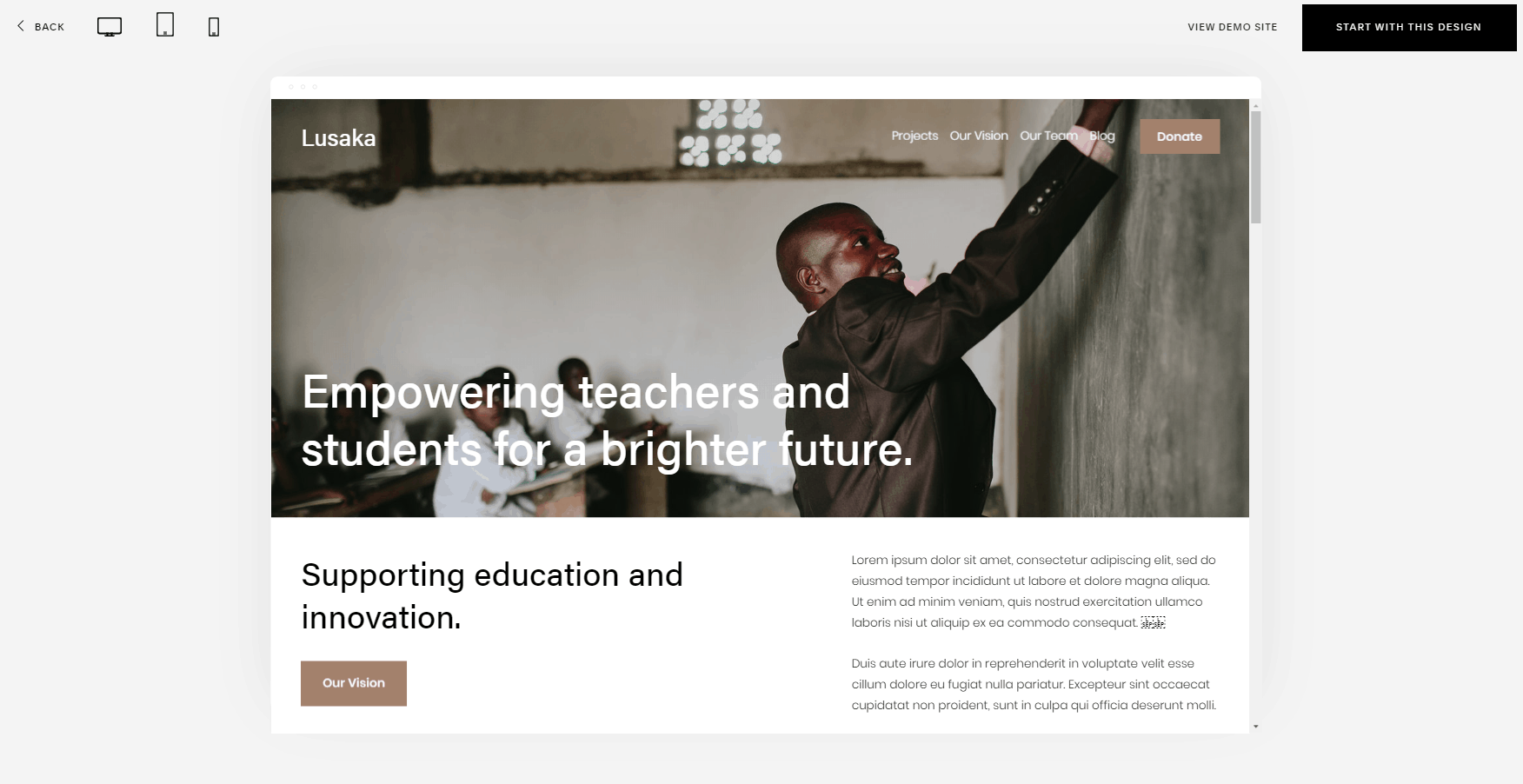 Squarespace is the only not really free nonprofit site builder on this list. Squarespace offers a 14-day trial (no credit card required), during which you can build and test out your site. Beyond that, you have to pay to publish your website and share it with your audience. But it's on this list for good reason.
Squarespace websites are known to be professional-looking, giving your nonprofit an extra layer of credibility when trying to gain the support of larger organizations.
Once you pick a template, the site builder is very intuitive. While it doesn't have drag-and-drop features like many of the others on this list, editing is still easy. You simply have to click on the components you want to edit (called "blocks"), and you can customize those elements. Squarespace also provides a helpful sitemap on the left-hand side.
Features
Built-In Donation Button. Squarespace provides a built-in donation button module so that you don't have to integrate with or outsource a third-party tool. You can customize the button, add form fields, and add suggested amounts and tiers of donations (i.e., "Gold Level").
Intelligent Data Exporting. As you collect donor or volunteer information through contact forms, Squarespace can export this information directly to a spreadsheet or your email marketing software.
Template Switching. If you tend to change your mind, Squarespace understands. You can change your template whenever you want during the design process (or after), and your site content will seamlessly import into your new template.
24/7 Customer Support. Squarespace offers round-the-clock customer support for customers of all levels. It also provides helpful guides, forums, videos, and webinars.
| | |
| --- | --- |
| Free plan available? | No, but Squarespace offers a 14-day free trial |
| Donations on the free plan? | N/A |
| Templates for nonprofits? | 7+ |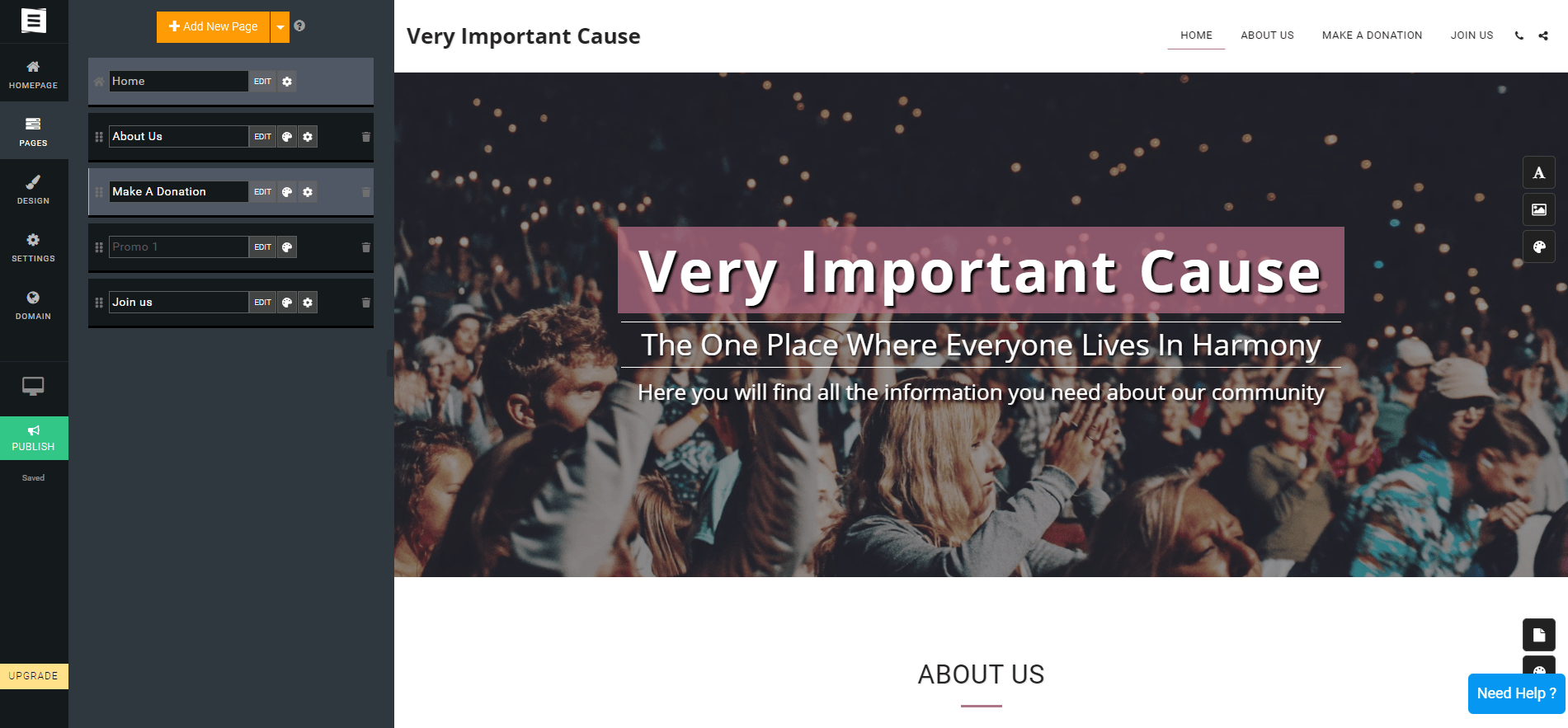 SITE123 is one of the easiest builders to use. All you have to do is choose a template from the gallery, customize it if you like, and upload your own text and images. All SITE123 templates are automatically mobile-repsonsive, which means your site will look good on any desktop or mobile device.
You can boost your website's functionality with add-ons, like a live-chat module that will allow you to answer questions about your cause. You also get access to a library of free images and icons to make your nonprofit website more visually appealing.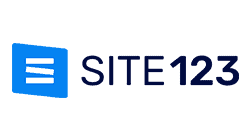 Get 44 % off your SITE123 plan today!
Save 44 % when you sign up for SITE123's annual plan
579 users used this coupon!
Features
Intuitive webpage editor with a self-explanatory dashboard. The SITE123 editor is clean and uncluttered, showcasing the most essential content blocks for a professional-looking website.
Receive donations on the free plan. SITE123 allows you to add a CTA button to your website and receive donations via off-line channels (over the phone, in cash etc.). Other builders only offer this option on paid plans.
Create multiple websites on the same account. You can experiment with different styles, templates, and layouts. If your nonprofit has multiple causes, you could highlight each one with its own website.

| | |
| --- | --- |
| Free plan available? | Yes, free-forever |
| Donations on the free plan? | Yes, but only via offline payment methods |
| Templates for nonprofits? | No |
Build Your Nonprofit Website With Ease
Website builders mean that you can express your creativity with ease and build a professional nonprofit website that offers a great experience for your audience. Ultimately, the best website builders give you everything your nonprofit needs to reach a wider audience and generate more donations.
Whether you're looking to raise awareness, recruit volunteers, or fundraise for your nonprofit, website builders make creating your online presence enjoyable and easy. Each of the website builders we've looked at have particular strengths in terms of features, depending on what you need. The table below offers a summary that will help you choose the right website builder for you.
| | | | | |
| --- | --- | --- | --- | --- |
| | Free plan | Donations on the free plan | Templates | |
| Wix | ✔ | ✘ | ✔ | |
| Zyro | ✔ | ✘ | ✔ | |
| Squarespace | ✘ | ✘ | ✔ | |
| SITE123 | ✔ | ✔ | ✘ | |