💎

Service Type
DIY logo maker

🚀

Free to Try
Yes

📁

File Formats
High-Res PNG files

🔄

Free Revisions
No
A Free Logo Maker from Website Builder Jimdo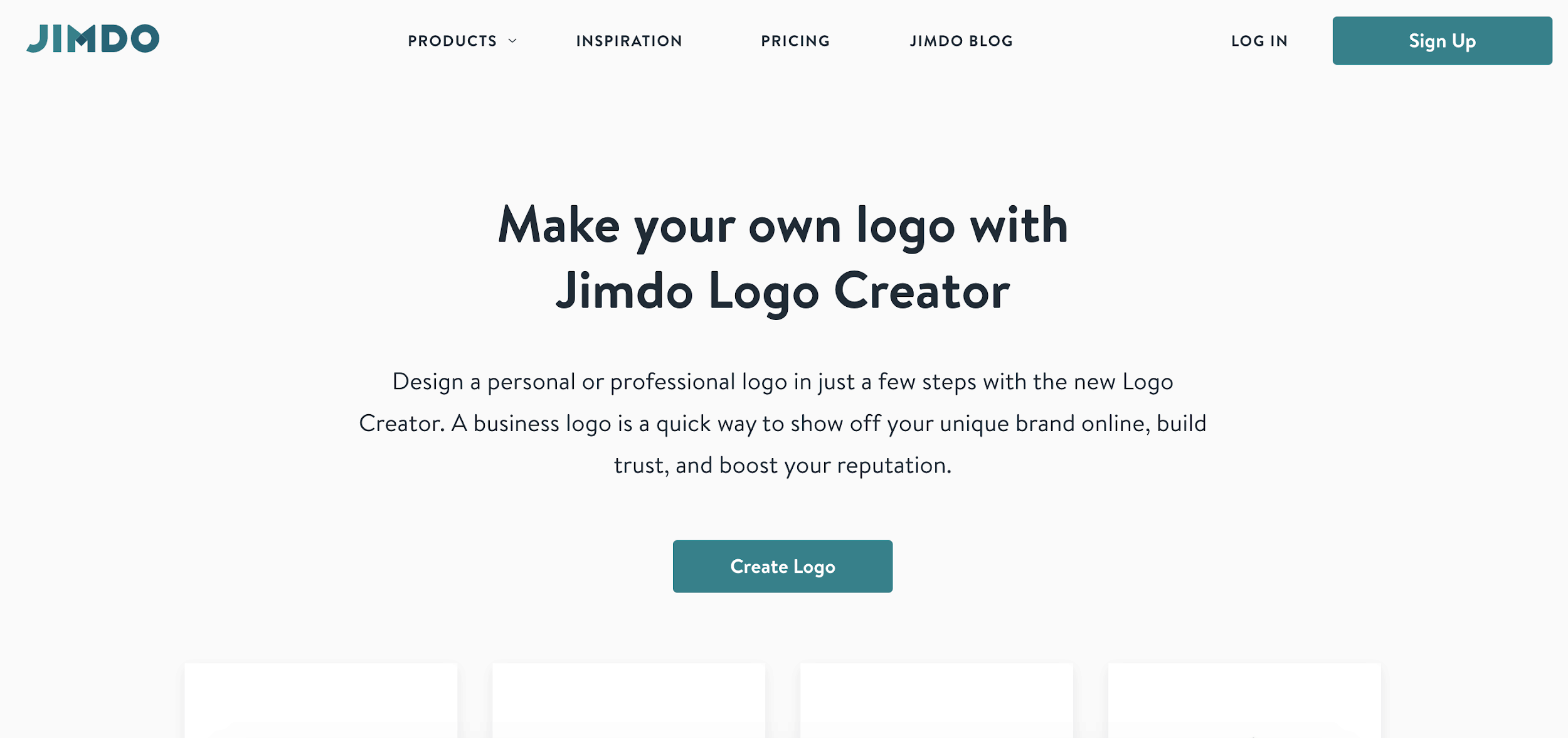 Jimdo is well known for its easy-to-use website builder and hassle-free hosting services, so it's no surprise that Jimdo Logo Creator is straightforward and beginner-friendly. But is this new logo maker as good as Jimdo's core services? And is "free" really free? Keeping read to find out.
Jimdo's website interface is available in seven languages:
English
German
Spanish
French
Unfortunately, you can't really create a logo in all of these languages. You cannot use most "special characters" in your logo, so Japanese is definitely out, along with other languages with non-Latin alphabets. Even some Latin-based special characters don't work. For example, I found that ç and ñ worked fine, but ă and ę didn't. It might take some trial and error to figure out if you can use the characters you need.
This review is part of a big project on Website Planet, where we're testing all the top logo design services. I can tell you right now – if you don't feel like experimenting and you'd rather get a custom logo designed especially for you, you should check out Fiverr. You can hire a professional logo designer there for as little as $5 – not free, but almost.
Features and Ease of Use
Modern, User-Friendly Interface but Limited Logo Designs
Just like the website builder, Jimdo Logo Creator has a clean, modern interface that pleases the eye. Website aesthetics aside, though, the real question is: are the logos you can create attractive and unique?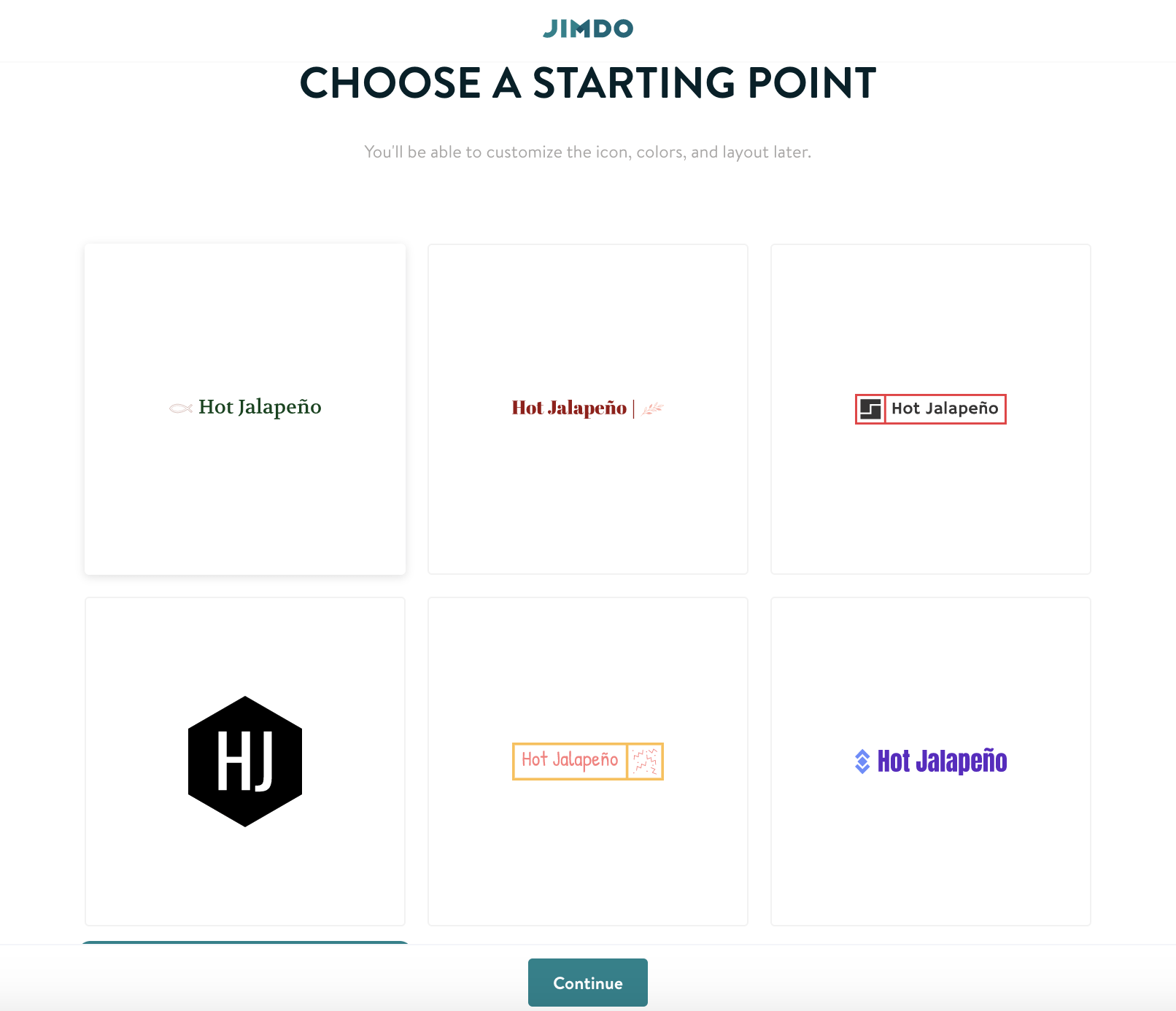 You'll Get Only 12 Logo Templates to Choose From
Unlike many other top DIY logo makers, Jimdo Logo Creator has no startup wizard. You'll simply enter your company's name to view all of the logo templates available. And by "all," I really mean…12. The good news is that all of these templates do look pretty good; the bad news is, well, there's barely enough of them to make a football team. I hope Jimdo will have more to offer in the future.
On the plus side, if you're in a hurry and not terribly picky, having such limited choices makes for super-quick logo creation. But if you prefer a lot more logo templates to choose from (with more personalized designs), you'd be happier with a tool like Wix Logo Maker or Tailor Brands. With either one, if you take just a few minutes to answer questions from the startup wizard, you'll get 100+ initial logo designs generated just for you.
Speaking of other logo makers, my colleague has been on a quest to test all of the major logo design services, and create a brand-new Website Planet logo in the process. Click here to see how the biggest names stack up, and which platform earned the #1 spot!
Logo Customizations Are Simple yet Creative
While your template options are very limited, you'll find that Jimdo Logo Creator's customization options are pretty varied. For starters, you can make quick changes to your logo's color and font. You can also view your logo on various mock-ups of computer screens and merchandise, so you know how it will look in the real world.
Several customization features stand out, giving you some real freedom to make a logo your own:
The icon library has tons of options in various colors and styles.
You can create a custom color scheme or try one of the suggested color combinations.
You can choose from 40+ attractive fonts, helpfully categorized into styles like Vintage and Playful.
You can audition 12 different layouts of the same logo with just one click.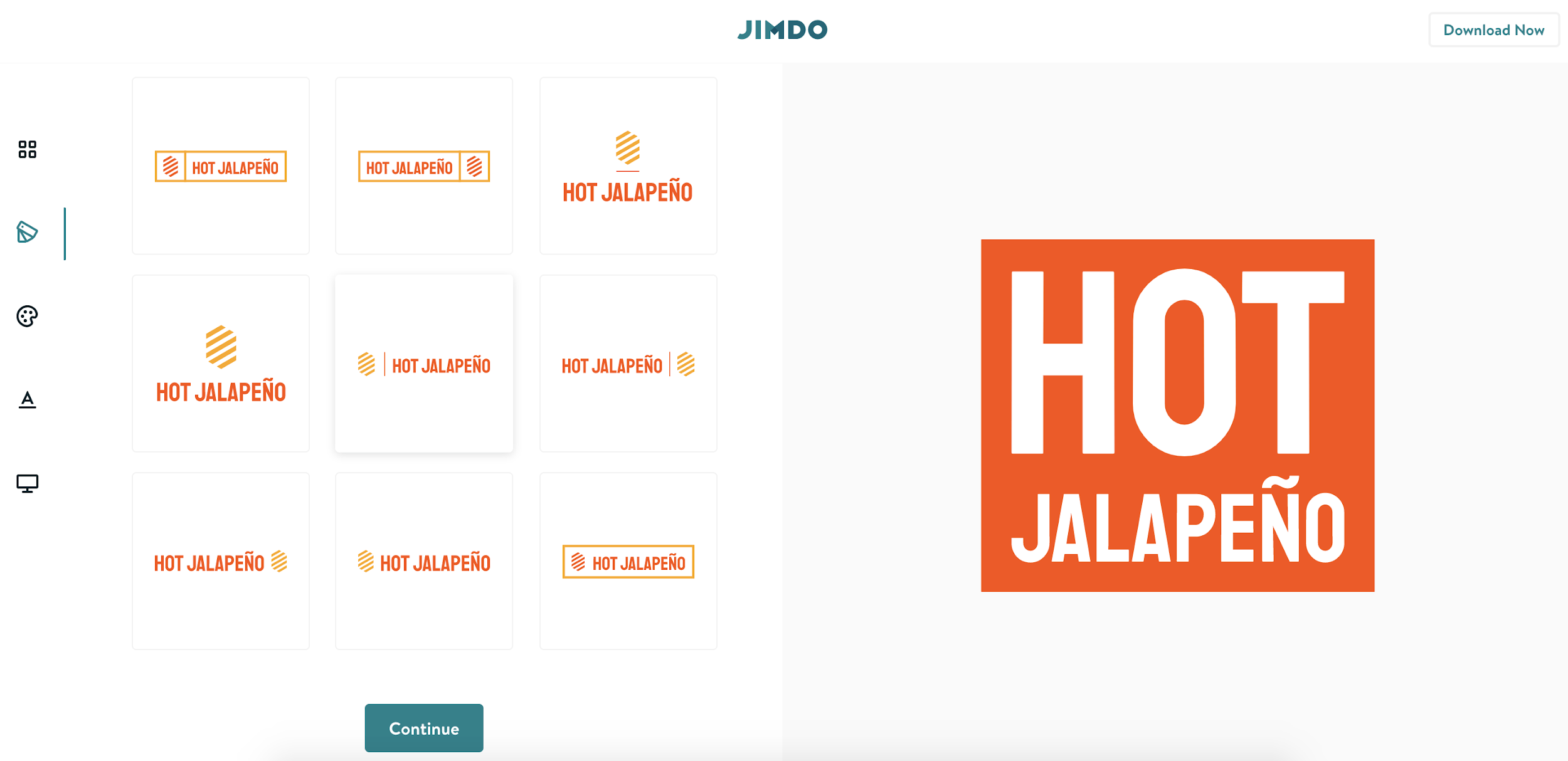 One small downside is that your company name must be 20 characters or less.
You'll Get a High-Res Transparent PNG
After you've customized your logo, click on Continue to download. You'll have to either sign in with a social media account or create a free Jimdo account. Then you can instantly download one high-resolution PNG file.
This file works especially well for web display because it comes with a transparent background. That means you can easily display your logo over a photo, animation, or solid color, without getting a weird or distracting background shape.
However, since it's not a vector file that can be scaled infinitely, you really can't use this file for printing – certainly not at anything other than a very small size.
Pricing and Support
Your Logo Is Free
Jimdo Logo Creator doesn't have any plans that require payment. If you register for a free account, you're able to make and download as many logos as you want at no cost. You can also adjust and download them again without any charge, as often as you want, because your logos are stored on your Jimdo dashboard.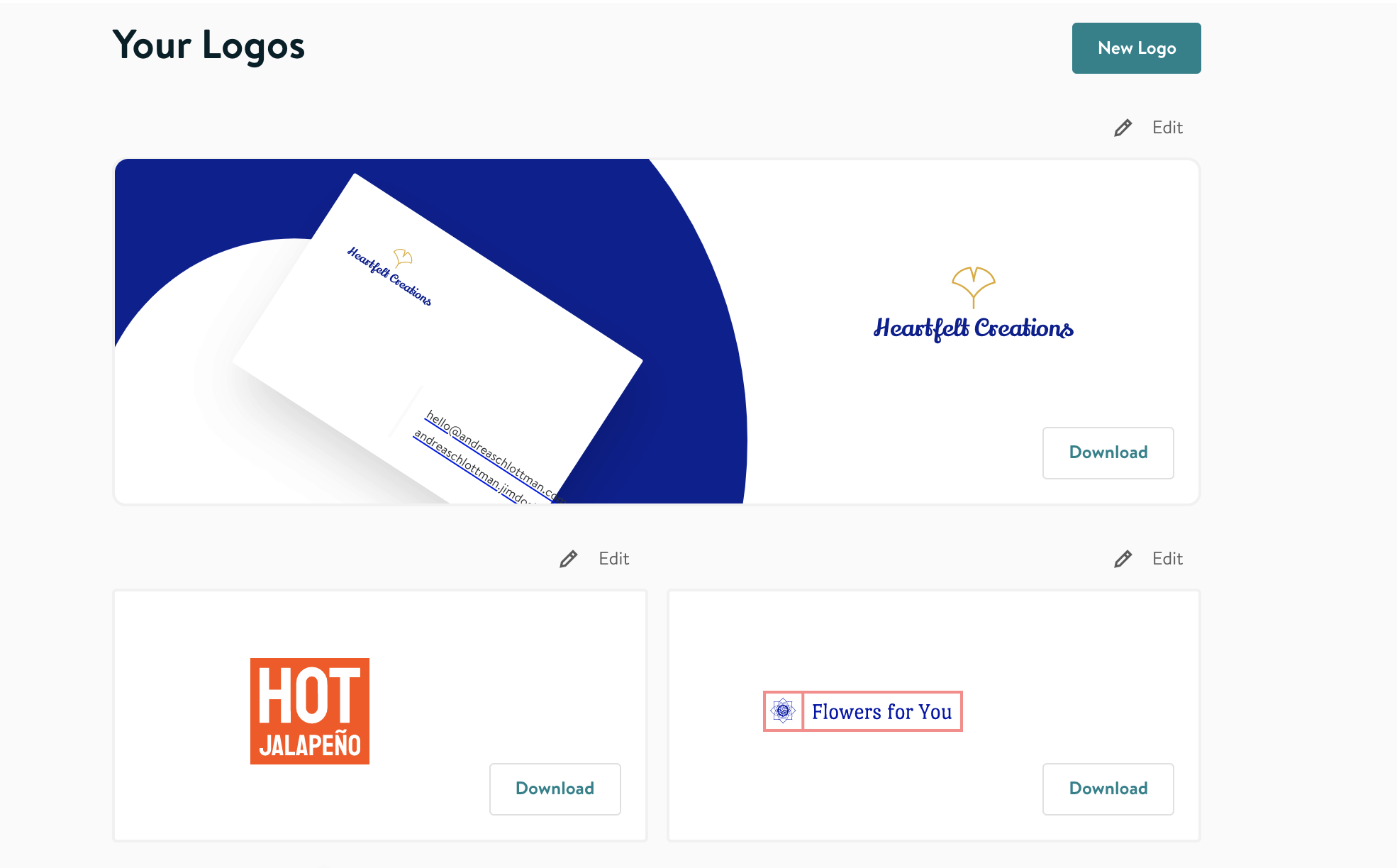 That's great, but the problem is that you can't pay to download better files. We are looking forward to seeing Jimdo add more functionality to its logo maker, but for now, you'll be stuck with just one PNG file suitable for web display.
Or Maybe NOT Free – Be Careful About Commercial Rights!
Although your logo is free to download, Jimdo does not guarantee that you will get commercial usage rights. That means you might not be able to use the logo for most business purposes. Jimdo Logo Creator uses icons from The Noun Project, and if you use an icon, you're responsible for complying with The Noun Project's terms and conditions.
Most of The Noun Project's icons do require purchasing a license for commercial use, so your logo may not be free, after all. The bottom line? If you need file formats for printing or want guaranteed commercial usage rights, you'll need to use another logo maker like Tailor Brands, or even better – hire a cheap designer on Fiverr.
Minimal Customer Support for Logos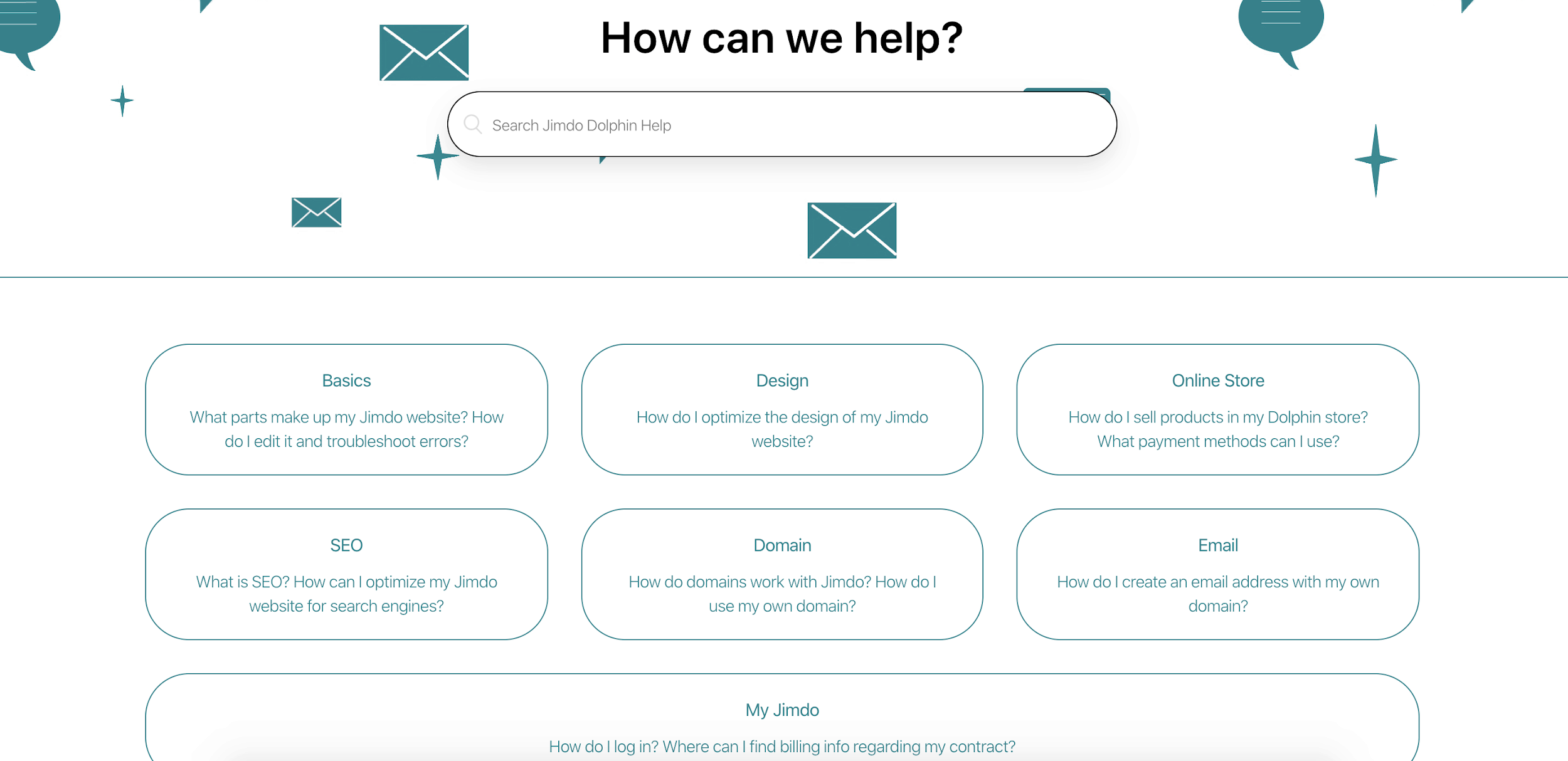 The Jimdo Help Center contains comprehensive information; however, there are no inquiries concerning the logo maker, likely due to its recent launch. As phone support isn't available, kindly forward your queries via email or by using the contact form labeled "Leave Us a Message."
Unfortunately, I can't give a glowing review of my experience here. I sent an email asking about commercial usage rights, and it took seven days to get a response from customer support. Anything beyond 24 hours is slow. If I'm going to wait a week for an answer, it should come in the form of a beautifully handwritten letter.