When choosing a website builder to put yourself or your business online, you need to weigh your options in terms of functionality, customizability, mobile responsiveness, as well as SEO and e-commerce capabilities. All builders have their own strengths and weaknesses, and with so many factors to consider, the process of picking the best one can be intimidating.
Fortunately for you, we compared the best website builders to help you find the website builder that fits all your needs.
Website builders compared:
If You Need Design and Customization Freedom
You may not be a designer, but that shouldn't prevent your website from looking professional, attractive, and unique. It's important to distinguish yourself from your competition. Fortunately, with templates and no-code customizing tools, the following platforms make that easy to achieve:
Wix

Wix has the largest template library on this list, with 500+ free, customizable, professional-looking, and mobile-friendly templates across multiple categories.
You can opt to use Wix ADI (Artificial Design Intelligence), which designs a website for you based on your input. It comes with a simpler builder that's easier to master.
If you prefer a more hands-on approach, you can use the Wix Editor. This is one of the most powerful website builders that features full drag-and-drop capability and the most extensive customization options. It may take some time to master, but it's a fantastic and empowering experience when you do.
You can also add custom styling (and even code) to your website through Wix Code.
One negative is that Wix doesn't allow you to swap templates on already-created websites.

GoDaddy

GoCentral features only about 16 designs that are closer to a collection of page layouts than actual templates. However, they're customizable, mobile-friendly, and professional-looking. You can switch between these templates at any time.
The GoCentral designer has very limited options compared with most other builders. For example, colors and fonts can be set only for the entire webpage, not for individual elements. Furthermore, there aren't as many types of webpage elements, and they have limited design options.
Despite this, the GoCentral builder is one of the easiest to use, especially if you're new to building websites. It provides all the elements that beginners will be most familiar with out-of-the-box.
However, GoCentral doesn't allow you to add any custom code or styling to your website, so you'll have to stick with the tools you're given.

Weebly

With over 50 templates, Weebly still has one of the better selections on this list. Their templates are simple, but also modern and professional, with great demo content.
The Weebly website builder is one of the easiest and funnest to use. It also offers the most freedom next to the Wix Editor, although it doesn't provide as many tools, and the drag-and-drop functionality is more restrictive.
Weebly also allows you to use custom code to style and extend your website, and you can even create and import custom templates.

Site123

Site123 provides almost 200 free templates that are all mobile-friendly and customizable. Like Wix's templates, they vary in quality; however, most are good and there's much variety in design styles.
Unfortunately, also just like Wix, you can't change a template once you've chosen it for a website.
Although Site123's builder is very similar to Weebly's, it has slightly fewer options, isn't as polished, and doesn't provide drag-and-drop functionality. However, it's just as easy to use and is non-threatening to beginners.
Site123 doesn't allow you to customize your template or website at all using custom code. However, it does provide some handy tools to make custom forms or events.

SimpleSite

SimpleSite's template library has only around a dozen options. These templates, although mobile-friendly, are also not on par with others in terms of design and complexity.
The SimpleSite builder is extremely straightforward, with limited content elements, no drag-and-drop functionality, and little variety when it comes to styling options.
However, the webpage builder is extremely easy to master and requires no expertise or commitment to learning. It does allow you to easily swap between a number of webpage layouts.
In terms of your ability to design and customize your website, Wix is the clear winner. Although the other builders might beat the Wix Editor in regard to providing a smooth introduction, Wix ADI allows for a similar experience in terms of ease of use. However, Wix beats out the rest with its huge template library, pixel-perfect drag-and-drop webpage builder, and the ability to add custom code.
If You Need Extensibility with Plugins or Apps
Chances are that you're using a website builder to create and host your website because you don't want to code a website from scratch, or you don't know how. However, that doesn't mean you shouldn't have a wide variety of powerful features to choose from. Plugins or apps that provide these features can either make your website more interactive, or provide tools with real practical value to you and your visitors.
Wix

Wix provides around 250 apps in its App Market, of which about 80 are free or have a free option. Premium apps are also affordable, and new apps are frequently added.
These apps cover a wide range of features, from billing tools to bookings and events widgets.
One critique of Wix is that many features need to be added through the App Market, whereas the same features are built-in on other builders.

GoDaddy

GoDaddy has no app marketplace and doesn't allow for third-party plugins or integrations except for Google Analytics and payment methods.
However, all of GoDaddy's functionality comes built-in from the start, such as SEO, payment methods, blog or store tools, and more.

Weebly

Weebly has a massive App Center, with a collection of over 300 apps — of which over 50 are free. This is the largest selection on this list. New apps are also frequently added.
However, just like Wix, many of these apps, like the "Scroll Back To Top," could be built into the builder; instead, it has to be added.
Weebly's App Center has fewer categories than Wix's App Market, making it harder to navigate.

Site123

Among the builders with an app market, Site123 has the smallest collection, with around 100 apps, and with less frequent additions.
Most of Site123's apps provide very useful functionality, such as analytics tools, live chat, and marketing tools. They're not just for cosmetic elements.
Site123 offers mostly free apps or apps with free packages, and their premium apps are decently priced.

SimpleSite

SimpleSite doesn't provide any plugins or third-party integrations — not even Google Analytics.
Every feature offered by SimpleSite is built into the website builder tool so you have easy access to everything.
Once again, Wix wins here. In terms of the number of apps available, Wix is second only to Weebly, but Wix's apps provide more functionality and in-depth features, whereas most of Weebly's apps consist of webpage elements. Both platforms have far more extensive app markets than Site123, while SimpleSite and GoDaddy don't offer any.
If You Need to Top the Search Engine Rankings
Google claims that there are now over 30 trillion webpages on the internet. They also receive billions of search queries every day, and some estimates say that up to 90% of searches occur on Google alone. That makes SEO, particularly for Google, a key factor in how easily people will be able to find your website online. Fortunately, you don't need to be an SEO guru, as most website builders provide some level of built-in optimization as well as tools and guides to help you optimize your webpages:
Wix

Wix is built mostly on JavaScript, which isn't known for its great SEO performance, with data that isn't structured out-of-the-box.
For many regions of the world, Wix does provide a gift of $75 dollars in Google Ad spend as well as credits to buy the Site Booster app, which includes SEO features.
Wix gives you plenty of freedom to implement SEO. You can even customize your links and add alt text to images.
Wix is also one of the few builders that automatically submits your sitemap for indexing on Google Search.

GoDaddy

GoDaddy provides a very basic, yet handy step-by-step guide to add some SEO ranking factors to your webpages.
Despite being a very simple website builder, you can add Google Analytics to your website.
GoDaddy also provides hosting with very high uptimes (some report 100%), with great webpage speed performance.

Weebly

Just like Wix, Weebly provides enough freedom to customize webpage-level SEO features, including custom URL slugs.
There are also a number of SEO apps, such as the Ultimate SEO Guide, with a step-by-step guide and a handy checklist.
However, some features, like heading structures below level 2, are possible only via apps.

Site123

Site123 provides all the essential customizable SEO features, such as meta tags, titles, URLs, and more. There are also some SEO guides to help you along the way.
Unfortunately, Site123 doesn't provide any additional SEO-specific apps to help you rank your website. The closest thing they offer are apps to help with marketing campaigns and analytics tools.
Site123 makes handling 301-redirects incredibly quick and easy.

SimpleSite

SimpleSite doesn't allow you to implement any of your own SEO via customizing meta tags, URLs, etc.
There are also no apps or other third-party integrations to let you implement other SEO features, such as Google Analytics.
This time, GoDaddy comes out on top. The platform on which GoCentral is built and the infrastructure of GoDaddy's hosting mean that your website will be highly available and provide fast webpage load-times for visitors — two key ranking factors. The SEO guide, although limited, is a very handy tool for beginners to implement some SEO on their webpages through targeted keywords.
If You Need a Mobile-Friendly Platform and Website
It's critical that your website cater to mobile users, as they make up 51% of all internet surfers. However, it's almost just as important that a website builder allow you to manage your account and websites from a mobile device so that you can take care of admin tasks anywhere and at any time. Some even provide website-editing features via a mobile app, which is a great feature for those who are always on the go:
Wix

Wix's templates are mobile-friendly, and the mobile website will automatically display on devices. However, you should always ensure that it's enabled.
Wix allows you to make extensive changes to how your website appears on mobile, with a mobile website editor where you can even add or remove elements specifically for the mobile view.
Wix does provide an app which you can use to write blog posts, respond to user comments, engage in live chat, and manage your store and bookings.
Unfortunately, Wix doesn't provide the capability to edit your website or webpages via the Wix Editor from a mobile device. Only Wix ADI websites can be edited via the app.

GoDaddy

One of the main drives behind the new GoCentral website builder was to make it easy to create mobile-friendly websites. That's why all GoCentral layouts are completely mobile-responsive.
Although the layouts and customization options are restrictive, that makes it impossible to mess up your website's mobile-responsiveness.
You can't directly edit the mobile version of your website. Instead, GoDaddy will try to translate your layout and changes from the desktop version.
GoCentral doesn't provide a mobile app, but you still get a superb mobile website. By accessing your account from your mobile browser, you still have a fantastic interface to manage your account and build your website.

Weebly

All of Weebly's templates are mobile-responsive out-of-the-box, with no option to turn it off.
Unfortunately, you can't edit your mobile website version separately from your desktop website. You can only make changes to the desktop version and hope it responds well.
With the Weebly mobile app, you can edit your website and webpages using the drag-and-drop screen interface using the webpage editor tool.
Using the Weebly mobile app, you can also view your website statistics, manage your website, respond to comments, and publish blog posts.

Site123

All of Site123's templates are mobile-responsive, and you can view the mobile preview of the website on tablet or desktop before committing to it.
The tablet and mobile-phone views are also handy, as many other builders let you see only the mobile-phone view.
The mobile view of your Site123 dashboard and the website builder tool is really good except for the fact that you need to click preview to see your changes on a separate webpage.

SimpleSite

All the templates and layouts offered by SimpleSite are also mobile-responsive.
Like Weebly, GoDaddy, and Site123, you can't directly edit the mobile version of your SimpleSite website.
SimpleSite doesn't provide a mobile app, but their website responds perfectly to mobile devices. When accessed from your mobile device, the website builder tool is just as good as — if not better than — the desktop version.
This was a much tighter race than any of the previous categories, with every builder performing admirably. Each one makes it extremely easy for even beginners to build and host a website that's mobile-friendly. However, GoDaddy is the winner because their mobile-first approach has led to such flawless responsiveness (example below), and because their excellent mobile website will make you forget about using a native app.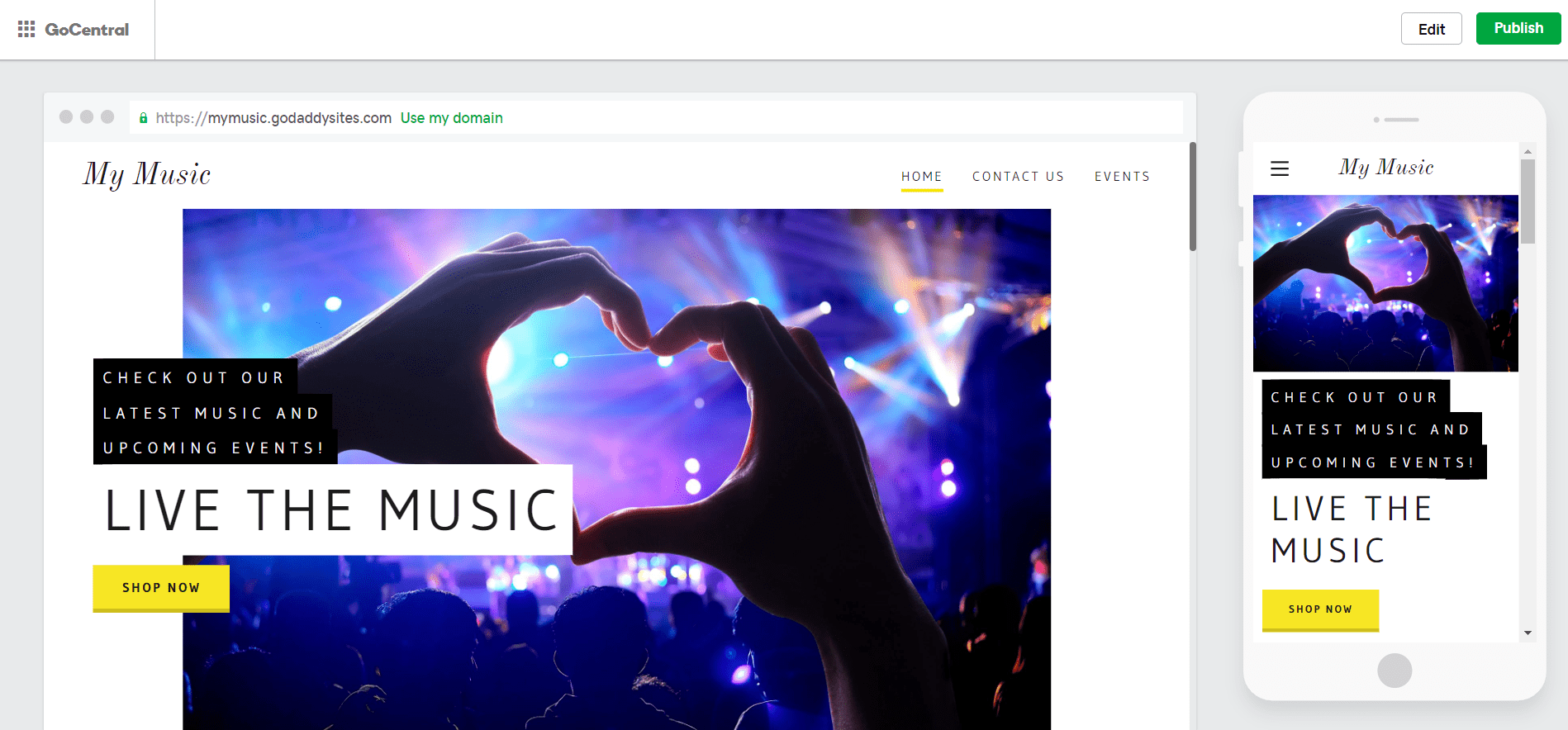 If You Need to Create an Online Store
The global e-commerce market, already worth trillions of dollars, continues to grow steadily every year. If you want to run a scalable and profitable online store, you'll need a website builder that provides the necessary tools to effectively sell online.
Wix

Depending on your location, Wix provides two or three e-commerce plans whose pricing is lower than enterprise options like Shopify, but standard for similar kinds of builders.
Wix's online store capabilities are available via a number of online store apps. These provide slightly different interfaces and features. For example, the Wix Art Store app comes with special tools for selling digital or print art, such as watermarks.
Wix charges no transaction fees and places no limits on the number of products you can sell or sales you can make.
Via apps, you can get advanced e-commerce features like integrated shipping, multiple payment methods, and tax calculators.

GoDaddy

GoDaddy provides one of the most streamlined and quickest ways to put together a website, especially an online store. It's also one of the easiest dashboards to manage your store and products.
By supporting PayPal, Apple Pay, Square, and Stripe for back-end or POS sales, you can technically accept payments via all the most popular means.
GoDaddy doesn't charge transaction fees or limit your sales, but you're restricted to 5,000 products.
All of GoDaddy's e-commerce features are built-in, and you won't need to worry about adding or managing apps.

Weebly

Weebly offers three e-commerce-ready plans that start out very cheap with the Pro plan, and end pretty expensive with the Performance Plan. Weebly's Pro plan is the only one with a 3% transaction fee and a 25-product limit. However, the other plans have no transaction fees or product limits.
There are useful extra e-commerce apps, such as those for pricing tables, recurring payments, paid memberships, and even label printing.
Weebly provides pretty extensive e-commerce tools with shipping and tax calculators, digital goods, and advanced analytics.
To process payments, Weebly offers PayPal, Square, and Stripe. The selection isn't bad, but it could be better.

Site123

Site123 also offers three e-commerce-ready pricing plans, with standard prices for non-enterprise online store builders.
With anything but the Gold plan (the highest plan), you'll be limited by how many orders you can fulfill per month.
Site123 allows you to process payments using PayPal, Braintree, Stripe, 2Checkout, and some lesser-known gateways.
Site123 has a jumbled set of e-commerce features, with no real-time shipping and a smaller collection of e-commerce apps.

SimpleSite

Generously, SimpleSite lets you create an online store with up to five products even on a free plan.
SimpleSite's sole means of payment processing is via PayPal.
The online store interface is very easy to use, but is slightly outdated and very basic.
There are no advanced e-commerce features like real-time shipping, product sourcing, etc.
It's another close call, but Wix is the winner here. It comes out on top in terms of sheer depth of e-commerce features, mostly thanks to the extensive online store apps in the Wix App Market. With no transaction fees, a decent selection of around 70 e-commerce templates, and affordable pricing, Wix seals the win.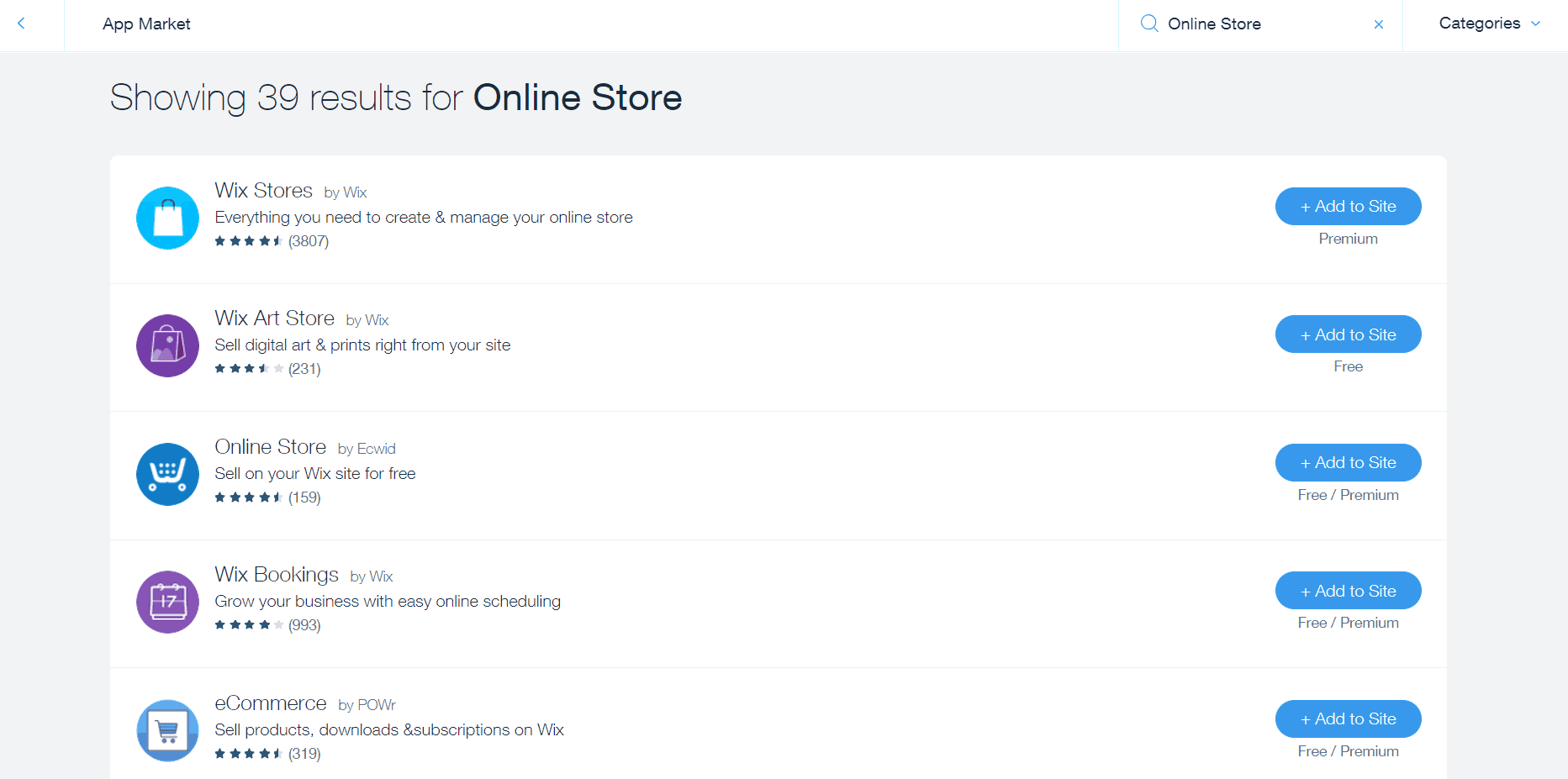 Ask Yourself These Questions to Choose the Best Website Builder
If you're still unsure about which website builder is the best for you, ask yourself the following questions:
Do you want the freedom to create a unique website and customize every inch of each webpage?
If possibilities are what you crave, then Wix is by far the best option, with its massive library of over 500 templates, the Wix ADI or Wix Editor, and the ability to add styling via custom code.
Do you want a feature-rich and interactive website and the power to keep extending its functionality as far as possible?
Although it's a very tight race between Wix and Weebly, Wix is better in my book because the features provided by its apps offer more depth.
Do you want to rank as highly as possible on Google to grow your audience or customer base?
As a leading hosting provider, GoDaddy offers great performance as well as a search-engine-friendly platform, with guided SEO tools to give beginners a fighting chance.
Do you want a mobile-friendly website that reliably responds to various devices and with little effort to change the design?
While all the builders offer good mobile responsiveness, GoDaddy has arguably the most reliable and robust platform, with a great mobile interface. However, if you really want a native app to do this, Weebly is the next best option.
Do you want to create a fully functioning online store?
Among all of the options on this list, Wix provides the greatest depth of e-commerce features thanks to its feature-rich online store apps.
In many ways, Wix overcomes almost all competitors because of its sheer potential. It has the largest template library, the most comprehensive drag-and-drop builder, and one of the best app markets. This makes it suitable for any number of purposes and gives users the power to create whatever website they want. Learn more by checking out our Wix expert review or visiting their pricing page.
GoDaddy provides a service geared more toward beginners looking for an easier and more streamlined approach to creating and hosting a website. It still provides decent tools and features, especially when it comes to SEO and e-commerce. Feel free to check out our GoDaddy expert review or visit their pricing page.
However, all five of these builders could be a better choice for someone based on some of their unique features, the overall experience they offer, or their price. For example, Weebly probably provides the best mobile app for managing your website. You can learn more about Weebly by reading our Weebly expert review, or by visiting their pricing page.
And as for Site123 and SimpleSite, these platforms make it incredibly easy to build a website of your own. Site123, however, provides a breadth of features just below that of Wix and Weebly. Feel free to read our Site123 expert review or visit their pricing page. SimpleSite, on the other hand, gives you just the bare minimum for a no-fuss approach to website-building. You can also check out our SimpleSite expert review or visit their pricing page.
In the end, it all comes down to your individual needs.
---
Sources
https://www.statista.com/markets/413/e-commerce/