Rangierte auf Platz 4 von 145 Web-Hosting
Basierend auf 1 Reviews in 1 Sprachen
Rangierte auf Platz 4 von 145 Web-Hosting
Basierend auf 1 Reviews in 1 Sprachen
Übersicht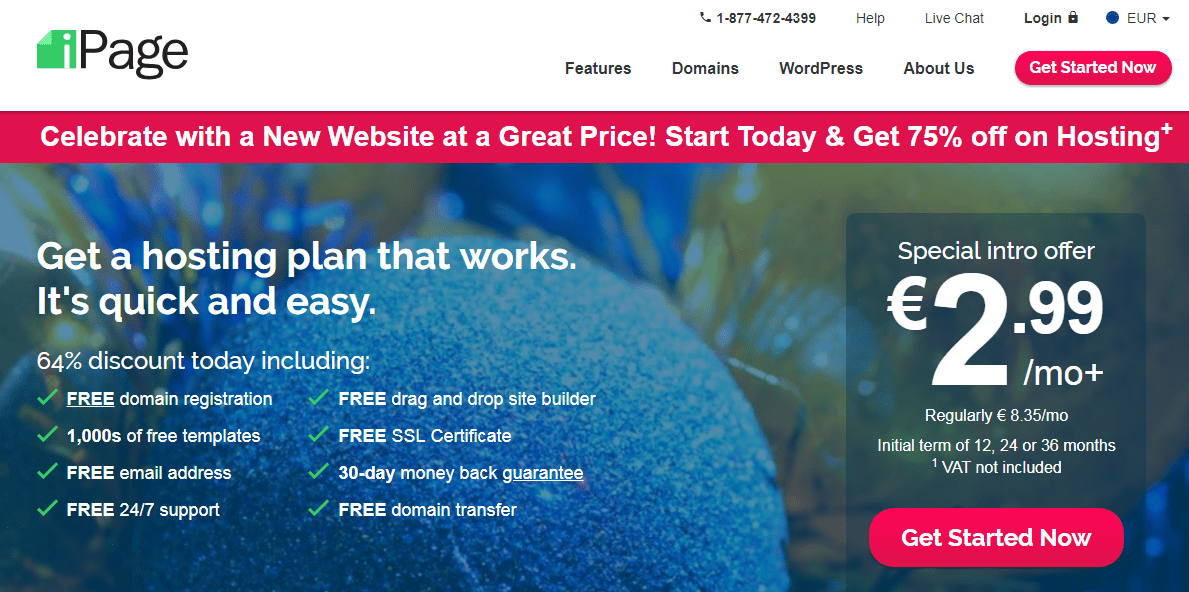 Schnäppchen-Lösung für kleine und mittlere Webseiten
Was iPage von der Masse unterscheidet, ist das günstige Hosting: Sie bieten einen der preislich attraktivsten Tarife auf dem Markt. Es sollte aber erwähnt werden, dass Du Dir den günstigen Preis auch mit einer relativ langen Vertragslaufzeit (zwei bis drei Jahre) erkaufen musst. iPage bietet Dir bei der Buchung eines beliebigen Hosting-Tarifs außerdem Zugriff auf den Website-Builder, mit dem Du in den Einstiegstarifen allerdings maximal 6 Seiten erstellen kannst. Solltest Du mehr benötigen, muss es schon der Professional- oder Business-Tarif sein.
iPage setzt voll auf Nachhaltigkeit und Sicherheit. Die Rechenzentren und Webserver werden vollständig mit Windenergie betrieben und das Unternehmen hat genügend Erneuerbare-Energie-Zertifikate (REC) erworben, um 200% des eigenen Energieverbrauchs kompensieren zu können. Die Sicherheit wird durch die Partnerschaft mit der Firma SiteLock gewährleistet, die routinemäßige Scans durchführt und die Webseiten vor unerwünschten Angreifern schützt.
Warum sollte ich iPage wählen?
Der enthaltene Website-Builder ist ideal für kleine Firmen
Exzellenter Support über Telefon, E-Mail und Live Chat
Sehr preiswerte Hosting-Angebote und hohe Verfügbarkeit
SiteLock Security Suite ist in allen Tarifen enthalten
Risikofreie 30-Tage-Geld-zurück-Garantie
Du möchtest wissen, ob iPage das richtige für Dich ist?
Lass es uns herausfinden!
Funktionen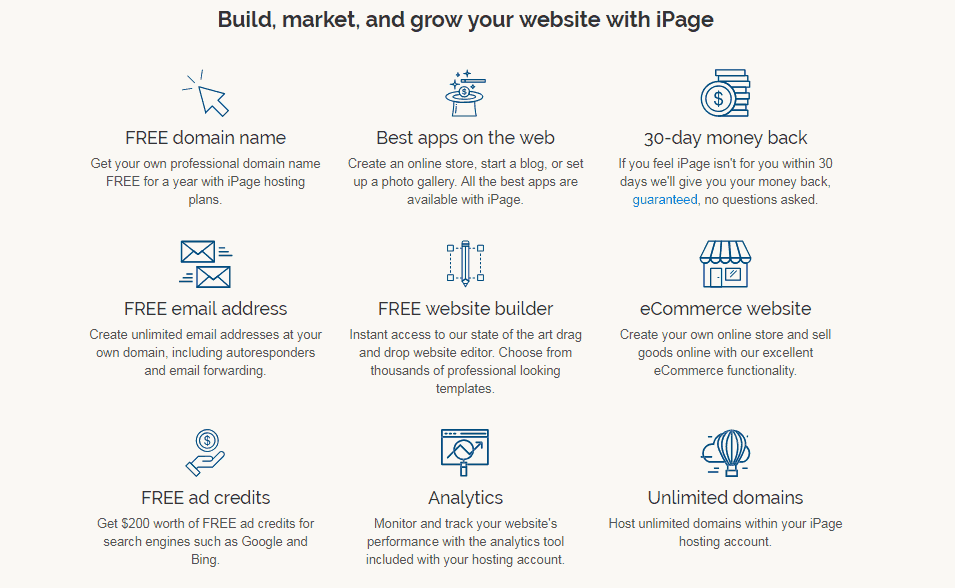 Viele Funktionen für Dein Geld
Die Pakete von iPage bieten viele Funktionen, die sich ausgezeichnet für kleinere und mittelgroße Auftritte eignen. Damit sind zum Beispiel Blogs, Portfolios, Startup-Projekte, Promo-Websites von kleinen Unternehmen und so weiter gemeint. Große Websites mit viel Traffic und Bandbreitenhunger sollten sich eher nach einem Provider mit VPS oder dedizierten Servern umsehen. Dir wird sicher gefallen, dass iPage sehr umweltfreundlich ist. Die gesamte Infrastruktur wird mit Windkraft versorgt.
iPage bietet unter anderem folgende Funktionen an:
Kostenloser Website Builder, der sich via Drag&Drop bedienen lässt
Mehrere Tausend kostenloser Templates
Kostenlose Registrierung einer Domain
Kostenlose E-Mail-Adresse
Kostenlose Marketing Tools
Bedienkomfort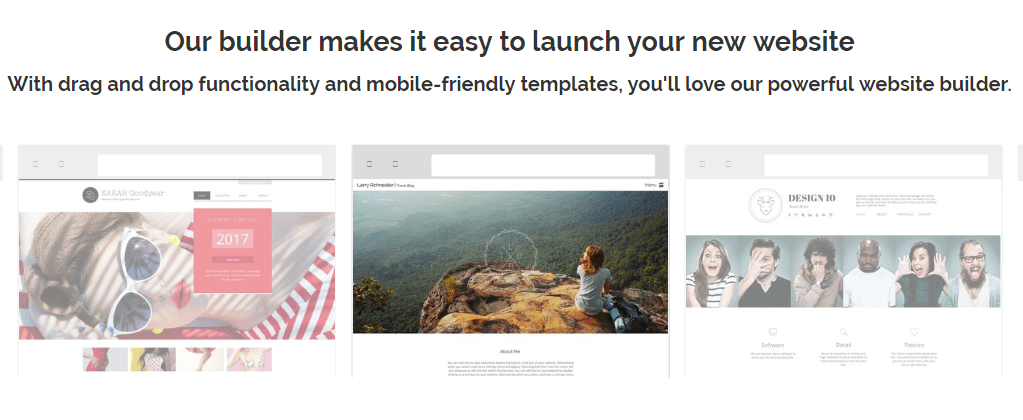 Signing up is easy, but as you go through the walk-thru, they entice you with add-ons you may not need, like security and backup, especially as a beginner.
However, iPage is user friendly, giving you instant access to a convenient and easy to use drop website editor. Also offers excellent eCommerce functionality for your online store. With iPage, you can create an unlimited number of email addresses at your own domain, including auto-responders and forwards.
Bucking the trend, iPage uses vDeck, a newer control panel that is proving popular with webmasters for its overall streamlined interface and configurability. They have incorporated Google Webmaster tools within, a neat feature that will help you manage AdWords, etc. vDeck also uses SimpleScripts, an easy one-click solution for installing popular tools like WordPress and Joomla. Those more familiar with cPanel might be a little confused/disappointed, if only for a second.

Unterstützung

Reaktionsfreudiger Support und nützliche Anleitungen
Das Essential-Paket enthält 24/7 Support via Telefon, Live Chat, E-Mail und Tickets. Anfänger und auch fortgeschrittene Anwender haben Zugriff auf viele Anleitungen, die den Job eines Webmasters genauer erklären. Du findest zum Beispiel Beiträge zu den Bereichen "Web Hosting verstehen", "Deine Website designen" oder "Online verkaufen". Um dringende Probleme sofort zu lösen, empfehlen wir den 24/7 Live Chat — er funktioniert sehr gut. Die Support-Mitarbeiter sind freundlich, aufmerksam und geben klare Antworten auf alle Deine Fragen.
Support-Zentrum – Eingeschränkt
Telefonischer Support
Video-Anleitungen – einige generische Tutorials
Live Chat
Support via E-Mail – Ticket wird über das Bedienfeld eröffnet
Forum
Blog
Hohe Preise für Premium-Unterstützung
Preise
Preise können sich bei Verlängerung verdoppeln
Die Preise für das grundlegende Paket von iPage sind durchaus konkurrenzfähig. Es gibt eine kostenlose Domain-Registrierung, unbegrenzte E-Mail-Konten und nicht limitierten Festplattenplatz. Allerdings solltest Du gut aufpassen! Anfangs betragen die monatlichen Gebühren vielleicht nur 2 oder 3 US-Dollar. Bei einer Verlängerung kann sich der Preis aber schnell verdoppeln. Für die kostenlose Domain werden dann ebenfalls Gebühren fällig. Möchtest Du noch andere Services wie Verzeichnislisten oder mobile Versionen nutzen, könnte das die Kosten ebenfalls nach oben treiben.
Für das erste Jahr sind die Preise sehr attraktiv und es gibt viele Extras. Danach ziehen die Kosten allerdings an. Der Provider bietet eine Geld-zurück-Garantie von 30 Tagen.
Web-Hosting
Name des Pakets
Speicher
Bandbreite
Anzahl an Websites
Preis
Mehr Details
VPS Hosting
Name des Pakets
Speicher
Prozessor / CPU
Arbeitsspeicher / RAM
Preis
Mehr Details
Dedizierte Server
Name des Pakets
Speicher
Prozessor / CPU
Arbeitsspeicher / RAM
Preis
1000 GB
4 cores
8 GB
$151.99
1000 GB
4 cores
16 GB
$191.99
Mehr Details
Nutzerbewertungen
Filter by
Service
Choose servise

Web-Hosting
Essential - Everything Unlimited
WP Starter
WP Essential

VPS Hosting
Basic
Business
Optimum

Dedizierte Server
Startup
Professional
Enterprise
Sortiert nach
Neueste
Neueste
Älteste
Beste
Schlechteste
iPage Review
Really decent and trustworthy company, hosted one of my sites with them for the past 1 year. Recommended for people who look for really quick, easy and extremely cheap hosting
Fazit zu iPage
Kostenloser Drag&Drop Website Builder, der auf Weebly basiert
Unbegrenzter Speicherplatz und unlimitierter Traffic
Kostenlose Domain und hosten von beliebig vielen Domains möglich
iPage VS. ein anderes Web-Hosting companies
Du fragst Dich, wie iPage gegen andere Webhoster abschneidet? Gib einfach einen anderen Webhoster ein und wir stellen beide gegenüber.