Zoho Projects beats HubSpot on project management – but that doesn't mean it's necessarily the best option for you
. There's no doubt that Zoho Projects provides an affordable and effective way to organize tasks and keep track of your clients. That said, it's best suited for small to medium-sized businesses, so it may not be ideal for larger teams or more complex tasks. While Zoho Projects focuses only on online project management,
HubSpot has a suite of products intended to help with marketing, sales, customer service, and more.
But this multitude of services can also make it more polarizing. If you bundle HubSpot's various services together, you can manage many things about your business from one centralized place. But,
if you already use another platform's marketing or business services, have a tight budget, or run a small business, HubSpot could be overkill 
compared to Zoho's more dedicated project management solution.
Try Zoho Projects for free
or read on to find out more about each software's pros and cons.
Features
Zoho Projects Has an Impressive Set of Features, While HubSpot Has Limited Tools
HubSpot's project management tools are quite basic. On the free plan, you can create and assign tasks, add notes, and set due dates. You can view all assigned tasks in daily, upcoming, or overdue to-do lists.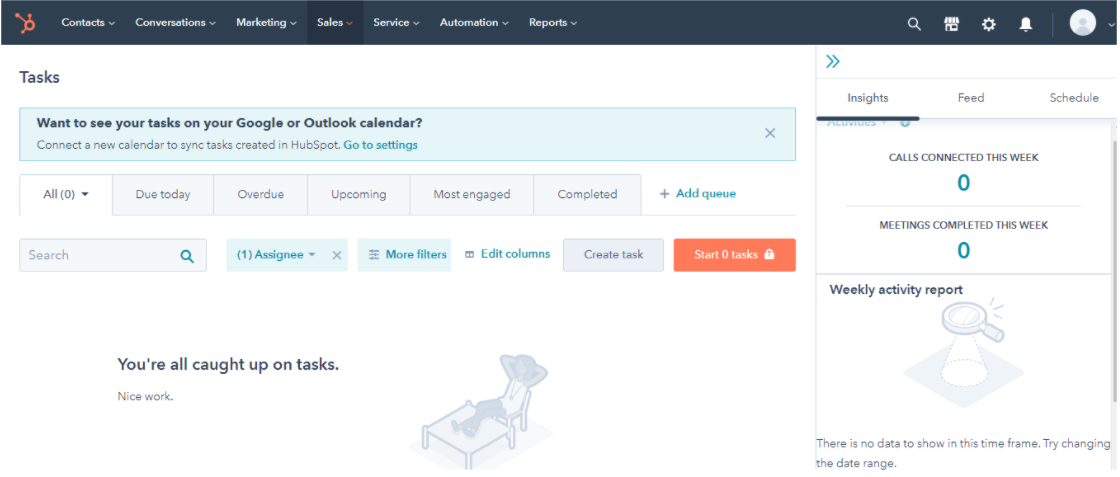 If you upgrade to the Marketing Hub's higher tiers, you can use the
advanced features included in HubSpot's Projects tool
. For example, you'll be able to choose from pre-populated templates and attach assets like blog posts, landing pages, or files to your projects. Zoho Projects offers this and much more. And
unlike HubSpot,
Zoho Projects lets you use the Gantt Chart and Kanban view even on its free plan
. The Gantt Chart displays every step of your project in a timeline, while Kanban shows your tasks as cards and lets you categorize tasks as open, in progress, in review, etc.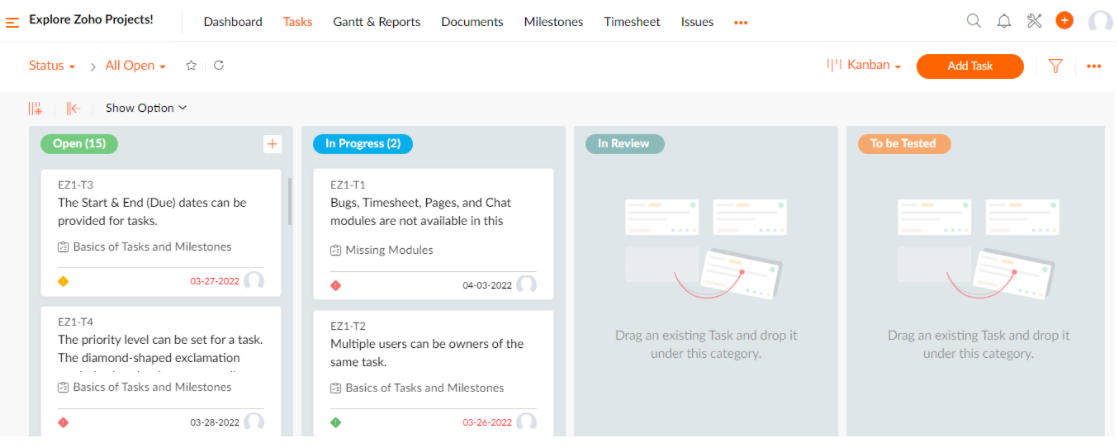 Zoho Projects also has
a built-in time-tracking tool
that lets you keep track of work that's being done and the final cost. You can set up timers to track work or set up time entries manually. You can even track multiple tasks simultaneously, which is very handy.
Zoho Projects' features come together really well in a way that can greatly boost your team's efficiency
. For example, the blueprint option lets you define every step of the work process, and you only need to create it once (you can reuse it as needed). Also, thanks to the resource utilization tool, you can ensure all members have fair workloads.
When it comes to file storage, Zoho Projects is a better option if you plan to stick to the free version
. Zoho Projects includes 10GB of storage on the free plan, compared to just the 5 files you can upload on HubSpot's free plan. That said, all of HubSpot's paid plans have unlimited storage while Zoho Projects offers a max of 120GB on the most expensive plan.
Both HubSpot and Zoho Projects are good at integrating with third-party apps
. You can browse through hundreds of options in their respective marketplaces, which include integrations with popular services like Slack, Facebook Ads, and Mailchimp. The bottom line is that HubSpot is a complete CRM (Customer Relationship Management) tool with some project management features, while Zoho Projects focuses exclusively on improving project management and team productivity.
Ease of Use
HubSpot Is Super Simple; Zoho Could Be Easier, but It Has Better Organization Tools
Setting up a Zoho account is quick and simple
, but Zoho's interface can be clunky because of the sheer number of features. Basic functions like creating tasks and switching between views are easy enough, but
things get a little complicated when it comes to Zoho Projects' more advanced tools
. For example, the blueprint and resource utilization features don't have their own section. Instead, you need to click around on various submenus to find them. Browsing tutorials can also take a little time, as topics aren't structured efficiently.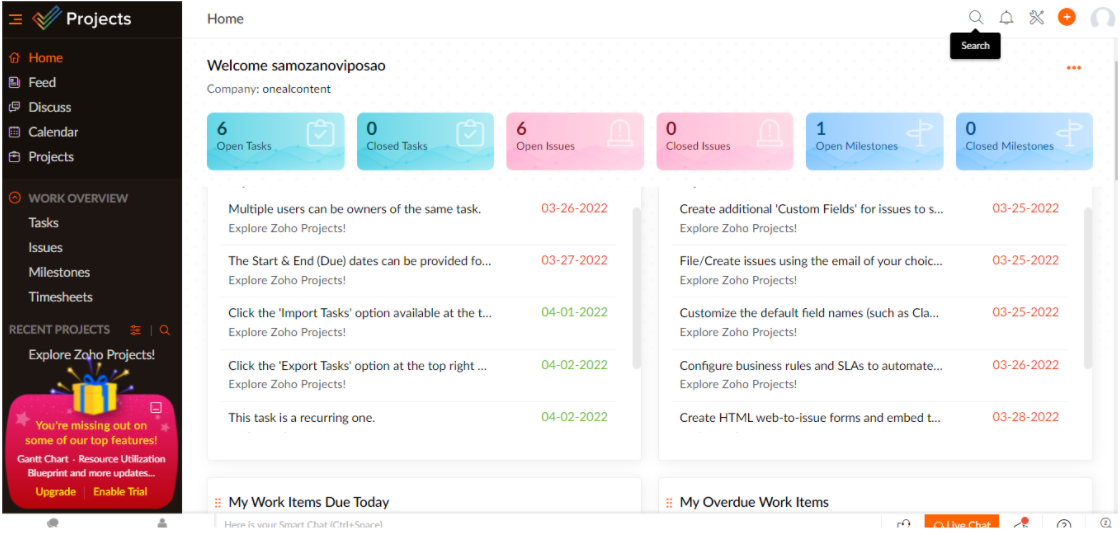 HubSpot's clean interface is very beginner-friendly
: the top navigation bar has links to all your tools, so you just have to click to open pull-down menus. You can choose from 12 different homepage layout options. There's also a drag-and-drop editor for customizing forms, emails, website pages, and other templates.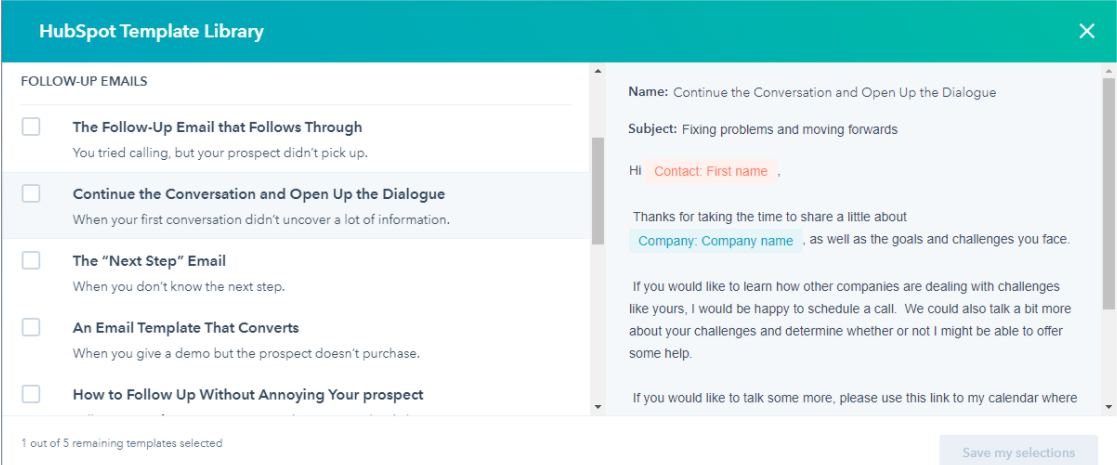 HubSpot also uses step-by-step visual demos to hold your hand when you get started
. The demos introduce you to all the built-in tools and walk you through the process of setting up your account and your first project. If you get stuck, there's also a built-in "Help" button. That being said,
Zoho Projects offers more creative freedom when it comes to customizing its user-interface
. For every project, you can create a custom dashboard that displays the most important information. You can also pick different visualization formats and move around widgets however you like. Moreover,
Zoho Projects' milestone system makes it easier to organize your tasks
. You can break down every project into smaller chunks – milestones, list tasks, tasks, and subtasks. This means you can organize every part of your project, helping you keep both the big picture and smaller details in view. In short, setting up a project with Zoho Projects may take a bit longer at first, but once you get used to it, you'll be able to manage every detail. HubSpot is easier to navigate and it has better support, but it doesn't have many project management features to begin with. This means you don't have a lot of options for organizing tasks, which ultimately makes it more difficult to use.
Collaboration Tools
HubSpot Has a Wider Set of Collaboration Features
In general, Zoho Projects has efficient communication tools, but HubSpot provides more ways for teams to coordinate and connect.
Zoho Projects' built-in chat function allows you to communicate with any team member right away.
You can contact individual users or entire groups within your team. For long-form discussions, you can create forums where users can ask questions, post comments, and tag each other within threads.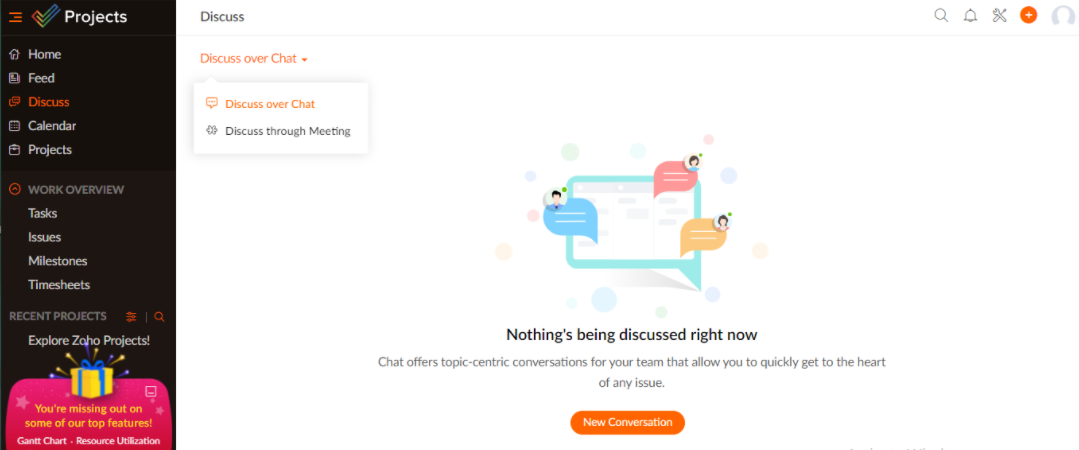 Meanwhile, HubSpot's Shared Inbox is more than a built-in chat. With it, you can reply to messages on several different platforms, like your business email and Facebook Messenger, in one centralized inbox. Sales teams can even use the Shared Inbox to respond to customer form submissions.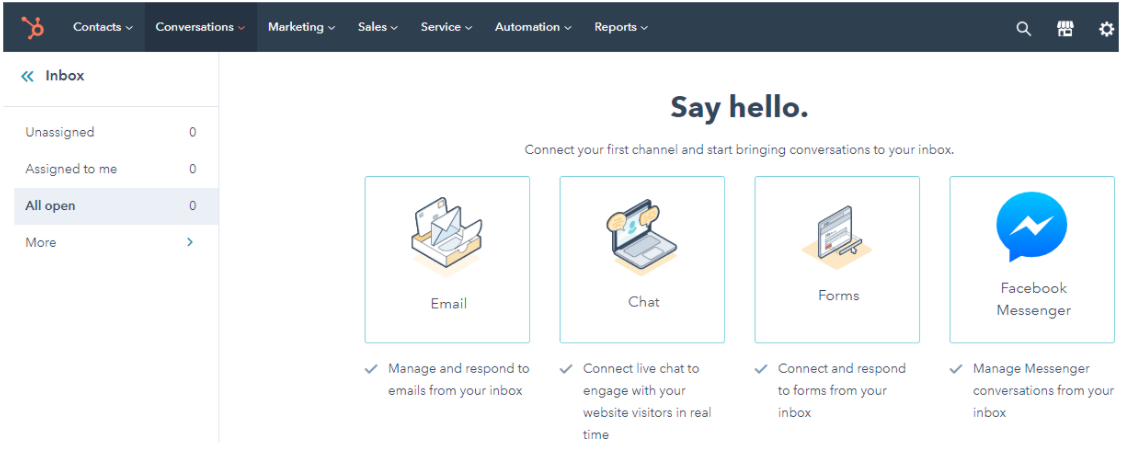 When you create an inbox, you can choose who has access to it. More advanced settings allow you to have incoming emails and chats automatically assigned to one or more specific team members. The Shared Inbox also allows you to discuss customer conversations with your coworkers using a comment system that's hidden to the customer. This is particularly useful if your business generates leads through live chat and email. But overall,
Zoho Projects' direct messaging is more natural for communicating with your team
than HubSpot's hidden comment system. As for file sharing, Zoho Projects and HubSpot are evenly matched. Zoho Projects lets you upload images, documents, spreadsheets, and presentations, whereas HubSpot lets you upload anything from PowerPoint presentations to PDFs to video files.
Both allow you to upload from your desktop, Google Drive and DropBox
– and HubSpot also lets you connect a Box account. A mobile app is a great way to work on a project and stay in touch with everyone on the go, and luckily, both Zoho Projects and HubSpot provide one. However,
Zoho's mobile app doesn't let you do much of the actual work
– you can edit tasks and log work hours, but that's about it. In contrast, HubSpot's mobile app lets you manage tasks, meetings, notes, emails, and contacts. Also,
HubSpot's app provides
one-tap access to documents
. You can even add notes and follow-ups to contacts and activities. Overall, both Zoho Projects and HubSpot have all the essential tools to help you improve teamwork, but HubSpot provides more features for client-oriented businesses.
Pricing
Zoho Projects Offers Quality at Low Prices, Whereas HubSpot Can Get Pricey
Zoho is one of the most affordable project management software out there, and you get good value for money, too.
Zoho Projects offers a free plan
and two paid plans – Premium and Enterprise. With HubSpot, pricing is more complicated.
HubSpot has a free plan plus 5 sets of paid plans geared toward different niches
. Each of these 5 'hubs' has 3 paid plans. The 5 hubs are Marketing, Sales, Customer Service, CMS, and Operations.
Here's What You Get for Free
Zoho Projects' free plan is designed for teams of up to 3 people
, but it's still a good option even if you fly solo. The free plan gets you all the basic tools, such as task management, document sharing, and a messaging app. However, you can only create 2 projects, you can't access project templates, and you can't edit your project in the Gantt Chart.
HubSpot's free plan includes basic tools from all 5 hubs
, such as email marketing and the shared inbox. The free plan is fairly limited: it only allows 2 users, and you can only upload 5 documents and create 3 dashboards. To use the Projects tool, you'll need to upgrade to a paid plan, so you don't get as many free features that you do with Zoho Projects.
Here's What You Get When You Pay
Zoho Projects' Premium and Enterprise plans offer plenty of functionality for mid-sized teams. You can create unlimited projects, get advanced task and issue reports, and access features like blueprint, AI chatbot, and time tracking. Best of all,
Zoho's most expensive plan is still cheaper than almost any other similar software
. HubSpot's paid plans unlock extra features such as the Projects tool, project templates, calendar view, and analytics data. You can
subscribe to a single Hub or mix and match Hubs
to get the tools you need. However, the Projects tool is only available on the Marketing Hub's higher tiers, and for any given Hub, prices rise significantly as you ascend tiers. Overall,
Zoho Projects offers much better value for money, but HubSpot is worth the additional cost if you use all the available features.
Here's a comparison of Zoho Projects' and HubSpot's similar-level plans, so you can decide for yourself.
Zoho Projects Premium Plan
HubSpot Starter Marketing Hub Plan
Starting Price

$

4.00

$

45.00

Max number of users
50
Unlimited
File storage
100GB
Unlimited
Types of task view
Calendar/Kanban/Gantt view
Calendar/Kanban/Gantt view
Built-in messaging

✔

✔

Time tracking

✔

✘

Number of dashboards you can create
Unlimited
10
Support
HubSpot's Support Is More Responsive, but It's Unclear What Support You Can Access
Both Zoho Projects and HubSpot offer community support and extensive documentation
with clearly-written articles, tutorials, and webinars. HubSpot also gives you the option of signing up for free courses. Zoho Projects provides live chat, email, phone, and Twitter support options. I reached out to Zoho Projects through email and received a response after a 3-day delay. While the support agent proved to be helpful, the extended wait time was somewhat inconvenient. Additionally, Zoho asserts that you can initiate contact through a live chat button within the application; however, when I attempted to use it, there was no response.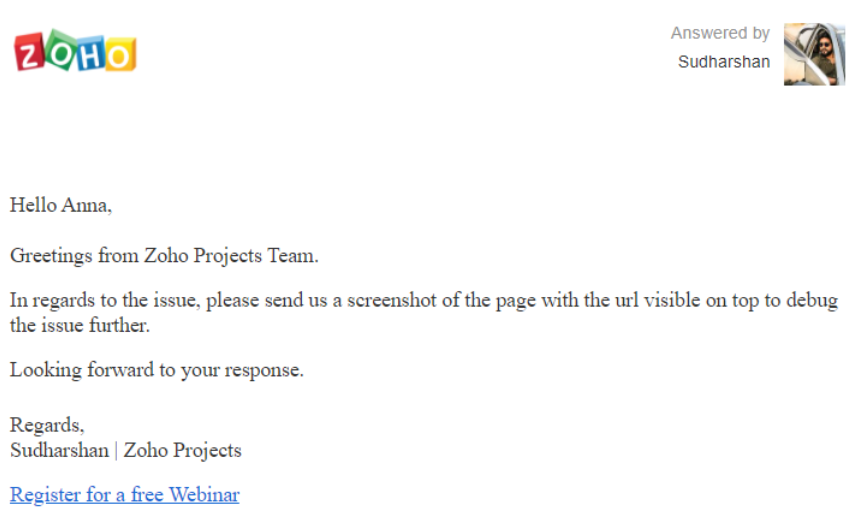 HubSpot also provides live chat, email, phone, and Twitter support, but what's available on which plan is a little confusing
. According to HubSpot's website, live chat and email support are only available on the paid plans. However, I was able to access support via live chat even on the free plan.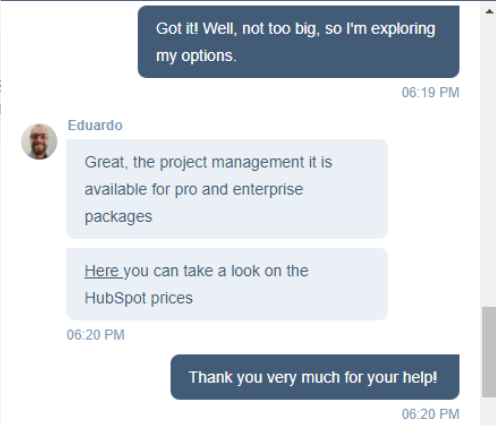 HubSpot's phone support is available from the Professional plan and up, as is personalized technical support from an expert. The bottom line is that while Zoho's customer support could be better, HubSpot responds quickly – even though it needs to update its site info.
Zoho Projects Is Built for Project Management, While HubSpot Caters to a Different Audience
Zoho Projects is a better option for project management
. It provides a wide selection of features, it's easy to use, and it's quite affordable. In contrast, HubSpot only has some project management tools, though you should consider it if you plan to use all of the other features HubSpot offers.
Features
Extensive project management tools
Only some project management tools
Ease of Use
Easy to use, but it takes some getting used to
Collaboration Tools
Direct messaging and forum tools
Shared inbox (multiple channels in one place)
Pricing
A free plan and two affordable paid plans
A limited free plan and many different, expensive, paid plans
Support
Support documentation

Community forum 

Live chat support

Email support

Phone support
Support documentation

Community forum 

Live chat support

Email support

Phone support
FAQ
What's better, Zoho Projects or HubSpot?
Compared to HubSpot, Zoho Projects has more project management features and is cheaper. That said, if you plan to use all of HubSpot's services for marketing, sales, and contact management, you may find its offer more appealing.
What does HubSpot do?
HubSpot combines CRM tools with marketing, sales, and content management features to increase team productivity. HubSpot also has a rich set of collaboration tools to help you stay in touch with clients and customers.
Is Zoho free?
Zoho Projects has a free plan that includes basic project management tools, but upgrading to a paid plan will definitely be worth your while, as you'll get access to more tools at a very affordable price.
Is Zoho Projects good for beginners?
Zoho Projects isn't difficult to use, but its interface isn't the most intuitive, ethier. This means it can take some time to learn how to set up and assign projects. If you're looking for more beginner-friendly options, check out our list of the best project management software in 2023.