this is not a video editor
 (although YouTube does already have a basic video editor in its toolbox).
It's a tool that generates videos, specifically 6-16 second ad videos, based on some templates,
 which you can populate with the text, images, and music of your choice. This tool won't make you the next YouTube celebrity. You won't be able to make shopping haul videos, game guides, or juicy drama videos.
All it does is ads, and there's no indication, as yet, that you'll be able to make anything other than ads
. If you need more than that, I recommend you
hire a video editor on Fiverr for as low as $5
. A unique video created by a professional will almost always be more effective.
It Has Basically One Feature, but It's Easy to Use
This entire app consists of about three screens: The one where you choose your video template.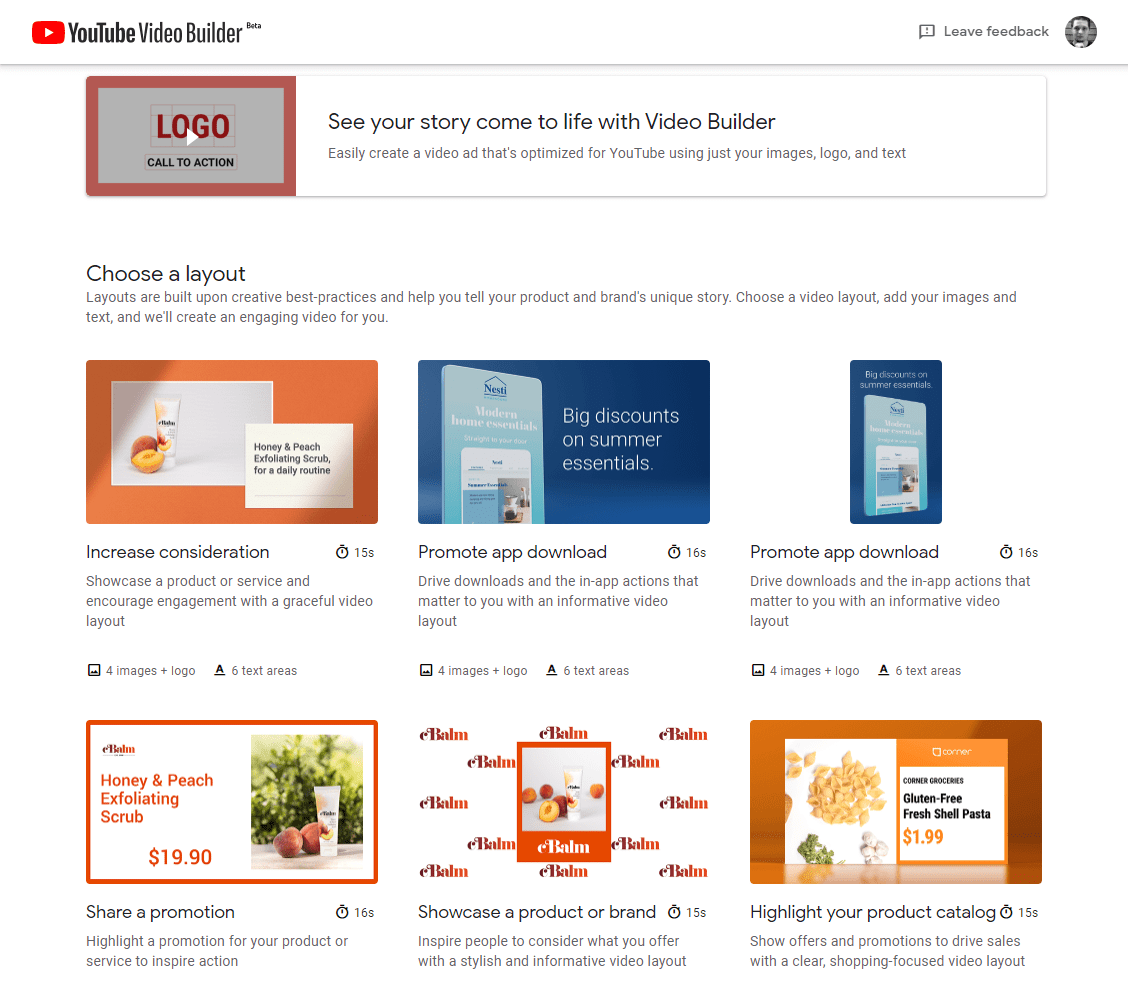 The one where you add content to your video.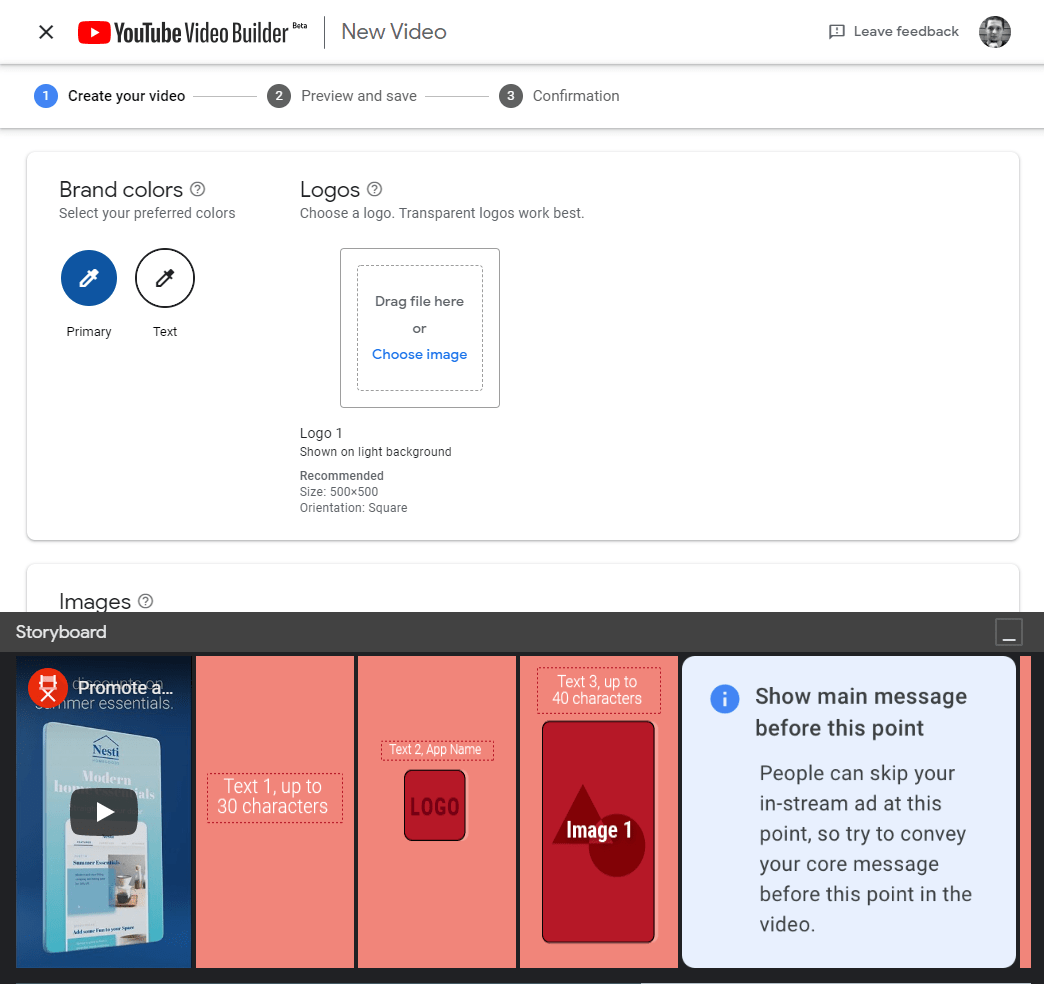 And the one where you wait for your video to get made, which I forgot to screenshot while I was making the video. Ah well, it's basically just a progress bar, and you can see my recording of the whole process below. And hey, it's all free.
You literally just fill out a form with the images and text you want, change the video's colors to match your brand,
 pick your music from a collection of instrumental, semi-catchy beats, and let the app do the rest. If you have everything prepared, the whole process might take three minutes, not counting the time it takes for your video to render. If you have to resize images as I did, it might take ten minutes at most. You can also choose the font used in the video, and you have access to the entire Google Fonts catalog, which means you have almost a thousand font families to choose from. The downside is that you'll have to go look at those fonts in another tab to see what they look like.
But the basic experience is simple. If you've ever filled out a form online, then you've got this. I believe in you!
Here's a video detailing my entire experience with this software:
And here's the final output:
Output
You get a Full HD (1080p) video that can range between 6 and 16 seconds long. Literally
all
of the templates are ad-based, and meant to introduce your brand or product, so just… those are your options. Currently, the video will be put on the YouTube channel tied to the same email you used to register for the beta access.
The video itself will be "Unlisted" so the general public won't see it until you're ready.
 I actually kind of appreciate that.
There Isn't Much Support, but Your Videos Are All Yours
Okay, so this is branded specifically as a YouTube product, and it's on the YouTube site. That means
all
 of the infrastructure is built around YouTube. If you need support, good luck. YouTube's support infrastructure is notoriously unreliable, especially when there are copyright issues. Make darned sure you own everything you're putting in your video. This also means the terms of service and privacy policy are the same as for YouTube in general.
You retain the copyright of the videos you create (but again, only as long as you own all text and images you use).
 Seeing as the YouTube video builder is all about making ads, it's pretty safe to say that Google wants you to monetize those videos.
In Conclusion: It's Fine, but You Could Do Better
The YouTube Video Builder does what it says on the box.
 You input content, it makes videos automatically. And, you know, it's fine. If you like that sort of text-and-bouncing-images ad. It's a dead-simple tool for dead-simple advertising. But you could do a lot better, even on a budget.
If you go to Fiverr, you can literally have people edit videos for you for as low as $5 USD
.
 Okay, I might personally pay a bit more, but the option is there, and you'll get a lot more flexibility and creativity out of a human designer. If you have next to no budget and don't mind doing things yourself, you could also try out this massive list of
free online video editors
 I wrote about.
Of course, this is beta software. Features will be added and removed until it's complete, and then some.
 This being a Google product, it could be in beta for a decade, so who knows what this app will become. And that's sort of the big question. Why did Google and YouTube do this in the first place? Why even make this thing? What's the end goal? The clear solution involves bringing more individuals and companies into YouTube's ad ecosystem, all while bypassing the typical costs associated with video production. By enabling users to create video ads using only a handful of images and a short piece of text, the necessity for costly equipment such as cameras, crews, video editors, plugins, microphones, voiceover artists, and numerous other expenditures can be significantly reduced. It's not that there weren't already cheap ways to make these sorts of low-effort videos,
but this is one of the most streamlined concept-to-finished-video processes I've ever seen.
According to marketing firm WebFX, companies can spend as little as $10 USD per day on their YouTube advertising budget. Someone with a few hundred dollars to spend on ads alone could get a month of increased traffic and eyeballs, while
only spending money on the ads themselves
. That's a lot of potential leads for a small business, and a largely untapped source of revenue, from Google's perspective. Maybe one day, as a side benefit, the YouTube Video Builder will be expanded with features to help you make that vlog you've always dreamed of.
For now, it's all about those ads.