Are you looking to start a website for yourself and/or your business? Have you just started a site, but you aren't sure where to go next? Do you have a budget? Well, you're going to need one, because your best option really is to hire a professional designer.
It might seem like a hassle. It might seem expensive — and the good ones usually are. (What's that old joke? Fast, cheap, and good. Pick two.) But there are several really good reasons to hire a pro, and I've listed the best of them here.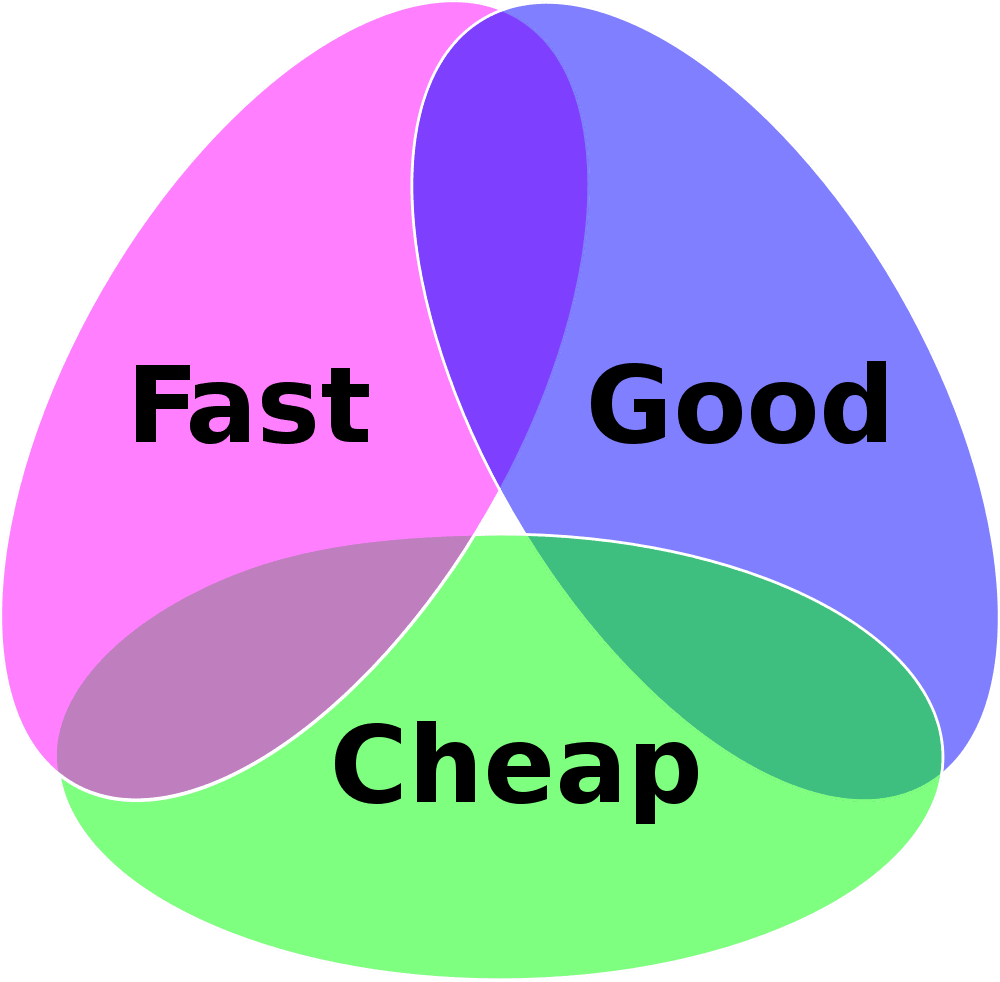 The joke is so old that Wikimedia Commons had this image in their library, just for articles like this one!
See my reasons below, and if I've convinced you, you might head on over to Fiverr or 99designs to look for your first designer. Or you could look for someone local, to form a mutually beneficial relationship with a business in your own city.
Don't miss our tips for finding an awesome designer on Fiverr.
#1. They Can Make Pretty Things Better and Faster Than You Can
The first and foremost reason you'd hire a web designer is pretty much the same reason you want to hire any other expert. It's that simple, and it's perhaps the most important reason on this list. They've generally spent years learning the theory, the discipline, and even the software.
Now, you can absolutely learn to design your own website, just like you can learn to fix your own car, and do your own plumbing. With time and practice, you, too, can become an expert. But if you're reading this, then chances are that you've got a business to run, customers to sell things to, providers to buy things from, and generally enough on your plate.
A website builder like Wix or a hosting platform with a site builder app like GoDaddy can absolutely get you started, regardless of your skill level. But what these tools give you is a starting point — not necessarily a website that will help you meet your goals, or grow your business.
Whether you use a site builder or have a site built from scratch, having the expertise of a career designer is going to make it that much better.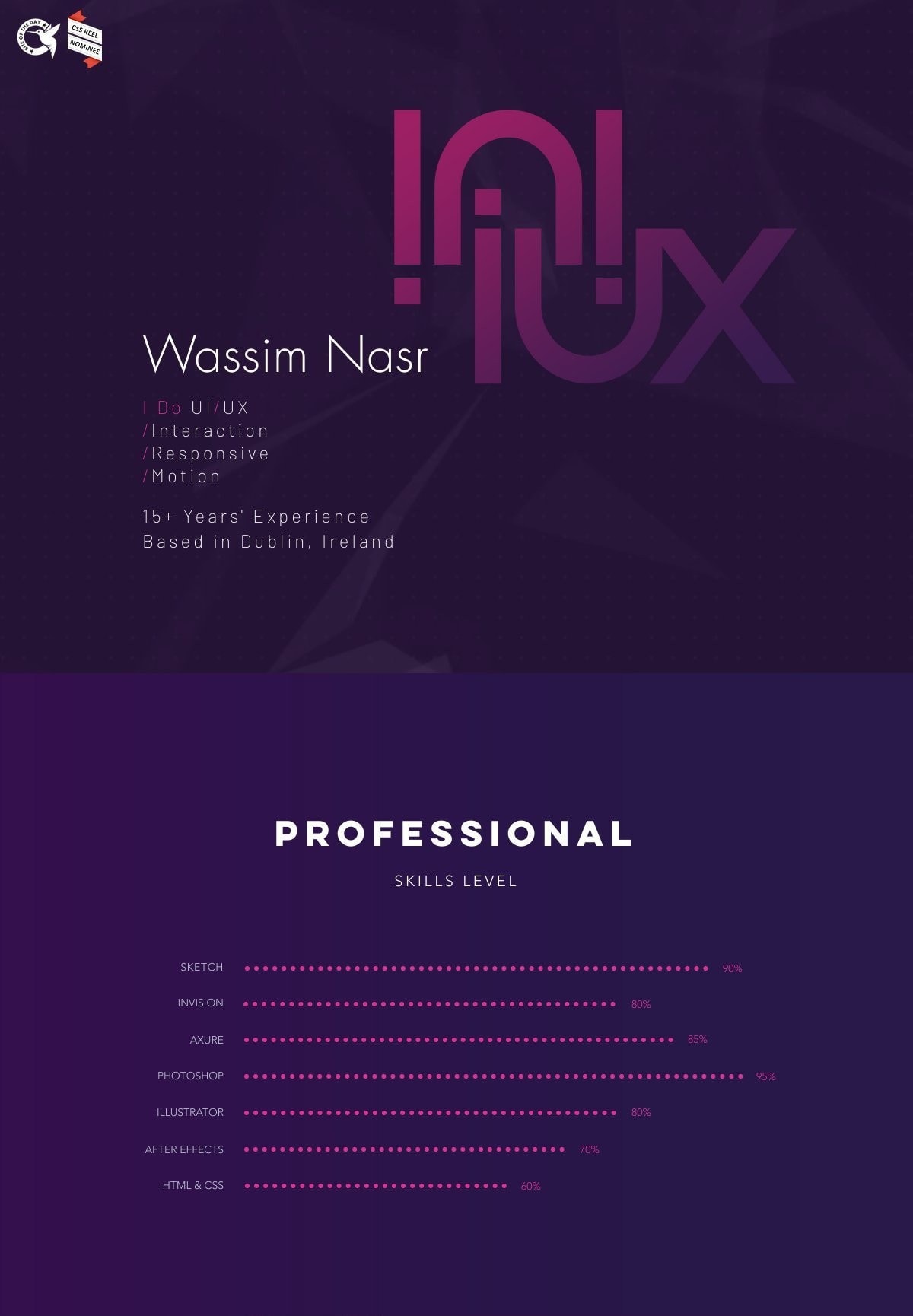 An example of a custom site designed by Wassim Nasr, built with Wix, and nominated for a CSS Reel award.
#2. They Can Help You Strategize and Plan
A designer's knowledge about websites, and particularly their knowledge about how people use them, can be a major asset in helping you reach your business goals. Amateur designers jump in and start making things pretty. (I know that because I did it, too.) A professional designer won't touch any graphics or code until they've asked you a lot of questions.
They'll ask questions like:
What do you want for this website? Do you want to sell products? Services? Yourself? What does success look like?
What, in particular, do you want a user to do when they get to your site?
Do you have any branding and design assets we can see, to keep things consistent?
Answering questions like these will define your website strategy going forward, and will help designers build the site that's right for you.
#3. They Can Make Your Website More Accessible to Everyone
Your visitors might include people with any number of problems, including blindness, color blindness, arthritic joints, slow internet connections, screens with poor contrast, and lots more. A good designer will make it easier for these people to use your website.
For example, they'll focus on making sure that:
the text is big enough for most people to read without reading glasses
there's enough contrast in the design, both for those with visual impairments, and those browsing in poor lighting conditions
websites are compatible with screen reader apps (basically, these apps read the content of websites out loud)
pages load fast and are usable even on slow connections
websites run fast even for people with older smartphones, and other low-power devices like netbooks
One thing that separates professional designers from beginners is that pros design the website from the ground up with these issues in mind, and don't wait for the issues to cause visitors to go elsewhere. Again, it's a discipline you could learn, but it's a ton of work.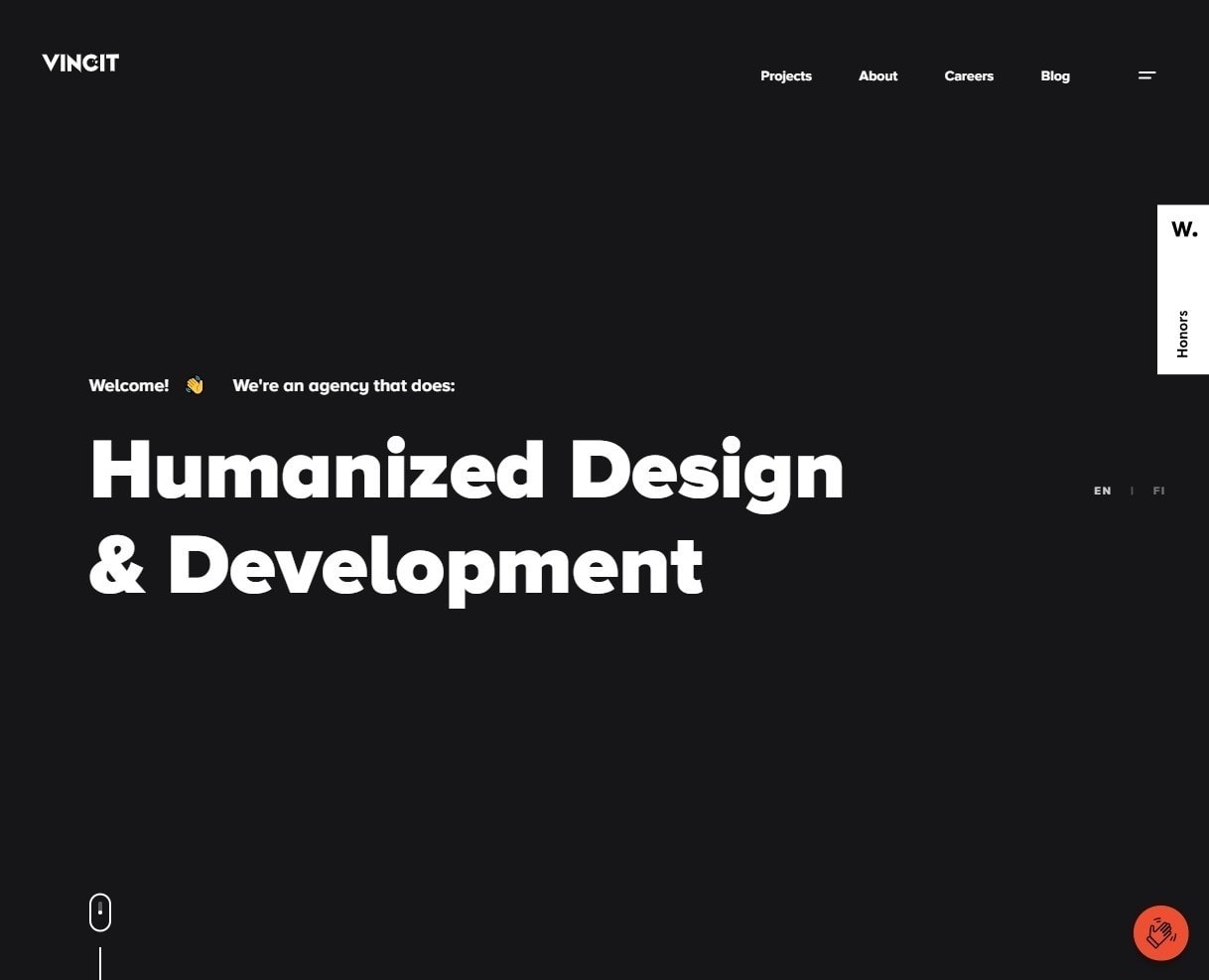 Besides, high contrast and big text looks good… real good.
#4. They Can Help Your Website Rank Higher on Search Engines
Now, this is a point that comes with important caveats. For one, not all designers are search engine optimization (SEO) experts. Furthermore, search engines are fickle and constantly changing. Anyone who guarantees that your website will "go straight to the top of the search results and stay there" is making a promise that's practically impossible to keep – at least not for for very long.
However, SEO mostly comes down to two things: having well-written content, and having a website that's built to allow search engines to index it easily. (That means the search engine reads your website's text, categorizes it, and determines its relevance for any given search.) You want a designer to help you handle that second thing most of all.
#5. They Free You to Focus on Other Things
I know I mentioned this a little in my first point, but it can't be overstated how good it feels to know that where once there was a task you had to handle, now you don't have to. All of us, every day, are dealing with more and more mental strain, and bigger cognitive loads. Our brains generally evolved to handle just a few things: procuring food, maintaining shelters, keeping the kids alive, and being nice to the in-laws.
Now, it often seems we have to meet all of those requirements and many, many more. Hiring an expert comes with practical benefits, yes, but when you find the right one, you get mental health benefits, too. Web design, for all the rules it comes with, is still highly creative work. Highly creative work is often exhausting work.
There's a peace of mind that comes with being able to say, "That is someone else's problem for the moment. I have a business to run. Time to do the work I actually signed up for."
#6. They Can Train You
Now, for all this talk about hiring designers to handle your website so you don't have to, there may be times when you need to make a change or two for yourself. You could benefit from your designer by getting them to teach you the very basics of how to make changes to your site without, say, accidentally messing up the layout.
Look, these things happen, even to veteran designers and developers, sometimes. While it would certainly be impractical to have your designer teach you everything they know, a little basic knowledge can take you a long way.
#7. In Conclusion: They Make Good Partners
The websites that get the most traffic are living, breathing things that get updates at least every so often. Sure, you can always hire a designer for a one-off project, and plenty of businesses get by with a "brochure site" that hardly ever changes. However, you get the best returns on your investment when you invest time into your relationship with a designer, and not just money into a website.
As you learn about their capabilities and their skills, they learn what you like, and if all goes well, a mutual respect will form. That sort of relationship is a win-win for your website, your business, and yes, the designer's business, too. Who could say no to that?