Chances are that if you're considering WordPress.com to build your website, you're a blogger who wants to generate traffic to your website and build a community. In chasing this goal, you're certainly not alone. Search engine optimization (SEO) has become one of the most talked-about industries in the online world because it's how you can have your content rank higher in search engines and thereby draw more users to your website.
The main reason why SEO is so important is that it's estimated that 93% of website visits come from search engines. I'll focus on Google (although the information should be relevant for all search engines), as 79% of searches are made via this engine.
Let's see whether WordPress.com provides enough when it comes to SEO and related features to help you achieve your website goals.
How Good Is WordPress.com's Built-In SEO?
According to the head of Google's webspam team, WordPress takes care of 80-90% of all your SEO mechanics for you. The remaining 10-20% requires that you take some common-sense SEO steps (in the next section) as well as utilize SEO plugins.
The chief way that WordPress.com websites increase your SEO is by automatically generating and submitting XML sitemaps. On many other platforms, even on self-hosted WordPress, you need to manually generate your sitemaps and submit them to Google. Sitemaps help Googlebot quickly identify key information related to your website to use when indexing it for their search results.
Moreover, every time you publish new (or update existing) content on your WordPress.com website, it notifies Google of the new content to get it crawled by Googlebot as soon as possible.
Based on how Google is focusing more and more on actual content and less and less on other methods that can be manipulated, I agree that this is the lion's share of what makes up your SEO ranking. However, I'd say that this is more like 60-70% instead of 80-90%. Whatever the case may be, it's a must-have feature that saves you time and effort.
The last plus-point for WordPress.com is that the platform is built on simple, yet extremely machine-readable HTML which makes it more SEO-friendly off the bat. Some other platforms, such as Wix, are built on less SEO-friendly JavaScript or other coding languages which aren't as good, despite being optimized.
How Good Is JetPack by WordPress for SEO?
JetPack by WordPress is the go-to utility plugin when using WordPress.com for a range of functions, including enhancing your security, improving load times for webpages and media, and optimizing your SEO. Let's not forget that webpage speed performance is currently an important rating factor when it comes to SEO. Each subsequent level of the Jetpack plugin is unlocked automatically as you sign up for a particular plan.
Other than improve webpage speed performance, it doesn't do anything more for SEO on a Free or Personal plan. However, with Premium and Business, you unlock the Jetpack SEO preview tools as well as Google Analytics Integration. These two are much more interesting and hands-on features. The former includes the following:
Front Page Meta Description. A meta description is usually included in the HTML of a specific webpage. For example, it could be something like "best dog grooming kits" on a review of dog-grooming equipment. The Jetpack SEO tools let you edit your front webpage meta description for search engines to read and identify your website's content.
Custom Post Meta Description. The same goes for posts on your website. If you have a Premium or Business WordPress.com plan, you'll see this small box on the right side of your "create a post page," allowing you to set a custom description.
Custom Title Formats. Having eye-catching listings for your post and webpages can be just as important for attracting visitors as your search engine ranking. These tools allow you to customize how your search result will look by setting custom titles for webpages and posts via a custom format.
Search and Social Previews. After you've done all of the above, you can preview exactly how your webpage or post listings will look in website or search engine search results.
On the other hand, Google Analytics Integration doesn't actually help you proactively improve your SEO; instead, it provides tools to analyze your performance in terms of traffic and how visitors use your website. You'll be able to visually digest information such as your impressions, the origins of your traffic, bounce rates, and traffic over certain periods of time. This will help you test and compare changes you make to your SEO.
Jetpack by WordPress tools and the built-in WordPress SEO account for most of the reasonably expected steps a platform can take to improve its SEO. However, this isn't too impressive compared with some competitors, such as Wix, that provide more of the functionality discussed above even with their free plan.
How Good are the SEO Plugins in the WordPress.com Repository?
If you don't like the built-in tools or the ones provided through Jetpack, there are other SEO plugins you can install. However, plugins are available for use only by Business plan members. The most popular ones are Yoast SEO and Google Analytics by Monster Insights.
The Yoast SEO plugin is arguably the most widely used SEO plugin in the world. The WordPress.com version provides much of the same functionality as the Jetpack SEO tools, such as the ability to edit your meta descriptions, generate and submit sitemaps, and preview your social media and search results.
However, it also provides additional tools, such as:
The ability to analyze your webpage or post content
Suggestions to make these more SEO-friendly
Keyword suggestions
Ingoing and outgoing link suggestions
The ability to set up user accounts with different SEO permissions
A redirect manager which will help you avoid crawl or "page not found" errors.
The only other notable plugin is Google Analytics by Monster Insights. Once again, Jetpack already provides most of the same functionality in terms of viewing your website and user statistics. However, if you prefer a different interface, then you should try this plugin.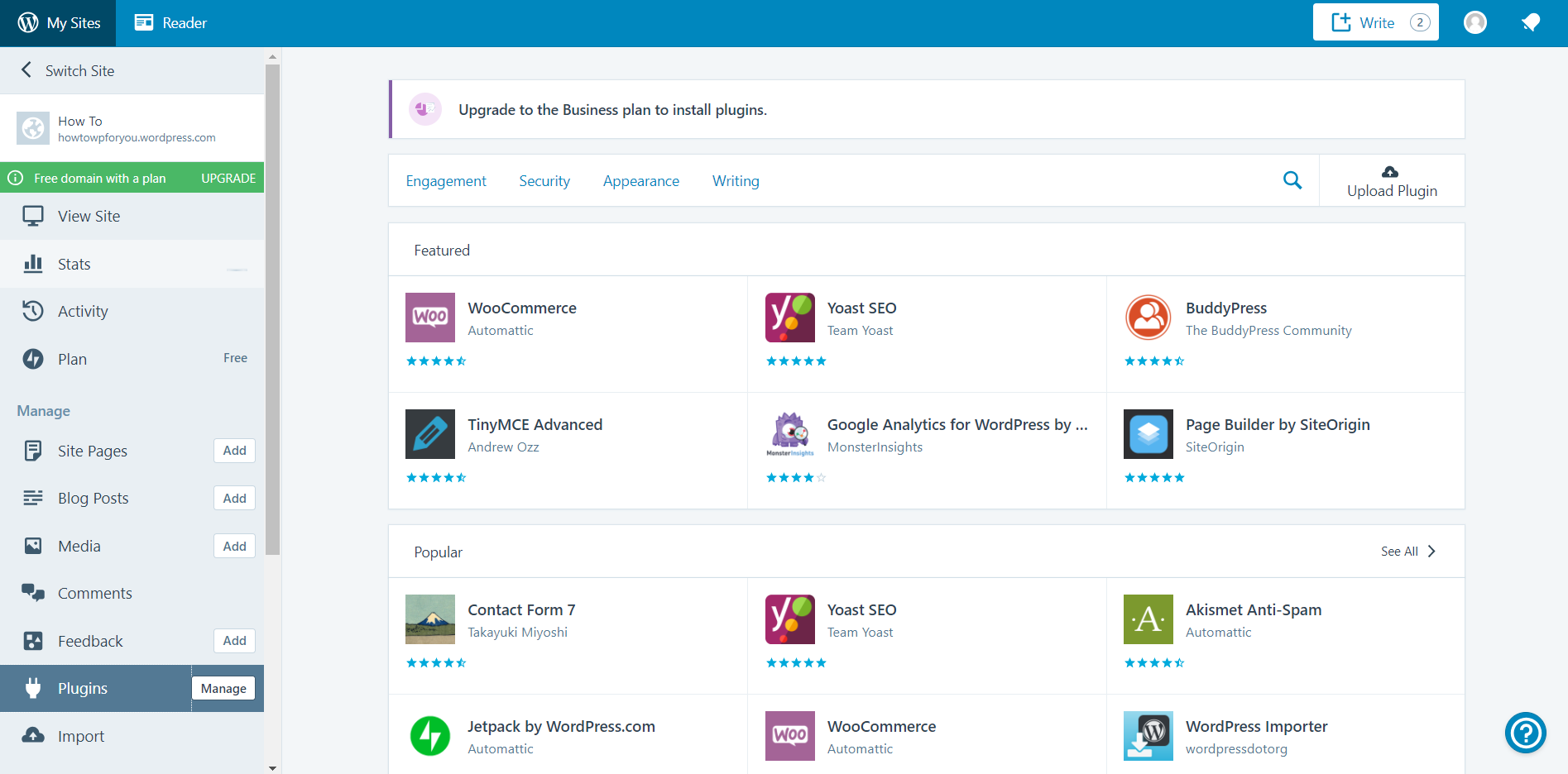 That's pretty much it in terms of SEO features via third-party plugins. The only other marketing/social media plugins you can look for are those that provide extra sharing and social media management tools and email campaigns.
How Much Control Do You Have Over Your Website SEO?
Unfortunately, WordPress.com doesn't offer the greatest amount of control when it comes to taking SEO into your own hands, especially if you don't have a Business Plan. You can do the basics, for example by editing your slugs, providing descriptions, and managing categories and tabs.
It's also important to keep in mind that categories and tags aren't really used by search engines when ranking webpages or posts any longer. However, they're still a very handy tool for internally organizing your content and making it easier for visitors to find what they're looking for, which will positively impact your website.
Only with a Business Plan will you be provided with the extra capability of being able to change your permalink structures. However, even then you won't be able to fully manage your URLs as you can on websites like BigCommerce.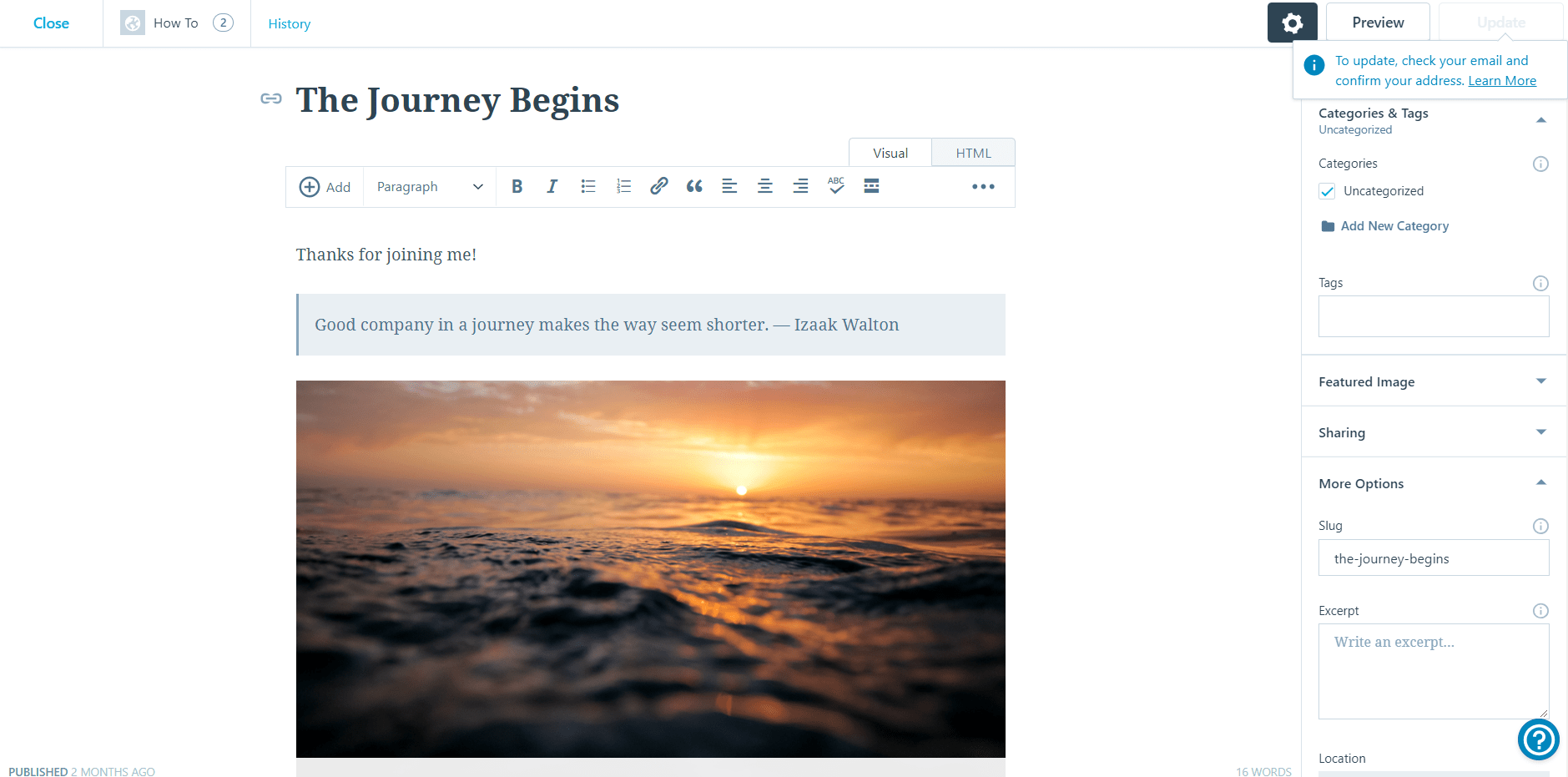 WordPress and SEO — What's the Verdict?
You could summarize the SEO on WordPress.com as covering slightly more than just the essentials without being totally comprehensive. As a tool that's aimed primarily at making it extremely affordable and easy for anyone to run a blog (or a small online business), WordPress.com really has no choice but to provide at least a small degree of built-in and third-party SEO tools.
However, it does fall far behind some competitors when it comes to the variety of plugins or apps with which to extend your SEO functionality. Although less common, it also doesn't provide users with all the freedom to take SEO completely into their own hands, for example by editing URLs. These really are just bonuses if you do the basics right. However, they could be hard requirements for large-scale businesses or enterprises that aren't WordPress' target audience.
If I had to score it, I'd give WordPress.com a respectable 7/10. It could improve by providing more third-party apps and affording users more freedom. However, it does provide all the most necessary tools for its main customer base comprising individuals and bloggers.