Why does Wix stand out from other website builders? No, it's not the constant blasting of TV ads. It's because Wix provides more tools to create a stunning website than the average builder. One of the greatest advantages of building a website with Wix is its extensive library of customizable templates.
Where most website builders limit you to no more than a few dozen templates, Wix offers hundreds of beautiful templates with modern designs and drag-and-drop functionality. I'm not saying that Wix templates are perfect, because they're certainly not. However, they are a step above the majority of drag-and-drop website builders.
So Many Templates, So Little Time
Wix has templates in 16 separate categories, including Business, Online Store, Music, Design, Portfolio & CV, Blogs & Forums, Health & Wellness, Creative Arts, and even Landing Pages. Each category is broken up into subcategories. For example, the Online Store category has templates for Arts & Crafts, Fashion & Clothing, Food & Drinks, Home & Decor, and more. If the templates under the various categories don't meet your tastes, you can also pick from a selection of blank templates.
One great thing about Wix templates is that you don't need an account to see what's available. Just head to the Templates section of the website and check out the templates in each category. You can also view the newest templates and those that have proven to be the most popular.
For example, the Food Blog and Urban Photography templates are among some of the most popular on the website. Both are free templates and have highly attractive and modern designs that creative minds look for. If you look at the selection of the most popular templates, you will notice that all of them have a fantastic modern look about them, and that most look like they sprung out of the minds of your hipster buddy whom you have Tuesday coffee with at Starbucks.
Oh, but be forewarned that not all Wix templates are available on the free plan. If you highlight each template, it will tell you which plan you need in order to access it. Obviously, many of the most popular templates are free, but if you're looking for online store templates or similar, then you will have to upgrade to the appropriate plan, such as E-commerce.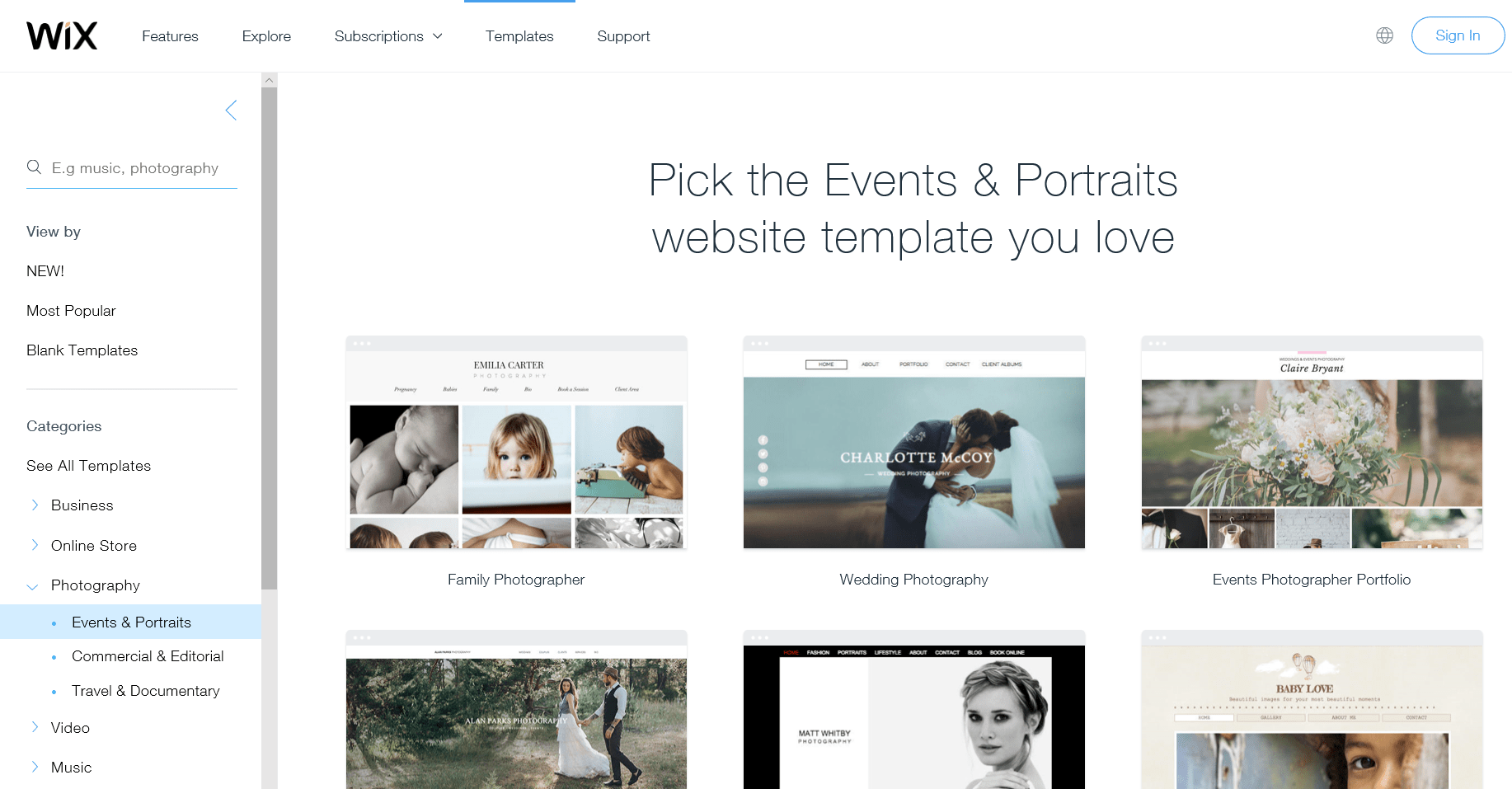 Templating Is Hard
When picking a website template on most website builders, you're looking for a mix of functionality and ease of use. Wix has user-friendliness covered, as its website templates offer easy point-and-click website design with the ability to change design features in just a few clicks. While you can't modify the HTML or CSS code of the templates, there are plenty of apps on the App Market that will allow you to add the functionality you need.
Speaking of functionality, when picking a Wix template, you'll want to find the best design that also gives you the functions you need for your website. Photographers will need templates with robust photo galleries and the option of adding photo editors. Online stores will need templates that allow them to showcase products and accept payments.
Something you shouldn't overlook is the layout of the template. Is the template appealing and functional for your visitors? Will they need to scroll excessively? How easy is it to access information on your website? When possible, you also need to check out the same features for mobile users, as at least half of your traffic is going to come from them.
Overall, Wix templates are remarkably comprehensive for the average webmaster. However, those of you who want to do advanced tweaking or need the ability to add third-party apps or plugins will not like Wix templates, as these features are locked out. Your best bet is to find an app on the App Market. Unfortunately, you may need to pay an additional fee for some advanced app features. However, it is a one-time fee for the website and not a monthly one.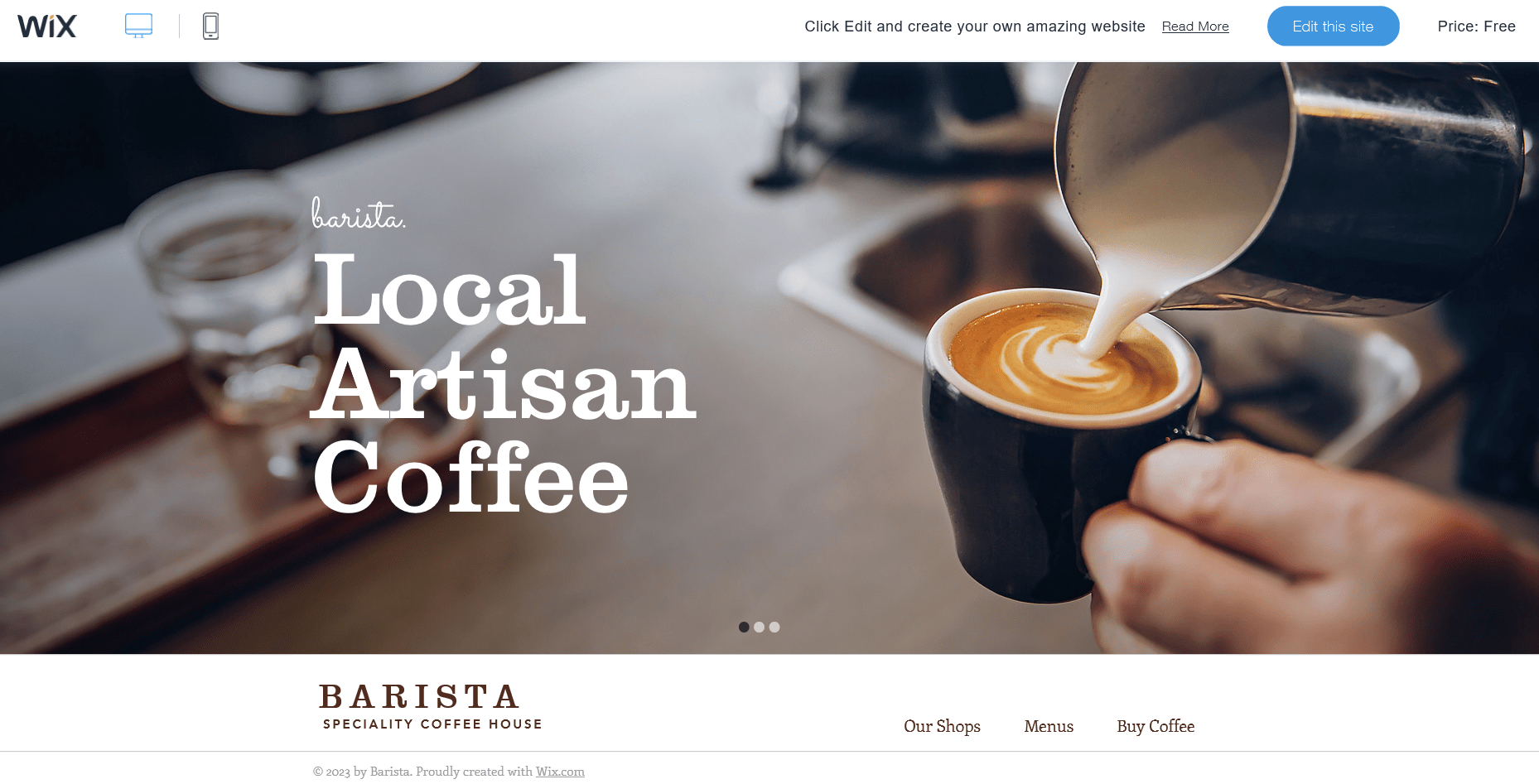 Make Your Template Choice Wisely
There's one major caveat to creating a website using a Wix template. Once you create your website, you're stuck with it for the duration of the website.The only way to get a new template is to start all over again with a new website.
Fortunately, you don't have to create a brand new account. Instead, you can go to your dashboard and select "Delete Site." Note that once you select to do so, there are no recovery options. So be absolutely sure you really want to delete your website.
After deleting your website, the system resets, and you can go back through the process of setting up a new website. An alternative option to deleting your website is transferring it to another user or account. For example, if you think the current design will be excellent for another website that you wish to host, create a second account and move the design to that website.
Wix Templates Are The Secret Ingredient to Your Next Great Website
The hype behind Wix isn't just clever marketing. It has been tested by many users and proven to be a reliable website builder, thanks mostly to its outstanding selection of templates. While you have to upgrade to access certain templates, the majority of Wix users will find plenty of excellent options to build their website for free. And paid users get even greater access.
Of course, you can't overlook the fact that Wix templates are "one and done." When selecting a design, make sure it is what you want. Otherwise, you will have to start over. That's why it is important to take your time to investigate the available features on each template and pick the one that gives you the greatest functionality and the best layout for your needs.
Wix templates aren't perfect, but they are superior to those of many other website builders. If you are looking to build a stunning website with impressive features that will promote and grow your brand, then Wix templates are the place to start.
Want to learn more about Wix? Don't miss our expert review.