Just as you would never start building your house without sitting and drafting a blueprint beforehand, you shouldn't do so with your website. Planning out your website's architecture will help you make sure all the nuts and bolts go in their right place.
A website's architecture is represented by a map that describes how each of your site's pages relate to one another. It provides a blueprint you could work by and make sure all the stages in completing your website are in check.
Once you have completed your research, you have a clearer idea regarding what your site needs to accomplish, who are your users and what they want and need.
In the stage of drafting your site's map you get to start implementing your own ideas. Drawing from the swipe file we made in our previous chapters, you will get to exercise the data you have gathered and apply it to start making your site live up to your expectations.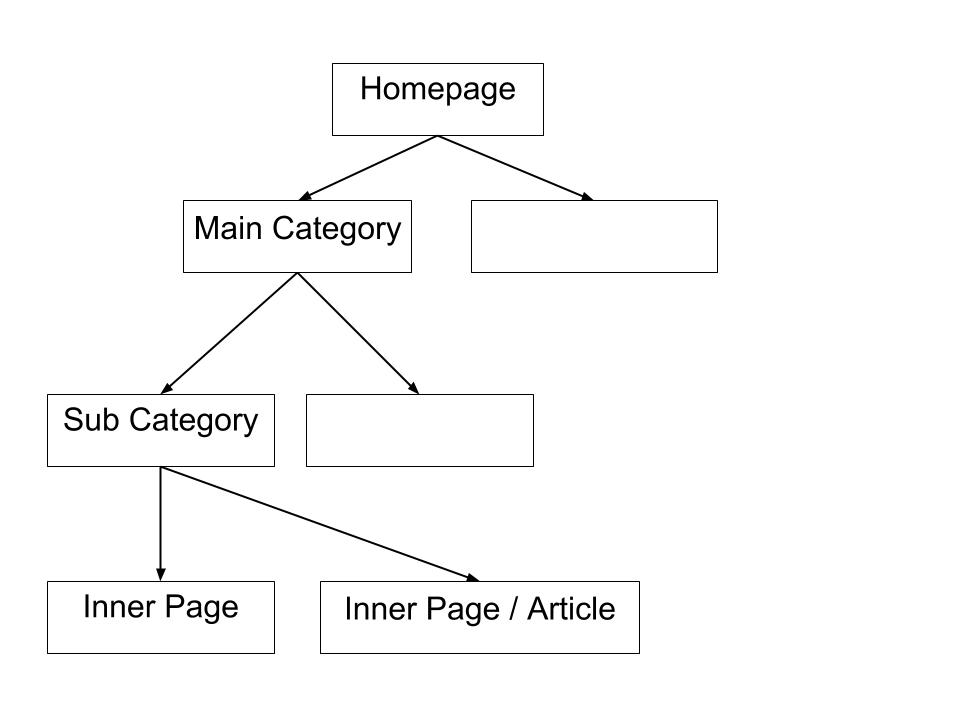 Web Architecture importance
You might think that considering your website architecture is a waste of time. After all, building a website is not rocket science. Why can't we just move on to start creating content and laying out the design?
Even though a website is not a rocket, there are two important reasons why planning it out is crucial. Firstly, websites are all about content. Having your pages planned and laid out in front of you helps make sure that you are not missing any important content.
More importantly, easy access is key. Drawing a site map allows you to visualize how users and search engines access content on your site. This will provide you with important insights on how the different sections of your site should connect to each other in the most accessible manner.
Essentially, the benefits of planning your website are most clearly reflected through the following guidelines:
Define your site's goals which will help you

Plan your content and

Know your users' needs to make sure that

All content is accessible.
 Clearly Define your Goals
Before starting to work on your website, it is necessary for you to be clear on what it is supposed to achieve. Whether you have a start-up, an existing business that you want to take online or just want to tap into a new potential client base; Always keep in mind that a website is for something, and that you know what that thing is.
For instance, if you just want to present your brand and make a name for yourself, make sure that the content on your website is focused on who you are and what you do. If, on the other hand, you are planning an e-commerce business, you need to give more focus to your products and their merits.
We're not saying, however, that if you're planning on presenting your brand you should neglect your products, or vice versa. It all comes down to the volume and importance each of these aspects get in your site.
Making a list of all the content areas of your site will help you with that. A content area could be anything from a single page to a whole category that binds similar pages together.
Plan out your content
Think about the pages that your website cannot live without. For example, if you are a lawyer creating a website to make people aware of your services, make sure you have pages that present who you are, and pages that emphasize your specialities.
If you are bringing a brick and mortar shop online, your website cannot live without a product gallery and a shopping cart. These are just two examples, but the options are endless. It all depends on what your website's goal is.
After you have all your essential pages, you will need to think of additional content. This is where the swipe file we made earlier comes into play. By utilizing the data you collected on your competitors and their keywords, you can make sure your site is not missing any other necessary content areas.
These areas will allow you to easily recognize where you can put any future content without making your website overly and unnecessarily complicated.
Consider your users
Complex websites make bad websites. With that said, a website's complexity is not measured by it's size. Your website could contain hundreds of pages, or less than ten. Eventually, what measures it's complexity is the ease in which your visitors could navigate between the different pages.
Try to think of your site's users and what their goals are. Consider whether they are first timers who want to know more about who you are and what you do, or whether they are just following up on you and your products.
This will help you visualize what kind of content should gain priority in the hierarchy of your website. It will also help you envision how to get users to the content they want in the shortest possible way.
Organizing your site's content areas in a sitemap will enable you to clearly see what leads to where on your website. Thus, you will be able to confirm that all the content in your website is accessible to users and keep simple navigation in check.
By preparing yourself through the following guidelines, you can realize how important it is to plan out your site before you begin building it. When you combine your goals and your users' needs, you can organize your content in a site map that will prevent you, your users, and even search engines, from getting lost in a complex maze.