Weebly are a familiar name in the website building sector, who offer an easier alternative to building that dream website you have always wanted. By using the drag-and-drop features and the user-friendly interface even the most basic user can create a fully fledged business website.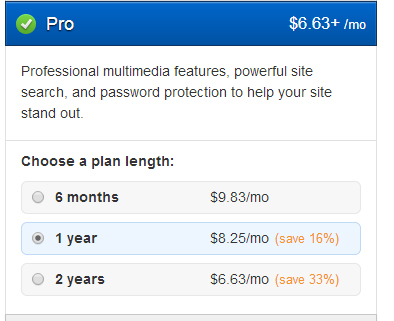 Everything comes at a price though, and it's what you get for the price that we want to look more closely at. So in today's post we are going to breakdown Weebly's most popular plan, the Pro plan. Ready to get started?
Weebly Pro Plan
The pro plan is one of 3 paid plans offered by Weebly and sits nicely in the middle of the Starter and Business packages. The Pro plan works out at $8 per month which equals the price paid at other popular website builders, but do you get more for your money?

As you can see from the image above there are plenty of great reasons on why a small business looking to create an online presence should go for the Pro Plan. You will get everything the free plan offers, and then everything the Starter Plan offers, plus some additional benefits.
Header Animation Slider
The first feature that the Pro Plan offers that cheaper plans don't offer is the header slideshows. This simple feature can open doors for your site as it shows interactive elements and polishes off that professional look of a site. It's in the header that you can drop brand messages, sales, slogans and more. You also have the ability to configure the setup of the header using transitions styles, delay timers and image editing.
HD Video Player
The second feature I wanted to draw attention to is the HD video player which helps bring in video to your site. Whether you want to upload a product demo or highlight certain service features, the HD video player will allow you to upload M4V, WMV, MOV and MPG formats to your new site.
The biggest benefit to this is that the video player is completely unbranded so you won't have to deal with adverts and links ruining your video. It will also display on mobile, tablets and desktop devices, so wherever you visitors are coming from you have it covered.
Password Protected Pages
The final feature I wanted to address is the Password Protected Pages feature which becomes available in the Pro plan. This simple but effective feature can help you control what visitors have access to by restricting access to certain areas.
This can be used if you are developing a certain area of the site and don't want the public to access it just yet, or it comes in handy if you have a project that you only want the likes of contractors, clients or members of your team to be able to access.
Either way this little feature can become a big deal for the right site.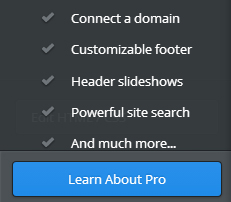 Summary
These are just 3 of the biggest features I think are worth going into more detail on, the Pro plan also boasts many other features which you can see on the image at the start of this post. Is the Pro plan worth the money? You can certainly say that some of the features offered are worth $8 per month, and they do help take your site to the next level.
It all depends on what your business model is, to whether Weebly's Pro Plan is right for you. Visit Weebly