No matter what cause you are looking to champion, a winning political campaign must collect, organize, and leverage data. Online forms placed on a website in order to collect information from respondents are the best way to do this, because they allow you to easily execute and manage many of your most important tasks like campaign staff management, event attendance, and even constituency research. Whether you are a candidate in a high school election or running for national office, using online forms properly will help you win.
Today, there are a lot of excellent form builders available to meet the needs of candidates and organizations of all parties and sizes. We looked at the most important ways online forms can effectively help manage a political campaign, and how certain online form builders can help with the process.
#1 Recruit a Winning Team
Successful election campaigns are not won alone. Finding volunteers and/or paid staff is a complex but essential task. Online forms make it easier for you to do so:
Surround yourself with the right people. Online forms make it easy for your supporters to find you and for you to find your supporters. Use forms to collect the names and email addresses of supporters. At the same time, be sure to use forms to classify your supporters and identify where they can be most useful to your campaign by adding additional questions about demographics and skill set. For example, the best political volunteer forms ask people how they would like to concert their efforts (e.g., knock on doors, host an event, provide tech support).
You can identify members of a community so they can advocate within on your behalf, or find volunteers with experience in areas critical to election success such as data analytics, public relations, or photo/video editing.
Scale online recruitment. Online forms let you benefit from online distribution channels to increase awareness about your candidacy and recruit people to your campaign. Use social media channels like Facebook, Twitter, and LinkedIn to quickly get the word out to your constituency by sending your form to people with similar positions to your own, and then encouraging your supporters to share the form with their own networks.
You can research Twitter hashtags relevant to your position on an issue (e.g., #BlackLivesMatter, #FamiliesBelongTogether, #MeToo), or build momentum for your campaign by using your own (e.g., #ImWithHer, #FeelTheBern, #MAGA). Just make sure to post frequently, and attach a link to your form each time that you do.
#2 Organize Campaign Events
Winning campaigns get out into the community in a variety of ways. Online forms let you create awesome events to fulfil a variety of purposes:
Meet-the-candidate. Encourage all those online supporters you've gathered to come out and meet you in person. Online form builders like RackForms come with built-in templates that create beautiful event invitations with the date, time, and location of your event, as well as RSVP forms so you will know how many people to plan for. After the event, send follow up notes thanking attendees for supporting you, asking for feedback, and letting them know where your next event will be held.
If you are running for school board and going to be speaking at a local town hall, there is no need to beg the local paper to cover it—just create a form invite, and then make it visible in places online like school district parent groups on Facebook where you know parents are spending time. You'll also want to make sure that people who RSVP are able to easily share the event to their own social media channels.
Let your supporters know when you will be debating, encourage them to come out to support you, and get an estimate of how many will actually be attending. But even more importantly, use the opportunity to provide a refresher about your positions on key issues, and to ask their opinion about which ones are important to them. It's a great way to get your message out without appearing spammy, and could yield valuable strategic information about what topics you need to be heard on.
If you notice that a large number of respondents do not express a strong opinion about your stance on a particular issue, that's a sign that it's not important to them. In the future, you can use the prep-time you spent on that issue to fine-tune your response to a different question that voters care about.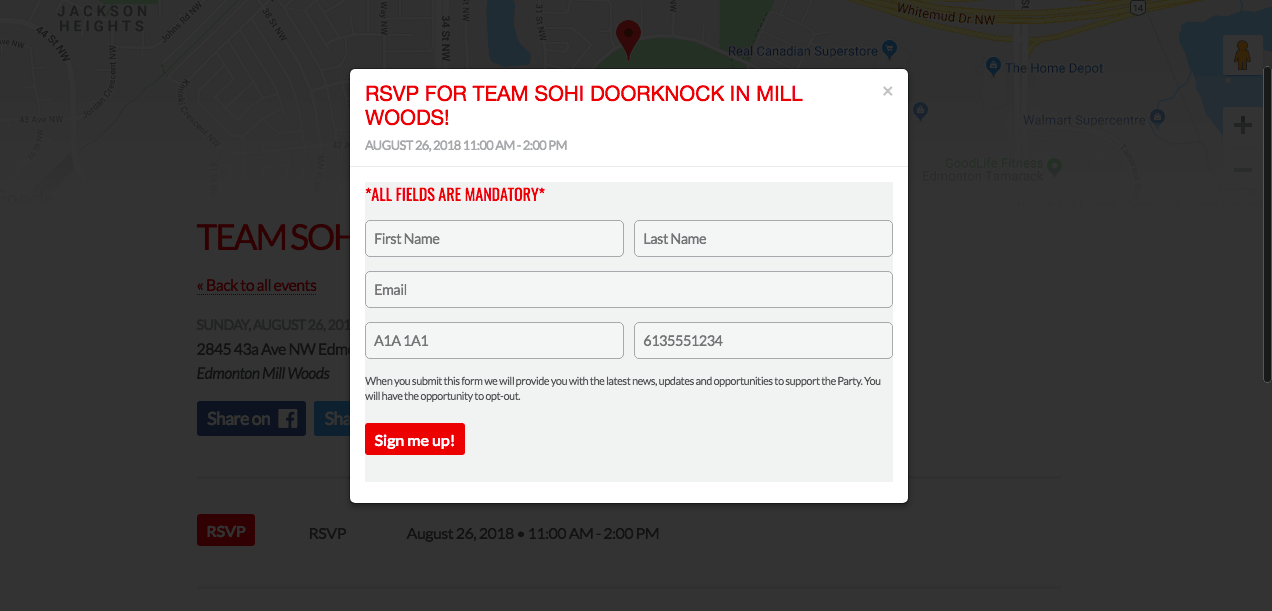 #3 Do Campaign Research
A winning campaign must employ lots of different kinds of research, and practice data-driven decision making. Online forms give you the ability to collect the information you need to craft a winning strategy:
Polls. Keep your finger on the pulse of your constituents' opinions by continually sending them online forms soliciting their opinion on critical issues throughout the campaign. This is a good way to understand the reaction both to your messaging, or get hard data about voter preferences.
If you are running for a government position, you can send out forms with the same policy position delivered in different ways to determine which messaging resonates the most. Or, if you are running for class president of your local high school, you can offer people a variety of proposed events or activities, and ask them which one they would prefer.
Feedback. After you hold an event, appear in a debate, or release an editorial, use online forms to ask voters what they thought of your performance. Form builders like JotForm or Wufoo give you the option to ask people to rate things on a scale, or to respond to open-ended questions. Use the functionality to get data about specific questions you have, while also giving respondents an opportunity to bring things to your attention that you might have missed. This data gives you everything you need to change what isn't working—and focus your efforts on what is.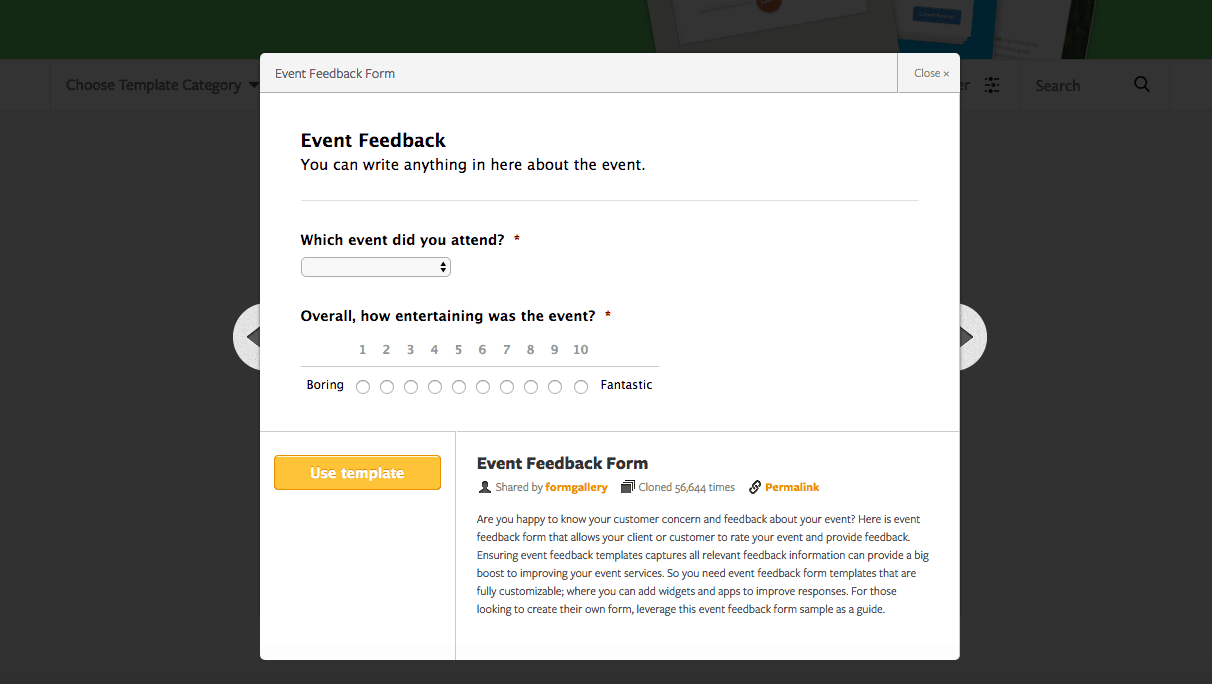 #4 Follow Effective Fundraising Practices
Money is the engine that winning campaigns run on. Online forms give you all the functionality you need to build your war chest at every step of the process.
Fundraising pitches. Make it easy for supporters to donate. Use online forms to create intuitive roadmaps that guide your base to follow through with their donations. Customize the message and form fields available to create the most effective message. You can send loyal supporters a simple form that doesn't waste their time by including only a brief message and with forms for just their name and donation amount, while sending new supporters from a meet-and-greet form with a longer message thanking them for their attendance and reminding them of your key policy positions.
Be sure to A/B test different messaging and design layouts in your forms. Testing functionality is another tool online forms give you to improve on traditional "asks." Use their digital nature to isolate variables and get data about what really works. This made a huge difference in Obama's 2008 presidential campaign. Through rigorous A/B testing, the campaign team was able to increase the sign-up rate from 8.26% to 11.6%, ultimately leading to an additional 288,000 volunteers and a further $60 million in donations!
Payment processing. Don't lose donations because a supporter's preferred method to send you money was not available. Payment processors of all kinds can be integrated into your online forms. Strike while the iron is hot and give people the option to donate in an instant with the click of a button right from your form.
As donations roll in, cross-reference it with information about donors and look to see if you are doing exceptionally well (or poorly) with those who care about a certain issue. That kind of information can inform what topics you focus on, or what messaging you might need to tweak.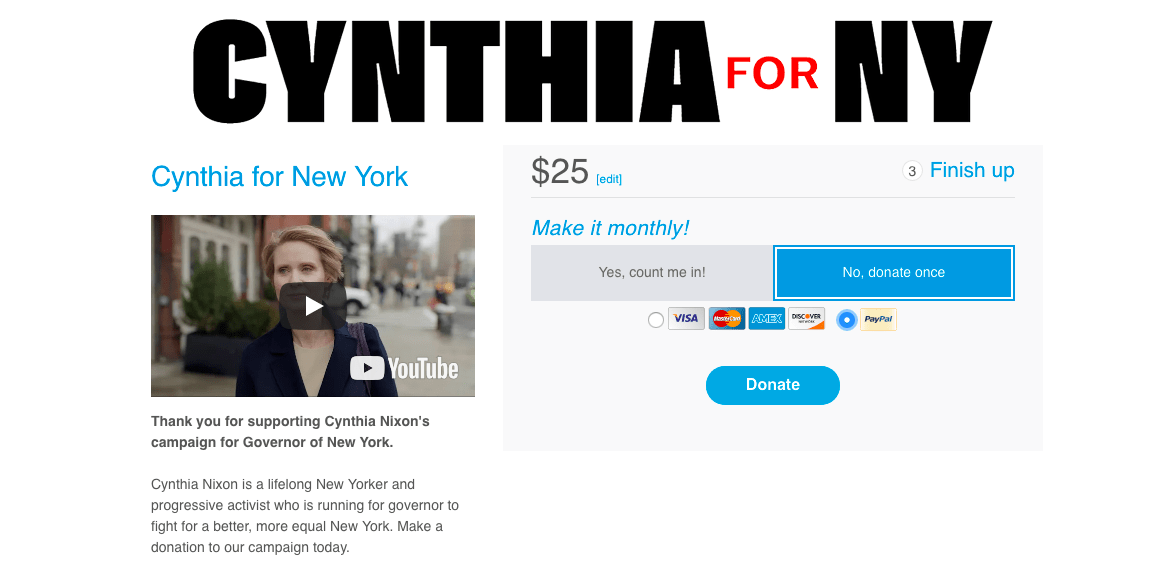 Play to Win the Game
Running for office is a lot of work, and there is a lot of meaning in serving your community at all levels. At the end of the day, an election is a competition. And just like all competitions, you want to find an edge over your opponent. You want to win the game.
Online forms—when used properly—offer you that edge. They are an end-to-end solution to organizing the logistical processes needed to win an election. Use them to recruit staff, get out in the community, see what's working and what isn't, and raise the money necessary to follow through on all of it.
And remember, after you win, there is one more thing you can use online forms for. Sitting in the big chair means remembering the people that got you the seat. If you've optimized your use of online forms throughout the election, you'll have all the information you need to start planning your campaign for the next one.