and
graphic design. It's a specific skill set, so you're probably thinking these designers would be rare and expensive. But neither is true if you know where to look.
In this article, I'll show you how to hire the perfect video logo designer or how to use a video logo maker to create your own.
---
9 Best Video Logos
If you'd like to explore your options for getting a standard logo first, head over to my colleague's
full logo design service review
. He tested the top logo design services to determine which ones offer the best value and design quality. One of them even created our new logo!
How to Get Your Video Logo for $5
It can be pricey to get a regular logo designed, so when you factor in the costs of animation attached to a video logo, you're probably expecting it to be way out of your budget. But what if it wasn't? What if you could get a super-affordable yet professional video logo? Thanks to Fiverr, you can! Fiverr is a freelancing platform where designers offer packages of their services starting from $5. There are thousands of designers specializing in video logos, so you'll never be short of specialist designer options. Depending on whether you already have a still logo, you can hire a pro to animate it or to create a short video logo from scratch. To begin,
head to the Fiverr homepage
 and type "video logo" in the search bar. The results will show all the designers offering relevant video design packages. Unlike standard logos, you won't be able to see the videos in the excerpt gallery on the results page, so you'll need to click to open the profile of any designer you're interested in.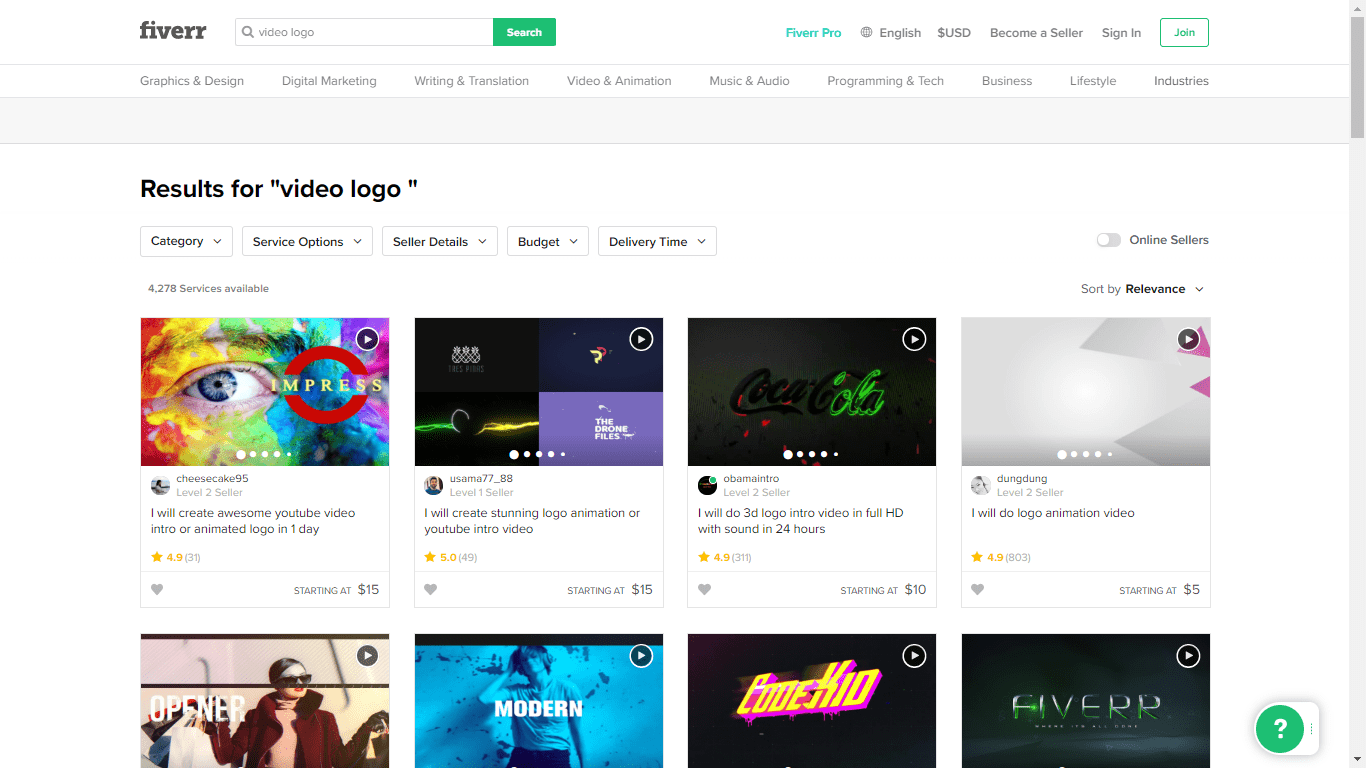 In their profile, you can review the designer's portfolio (and watch the videos) and read their "About This Gig" section. Their package offerings, pricing, and customer reviews are also all displayed in their profile. Click
Contact Seller
if you'd like more information about any of their designs, or if you've already made your decision, hit
Continue
to start the hiring process.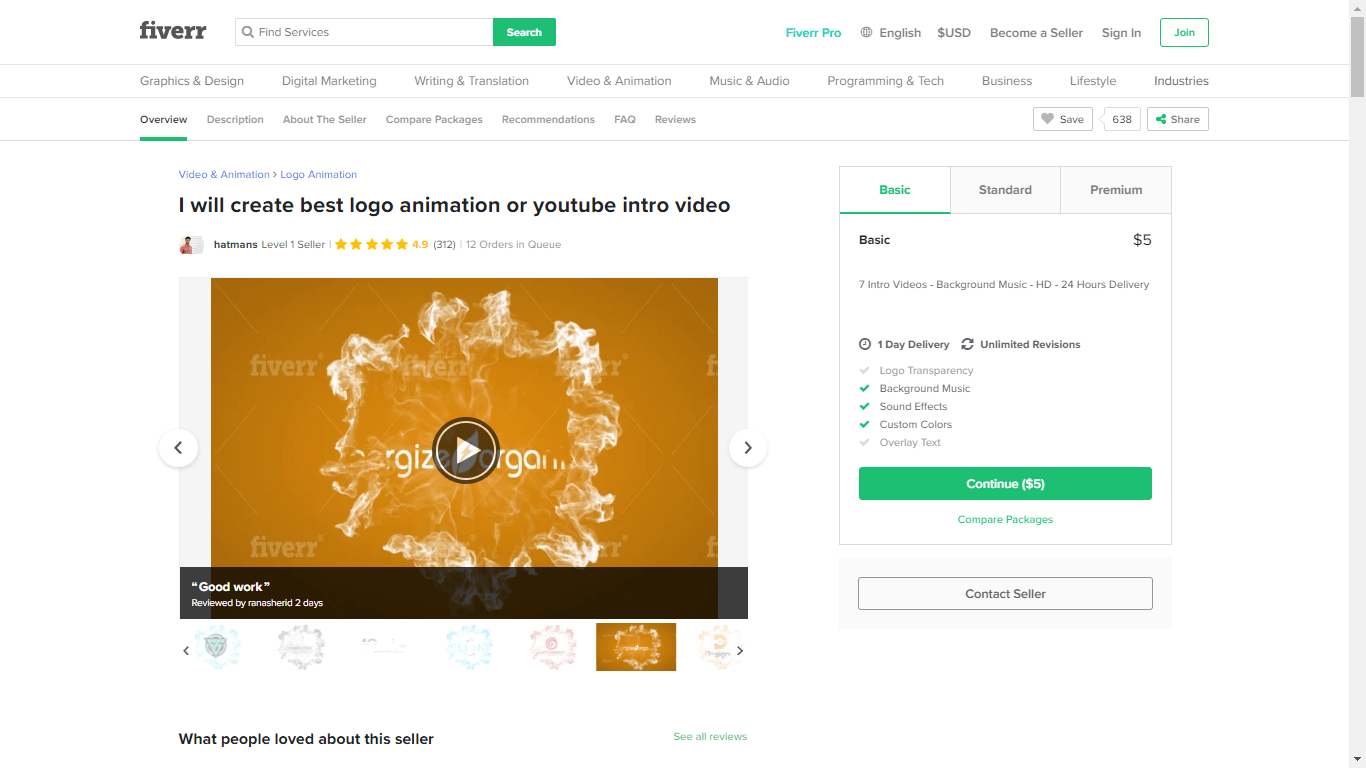 The payment preview page lists the details of your chosen package and the final costs. You can add any extras before clicking
Order Now
to enter your payment details.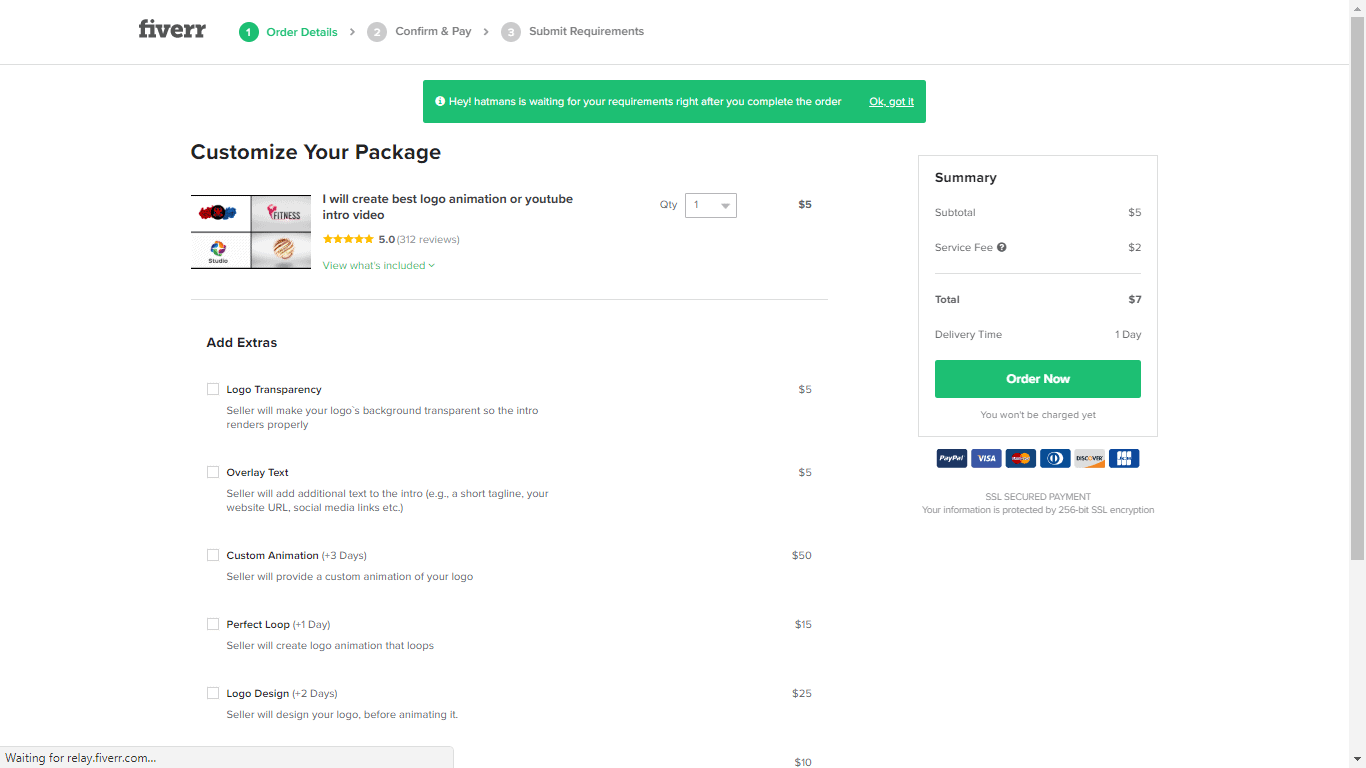 Your video logo is now commissioned! Fill in your new designer on what you want and they'll get right to work. In just a few days your new video logo will be delivered! Here are a few other noteworthy Fiverr features:
Seller levels – Designers are organized into levels based on the success of their work, customer reviews, and their time spent on site. Consider a designer with a higher level to guarantee exceptional work.
Peace of mind – Your designer can never overcharge you or add unexpected fees once they've been hired.
Payment protection – Even though your payment is made upfront, the funds aren't released to the designer until you have a product you love and you've approved their work.
Handy designer search filters – Search through the huge catalog of designers using filters like delivery time, budget, and seller level. This means you'll only be looking at the most relevant results.
Interested in finding a freelancer? Check out our
full Fiverr review
for more tips on hiring video logo designers.
How to Make Your Own Video Logo
If you have free time to experiment and a creative eye, you could create your own video logo. Luckily, there's no need to download or buy any expensive design software, you can use a video logo maker instead! There are a few DIY video logo makers to choose from, but Placeit and Renderforest are always my top recommendations. Both tools are easy to use for beginners and make the design process incredibly intuitive and smooth.
Placeit
To get started,
head to the Placeit homepage
 and create a profile. You'll need one to save and download your video later.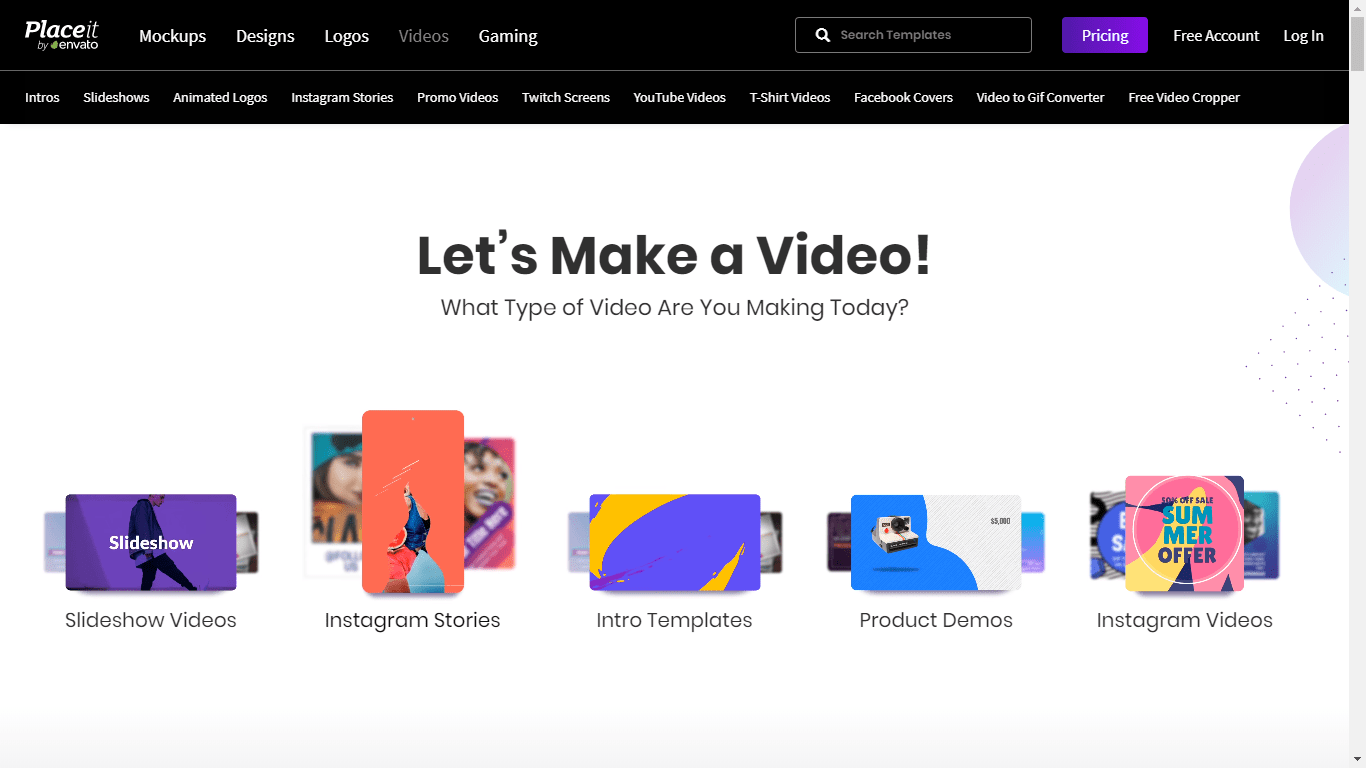 Select
Videos
in the main menu, and then the
Intros
tab. Then click
Intro Maker
to pull up all the relevant templates so you can browse through the results. Some video templates are free while others require payment, so choose the best option for your logo and budget.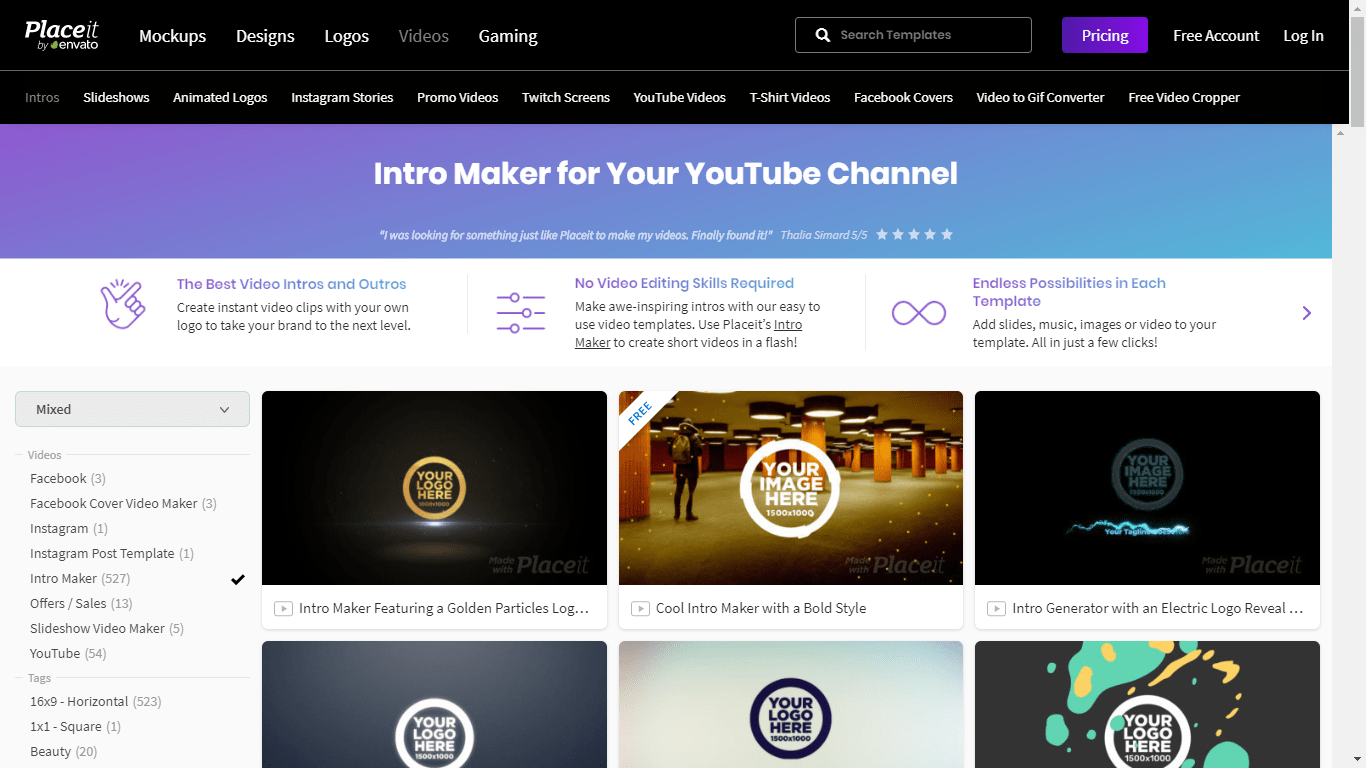 Once you've chosen a template, click on it to start customizing. Here, you'll find a range of personalization options including adding audio, changing font styles, and uploading multiple images and slides. Add text to the video and upload your still logo image to finish everything off. You can save the progress and come back later or download the video right away.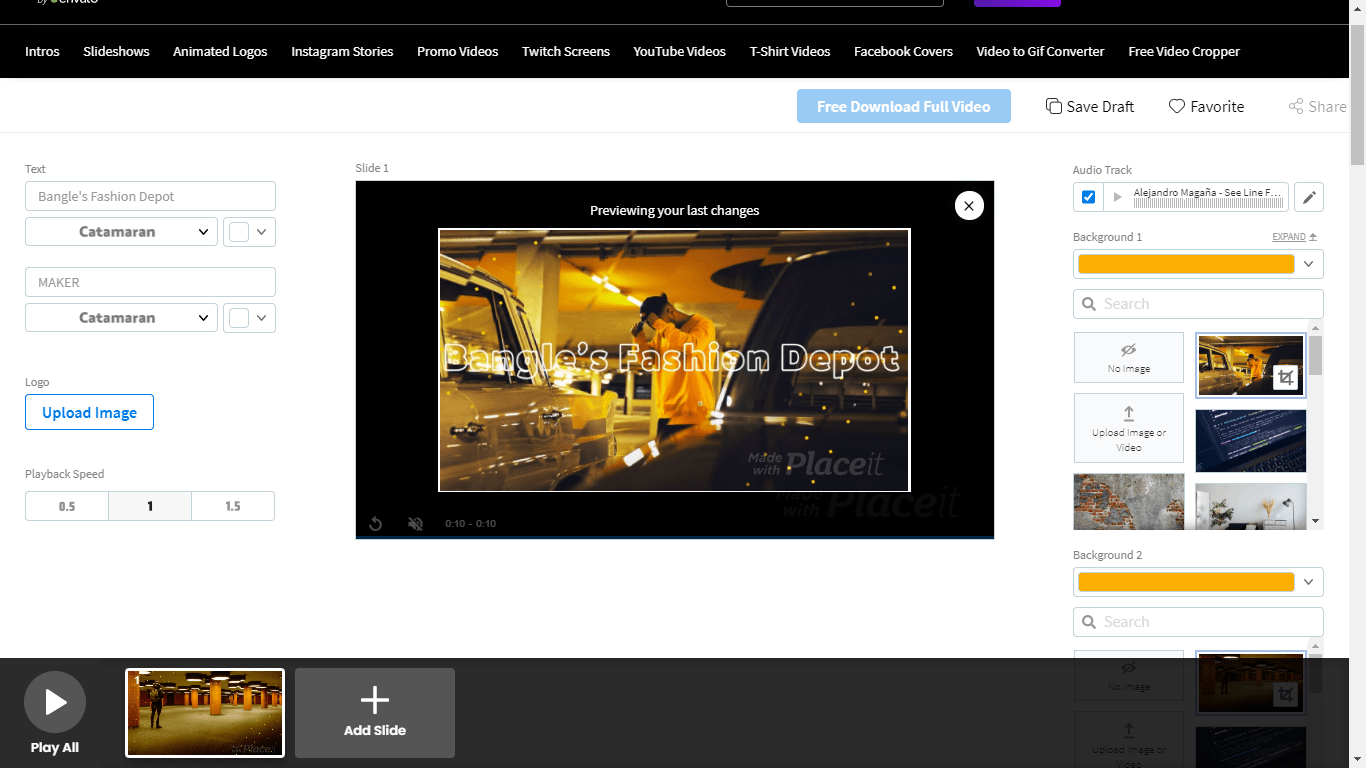 If your template is free, you can download it in high-quality without paying (and without the watermark). If your chosen logo is a paid-for option, simply enter your payment details to download your video. Placeit also has monthly or annual paid subscriptions and with these, you can create and download your videos for free.
Renderforest
If you're interested in exploring a more minimal approach for your video logo, consider using Renderforest. It offers a range of fundamental customizations similar to Placeit, but places a stronger emphasis on animation effects.
Head to the Renderforest homepage
 and create a profile to begin. Click
Create Video
and then
Intros and Logos
to start searching through the video templates. You can search for a specific type of intro video or browse through the featured videos.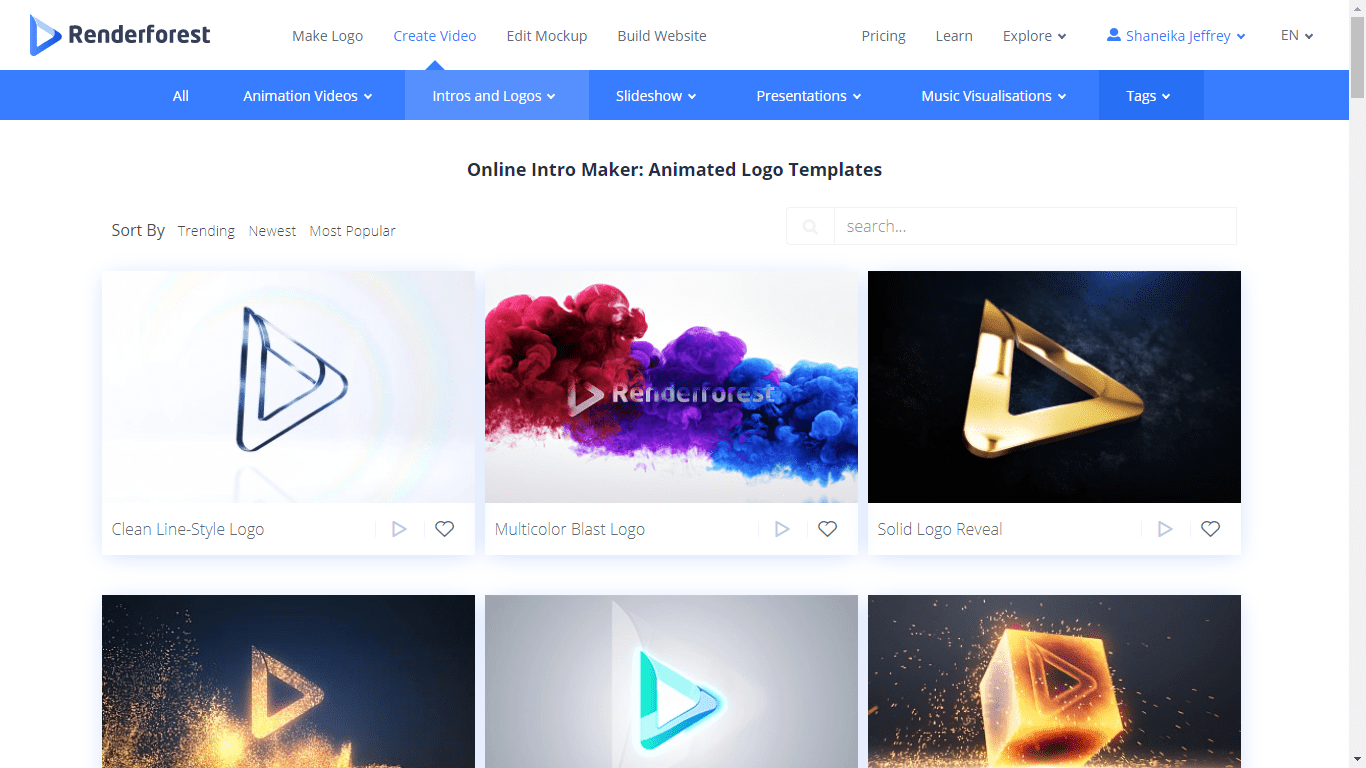 Once you find a video you like, click on it to get more information on its details and ratings. Click
Create Now
to start the editing process.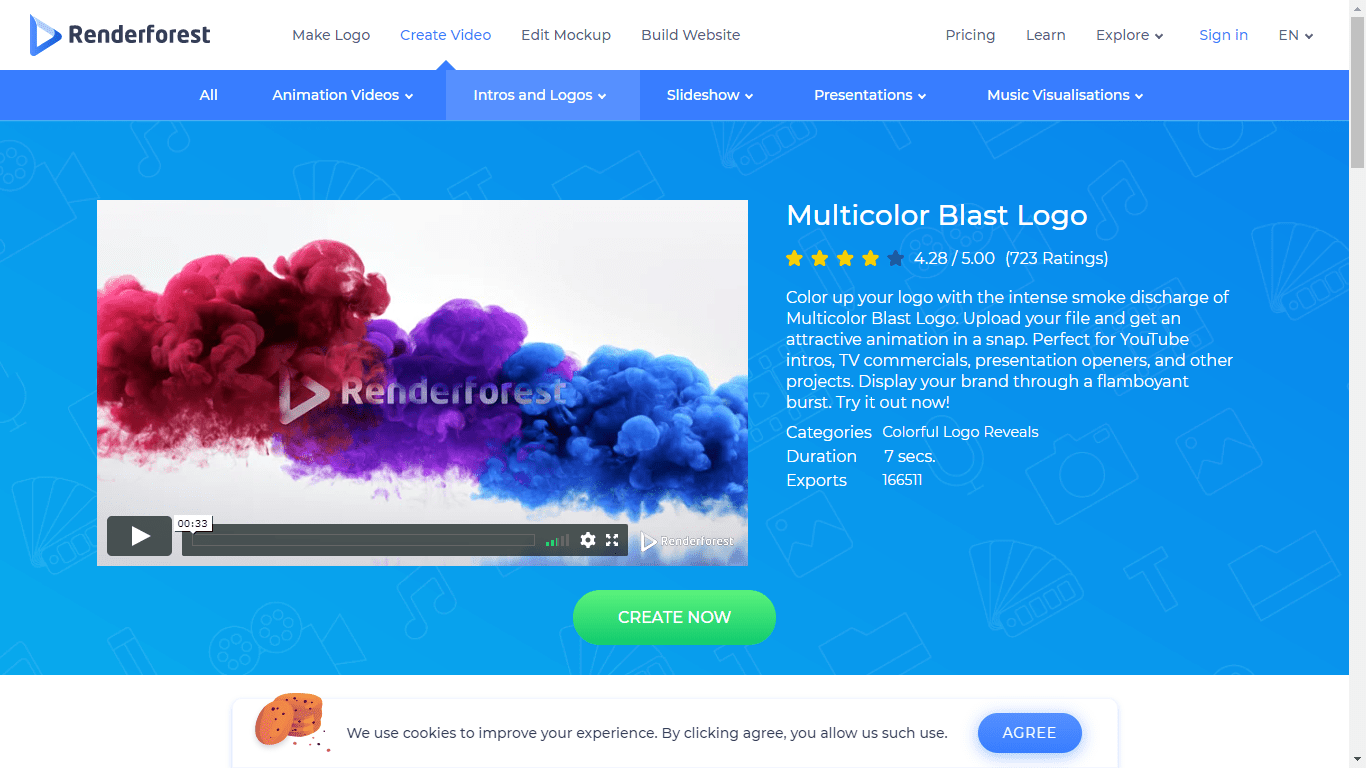 From here, you can customize much the same as with Placeit. Add music or audio, enter text, and upload your logo. Renderforest also allows you to choose the style and font for your animation. You can even directly record a voiceover in the
Music
section!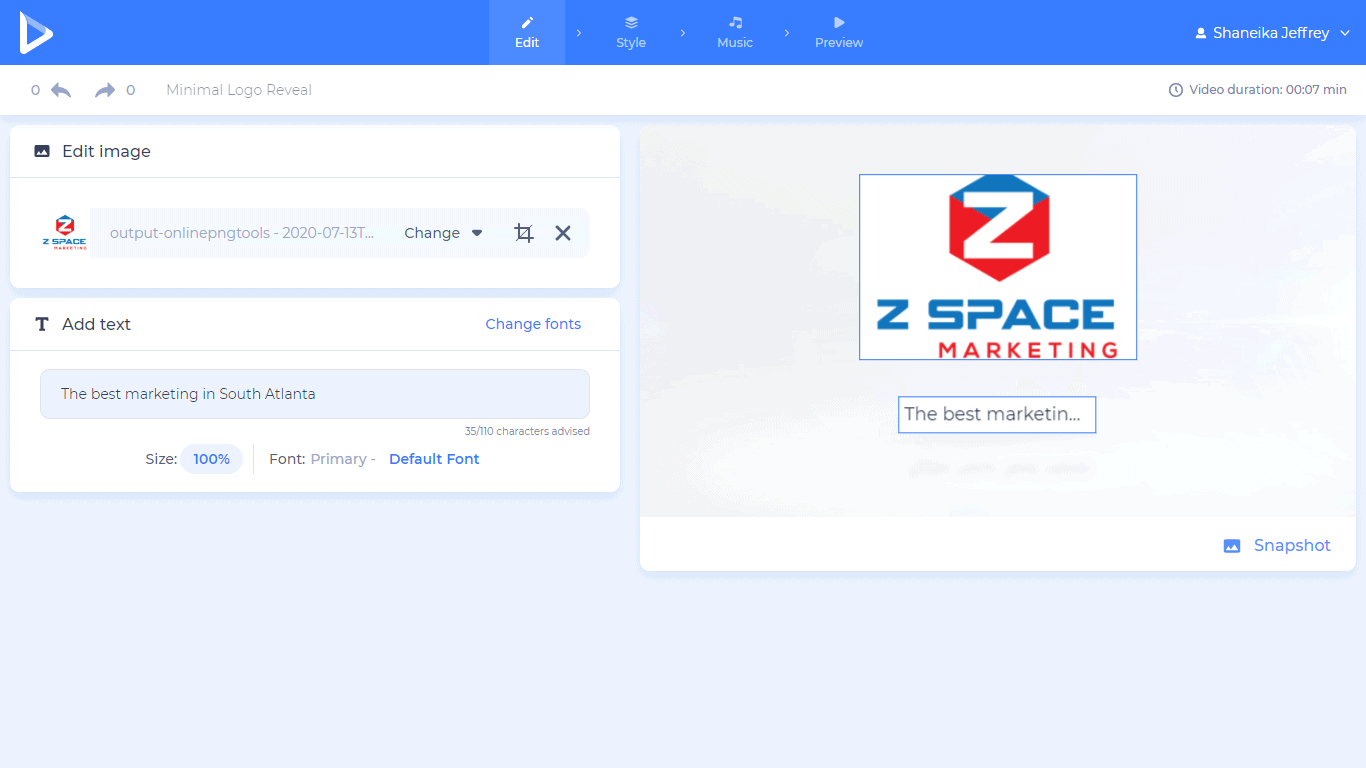 Once you're finished editing your video, head to
Preview
to enter your payment details and download a high-quality version that's ready to use. There's a free download option, too, but this will give you a lower-quality video with a Renderforest watermark.
In Conclusion
Affordability and quality are
two reasons that make Fiverr the ultimate video logo solution
. Fiverr gives you access to thousands of designers, talented at creating standard and animated video logos. It's definitely worth checking out as it can often work out cheaper than paid-for DIY services. If you have a creative eye,
Placeit
 and
Renderforest
 are two great DIY video logo maker options. Placeit offers advanced visuals for a more complex final product, while Renderforest creates simple-but-effective designs. Right at the beginning of your logo search? Head over to my colleague's
comprehensive logo design service review
 to see how some of the top services held up in his extensive testing.