Even though your brand identity might sound like the "fun" part of the job, it's critical to creating a strong and recognizable business. And it goes beyond just visuals. Your brand identity includes your brand's personality
as well
as its aesthetics. For example, is your brand silly or serious? Formal or casual? Modern or classic? By first clearly defining your visual identity, you can ensure that every customer touchpoint you develop—from
designing your logo
, your website, business cards, social media stream, email blasts, and beyond—echoes this same look, feel, and tone.
This is how you build meaningful connections with your audience, and how they come to feel like they know your brand and can identify with it, which should be a goal of every company
. Mood boards can be an incredibly powerful tool when it comes to building and visualizing your brand identity. You've probably heard of these before:
Mood boards are a physical or digital collage used for inspiration, motivation, and general guidance
. While often used for individual purposes, and sometimes called "dream boards" or "vision boards," they can play an integral part in communicating a brand's identity, aligning on future goals, and promoting dialogue amongst your team. Let's go over some of the ways to best leverage this tool, and how to create one that can help you visualize your brand identity—and maintain that image over time.
It's More Than a Dream
Whatever you choose to call it, a mood board is more than meets the eye, and there are a number of ways that it can be incredibly helpful when it comes to building and growing your brand.
Inspiration
Especially if you are just beginning your journey into entrepreneurship, inspiration is key to setting up your business goals, message, vibe, and overall identity. It's important to have your brand identity solidified early on, because, as mentioned earlier, this will have an impact on everything that your brand "says" and "does" in the future.
A mood board that visualizes this identity can further provide inspiration when it comes to making big decisions
, like how to extend your product portfolio, or what next season's offerings should look like.
Continuity
Entrepreneurs have to be master jugglers. Even when just considering marketing elements like social media accounts, a website, or business cards, everything needs to work together to support your brand visually and otherwise. Mood boards can be a great resource to have as a team to
remind everyone about the unified message that they need to be supporting
in their various roles and departments. For example, if you need to update your business cards, a mood board is an efficient way to
show
your design team the aesthetic you have in mind rather than relying on them to translate your verbal description.
This gives them creative freedom while still providing clear direction on what you are ultimately looking to achieve
.
Accountability  
With every new campaign that you design or line of copy that you write, refer back to the brand identity mood board and confirm that it fits within your overarching image. This should
act as your guiding star for all other communication touch points
that you build, and you need to be regularly checking in to ensure that it does.
Creating Your Mood Board
Are you intrigued yet? Good, that's the first step. But if you're like me, sometimes intrigue isn't enough to get you going. You need to know the "how" of it all. So, let's get into the process. But before we jump right in, remember that while the project should be enjoyable, it is for business.
When it comes to visualizing your brand identity, it will help to keep a few things top of mind
:
Remember Your Full Audience: Remember, people are complex and have many different aspects to their personalities; brands are the same way. Depending on the size of your company and extent of your product/service offerings, it might be a good idea to segment your audience, and then consider how your brand identifies with each group. You can create slightly different mood boards as needed—it should still be the same overarching look and feel, but the tone might shift slightly depending on the specific group of people or campaign goal.
Maintain a Balance: The best mood boards include a combination of different materials, including images, quotes, textures, etc. The balance will keep you and your team engaged in the content. Don't be afraid to mix mediums. Include everything from magazine clippings to photographs; swatches of fabric to handwritten song lyrics. Especially with boards you are sharing with your team, the more variety you include, the more potential your vision has to connect with others.
Stay Consistent: Given the two points stated above, it's important to note that you shouldn't go too far—either with your mood board versions or sources of inspiration—to the point where the brand identity no longer feels cohesive. Make sure that you stay focused; the more focused your mood boards are, the better they will serve you over time.
The Physical Kind
Mood boards come in both physical and digital varieties, and both processes are similar. Let's start with the nitty gritty paper and glue kind. Here are the materials we suggest you start with:
A board (card, cork, or poster will work fine)
Scissors
Glue or push pins to adhere elements to your board
Magazines or other source material
But what exactly do you cut from the magazines and stick to your board? The short answer: Anything you can get your hands on. Look for inspiration in a lot of different places.
In order to have a strong and integrated visual identity, you should try to pull your materials from a number of different sources
. Take a look at the mood board below. It's pretty simple; there aren't a huge number of different materials, and yet you immediately get a feel for the brand identity just by looking at it. There is a big emphasis on organic materials, the colors are vibrant and rich, and you feel a clear connection to nature. There are a number of different textures, so it doesn't feel flat, but full of life.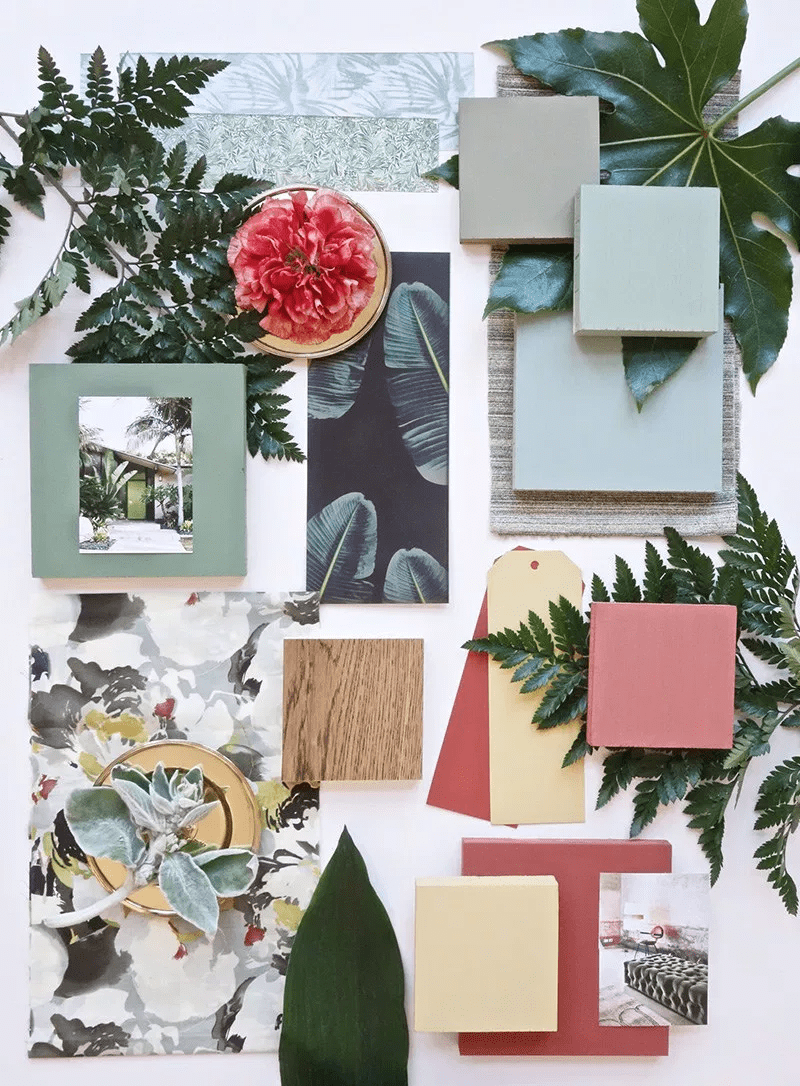 This mood board provides a clear direction to a creative team regarding the suitable imagery and language for this brand, along with identifying elements that would appear inconsistent. Your team will gain a deep understanding and confidence, all while retaining creative flexibility to explore.
The Digital Kind
If you're not a scissors-and-glue kind of person, that's not a problem. There are a few digital options out there for creating mood boards, such as the aptly named Moodboard (or, the free equivalent, Moodboard Lite) and The Matboard, but
Pinterest is the major player
. Not only is it free, but you'll also find a great number of templates and excellent examples to get you started on the right foot. The same rules apply to a digital mood board as a physical one, except all you need is the internet and a mouse. They're perfect for team boards, as they're especially easy to collaborate on. Another great advantage of creating a digital board is that you have
far more reach and flexibility when it comes to finding images
. Chances are, you'll be able to create a board that is much more specific and personalized, as you'll have the whole internet to choose from! That said, it may be a bit harder to incorporate natural textures, and you could potentially be less likely to stumble upon unforeseen inspiration. Take a look at this example: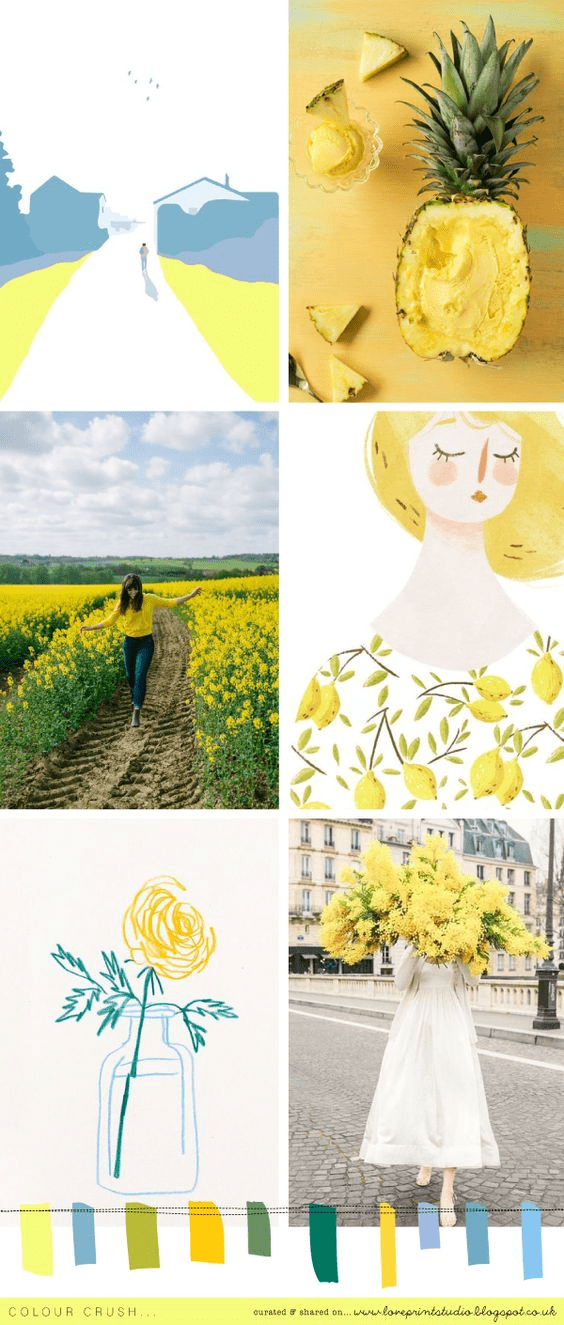 The words that come to mind when looking at this mood board are: clean, whimsical, fresh, and yet reserved. There is a clear palette that offers strong featured colors, with the opportunity to supplement. Keep in mind that, when you look at these images,
you not only get a sense of the brand's look, but also its personality
, another essential component of your overarching brand identity.
Grow Your Brand's Identity Over Time
Just like people, brands can mature over time. Using a mood board to solidify your brand identity is an excellent tactic to ensure that your marketing and communication materials are focused and cohesive from the start. That said, don't be afraid to regularly check your mood board and ask yourself whether it is still in line with your company goals and audience segments. If not, you may want to give your mood board a "facelift." Just be sure that there is still a strong connection to the original identity or you will likely only confuse and isolate any audience that you have already established.
---
Image Credits
http: //eclectictrends.com/moodboarding-for-professionals-a-workshop-review/
http: //eclectictrends.com/my-june-mood-board-for-farrowball/
https: //www.bloglovin.com/blogs/loveprintstudio-2409839/colour-crush-5695053037