Choosing between Upwork and Freelancer.com can be difficult, as they're both very popular freelance marketplaces.
Each has its own advantages and disadvantages – but knowing what these are can help save you a ton of time, money, and heartache. I spent the past few weeks testing out both platforms (as a client and as a freelancer), and I was pleasantly surprised by both. That said,
Upwork scored more points overall for doing a couple of things better than Freelancer.
Upwork has greatly simplified the hiring process, and its work and management tools are probably the best I've ever seen. Freelancer charges a lower payment fee and is a bit cheaper overall, but I found that
Upwork offers work of higher quality
.
Whether you're a small business owner looking to hire skilled professionals or a freelancer looking for work, my findings should help clear things up. Read on to figure out which platform will work best for you.
For Employers Looking For Freelancers
As an employer, you want to find the best possible freelancer for your project while staying within budget.
Both Upwork and Freelancer are good choices, but I found Upwork offers a better hiring experience.
Here are some things you should keep in mind before making a decision.
Features
Upwork Is a Bit More Versatile
Freelancer and Upwork boast millions of registered users, giving you no shortage of qualified help to choose from.
Due to Upwork's vetting process, the pool of freelancers is slightly smaller, although arguably more qualified.
Both offer advanced search filters, making it easy to find and hire the right candidate.
On Upwork, top-rated freelancers have their shiny badge displayed next to their profile, and Freelancer tags elite-level workers through the Preferred Freelancer Program.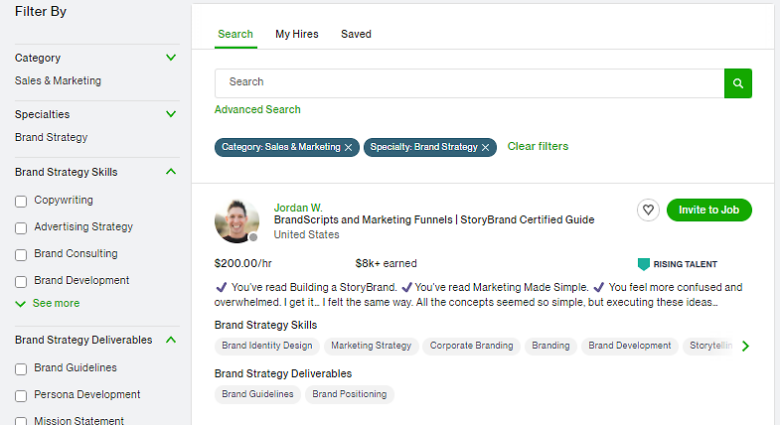 You'll find plenty of detailed reports and work-related tools on both platforms. But
when it comes to the actual hiring process, Upwork is a lot more versatile.
Not only do you get to choose from a huge talent pool, but you can also use the Project Catalog to browse jobs posted by freelancers. Much like Fiverr's popular gig system, Upwork doesn't make you wait for freelancers to come to you. If you're worried about making online payments, know that
both Upwork and Freelancer offer advanced payment protection plans
where your money isn't released until you approve the work.
Ease of Use
Upwork Offers a More Solid User Experience
Signing up and posting my first job on Upwork was relatively straightforward.
It wasn't the fastest or most intuitive process ever, but everything made sense once I got the hang of it. The interface is clean, and I love how
Upwork's search engine and discovery feature
are laid out. There are many categories to choose from, but even a simple keyword search is enough to bring up hundreds of capable freelancers. Generating reports and monitoring hires is pretty easy on both platforms – no complaints there.
Freelancer's interface is intuitive too, but it took me a bit more time to get used to all the different buttons and menus.
Still, it's a feature-packed platform, so I'm willing to let that slide.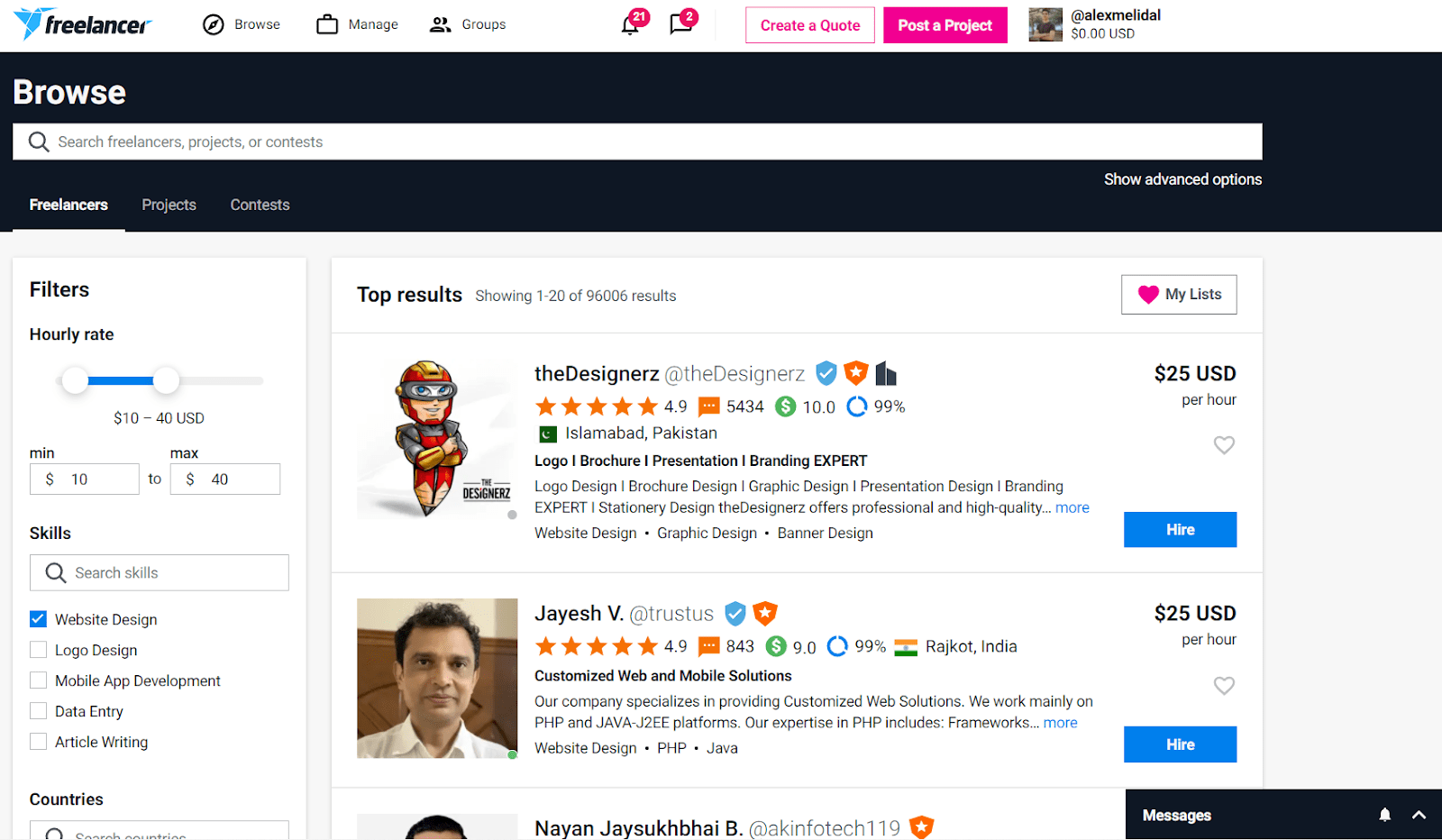 What really caught me off guard was the huge number of applications I received after posting my first job. It turns out
Freelancer has a major bot issue, with slave-driver agencies posting as individual contractors
. Sifting through all the automated applications was an exhausting, time-consuming process. So, Upwork wins this round – it doesn't have as big of a bot issue and offers a better user experience overall.
Pricing and Fees
Freelancer's Upgrades Drive the Cost Up Every Time
Posting jobs on both Freelancer and Upwork is relatively straightforward.
The fees charged on both these platforms are similar and only need to be paid upon successful completion of your project
. Where these platforms differ is in the fees charged and the optional add-ons offered to clients.
Upwork charges a 5% processing fee, which is added to the total transaction amount paid to a freelancer.
This is up from their old fee of 3% (although note that eligible US clients paying with a checking account will still pay 3%), but Upwork makes up for that by giving all users access to Plus features for free. If you work for a larger organization and have a number of freelance needs, you may want to consider an
Upwork Enterprise account
, which comes with some extra perks. The fees for this service vary, so contact Upwork for a demo if you're interested. Here are some things you should know about employer fees on Freelancer:
Signing up and posting a project is free, although a fee is charged once a freelancer is hired. You have 7 days to cancel a project to receive a full refund of all associated costs.
For fixed-priced projects, you'll pay 3% of the project cost or a $3 fee (whichever is greater). This is only charged once the project is awarded to a freelancer and the project terms have been accepted.
For hourly projects, you'll pay a 3% fee for each Milestone Payment made to the freelancer. These payments are automatically created every Monday and released to the freelancer on Wednesday.
On paper, Freelancer is a bit cheaper than Upwork, but things get complicated once you throw perks and upgrades into the equation. You see,
Upwork offers most – if not all – of its services (e.g., advanced reports, access to premium talent, advanced freelancer search) for free to all users
.
Freelancer, on the other hand, doesn't.
You need to pay more for additional upgrades:
Feature your job so it appears on top of freelancer searches: $9
Hire a recruiter: $9.50
Mark your job as urgent: $9
Set your job to private: $19
Make freelancers sign an NDA: $19
Hide submitted bids: $9
IP Agreement: $19
Full-time work: $199
Phew… As you can see, these upgrades quickly stack up, and you could end up paying quite a bit more than you originally anticipated. Personally,
I'd rather pay a higher fee upfront than deal with this annoying add-on system
every time I need to hire someone.
Support
Contacting a Real Human Shouldn't Be This Difficult
We're all familiar with the shortcomings of online marketplaces when it comes to support, and Upwork and Freelancer aren't all that different.
Support is okay on both platforms – if you manage to reach a human representative.
Yes, there are FAQs and extensive knowledge bases, but you can't always get the answers you need from help articles.
Contacting Upwork's live support will set off a perpetual bot chat cycle
– you can only reach a human representative once you've outsmarted their clever AI. The bot itself is pretty knowledgeable, but it won't be much help if you're experiencing technical or payment issues.

Freelancer has 24/7 live-chat support too, but operators tend to take ages to reply
– if they're not completely AFK. You can always write an email or submit a ticket, but you won't always have time for that. Neither platform offers phone support, but that's not too surprising. So, since neither really impressed me, I'm calling this a draw.
Better for Employers?
It's clear that Upwork is the better platform for most employers.
It's bigger and offers more hiring options – plus it's considerably less spammy. On Upwork, freelancers create higher quality work. While you might encounter slightly higher rates, the inclusion of all Freelancer's upgrade fees suggests that it isn't always a more economical option.
Upwork is more upfront with its cost and charges, so you'll always know exactly how much a project will cost you.
The Freelancer platform spams you with upgrades on top of upgrades for every job you post – an annoying and misleading monetization tactic.
For Freelancers Looking For Work
Whether you use Upwork or Freelancer, there's a good chance you'll be able to
find plenty of work
.
The main difference between the two platforms is what you'll get paid – and what's expected of you
. In my experience, clients on Upwork often seem more willing to pay a fair wage, but with this higher pay rate generally come higher expectations.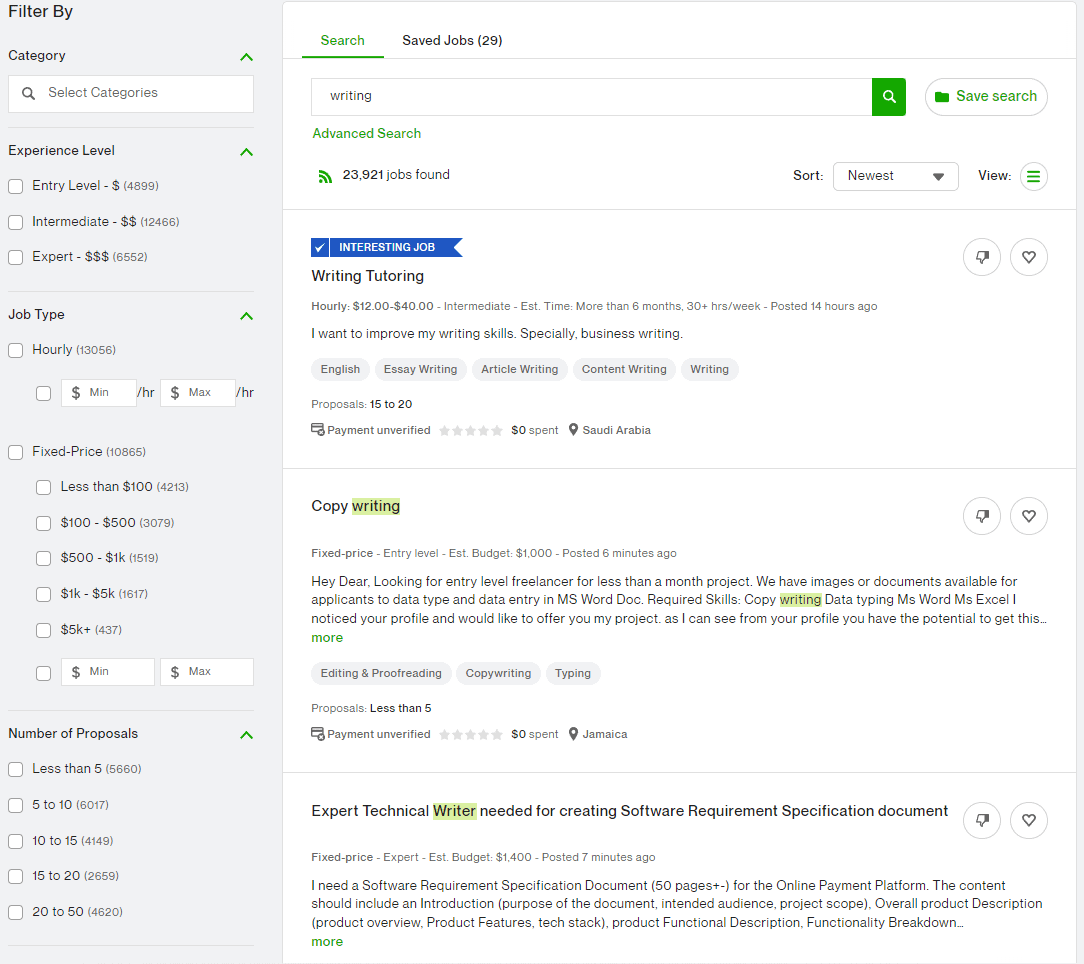 While both platforms are good for freelancers of nearly all skill sets,
it's easier to find and secure quality job posts on Upwork, as their vetting process effectively narrows down the competition.
You need to be approved to create an account on Upwork, while anyone can open a Freelancer account.
Paying Fees
In exchange
for connecting you to potential clients and job opportunities, both of these platforms will charge you fairly high fees
.
When it comes to Upwork, the fees start out high, and lower over time.
The fee structure breaks down as follows:
Upwork charges 20% on the first $500 you earn from a single client.
This fee drops to 10% once you've earned more than $500 with the same client.
You only pay 5% on anything earned above $10,000 with a single client.
Freelancer's fees aren't as high, but there's no incentive to form long-term relationships with clients
. Here are some important things to know about the fees on Freelancer:
For fixed-price projects, you'll pay a fee of either 10% or $5, whichever is greater.
For hourly projects, you'll pay a flat 10% fee, making this a more popular choice for smaller projects under $50, as the total fee will be lower.
For services, you'll be charged a 20% fee.
Working With Clients
When it comes to clients, both Upwork and Freelancer have their issues. While most clients are honest people simply looking to get their projects completed quickly and professionally,
both platforms host a fair number of scammers
.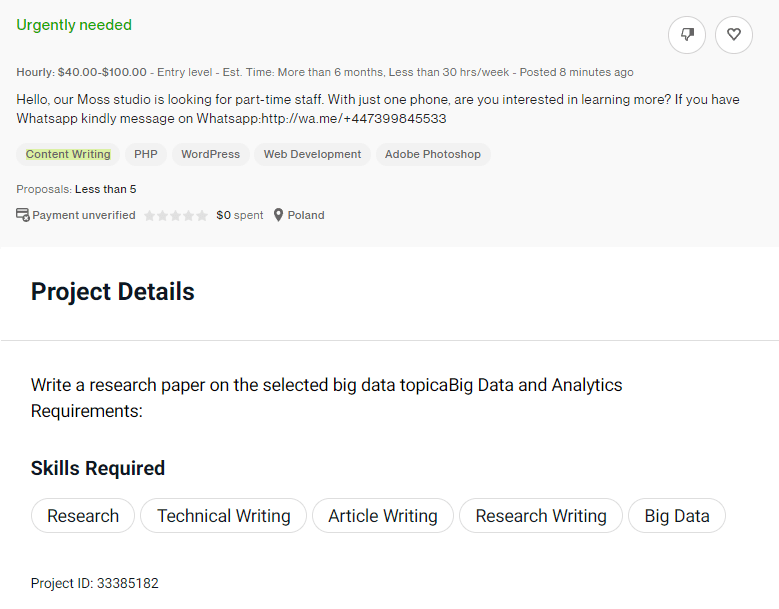 From my experience working as a freelancer on both platforms,
these issues seem to be far more prevalent on Freelancer
. Still, this can be an unavoidable part of being a freelancer, regardless of where you find your work. Here are some pro tips to ensure you're working with an honest and reputable client:
Only work with those that have a verified payment method, as they have proven they have the ability to compensate you for your services.
Pay close attention to a client's feedback score, and avoid those with a lot of negative feedback.
If possible, avoid working with clients who are new to the platform, as they have yet to prove their reliability.
Carefully go over your client's job description and be wary of those that are vague, confusing, poorly written, loaded with typos, or send mixed messages.
With Upwork's advanced filtering system, you can easily find clients who have verified their payment and have a history of hiring on the platform.
Better for Freelancers?
For most freelancers, Upwork is the best choice
. It's better for long-term projects and finding honest work is much easier. However, due to Upwork's screening process, the platform
only allows new workers to join if there's a genuine need for their services
in the marketplace. If you're comfortable with lower pay or seeking to gain experience through quick, short-term projects, freelancing is a viable option. However, even in such cases, I maintain the belief that Upwork can offer significantly more benefits.
So, Who's the King?
If you're an employer looking to hire a freelancer, Upwork easily pulls ahead.
It's easier to use, the fees are more transparent, and the overall quality of work is a lot better. Freelancer.com's biggest flaw is its non-existent vetting procedure, which has allowed spammers to take control of the platform.
As a freelancer, getting accepted into Upwork won't be easy – but it's definitely worth the trouble.
Upwork clients are more honest, pay better, and are more likely to offer you long-term work opportunities.
Comparison Table
| | | |
| --- | --- | --- |
| | Upwork | Freelancer.com |
| Huge talent pool | ✔ | ✔ |
| Budget-friendly | ✔ | ✔ |
| Fiverr-like gigs | ✔ | ✘ |
| Advanced payment protection | ✔ | ✔ |
| Client fee | 5% | 3% |
| Freelancer fee | 20-5% | 10% |
| | | |
FAQ
Which Is Better: Fiverr, Freelancer or Upwork?
Fiverr is my go-to freelance marketplace when I need something done quickly. There's a massive pool of talented professionals waiting to be hired, and it only takes a few minutes to pick the perfect gig. I use Upwork when I need to find reliable candidates for long-term projects. You can browse more top choices by checking out our list of the 7 best freelance websites.
Is Upwork Good for Freelancers?
Upwork is great for freelance work, provided your profile gets approved. Clients offer honest, well-paid jobs, and the platform's many work and management tools are designed to help you stay productive. The fees are fair and incentivize long-term relationships with clients – they are lowered as you make more money.
Is Upwork Good for Beginners?
If you're a client looking for hires, then yes, Upwork is a great place to start as it's very easy to use. And if you want to get hired, Upwork offers some exciting opportunities. However, in that case, you need to a) make sure your profile is as detailed and accurate as possible (Upwork's vetting process can be tough), and b) take advantage of the advanced filters to find the perfect job for your skillset and experience.
Which Freelancing Site Is the Best?
In my experience, Fiverr is an excellent choice for employers who want to tap into a huge talent pool and find the right fit as quickly as possible. Alternatively, while Upwork's solutions aren't as quick or immediate, they're a better fit for business owners who're looking to hire long-term.