Starting and running a business is scary. Thankfully, blogs are a tremendous—and typically free—resource available. Learn from others' successes and failures through posts that cover every step of maintaining a business, with topics ranging from "how to develop a business idea" all the way up to "how to sell your thriving business."
Business blogs are not only a great source of information, but they can also be a fantastic place to find inspiration, and become connected to a network of like-minded business owners. If you're wondering about the best business blogs to follow, our top ten favorites are a good place to start!
#1: Classy Career Girl
Classy Career Girl was founded by Anna Runyan in 2010 to help women "set career and business goals and reach them." The team's definition of a "classy career girl" is a woman who has displays elegance and style while maintaining high standards of personal behavior, skill, and grace.
Recent topics on the CCG blog include: improving networking skills on LinkedIn, marketing yourself online, choosing a career if you have multiple passions, tips for getting over fear/taking risks in business, branding mistakes you don't know you're making and how to fix them, and staying positive when you feel stuck at work.
CCG works with women who want to make a difference in the world and are determined to make their dreams a reality. Though they are primarily a business coaching service, CCG also provides free access to materials and information women can use to help them succeed, such as resume and business plan templates.
Classy Career Girl sets itself apart by offering insight on motherhood alongside their career advice. In 2014, they were named one of Forbes' 35 most influential career sites.
https://www.classycareergirl.com/blog
#2: The Moz Blog
The Moz Blog might be one of the most specialized business blogs on this list, but it's also one of the most important—The Moz is about all things SEO. In today's digital and social media world, getting found through search engines is essential to any business' success—and not doing it could very well equal failure.
SEO and digital marketing experts cover a range of topics on the blog, including turning clients into SEO allies, project management with Google Sheets, avoiding old SEO strategies that are no longer effective, and SEO leaders you should follow. Every week, The Moz puts out a "Whiteboard Friday" blog post and video, with an expert visually breaking down and explaining a different SEO topic.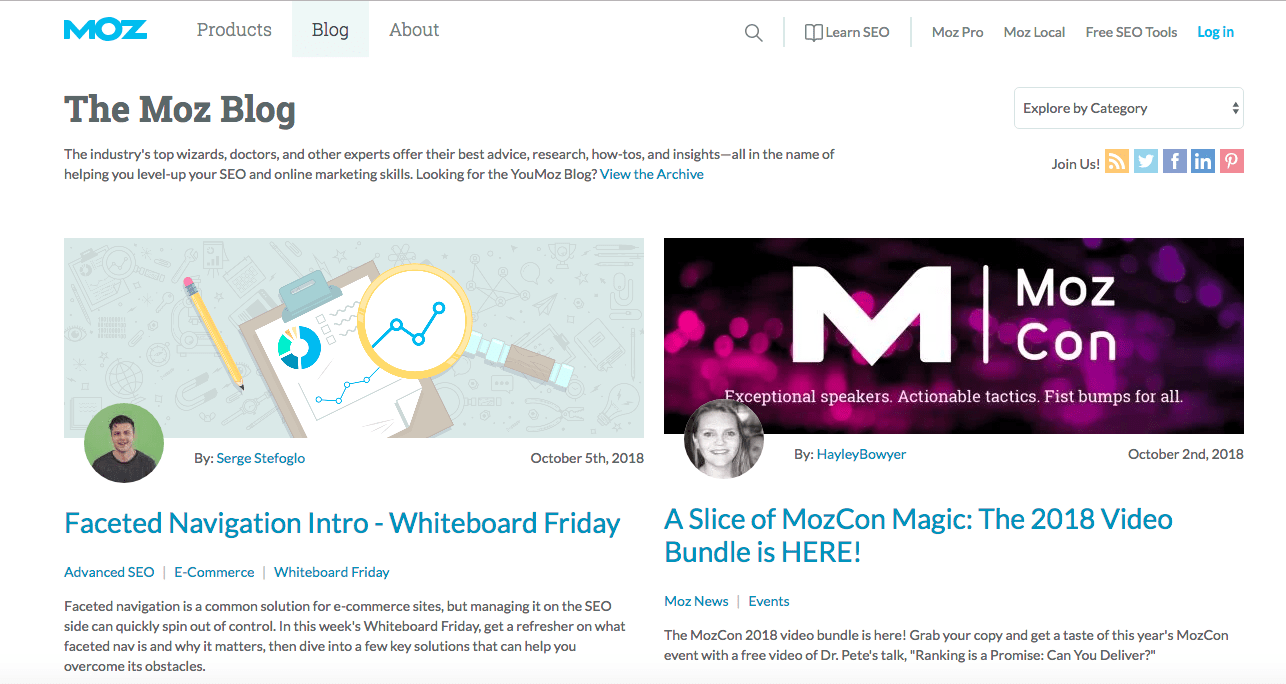 No matter what industry you're in, you need to be SEO savvy and The Moz Blog is a great resource to help you do just that!
https://moz.com/blog
#3: Take It Personel-ly
Take It Personel-ly is a blog that focuses on the intersection of work and personal life, run by Canadian businesswoman Chantal Bechervaise. HR, workplace culture, leadership, social media/technology, and engagement are a few subjects she's passionate about.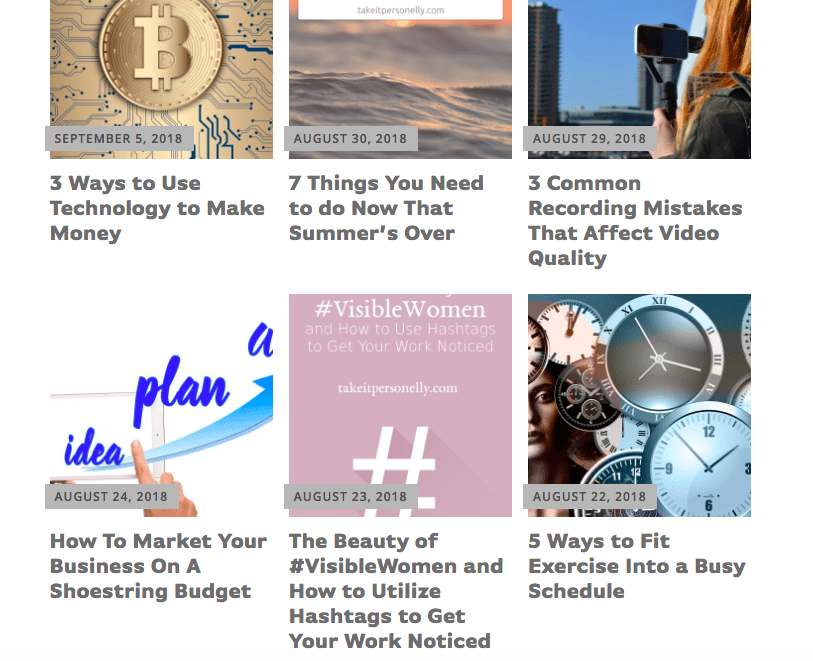 The blog covers unique but important topics like how businesses can give back to the community, recording mistakes that affect video quality, strategies for making smart investments, and how to spot signs you've made the right career choice. These posts are included among more traditional topics like increasing productivity and dealing with a difficult employee.
https://takeitpersonelly.com/
 #4: Young Go Getter
Derek Collins, the owner of the Young Go Getter blog, made his money in the early days of bitcoin. His goal with the Young Go Getter blog is to create a community where people can access resources to help them make "the best financial decisions for their circumstances."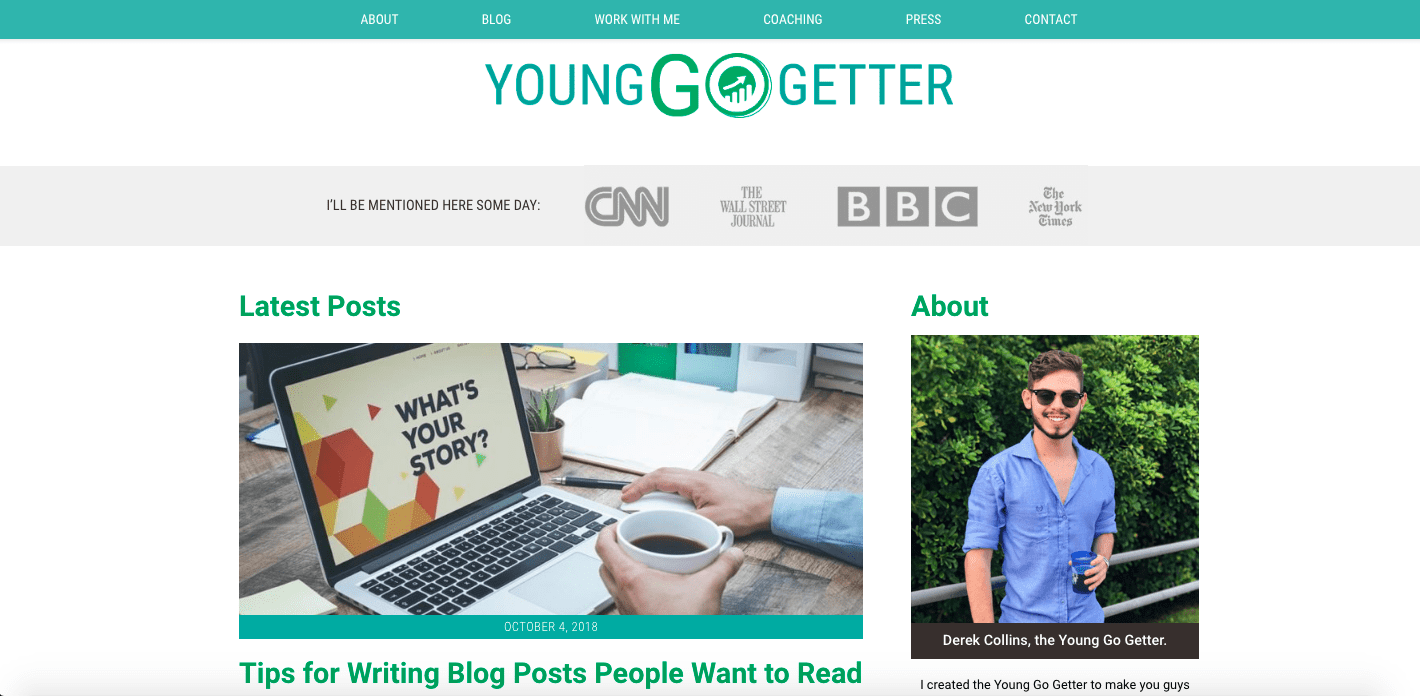 Young Go Getter has a little bit of something for everyone; readers are also invited to submit articles based on their own experiences and expertise. Recent blog posts discuss freelancing, tips for establishing a small business, online marketing mistakes to avoid, strategies for conducting stress-free meetings, and how bosses can make their employees feel valued among other topics. This would be a particularly helpful website for Millennials looking to start their own companies or advance their careers.
http://www.younggogetter.com/blog/
#5: Mike Michalowicz's Blog
Mike Michalowicz is a former business makeover expert on MSNBC and a former business columnist for the Wall Street Journal. By 35, he'd founded two multi-million dollar companies until he decided to start over, determined to find ways to build "healthy, strong companies." He's the author of the popular books Profit First, Surge, The Pumpkin Plan, and The Toilet Paper Entrepreneur.
Recent topics he's covered on his blog include: effective ways to close a deal, maximizing profits in the healthcare industry, tips for keeping nonprofits financially healthy, and building trust with employees in the workplace. Michalowicz's blog is a great place to discover business experts and leaders you've never heard of, as he often features guest bloggers.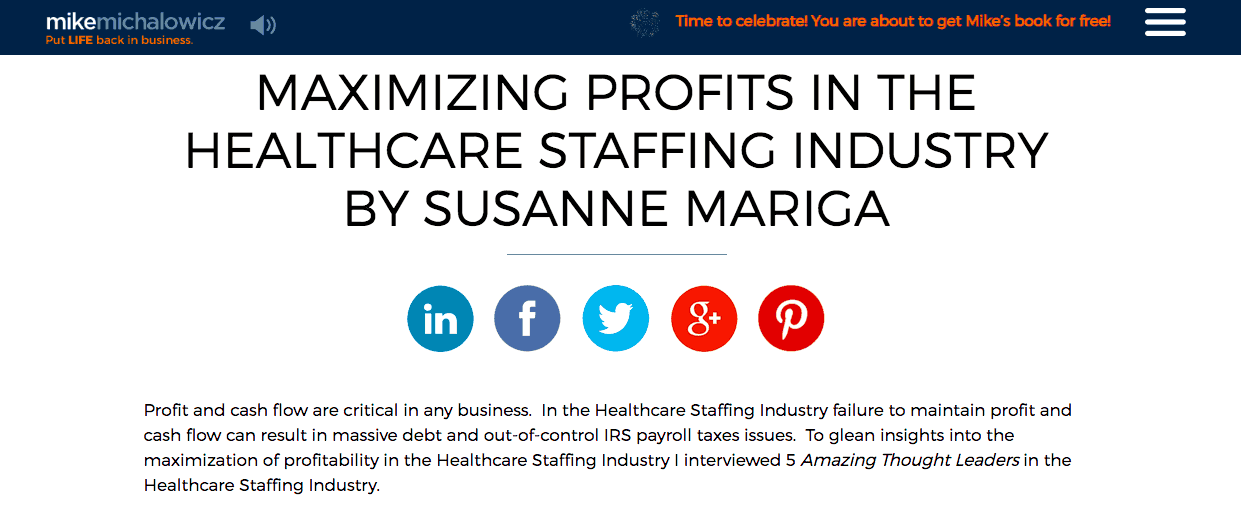 One of the best thing about Mike's blog is that—not only is he an industry veteran with tons of experience in the business world—he also is extremely well connected, which means that you'll have access to fantastic resources or perspectives that other blogs just can't compete with.
https://mikemichalowicz.com/blog/
#6: The Copyblogger
The Copyblogger is dedicated to helping people create quality online content, which they define as "valuable information that attracts attention, drives traffic, and builds your business." They are an education-driven service that provides members with access to webinars, forums, e-books, and more.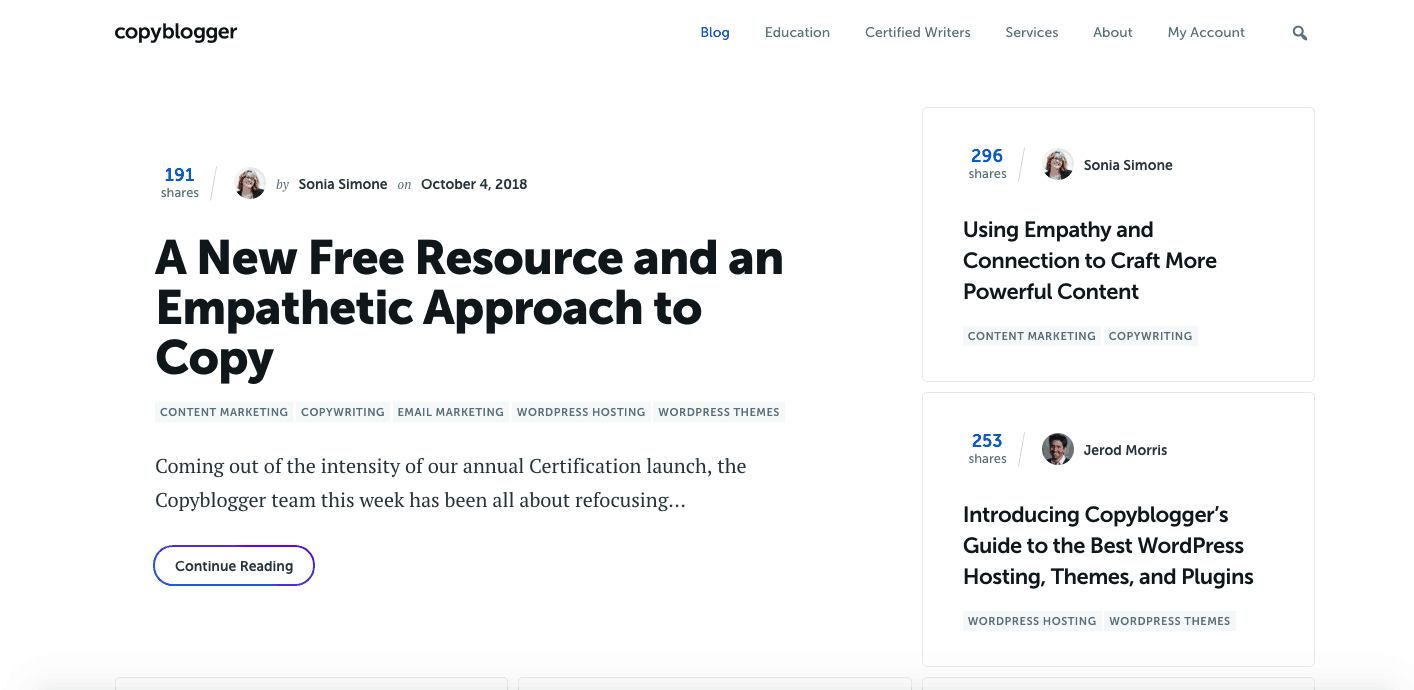 The blog offers information on how to create quality content to drive traffic to your website for free! Recent topics covered include: adapting your content, practical advice for creative professionals, and why content marketers need editors. Basically, if you have a content section on your website—which pretty much every brand should—then you need to be reading The Copyblogger.
#7: SmallBizLady
Melinda Emerson is an entrepreneur, small business guru, and social media marketing expert. She is the founder of Quintessence Group, a marketing consulting firm based in Philadelphia. She has built a name for herself in the small business world, and is known as "SmallBizLady."
On her blog, you can find posts about everything from firing employees without "destroying" them, quitting a corporate job and building a small business, using YouTube to promote your business, and attracting corporate sponsors to your SMB.
One of the more unique features that you'll find on the SmallBizLady blog is the weekly #Smallbizchat on Twitter. Each Wednesday, Emerson interviews different small business experts on a number of small business-related topics. Guests can join the conversation and submit their own questions or answers. This is a fantastic resource for those just starting out, and Emerson does a great job of choosing diverse individuals across a range of industries. Transcripts of each interview are posted on the blog the following day.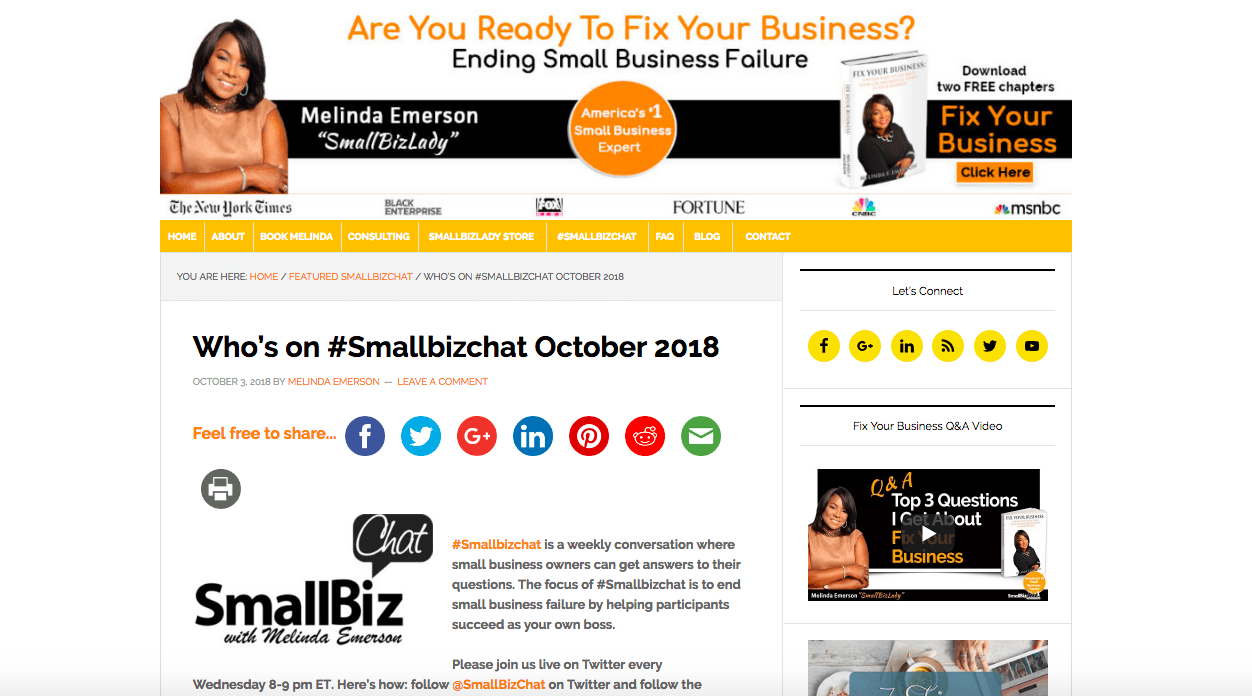 #8: The Branded Solopreneur 
Andrea Beltrami aka "The Branded Solopreneur" is, you guessed it…a branding expert. She offers courses and services to help you improve your brand, but you can also find plenty of useful branding information on The Branded Solopreneur blog.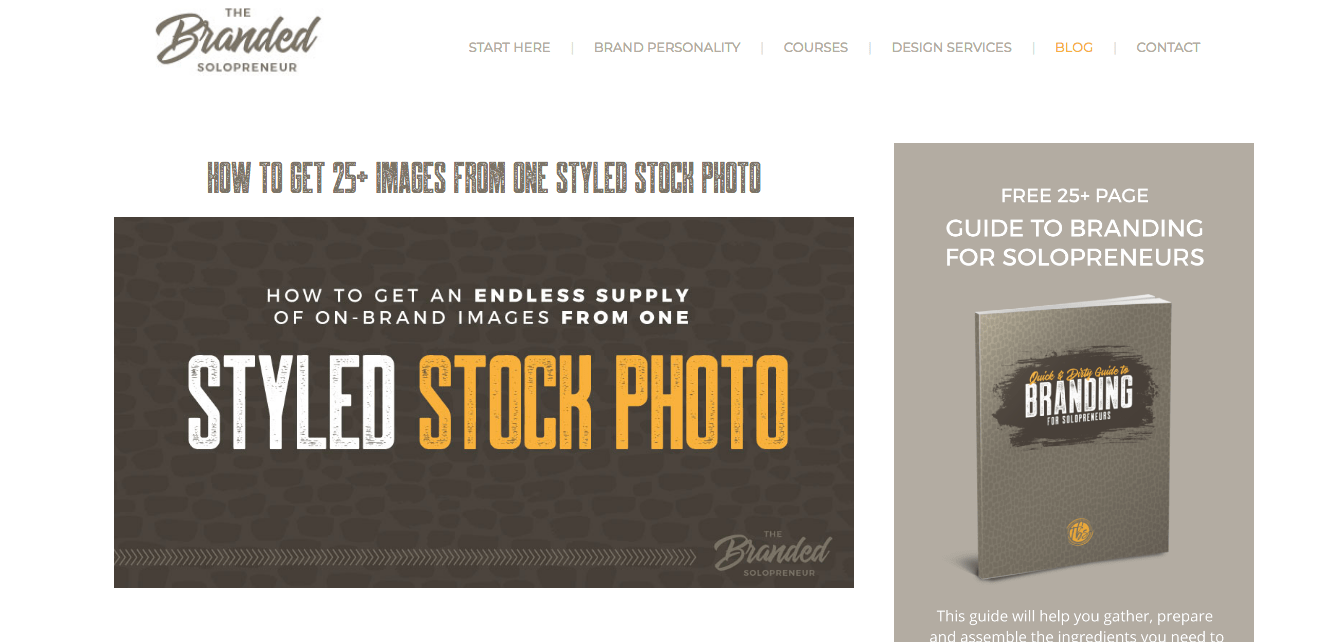 A lot of this content is focused on branding via images. That's because visuals are essential to every business. On the blog, you can find information about topics like: how to find stock photos that fit your brand style, defining your brand's personality, creating images without stock photos, and building brand recognition with images. Visit the Branded Solopreneur to discover how to give your brand a makeover.
#9: Penelope Trunk
Penelope Trunk is an entrepreneur, author, founder of four businesses, and career coach with Asperger's Syndrome. She's lived on both the east and west coasts of the U.S. and now lives in Wisconsin. So, she has insight on what it's like to live and start businesses in many areas of the country.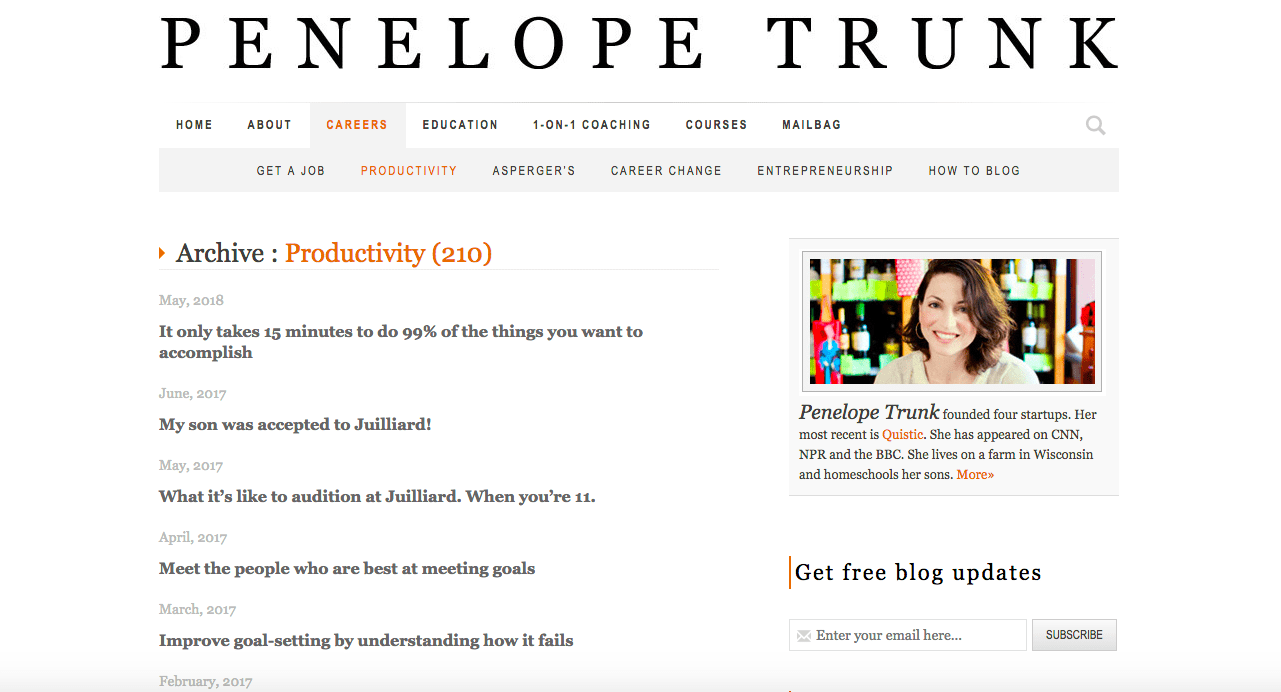 Her blog has a more personal touch than many on this list—which can feel very refreshing against more corporate sounding business blogs—but she places a distinct focus on life/work balance in her writing. Her posts will range from her frustrations of being locked out of her Twitter account, the Grad school debate, and how to choose a career you'll love.
If you like your business advice mixed with personal anecdotes and honest emotions that explore topics such as homeschooling and disability, Penelope's blog is for you.
http://blog.penelopetrunk.com/
#10: Small Biz Survival
Small Biz Survival is a must-read blog for any rural small business owner. Here, you can find blog posts that help you solve the practical dilemmas you'll run into on an everyday basis. We don't mean social media management tips, we mean ideas about how to efficiently use your square footage. We don't mean strategies to attract more customers, we mean strategies for how to improve your shipping method.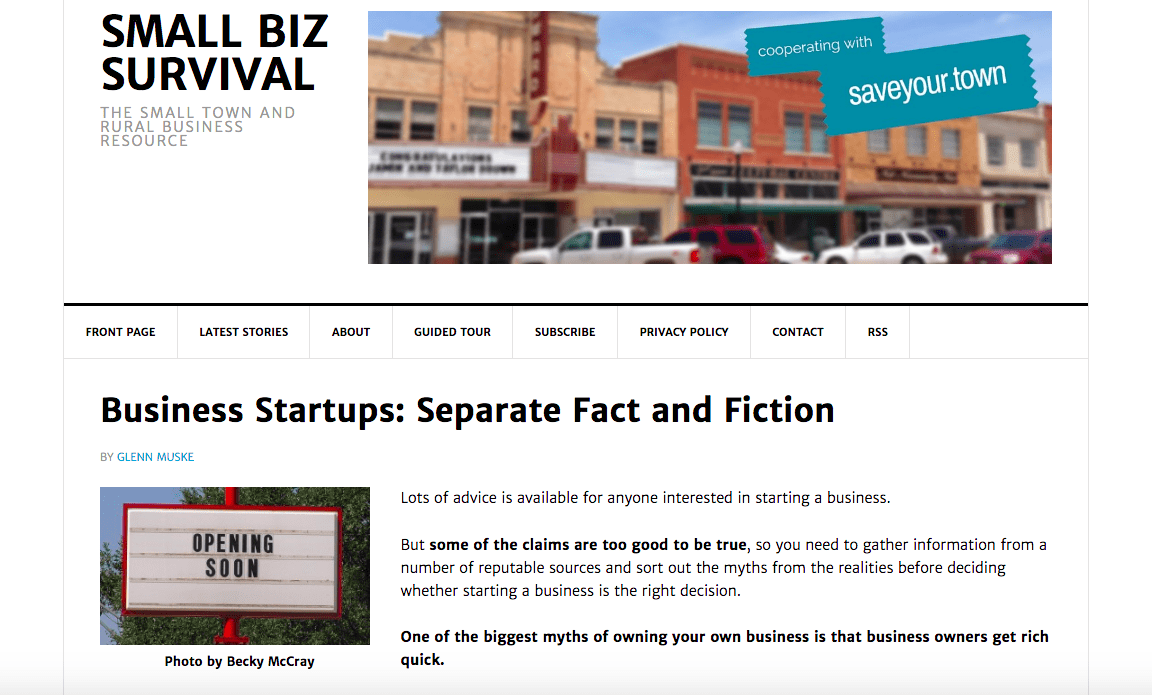 Of course, planning and branding are important too, and those topics are sometimes covered. But, Small Biz Survival is primarily dedicated to providing rural small business owners with solutions.
https://smallbizsurvival.com/
Should You Start a Blog?
Reading about all of these great business blogs may have you wondering if you should start one for your own company. As many of our picks prove, it's possible to run a blog and a business. But, be sure to keep in mind that a blog can become its own business quickly! So, don't start one too hastily, especially if you're a startup. It's smarter to put starting a blog on your "long-term goals" list, and benefit from reading our recommendations in the meantime.