If you're new to using a website builder to create and host a website, it can be an intimidating first step to choosing a platform by signing up and paying for the service. And that commitment would be even more frightening if you had little-to-no budget for a hosting plan to begin with.
Fortunately, signing up for a free version of a website builder is a great way to test it out, familiarize yourself with the platform, and get a head start on creating your blog. However, you can't expect the same level of features and services that paying customers get, which is understandable. Still, you should take some time to learn what the limitations of a free hosting account are so you can prepare yourself for the future.
A Free Plan is A Great Way to Test the Website-Building Experience
To make sure that potential customers get a taste of what the platform is about and what it's like to work with, most builders provide a decent amount of freedom with their free plans. Some, like Wix, WordPress.com, and Jimdo, provide a free plan you can use to actually host your website live and start getting visitors.
These plans will be subject to the usual restrictions placed on free plans; however, you can host your website for free for as long as you want within the boundaries. Usually, they give you free reign to pick a template (paid premium templates might be locked) and to edit it with the customizer or drag-and-drop webpage builder.
The creator or drag-and-drop system used by various builders can be very different. Make sure you're comfortable using the one provided by the platform you're considering. For example, Site123 doesn't offer any drag-and-drop functionality, and Squarespace lets you drag and drop, but within the confines of a section-based user interface. You can learn more about these platforms by reading our Site123 expert review, and our Squarespace expert review.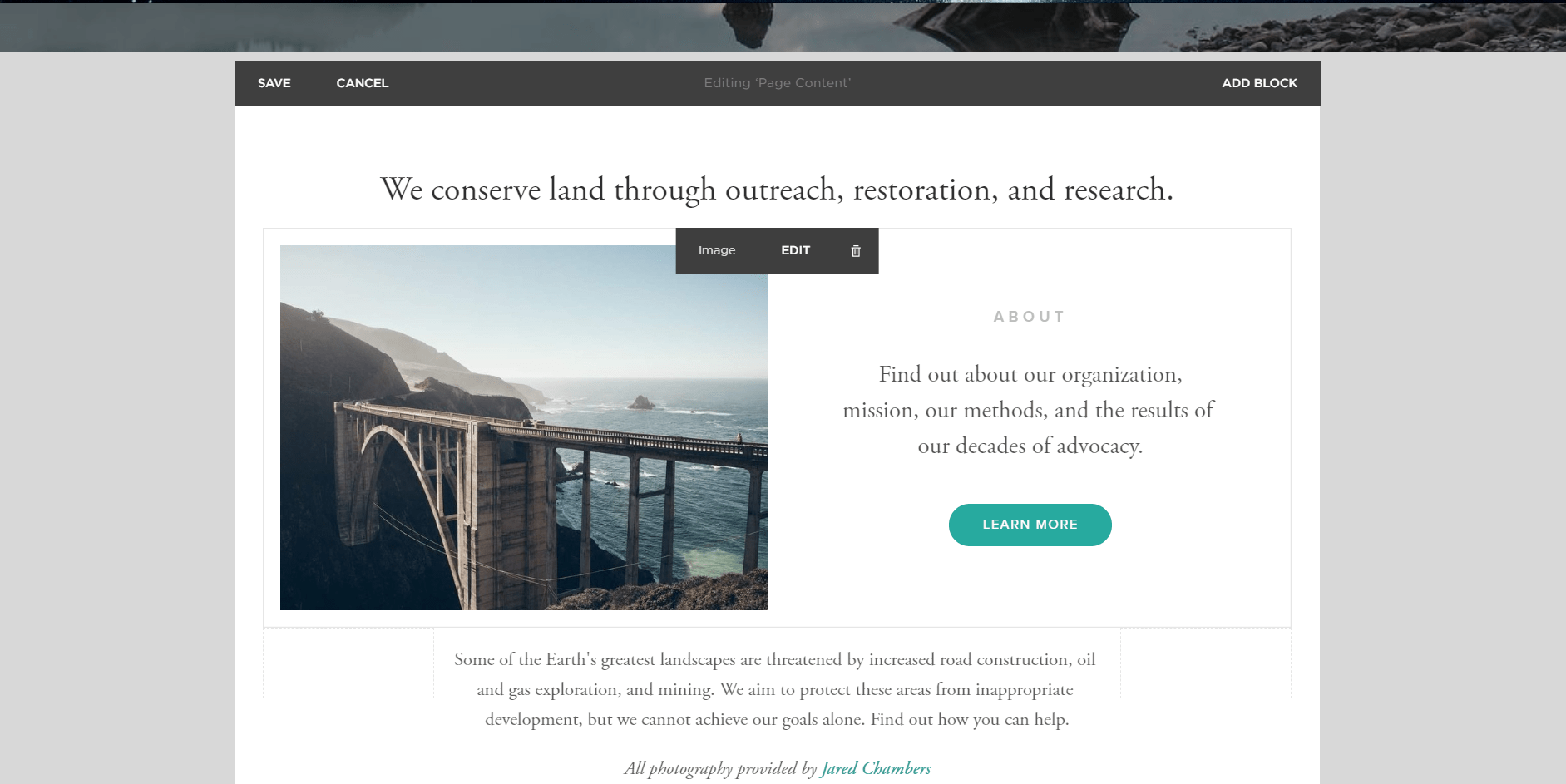 You Can Scale Your Blog Only So Far
Usually, resources are tiered according to the pricing structure of the website builder, meaning you get more storage and bandwidth the more expensive the pricing plan you choose. As you might guess, that means that free plans have the lowest limits within which you can work.
For example, Wix offers only 500 MB of storage and 1 GB of monthly bandwidth with the free plan, but Unlimited storage and 20 GB of storage with the VIP plan. You definitely won't be able to run a media-rich website or blog with only 500 MB of storage, and you won't be able to host tens of thousands of visitors with only 1 GB of data transfer.
WordPress, on the other hand, provides 3 GB of storage and unlimited bandwidth, which is already much better. However, it severely restricts free users by denying access to plugins, among other things. Even if they don't impose a bandwidth limit outright, you'll probably still be subject to a fair-use agreement that limits your bandwidth. Feel free to read up more about WordPress in our expert review here.
You Might Have Restricted Access to Features and Support
Just as resources are restricted according to your pricing plan, so are the features. For example, WordPress restricts which Jetpack features you can use based on your plan, and you unlock certain SEO or marketing features only with higher priced packages. You'll also need to pay for premium templates, which you can get free with other plans, and you can't install any plugins or third-party templates. One-on-one technical support is also limited to paying customers.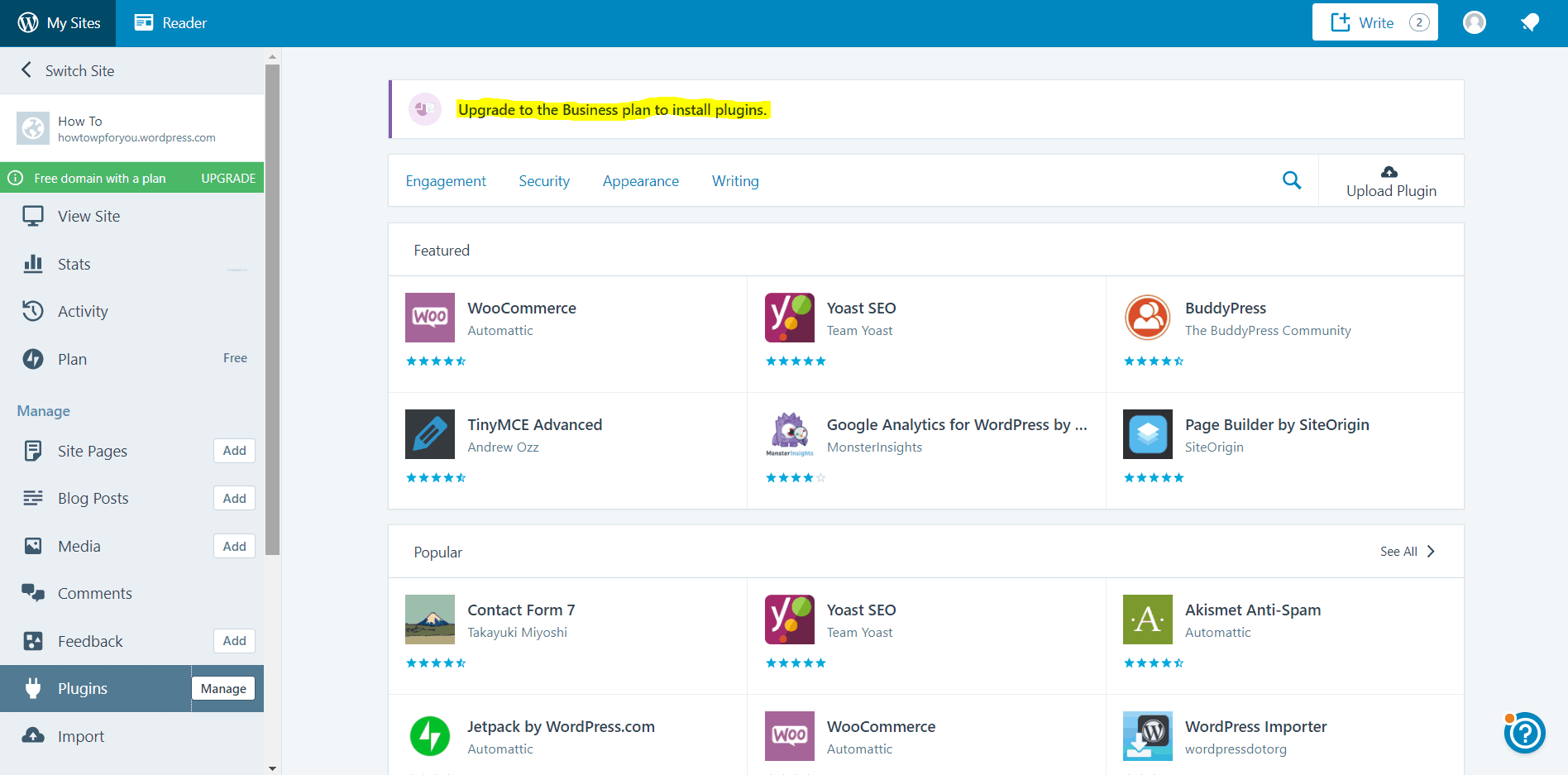 With Wix, you're only allowed to customize your favicon and run email marketing campaigns from higher plans. You also miss out on priority ticket and callback responses. From the Unlimited plan onwards, you even get extra app credits for the Form Builder and Site Booster apps. For a breakdown of Wix's paid plans versus its free plan, check out this article. You can also read up on our expert review of the platform.
So, on top of actually getting access to better and more advanced features and support, you also sometimes have monetary incentives to go for the more expensive plan.
Running a Store Next to Your Blog Might Not Be an Option
One of the biggest and most important features usually left out of a free plan or trial is e-commerce functionality. This is because e-commerce is inherently more complex and requires a lot more resources than just a blog or website with a few webpages. Think of all the products, categories, business tools, and the added responsibility and infrastructure needed to provide secure payments.
That's why e-commerce is the first one to go. The two most popular e-commerce options, Shopify and BigCommerce, don't offer a free plan, but only a two-week trial. You can read up more about these e-commerce giants by visiting our Shopify review here, and our BigCommerce review here.
Others platforms, including Wix, WordPress.comWordPress.com, and Jimdo, provide online store features only with paid plans. Sometimes, e-commerce functionality is provided only with a more expensive plan, and individual e-commerce features might be tiered. For example, even for simple PayPal payments, you'll need a Premium plan on WordPress.com.
You'll Need to Host on a Subdomain
A free website is almost always hosted on a subdomain of the builder, such as mysite.wordpress.com or mysite.wix.com. Very rarely will you get just mysite.com, especially since you have to pay for a domain to begin with. Although this might not seem like an outright disadvantage, especially for beginners or casual website owners, having your own top-level domain will become more important as your website grows.
First, it's harder to effectively optimize for search engine rankings on a subdomain. Second, it just doesn't look as professional to not have your own URL. Most builders include a domain in the cost of your hosting, providing another value-added incentive to upgrade. However, you might need to renew your domain as a separate cost on an annual or biennial basis.
You Won't Be Able to Monetize Your Website Through Ads
This is problematic, especially if you're considering the possibility of making money through your blog via selling advertising space. Website-hosting platforms almost universally don't allow you to have pay-per-click ads on your website, as this would be a clear way to take advantage of the service without paying anything.
Instead, website builders may either place pay-per-click ads of their own choosing (for which they'll be reimbursed), or they'll advertise themselves. Usually, there will also be a banner of that builder placed somewhere on your website, linking to it with a message like "Proudly built with Wix" or "Proudly built with WordPress."
Again, this is not an issue if you have very modest ambitions for your website, or if you just want to casually host your own website or blog. But it's a problem if you want to run your blog as a business.
When's the Right Time to Start a Paid Web Hosting Plan?
As you can see, for everyday, low-key hosting, you might just be able to get away with indefinitely using a free hosting plan. Although you won't be able to monetize your blog or really grow it into something hugely popular, it's a fantastic way to intimately get to know a platform and what it has to offer. And if you're still undecided as to which website builder is right for you, the free plan or trial might also be able to give you enough information to finally make the right choice with confidence.
But as nice as a free plan may be, one day you might consider leveling up. Here are some important questions to ask:
Do you keep running into the storage limits that stop you from uploading or creating new content and/or webpages?
Do you want to keep expanding and growing your visitors/traffic, but are hampered by bandwidth limits?
Do you want to start incorporating more advanced features (whether it be built-in or via plugins) in your website?
Do you want to monetize your website via pay-per-click ads or an online store?
Do you want to take greater ownership of it by having your own domain and removing unsolicited ads/banners?
These are the most important indicators that it's time for a change. If you answered yes to any of these questions, you might be ready to upgrade your free plan to a paid one.