Read on to find out how to get a professional logo for just $5.
---
9 Best Space Logos
My colleague set out to test a variety of logo design services. His aim was to discover which ones offered the best design quality and value – and to ultimately find a new logo for Website Planet. Want to see the results? Check out his
comprehensive logo design service comparison
 to see which one won.
How to Get a $5 Logo
You might think I'm living on another planet when I tell you can get a quality space logo for just $5. For such a cheap price, you'd assume a logo like that must be designed by an amateur, right? Wrong! The secret is Fiverr. The freelance platform allows experienced designers to offer packages of their services from a starting price of just $5. There are thousands of designers on Fiverr who specialize in everything under the sun. The competition keeps their rates low and the quality high. Want to test it out for yourself?
Go to the Fiverr homepage
 and search "space" logo. As you can see below, you might get a few results showing designers who specialize in "negative space logos", which is a popular style that has nothing to do with actual space. To get more relevant results, I'd recommend searching for specific terms like star logo, moon logo, rocket logo, etc.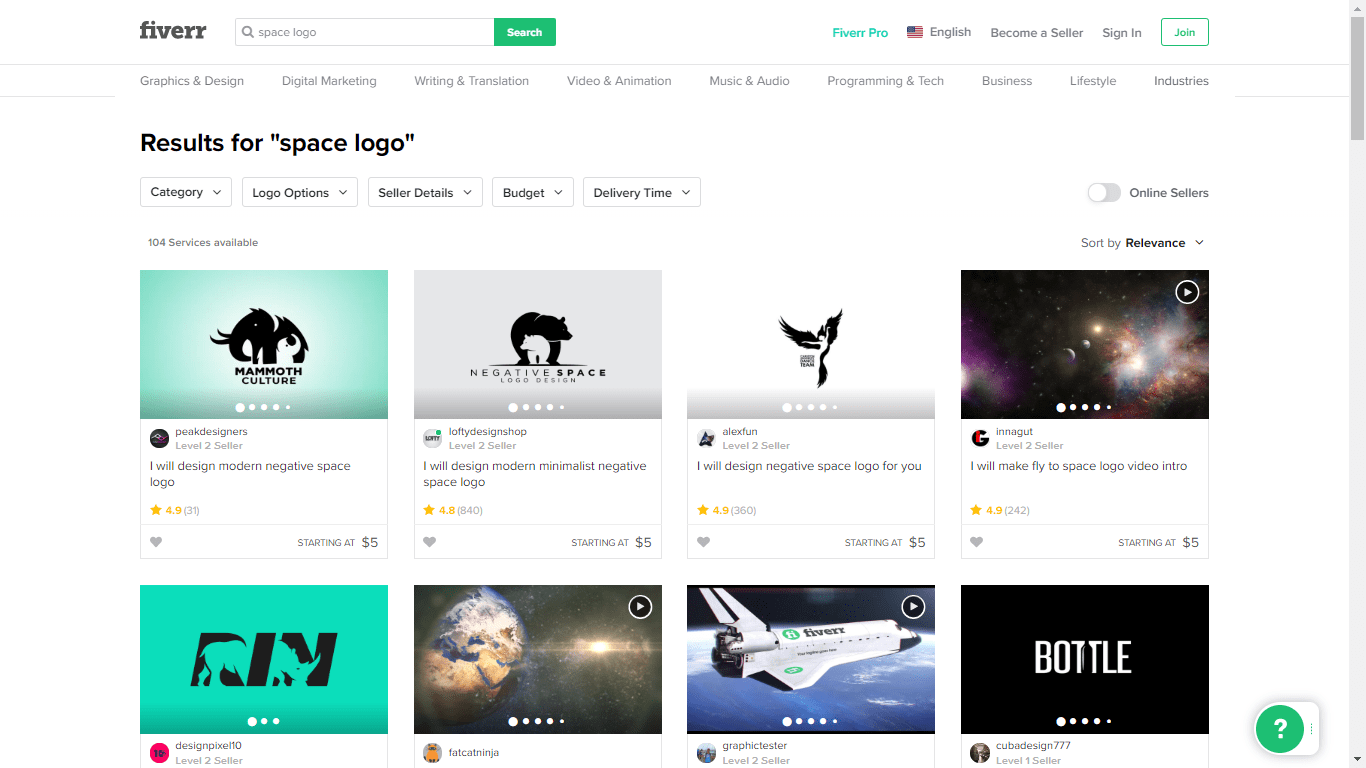 You'll be able to see an example of each designer's work as well as their star rating and starting price. Click on any profile that catches your eye to see their services, portfolio, and customer reviews. There's plenty of information on each profile to help you decide if this is the designer for you.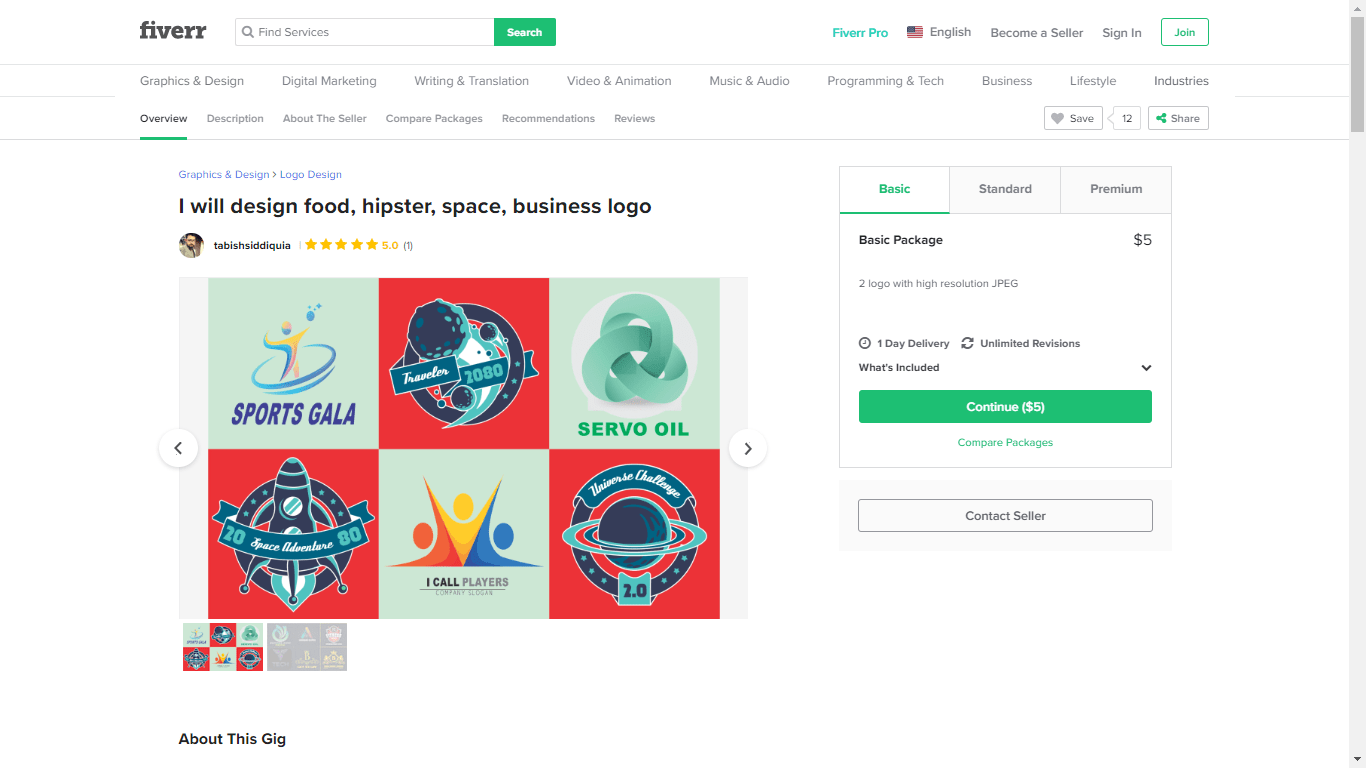 Select the right package for your needs and hit
Continue
 to move to the payment preview page. Here, you'll be able to see the services in your selected package. Some designers also have the option of adding extra services to customize the package further. Hit
Order Now
to enter your payment information and complete the process.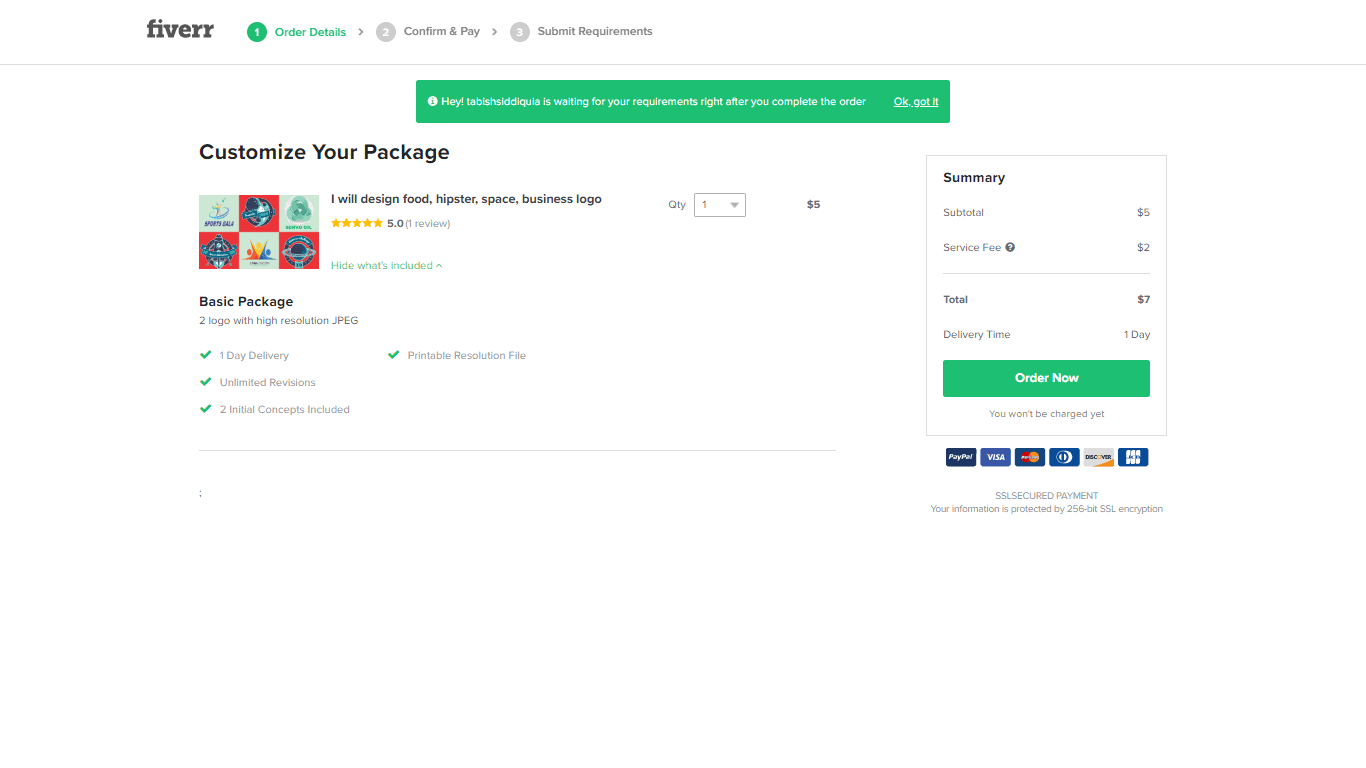 Give it a few days (or less than 24 hours, if you chose expedited delivery) and your new logo will be ready! To learn more,
read our in-depth Fiverr review
. Here are a few other Fiverr features I rate:
Designer search options – If you have thousands of results for your search query, use the helpful filters to narrow your options by budget, logo style, and delivery time.
Fiverr Pro – If your budget has some wiggle room, consider hiring a Fiverr Pro designer. These designers are personally assessed by Fiverr employees and confirmed to have the best customer service and highest design quality.
Payment protection – Don't worry, your money is safe. Your payment is only released to the designer once you're completely satisfied with their design work.
No surprise fees – Designers can never overcharge or add extras fees onto the cost of your logo. You'll only ever pay one price – that's it.
How to Create Your Own DIY Logo
If you want to have full creative license over your space logo and you have an eye for design, then making your own logo might be a good option for you. Using a DIY logo maker is a great way to get started, as you don't need any fancy software and they're free to use. (You'll only have to pay if you decide you want to use and download the logo you make.) Not every logo maker is created equally, though. Wix Logo Maker is always my top recommendation. In my opinion, this tool combines the best aspects of many other logo makers in one platform. It has attractive templates, it's easy to use and the whole process is powered by artificial intelligence (AI) technology.
Go to the Wix Logo Maker homepage
 and create a profile to get started with your logo. Step one: enter in your company name and tagline.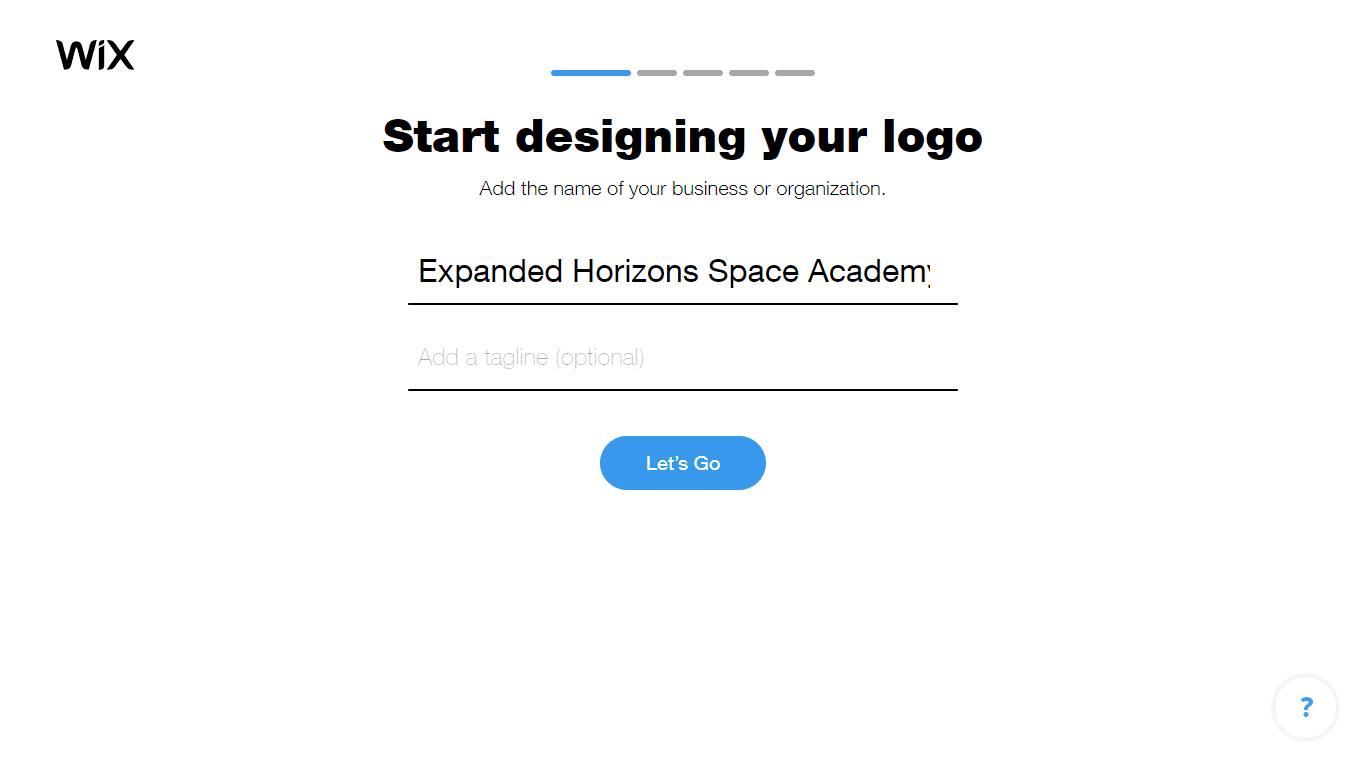 Choose your industry from the dropdown menu. In my example, I chose space camp, but even if your industry has nothing to do with actual space, it's likely to appear on their expansive list.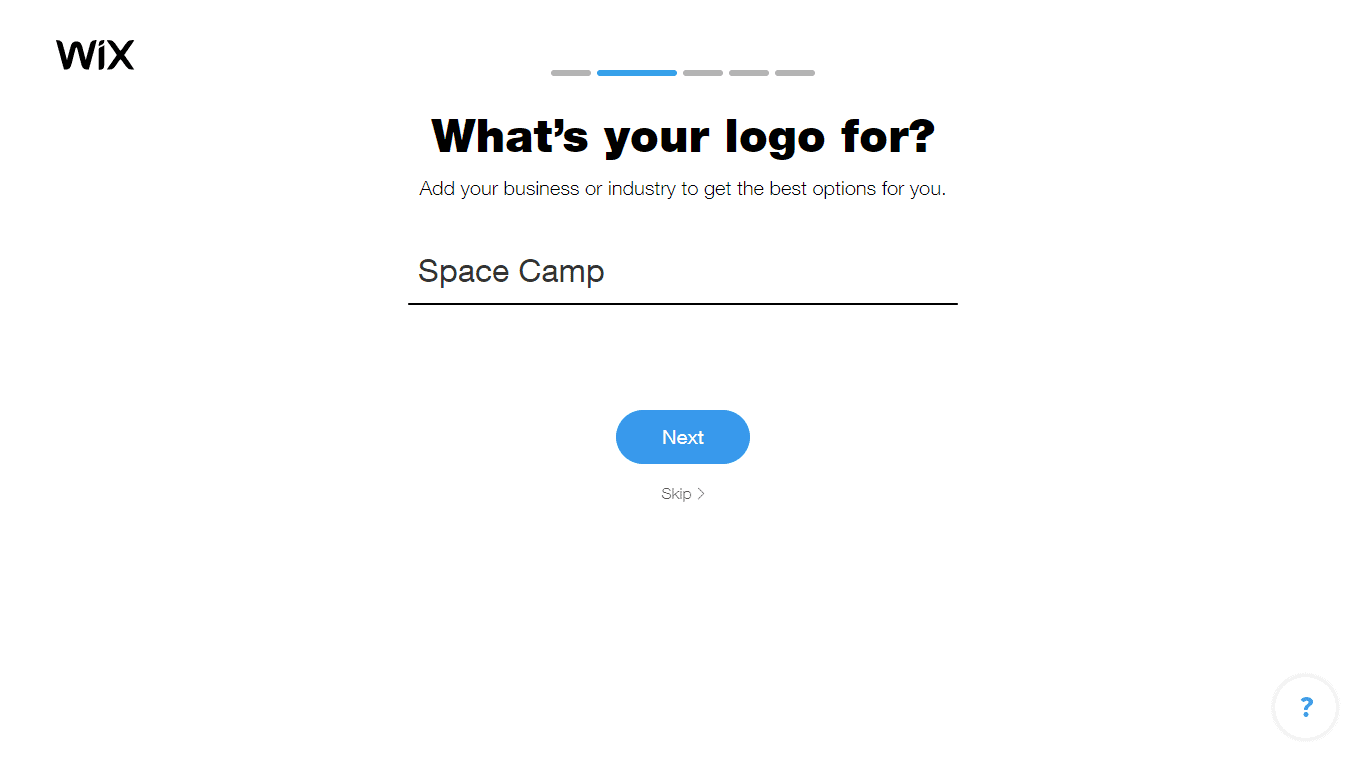 You'll be met with a few different adjectives on the next screen. Choose the ones that you think best describe your dream logo.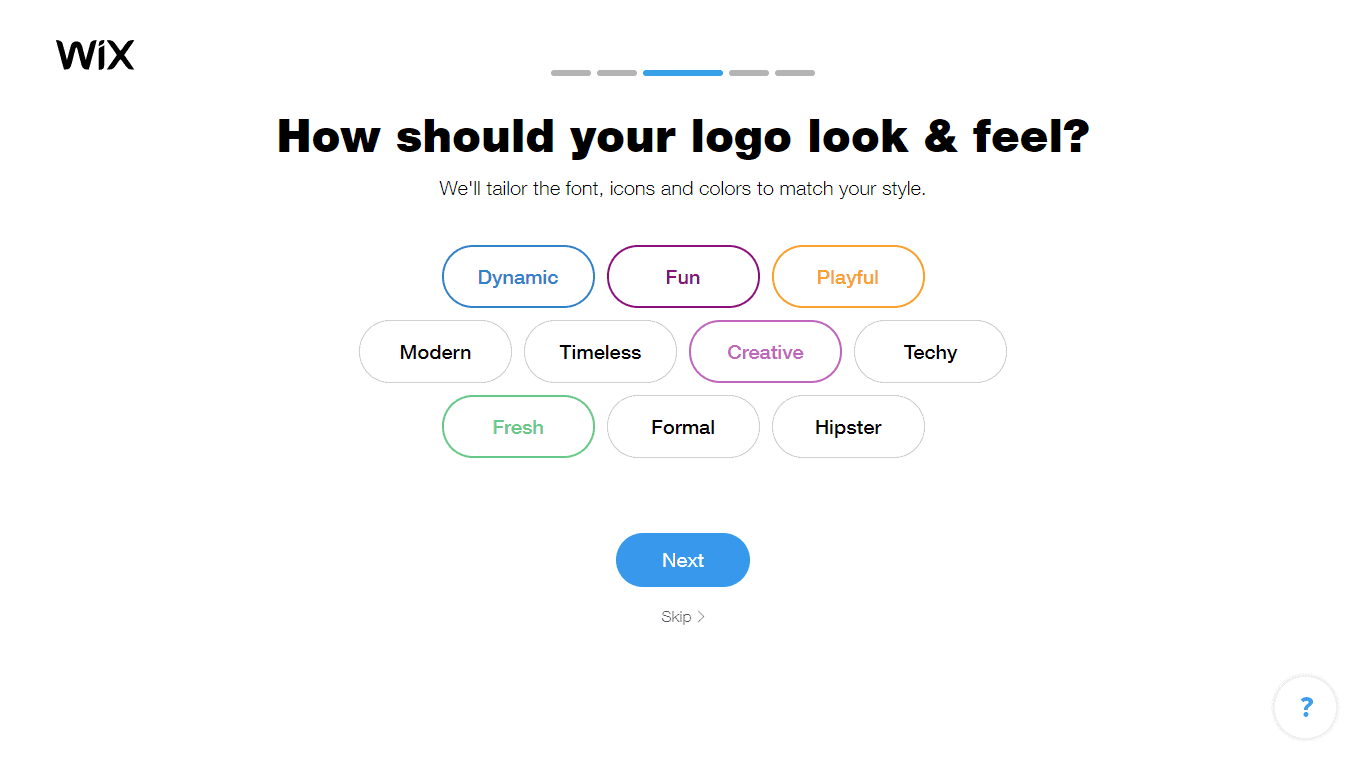 Next up are the logo pairs. Choose the logo design from each pair that you like the best. You can take your time weighing them up, but I like to just go with my gut reaction.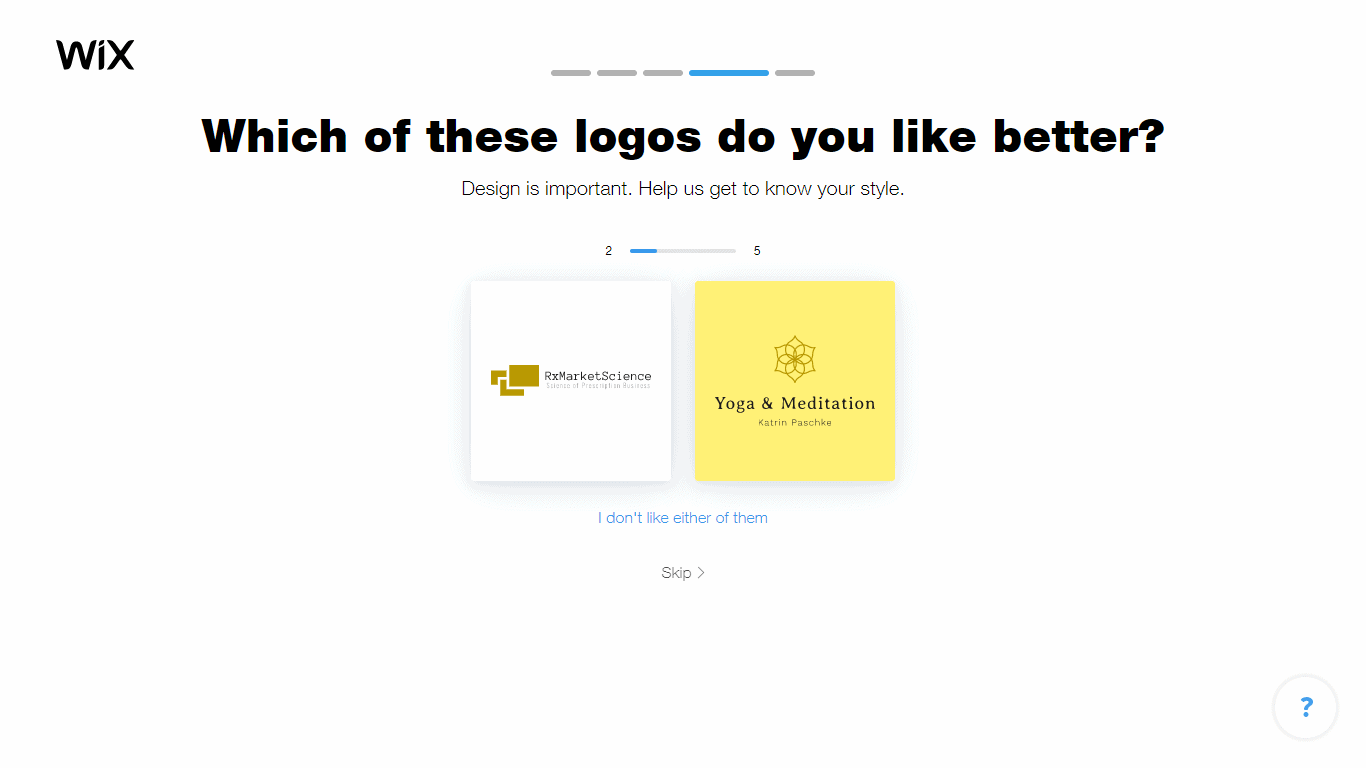 Finally, let Wix Logo Maker know where you'll be using your logo. This could be on social media, a website, or on merchandise.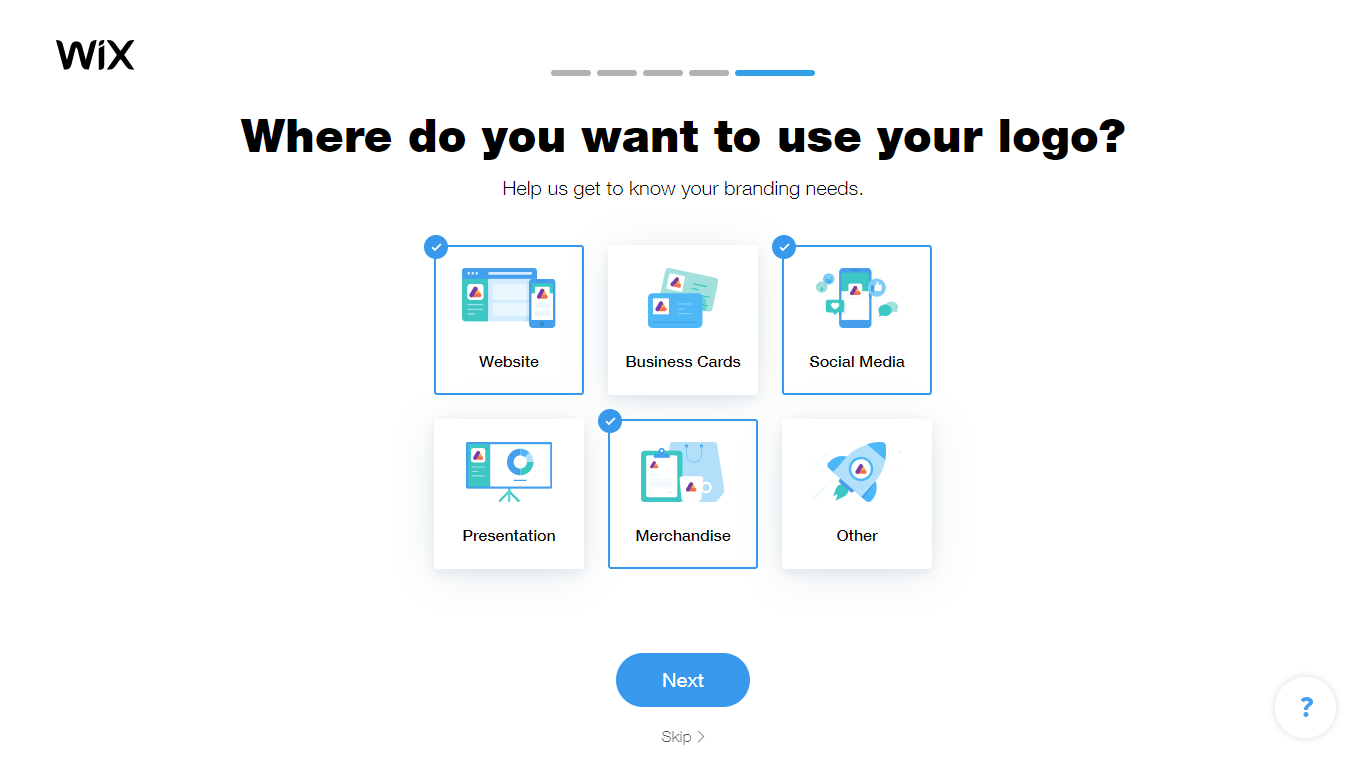 And here are your logo suggestions! Now the question stage is over, take a scroll through the results the AI has generated to see if any of the logo styles jump out at you.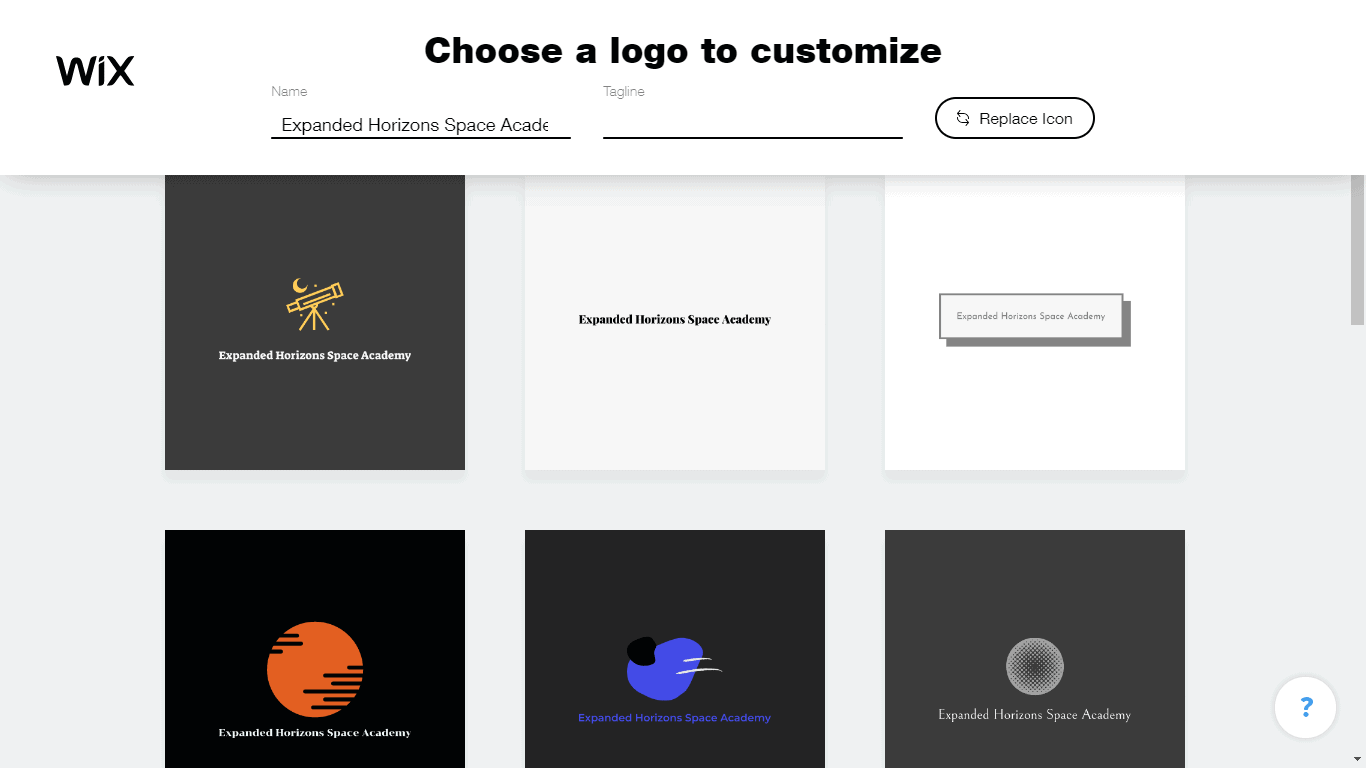 If you'd like to change the icon, just click
Replace Icon
and type "space" into the search bar. You can choose from this list or try more specific searches, like stars, moon, and planet.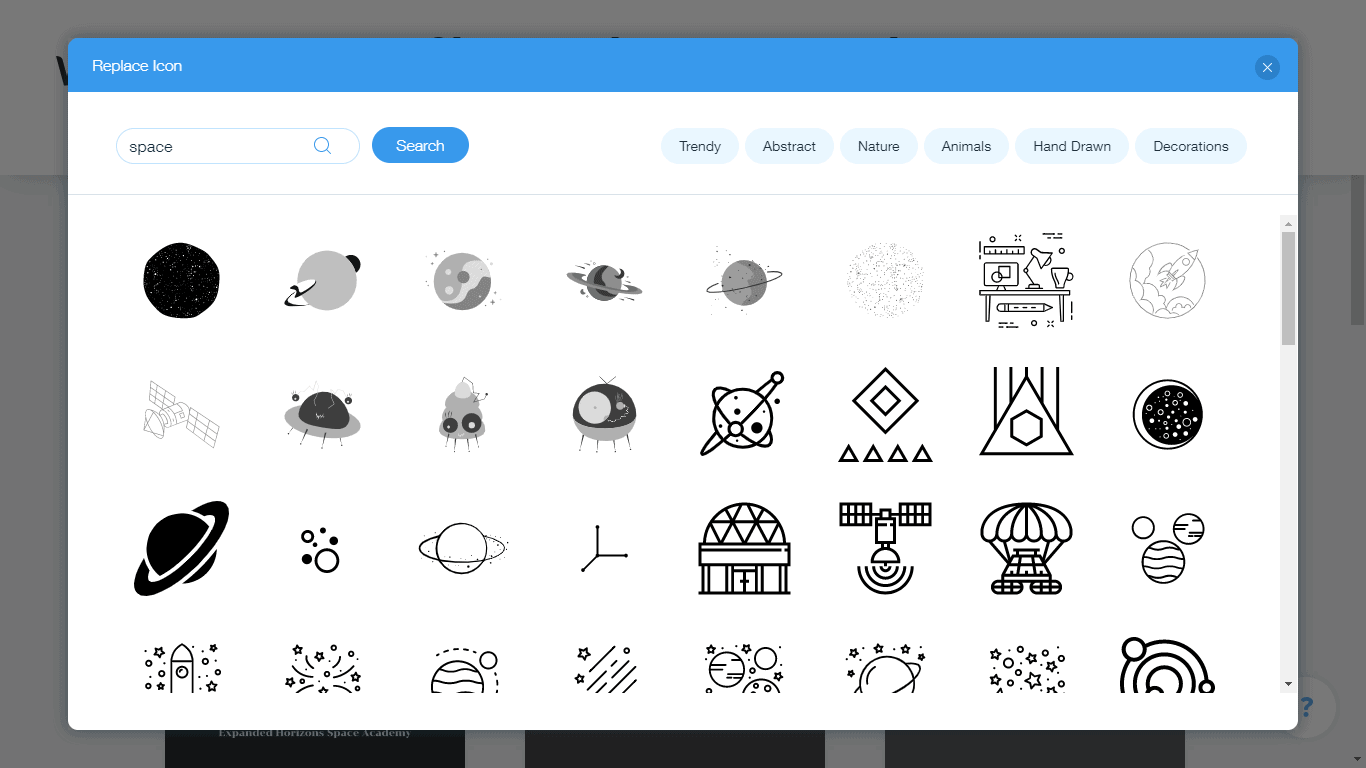 After you've decided on your logo design, click
Customize
and you'll be taken to the logo editor. Here, you can choose from any of the color palettes, insert new icons, change the logo fonts, and much more. Spend as much time as you need here getting creative and making something unique.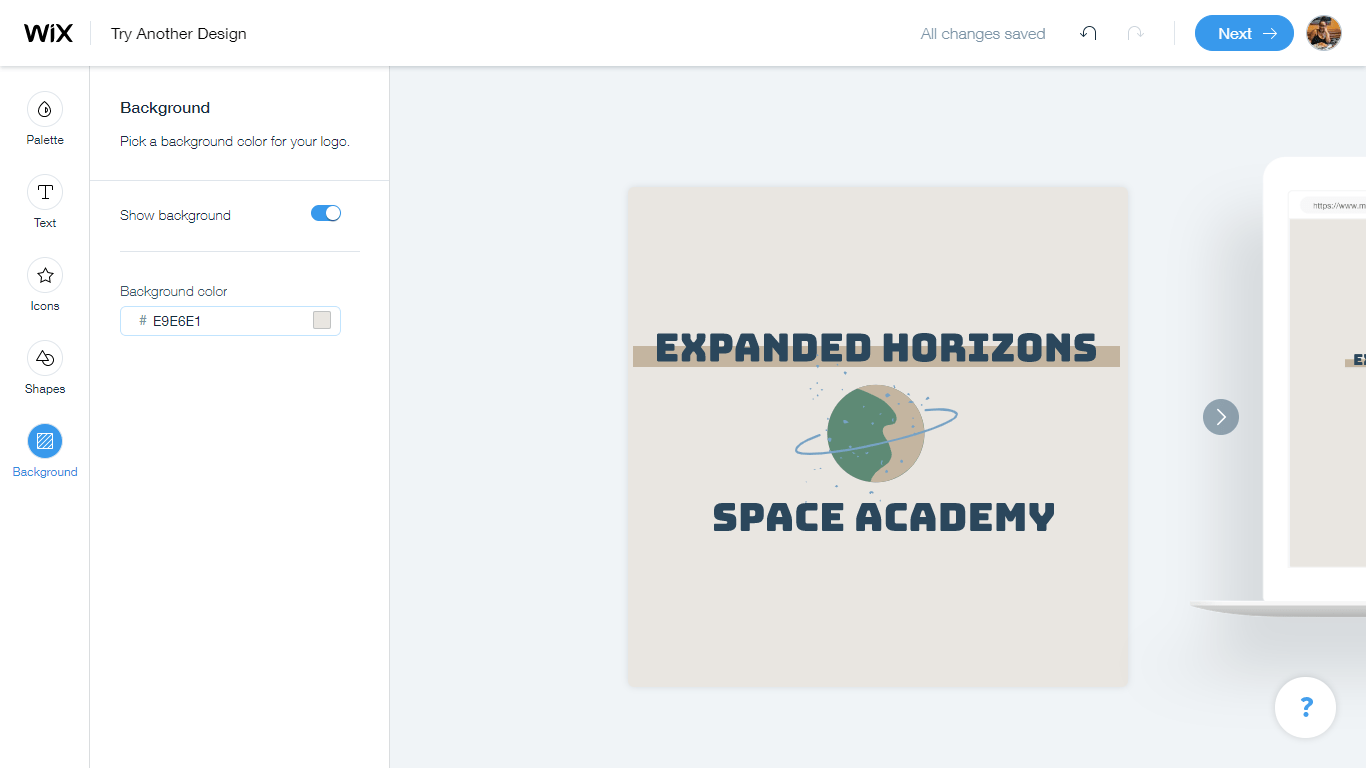 Click
Next
when you're finished customizing to choose your paid package or download a small, free image of your logo. If you opt for a package, simply make the payment, and you'll be able to download your high-resolution logo for immediate use. The free image is limited in size for practical use, but it serves as a handy option if you're currently exploring your choices and wish to compare this design with others. To learn more,
read our in-depth Wix Logo Maker review
.
Wix Logo Maker Alternatives:
Looka – Design your logo with Looka and when you are finished you can opt to buy additional branding materials, like business cards and website design. It's a great option if you're thinking of a total rebrand for your company. See some logo examples in our full Looka review.
LogoMaker – Unlike Looka and Wix Logo Maker, LogoMaker is an incredibly simple platform. If you like the speed that comes with simplicity, you can complete a basic space logo in four quick steps. Read our expert LogoMaker review for more details.
Wrapping It up
Five dollars for a professional logo is a pretty unbeatable price. In fact, you'd be hard pressed to find a platform that provides you with the same access to as many affordable, skilled designers  as Fiverr does. Reach for the stars, and
hire a Fiverr designer
 to get the job done right.
Wix Logo Maker is the answer to your DIY desires
.
 The AI technology matches you with logo suggestions personalized to your answers, so you're never staring at a blank screen waiting for inspiration to strike. Making your own logo is an adventure, and Wix Logo Maker is the best tool to guide you through it! Still searching for the right logo design service for you? Head over to my colleague's
expert logo design service comparison
 to see a full breakdown of other services.