you could get a professional school logo design for as little as $5? Click here to jump down and find out how.
If you prefer to try designing your own logo, read on for some tips.
9 Best School Logos 
My colleague recently went on a search for the best logo design service, to find the next new logo for Website Planet.
Check out his logo design service comparison
to read all about his experience. One of the biggest surprises was Fiverr – the logo designers performed incredibly well and delivered high-quality work, even for the low price of $5. To see what you can get for this price, don't miss his
expert Fiverr review.
How to Hire a Great Logo Designer for $5
I know that $5 seems like an outrageously low cost for a professional logo design – and that's because it is. But on Fiverr, you can actually hire a professional designer for this price. There are thousands of designers on the site, so you can find different levels of expertise and all different design styles. Whether your style of choice is modern or handwritten, there are talented designers on Fiverr ready to design your school logo, all comfortably within your budget. Just
go to the Fiverr homepage,
search for 'school logo' and scroll through the options to find the designer that suits you best.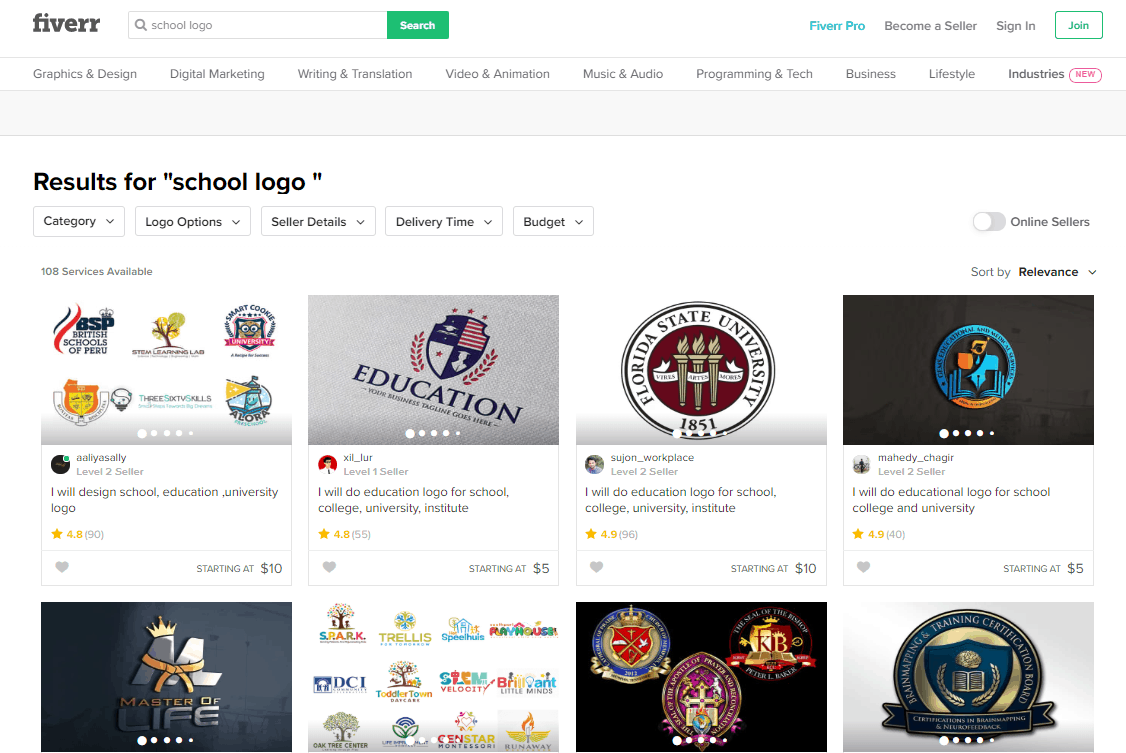 Worried about the quality of your $5 logo? No need! Each Fiverr designer has a portfolio displaying their previous work and design specialties that can be reviewed before hiring.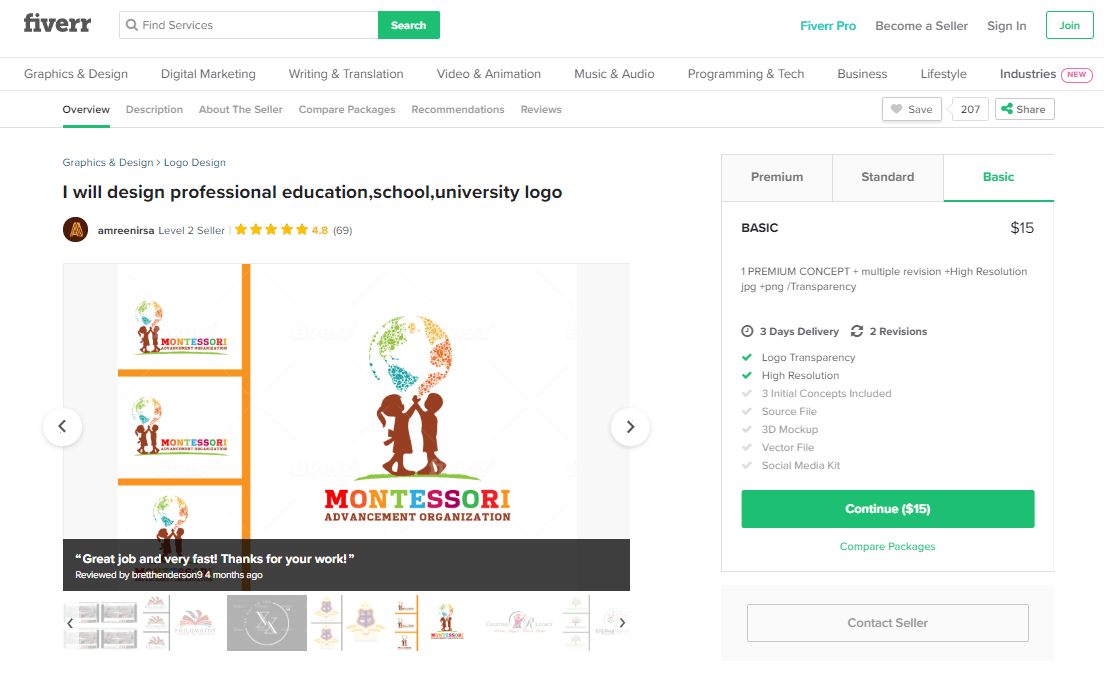 Ready to hire right away? Proceed to the payment page, where you can add other services, such as more revisions or a 3D mockup, for an additional charge.
When you hire a designer through Fiverr, you pay for your logo upfront
– this means you can never be overcharged or hit with extra fees.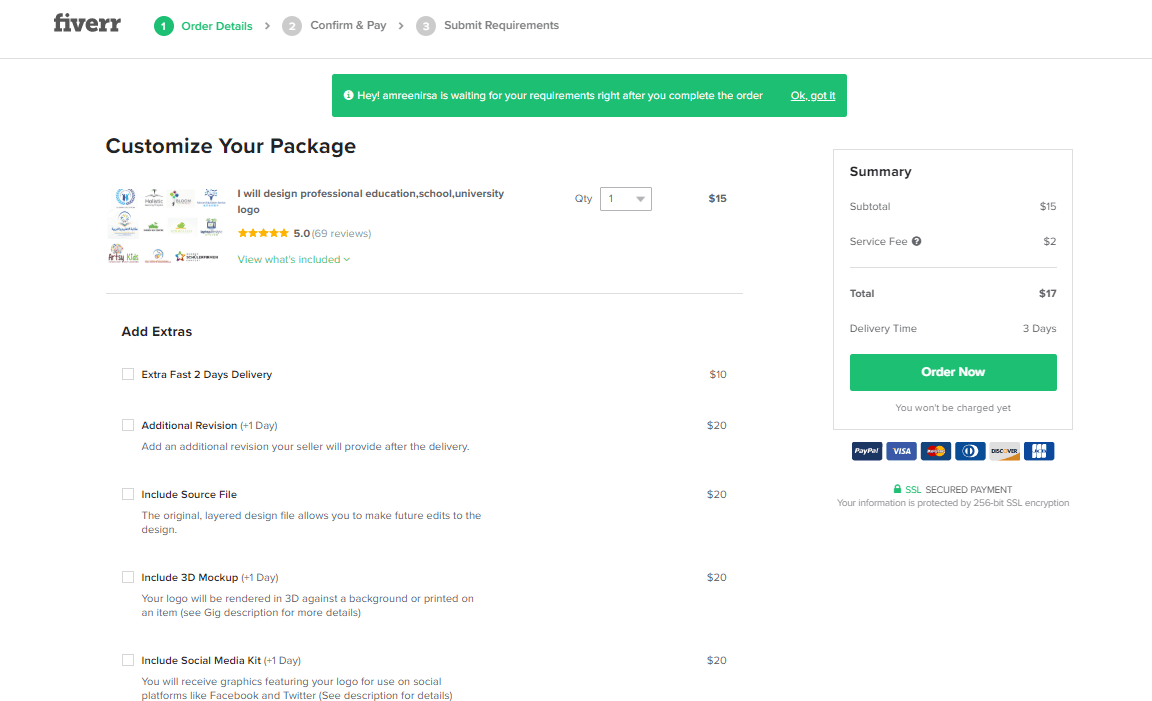 Once you've submitted payment, your job is done! Not happy with your logo? You can work directly with the designer for revisions or reject the design completely. Here are some other great Fiverr features:
Pro Services – Fiverr Pro allows you to hire specific logo designers that have been personally vetted by Fiverr as producers of consistently exceptional and high-quality design work. Want to splurge a little for your project? Hire a Fiverr Pro freelancer to create your logo design.
Seller Levels – Sellers are assigned levels, from 'new' to 'top-rated', based on customer satisfaction feedback, quality service, and punctual design delivery. A seller's level provides you insight into their work history and is a great way to ensure you secure a seller with a solid track record.
Quick turnaround – Most logo design gigs have a two or three-day deadline and some designers offer faster delivery at an added cost.
Designer search options – You can use the Fiverr search features to filter through designers for ones that match your style, budget, and delivery time. Looking for a designer that can deliver a minimalist school logo design for $10 in under two days? Fiverr's detailed search options make locating your ideal designer easier than ever.
How to Make Your Own School Logo
Interested in giving a shot at crafting your own logo? While this offers you enhanced control over your logo's design, DIY logo makers work best for individuals possessing the time and artistic skills to achieve a polished and top-notch outcome. You can select from various logo makers, and my preferred choice is the Wix Logo Maker. If you'd like to learn more about the tool before you get started, don't miss our
full Wix Logo Maker review
.
Designing a School Logo with Wix Logo Maker
Wix Logo Maker is always my #1 logo maker recommendation.
The ease of use is unmatched and you can complete the entire logo creation process in 10 to 20 minutes. To get started, just
go to the Wix Logo Maker homepage
. The first step to creating your school logo design is a series of simple questions, including the name of your organization, what industry the logo is for, and your desired look and feel.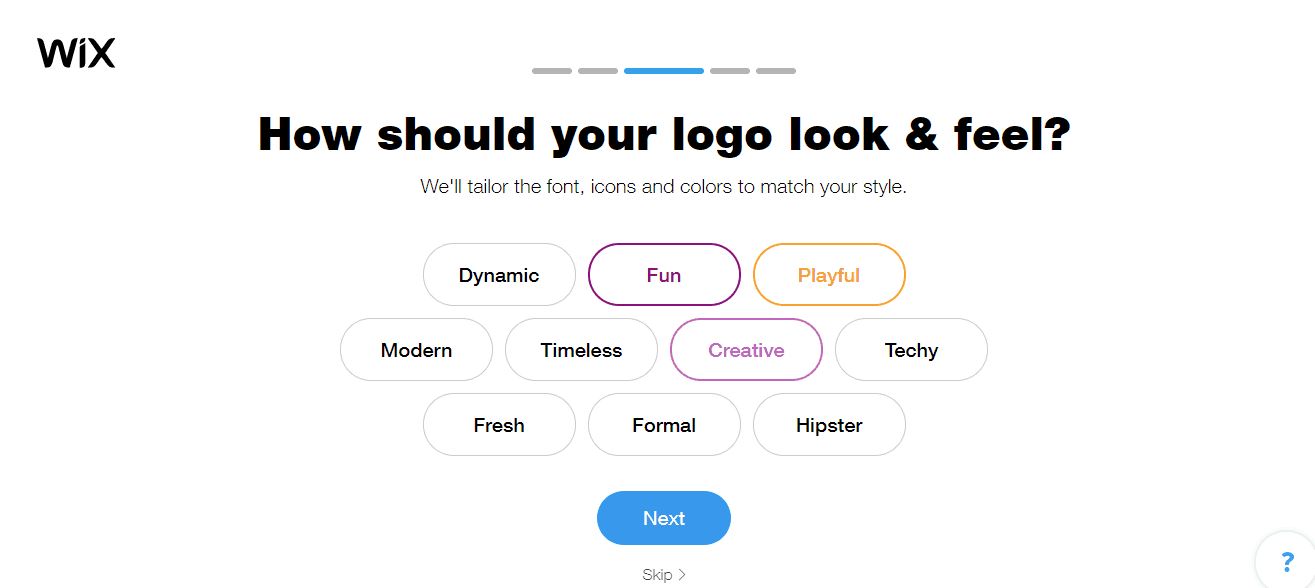 A few different words are displayed, such as fresh, playful, or formal, and you can choose which words (or words) best describes the style of the logo you want. Wix Logo Maker then shows you logo pairs and allows you to choose which design style you prefer.
This helps the AI (artificial intelligence) learn your style preferences and generate logos that will appeal to you.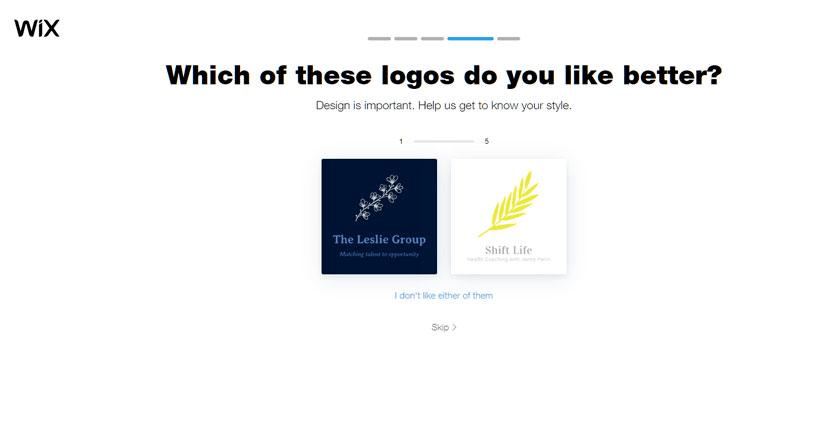 Decide where you'd like to use your logo, whether on a website, business card, or another medium and then your list of potential school logo designs will appear.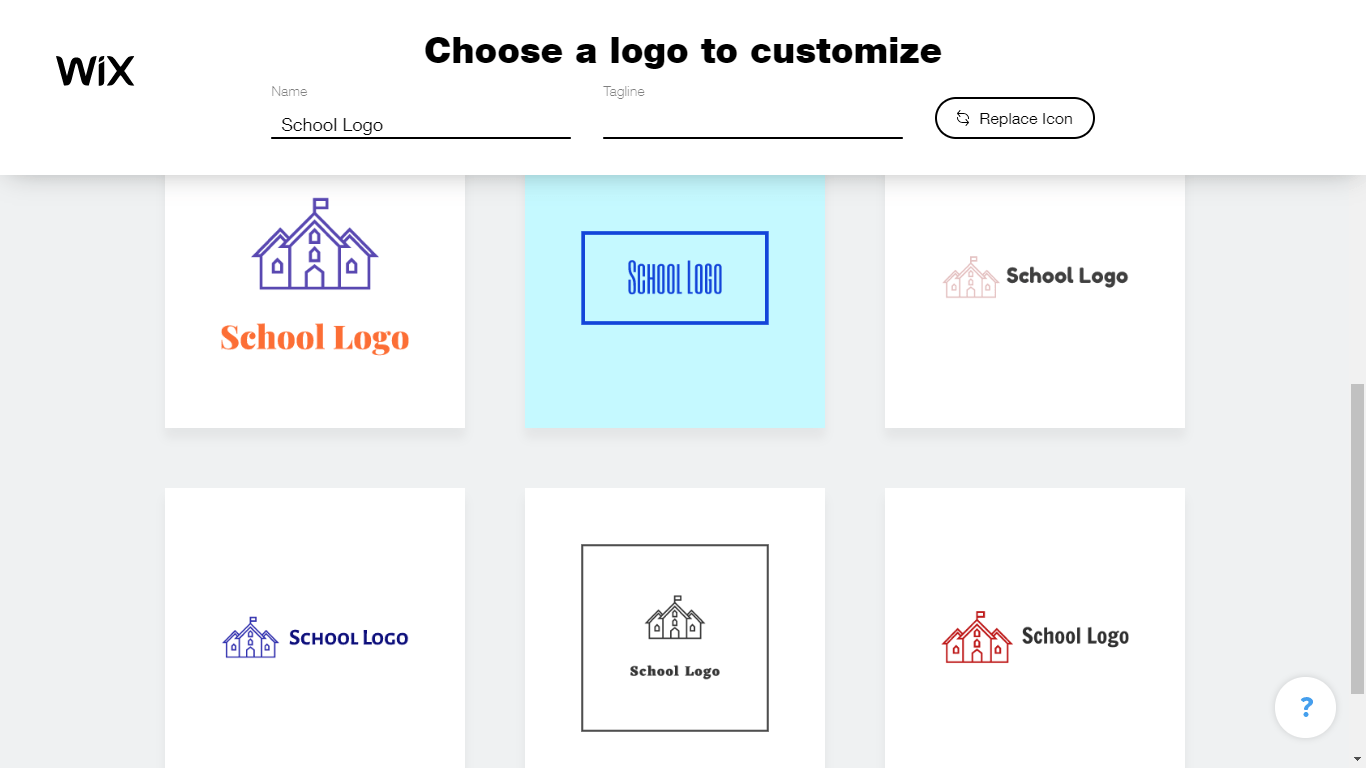 Not happy with the icon options you see?
One of the great things about Wix Logo Maker is the huge icon library, including school-specific icons such as academic buildings, books, and apples.
Click the 'replace icon' button and choose from any of the thousands of options to change your icon.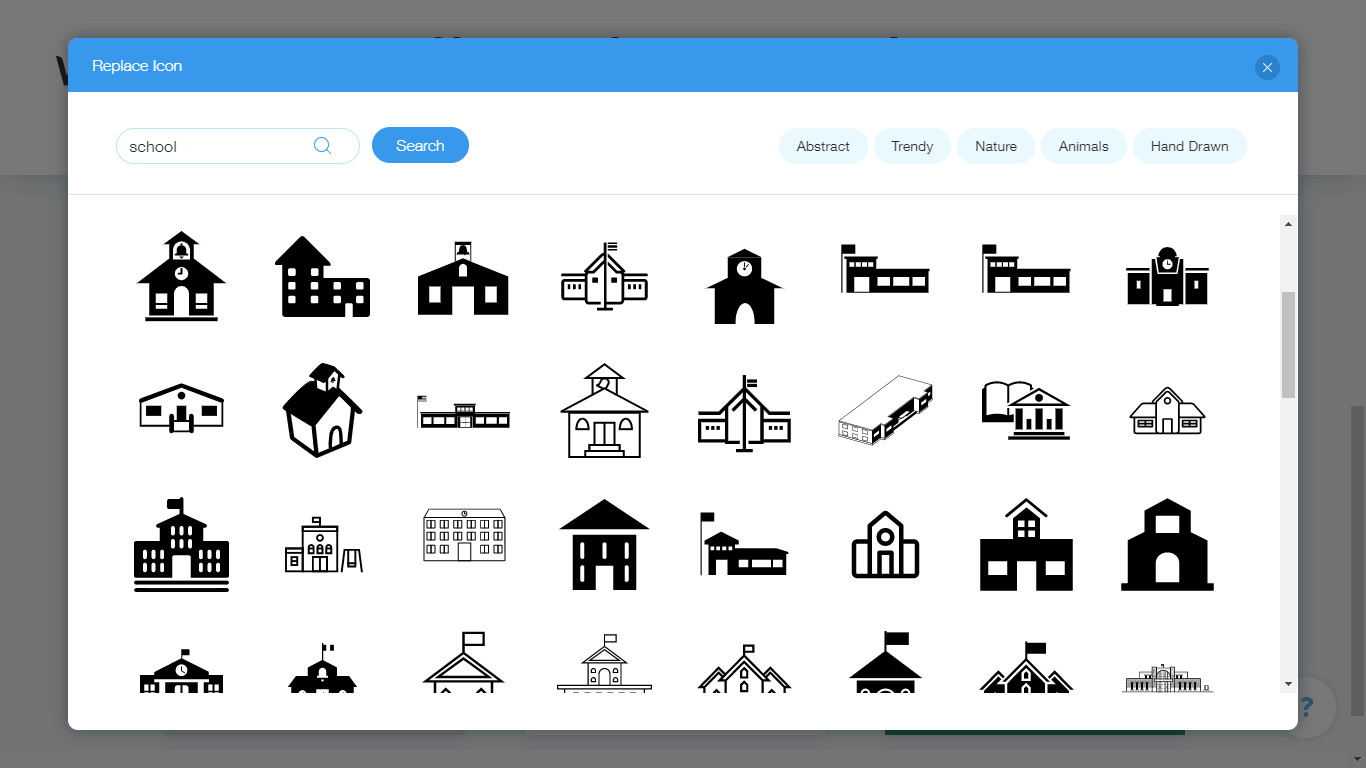 Once you have your icon and your desired logo, you can customize your logo further by changing the color, fonts, or icon placement, or proceed to download.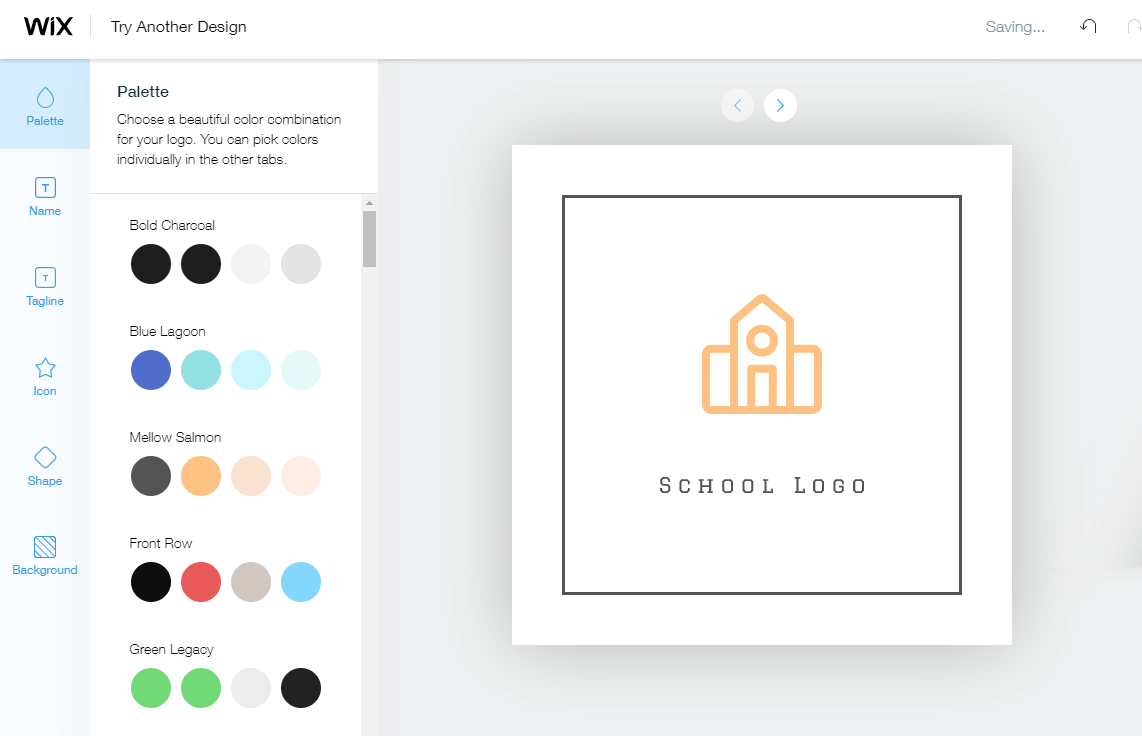 You can download a free, low-quality logo file for non-commercial use, or choose from the payment plans.
Wix Logo Maker Alternatives
Tailor Brands – Simple to use and effective, all you have to do is answer a few questions and choose your design style to receive your logo suggestions. You can subscribe monthly to Tailor Brands to continue having access to its branding services. Read our full Tailor Brands review to learn more.
Looka – With Looka, you enter your company name and your industry, and then choose from a list of AI-generated logos. From there, you can customize further and choose your logo package. Looka offers three tiers of logo packages to fit your budget and design needs. Check out our expert Looka review to see if it's the right fit for you.
Create Your Own Logo or Hire a Designer?
If you are looking for a professional, high-quality school logo, then I suggest you
check out the logo designers on Fiverr.
Fiverr is the only platform where you can get a personalized logo done by a skilled designer for as little as $5. Creating a logo from scratch isn't the easiest task, especially if your talents lie in areas other than graphic design. If you do decide to create your own logo, you can
try Wix Logo Maker for free.
It's easy to use and relatively cost-effective. Looking for more logo design ideas? Don't miss our list of
the best logo design services
.