Do you have a new product coming out and worry that you'll be too busy to post about it on Twitter? Do you find that you often forget to regularly tweet about your brand? Or maybe you have a hard time keeping your messaging strategy consistent over time?
Regardless of the problem you might currently be facing, scheduling tweets ahead of time can be a real lifesaver.
 Not only does this help keep you organized, but it frees up your time to focus on other important matters, such as increasing your reach and engagement.
Consider this: 6,000 tweets are posted each second. This makes it difficult to stand out amongst the crowd. However, the simple practice of scheduling tweets allows you to strategically lay out your content plan in advance to ultimately reach bigger audiences.
 This guide will teach you how to schedule Twitter posts, either through Twitter directly or via one of the best social media management tools. We'll also go over the tips and tricks of posting so you know when your tweets are most likely to be seen by your target audience.
Scheduling Tweets with Twitter Ads
One of the most straightforward ways to schedule tweets is by using Twitter Ads.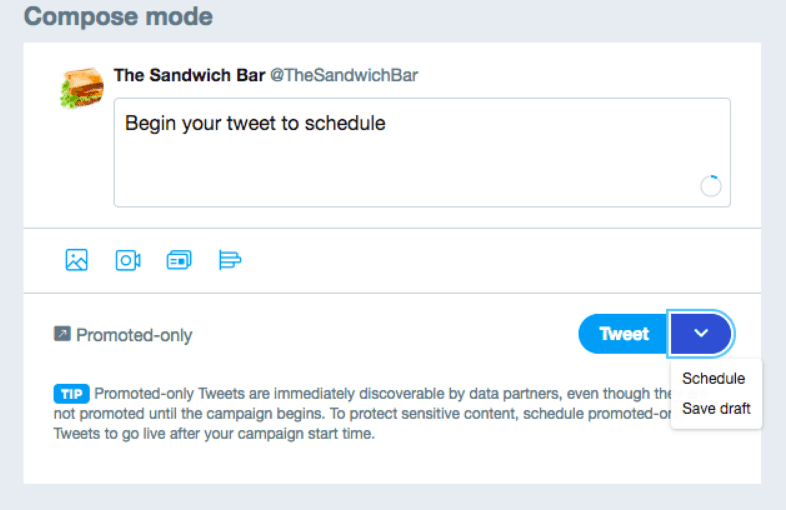 Go to ads.twitter.com to sign up for an advertiser account
Either select the blue "Compose Tweet" button or visit the "Creatives" tab and click "Tweets"
Choose "Only Scheduled Tweets" and then "Compose a Scheduled Tweet" or "Compose Tweet"
You'll see a box where you can write your tweet and then select a date and time to post it
At this point, you'll have the option to select "Promoted-only," which will deliver the tweet to users in a targeted audience, or you can un-select this option to just display your post organically to your followers
Once you're all done, click "Schedule Tweet" and you'll see it pop up in your "All Tweets" column
It's as simple as that.
Scheduling Tweets with Sprout Social
One of the most popular social media management tools is Sprout Social (for more information, read our expert review). With Sprout, you can put tweets on your content calendar for weeks or months ahead of time. Plus, you can also have the content recur with their nifty auto-scheduling tool. The Sprout Social free trial is a great way to test the platform to see if it would be a good addition to your marketing arsenal.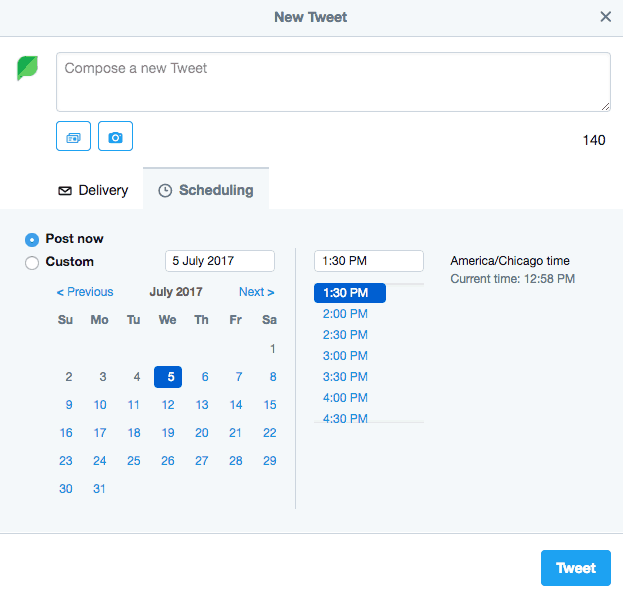 Scheduling tweets via their website couldn't be easier:
Log into your account
Choose the "Compose" button to draft your tweet
Click the calendar icon to select the day(s) and time(s) you'd like to publish it
Click the "Schedule" button—and then you're good to go!
Scheduling Tweets with Hootsuite
Hootsuite is another excellent social media management tool for scheduling tweets—and it's easy to understand why. For further information, check out our expert Hootesuite review.
You can either schedule one-off tweets or auto-schedule them in bulk for weeks in advance. The process is basically effortless:
Sign up for Hootsuite and log in to your account
Add your Twitter profile to your dashboard
Click "New Post" to go into the composer window
Select your Twitter profile from the "Post To" drop-down box
Write your tweet in the "Text" box and then add any required media underneath
Click "Schedule for later" to select a time and date to post the tweet using the calendar icon
Click the green "Post Now" button—and then you're done!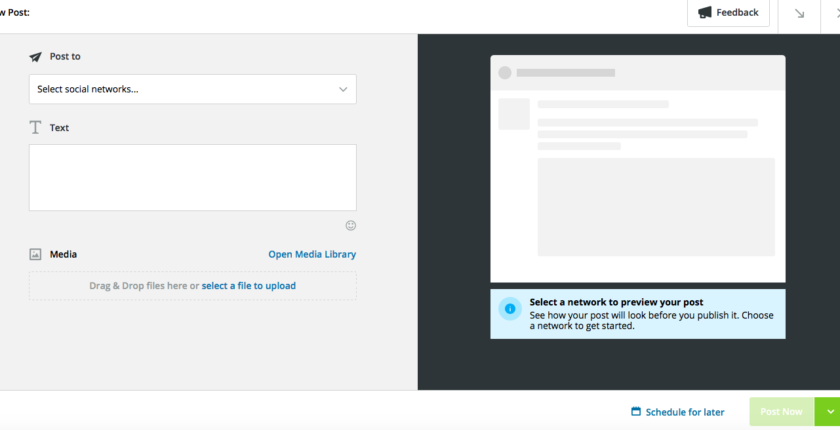 The unique thing about Hootsuite? There's a preview box on the right-hand side of the composer where you can see how your post will look before you publish it—how handy!
This service offers a number of different pricing plans that can fit any brand's budget. You can also try out their Hootsuite free trial to see which one would work best for you.
Now that You Know How, Let's Talk About When
Timing is everything when it comes to Twitter. According to Wiselytics, tweets have a half-life of about 24 minutes, which means that there's only a small window of opportunity for your tweet to be seen and engaged with.
If you post at peak times when the majority of your followers are active, then you can boost your engagement and drive further clicks and conversions. The following tips will help you figure out exactly when to schedule your tweets.
#1: Get to Know Your Audience
There's no point in undertaking online marketing if you don't know who you're marketing to.
 The way to combat this is by getting to know your audience in terms of:
Who they are
How old they are
What they do for a living
What their interests are
Where they live
If you gather enough evidence, you can effectively create a customer profile to keep in mind every time that you're composing a scheduled tweet.
 For instance, if your audience is primarily 18-24 year-olds who are likely to attend school or college throughout the day, then you might want to consider scheduling your tweets for when they return at 5pm.
Information is power in the world of online marketing, so the trick is to gather all the details you can when it comes to your target audience—the rest will follow.
#2: Remember, Geographic Locations Are Key
Once you have a pretty good idea of who your customer is, you should also know where they live. This will benefit you tremendously when it comes to scheduling tweets.
After all, you're not going to schedule tweets for 4pm Eastern Time if the majority of your audience is Hong Kong-based. Why? Well, it'll be 4am in Hong Kong at that time, and your audience will probably be in bed, not looking at your tweet.
Geographical location is a big factor to take into account if you want to get your tweets in front of as many eyeballs as possible, so be wise and select an appropriate time for your audience based on your geographical findings.
#3: Use Twitter Analytics to Assess Your Performance
Another awesome way of figuring out when to schedule your tweets is by assessing Twitter Analytics on a regular basis.
 Don't worry, this isn't as hard as it sounds. Try spreading your tweets across multiple days and times and then assess their performance. If there's a particular day or time that has worked the best for you and given you the most engagement, then just adjust your strategy accordingly.
#4: Keep Peak Times in Mind
According to Sprout Social, there are some rules in terms of when to post on Twitter in order to best meet your target audience (in their current time zone, of course).
The most popular day and time to post is Thursday at noon
This strongest days to post are Monday through Thursday
The most active time to post is any weekday between noon and 3pm
The weakest times to post are early mornings and late nights
 Generally speaking, it depends on your particular audience with regards to what's going to be the most successful times to post for your business, but these insights provide a good place to start.
Tweet Your Way to Success
Twitter can be a hugely powerful resource for businesses—and there are plenty of pros on the platform that can provide further guidance on how to build and strengthen your brand.
But the best content won't mean anything unless you have the timing right. Scheduling posts not only save you time, but they allow you to publish your content at optimal moments so that you can reach the maximum amount of people.
So what are you waiting for? The time to start is now!
---
Sources
https://www.dsayce.com/social-media/tweets-day/
https://business.twitter.com/en/help/campaign-editing-and-optimization/scheduled-tweets.html
How to Schedule Tweets to Save Time and Engage Your Audience
https://sproutsocial.com/insights/how-to-schedule-tweets/
Your tweet half-life is 1 billion times shorter than Carbon-14's