Imagine Joe, a middle manager who sometimes likes to browse the internet on his desktop at work when nobody's watching. After clicking a link on Facebook, he arrives at your product page and instantly falls in love. Joe's super eager to buy, but he musters up enough willpower to wait until after work so his boss doesn't get pissed off.
Finally on the train home, Joe returns to your product page using his smartphone. But as hard as he tries, he can't seem to complete his purchase! After many minutes of pinching and zooming, panning and scrolling, Joe is unable to find your checkout button. Exasperated, he eventually gives up…and buys a similar product on another website that's easier to navigate.
You just lost a sale and drove a potential customer directly to your competitor. What exactly went wrong? It all has to do with responsive design — or rather, the lack of it.
So you can avoid losing customers like Joe, we'll help you learn what responsive design is, how it works, why it's important, and which tools we recommend to empower you to make the best responsive website possible.
Exploring the Features of Responsive Web Design
To summarize responsive design in a sentence: Responsive design is how the content on a website changes so it can be easily viewed on a mobile device.
This makes your website easier to read and navigate, so your visitors will have a better experience. There's nothing worse than viewing a website on a mobile device and seeing overlapping elements, unreadable text, images that are too big, and a navigation menu that is actually impossible to navigate.
If you use a smartphone or tablet to browse the internet, you've probably already experienced responsive web design. When responsive web design is done well, you don't necessarily notice that it's there, since everything runs smoothly and is easy to use.
Now that almost everyone views web content on their smartphone at some time or other, responsive design is becoming more and more important. So much so that Google prioritizes mobile-optimized websites in search engine results.
Responsive design isn't a new concept and has actually been around for quite a while now. But because the majority of web browsing is now done on mobile devices (according to Pew Research), it's gone from being an optional addition to being an absolute essential in the world of web design.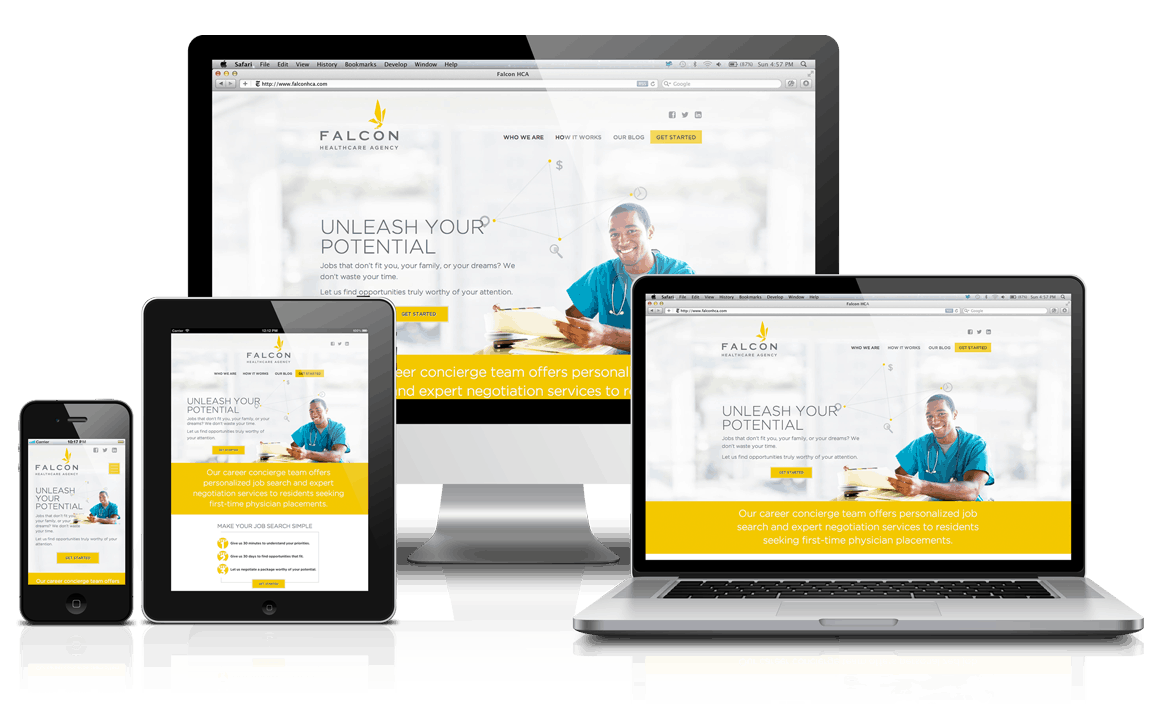 The Difference Between "Mobile-Responsive" and "Mobile-Friendly"
It's important to note that although "mobile-friendly" and "mobile-responsive" are terms that are often used interchangeably, there is a difference between the two:
Mobile-friendly refers to a copy of your website in which your web server produces smaller, somewhat optimized webpages that are functional on smartphones. They're "mobile-friendly" because they're usable on a small screen, but lack the level of optimization offered by fully responsive websites.
Mobile-responsive websites make automatic adjustments according to the screen size, and overall deliver a better experience for the person viewing your website on a mobile device.
Why Responsive Design Matters
Most People Browse on Mobile
According to Statista and Pew Research, almost 53% of web searches are done on mobile devices, so if you fail to use responsive design on your website, you risk alienating the majority of your potential audience. That's a risk you can't afford to take!
Mobile Visitors Hate Non-responsive Websites
Think of a time you viewed a non-responsive website on your smartphone. You probably noticed that you had to do a lot of panning and scrolling to see the page content, and the text was almost impossible to read. Whatever you were looking for, you couldn't find it, and the whole experience was probably totally frustrating.
Did you stay long on that impossible-to-use website? Did you ever return? Probably not. In fact, you're probably like the 94% of people who say that a non-responsive website is a big reason they'll refuse to do business with a company.
User experience (UX) is an important concept in web design, because it focuses your attention on the end user of your website. When you're building your first (or fifth) website, it's easy to become too focused on the content you want to convey and forget to consider how your visitors are going to experience your website.
How easy is it for your visitors to find the content they need, no matter what device they're using? Making navigation as simple as possible using responsive design is key to giving your visitors a great UX. Having easy-to-tap buttons that take your visitors to whatever they're looking for, making content easy to read, and ensuring that your pages load quickly are also vital aspects of responsive design.
Responsive Websites Increase Sales
If you're running your business online, responsive design is a must — because it has a tremendous impact on sales. In fact, surveys show that the majority of businesses using mobile-optimized websites for the first time enjoy up to a 62% increase in sales.
Responsive design is hugely important for e-commerce websites, especially when it comes to the speed of your website. Some figures from Kissmetrics demonstrate what matters most to your customers:
47% of online shoppers expect pages to load in under two seconds — especially on mobile devices.
44% of online shoppers will warn their friends when they've had a bad experience on a website that's non-responsive.
A one-second delay in webpage loading speed can cause a 7% reduction in conversion rates.
OuterBox statistics show that:
79% of smartphone users make purchases using their mobile devices.
40% of e-commerce purchases in the U.S. over the 2018 holiday period were made on a mobile device.
When you have a responsive e-commerce website, you create a better shopping experience for your customers, giving you an advantage over competitors whose websites are not mobile-responsive.
"Mobile-First" Revolutionizes SEO
In 2018, Google announced "mobile-first indexing" — an important development in the SEO world. As the name suggests, Google now crawls the mobile version of your website first, and uses your responsive website as the starting point for determining your search ranking.
One misconception about mobile-first indexing is that it's mobile-only indexing. But the desktop version of your website will still be indexed. And if you don't have a mobile-responsive website, your website won't suddenly disappear from the search results.
However, mobile-first indexing has increased the importance of responsive design. That's because without a mobile-optimized version of your website, you're going to drop in the rankings. Similarly, even if you have a mobile version of your website, if your competitor has a better-optimized website, they'll overtake you in the search results rankings.
One helpful way of understanding mobile-first indexing is to recognize that Google is going to see your mobile version as the primary, or most important, version of your website. When you have an effective responsive design that's been carefully optimized for the best smartphone browsing experience, you'll benefit in SEO rankings.
In response to mobile-first indexing, some designers advise against working from a desktop version of your website that you then optimize for mobile. Instead, you should start with your mobile version first.
Popular WordPress page builders are making this approach easy to do, with options for editing your website on the frontend and viewing the various responsive sizes. By selecting the mobile view, you can build your website focusing on the smartphone-user's experience.
How Does Responsive Design Work?
A website designed to be responsive will detect the size and resolution of the screen it's being displayed on. Then it will "respond" in a way that will display the correct version of the website so that your content loads quickly and is easy to read and navigate.
Responsive design uses fluid grids and fluid images that scale to fit the screen size. So rather than being fixed, webpage elements are proportional to one another. For example, instead of a three-column layout that uses pixels to define the column sizes, the website code might have the columns set at 33%, 34% and 33%.
Responsive designs:
Change the way a website looks according to screen resolution (not just screen size).
Resize and optimize images for visual appeal and fast loading speeds.
Minimize "clutter" on a webpage viewed on a mobile device to make navigation smoother, calls-to-action more prominent, and content easier to read.
Adapt buttons and links for touch (rather than click). Bigger buttons on mobile devices make tapping them easier.
Conceal some (unnecessary) items on smartphones to make webpages load quickly and make it easier to view the important content.
Because responsive design is so crucial to your online success, there are tools available that help you check how your website will look on a variety of mobile devices. This means that you can discover and resolve problems before your potential customers are negatively impacted by issues with responsiveness.
Website Builders With Responsive Features
Web developers use code such as CSS to build websites that are fully responsive. But unless you're a web developer (and assuming you're not hiring someone to build your responsive website), you'll be looking for tools that can help you create a responsive website easily. Fortunately, there are many website builders available that can take the struggle out of building mobile-optimized websites.
Many of these website builders use a drag-and-drop interface that requires absolutely no technical knowledge. There are free and paid options to choose from, although to get the best results you generally do need to upgrade. If you're looking for the best website builders that give you responsive features, here are our top picks.
Wix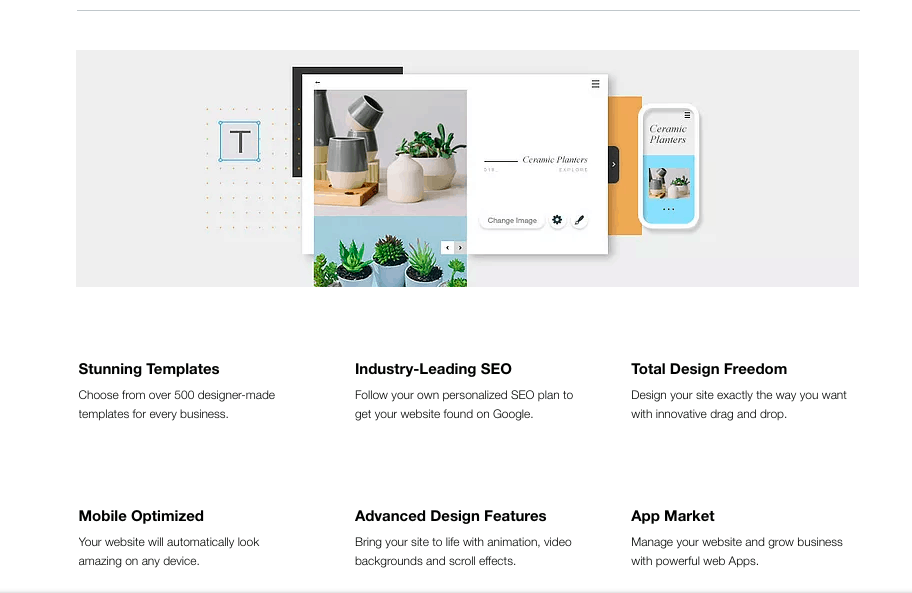 Wix makes a bold claim that your website "will look amazing on every screen with a mobile-friendly version of your website." However, Wix uses absolute positioning instead of relative positioning, so the mobile versions are not quite as adaptable as truly responsive webpages.
Wix's use of absolute positioning does have some advantages. For example, this makes it easier to position your website elements as you design. What's more, Wix gives you a mobile view option so you can optimize your website for mobile devices directly from the designer.
However, this takes a little more effort than using a truly responsive theme, where the adjustments are automatic.
GoDaddy GoCentral
Whatever device visitors are viewing your website from, GoDaddy GoCentral can help you ensure that your website displays in the best possible way for that device. The website builder creates an automatic responsive mobile version of your website no matter what template you use. The downside of this, however, is that you're not able to directly control the way your website looks on mobile devices.
GoDaddy offers several price plans, though sadly there's no free plan. You can, however, edit your website on the go directly from your smartphone browser, which is a nice feature.
Weebly
With its reputation as being one of the easiest website builders around, Weebly has fully embraced the need for responsive web design. It offers over a hundred pre-designed layouts (themes) that are fully responsive. It's a joy to use the drag-and-drop page editor — even on your smartphone via iOS and Android apps.
SimpleSite
With the goal of making website building as simple as possible, SimpleSite offers a basic website editor to help you create fully responsive websites that display perfectly on all devices. Because the platform primarily caters to beginners, however, SimpleSite doesn't provide the same amount of customization options and features as other website builders do.
Site123
Dedicated to giving customers the ability to create responsive websites in three steps, Site123 is incredibly easy to use. The templates on offer are pre-configured to give your visitors the best possible viewing experience on mobile devices. It uses a drag-and-drop interface and has both free and paid plans.
Responsive Design For Online Success
In the past, you had to have a desktop version and a mobile version of your website (remember those websites that started with m.xxxxxx.com?). But now, responsive design means you need only a single URL to give your visitors a great viewing experience.
The goal of many websites, particularly e-commerce websites, is to drive sales, promote engagement, and build loyalty from your audience. Responsive design helps you achieve this.
By 2021, there will be more than 3.8 billion smartphone users in the world, according to market researcher Newzoo. But don't wait until then to make a responsive website. Without one now, you'll already miss out on a huge audience, and your SEO rankings will suffer.
But thanks to responsive website builders, it's a simple and painless process to have a mobile-optimized website. You can get your website online quickly, and the responsive features will help you get your website noticed both on social media and Google.
Website Builder
Free / Paid
Standout Feature
Other Key Features
Wix
Free and paid options
Intuitive screen-resolution detector for the best viewing experience
-Easy-to-use drag-and-drop interface

-Add-ons available to extend your website's features

-E-commerce options

GoDaddy
Paid only
Extensive range of responsive themes
-Help and support 24/7

-Tutorials available

-Cheap hosting

Weebly
Free and paid options
iOS and Android apps that help you edit your website on the go
-User-friendly drag-and-drop interface

-Hundreds of templates available

-Numerous customization options

SimpleSite
Free and paid options
Generous free plan that enables you to build a responsive website of up to 15 webpages at no cost
-Easy-to-use editor

-Some customization options available

-E-commerce options

Site123
Free and paid options
Hundreds of responsive templates available to use and customize
-Three-step website building process

-E-commerce options

-Additional apps

-SEO features
Out of all of these, however, the one that we recommend — because of its vast range of templates and apps, and its intuitive screen-resolution detector — is Wix. Not only is it simple to use, but it has all the tools you need to develop a high-quality, responsive website to be proud of.
---
Sources
https ://www.infront.com/the-blog/search-engine-optimization/the-blog/8-statistics-that-prove-responsive-web-design-is-essential-to-seo
https ://www.business2community.com/web-design/8-reasons-responsive-web-design-will-increase-profit-business-01488386
http ://www.pewresearch.org/fact-tank/2018/03/14/about-a-quarter-of-americans-report-going-online-almost-constantly/