The proliferation of social media and paid-search advertising gives small and medium-sized businesses (SMBs) more options than ever to reach their audience. So why turn to an old-fashioned medium like email?
First, your email subscriber list is a direct link to your customers and prospects, so it's impossible for an algorithm update to halve the reach of your subscriber list overnight (like Facebook). And second, your subscriber list is a resource you're in control of, so a competitor can't suddenly double the cost of getting in front of your audience (like PPC).
But there's a third, most important, reason. The ROI is there. Email continues to capture people's attention, effectively deliver business messaging, drive conversions, and keep people coming back for the privilege of having you sell to them. No other marketing or sales channel can claim the same.
But don't take my word for it. The hard data will provide all the proof you need.
#1. U.S. Workers Spend 25% of Their Day Reading Email
Email is good for business because everyone is obsessed with reading it as a diversion. Research by Adobe Systems Inc. shows that the average U.S white collar worker spends 6.3 hours per day just checking email. And that comes with a big caveat — 90% admitted to using at least part of that time to check their personal email as well.
Email lets you get your messaging in front of people who have spending power at the precise time they're looking for a distraction from their workday. Marketing messaging has people's full attention, especially when the alternative is an email from the boss.
#2. Nine Out of Ten Emails Get to the Inbox
Email is good for business because your audience will actually get the message. Research by email service provider Campaign Monitor shows that the average organic reach of a Facebook post is approximately 2%. By contrast, 90% of the emails you send to your subscriber list will be delivered.
Creating content costs money. And if you want your audience to see the messaging you're paying for, email is the better channel. Every dollar you spend creating a social media post will be seen by just a small portion of your audience. But resources spent on email messaging will actually get seen by the vast majority of its intended audience.
That's why some email solutions like GetResponse specialize in increasing deliverability rates. Check out our GetResponse expert review to learn more about the platform.
#3. Nearly 75% of Consumers Prefer Email
Email is good for business because it's what consumers prefer. When research firm Marketing Sherpa asked consumers for their preferred channel for being marketed to by brands, the response was overwhelming — close to three out of four said email.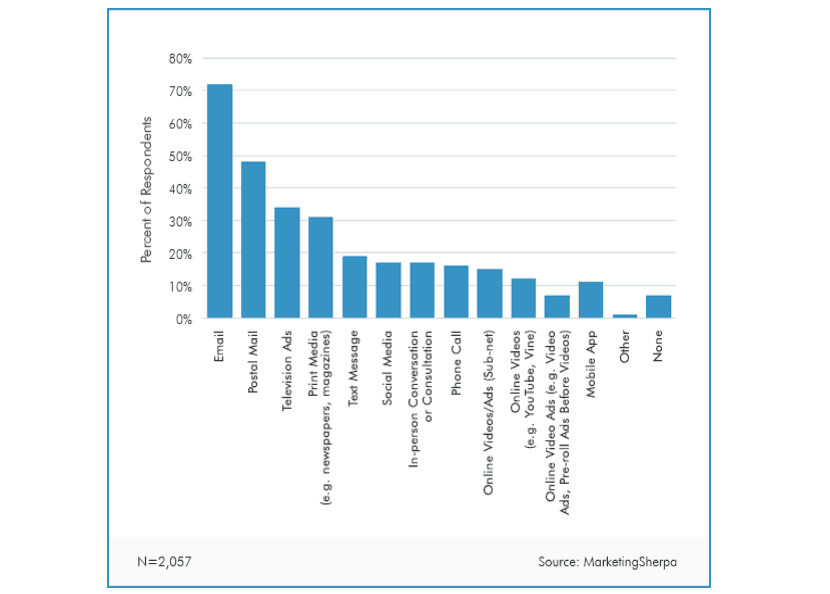 Social media and search advertising are popular, but when it comes to SMBs looking to get noticed where they're welcome, there's no substitute for the inbox. It's the place where consumers are the most receptive to you while they're on the internet.
#4. Over 40% of Consumers Will Reward YOU For Marketing to Them
Email is good for business because consumers want the value it delivers, and they're willing to give away a lot to get it. Research by PunchTab showed that no only are 59% of consumers willing to receive regular emails when they contain rewards, but 41% are willing to share personal details to get them.
Email doesn't just let you find your engaged audience — it rewards you with their personal information so you can use it as part of your marketing and sales strategy elsewhere as well.
#5. Email Is 40% Better at Acquisition Than Social Media
The data shows that email is popular. So it's no surprise that it's also good for business because that popularity translates into acquisition power. Research by McKinsey shows that email marketing is 40% more effective as an acquisition channel for brands than Facebook or Twitter.
Building a social media following is an important channel for brands, but it can be hard to stand out and get noticed. And even if you are noticed, you're always in competition with other brands for your audience's attention. By contrast, email is intimate and solitary. Connecting with someone there makes it much more likely that you'll convince that person to become a paying customer.
#6. About 10% of Website Traffic Can Be Turned Into Email List Subscribers
Email is good for business because it can even convert website traffic into a long-term connection. Research cited by The Content Strategist shows that your website-to-email conversion ratio — a measurement of how many unique website visitors subscribe to your email list — can be anywhere from 7%-12% for e-commerce businesses.
What's great about this statistic is that most of these subscriptions will come from a desire to get discounts and other promotional offers. So not only are you growing your list, but you're doing so with subscribers interested in converting into customers.
#7. Consumers Click On Content Within Emails up to 40% of the Time
Email is good for business because it drives engagement. Research by Marketing Land shows that email's click-to-open rate — which measures how many opened emails also had a link within them clicked — can be as high as 40%.
This shows that building an email list is not a vanity metric. Delivering email content to subscribers drives not only views, but engagement as well. You can use it as a bridge to cross the gap between your audience and your products, and drive consumers directly to where they can convert.
To help you maximize this potential, some email solution providers like AWeber provide specialized templates designed with website conversion best practices in mind. Check out our AWeber expert review to learn more about how their website sign-up forms can help you use your web traffic to grow your subscriber list.
#8. E-commerce Email Conversion Rates Are 5x Higher Than Facebook
This is why it should come as no surprise that email is good for business: It's much more effective at creating conversions than social media. Research by GrowCode shows that the average conversion rate of a prospect sent to an e-commerce website by email is 10.2% — five times higher than Facebook.
In fact, leads from email traffic are three times more likely to convert than leads from direct traffic, highlighting email's ability to filter traffic down to the audience that is not only interested in your product, but also ready and willing to make a purchase.
#9. Email is Over 2x More Effective at Converting on Mobile than Social
Email is also good for business because its conversion ability extends to mobile. Research by Shopify of more than $1billion in mobile sales on Black Friday/Cyber Monday 2017 sales showed that visitors to e-commerce stores referred by email converted 4.29% of the time — versus just 1.81% for social media referrals.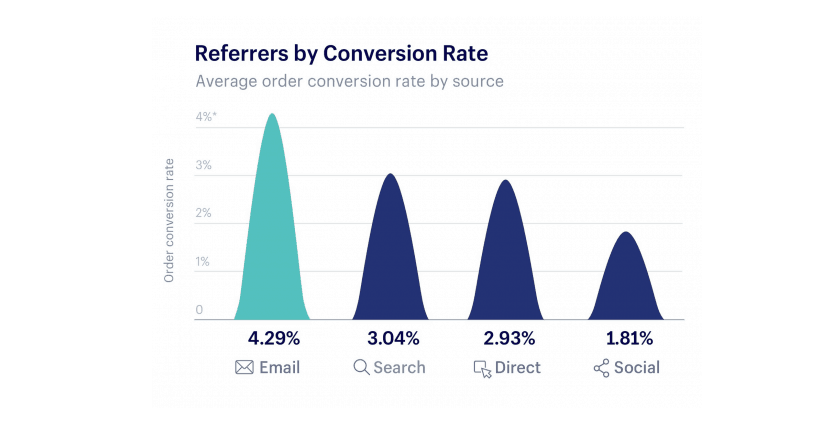 Whether it's on desktop or on mobile, email is better at converting leads than the other main channels where SMBs direct their resources and efforts.
#10. Email Retains Four Out of Five Customers
Email is good for business because it doesn't just convert — it keeps customers coming back for more. Research by emarketer shows that the retention rate for customers converted via email is 80%. That's nearly double the rates for social media (44%) and paid search (43%).
Email lets you remain in contact with customers. You can follow up with additional product offers, or just continue the conversation. Either way, the channel gives you the ability to build a lasting connection that doesn't end with a single purchase.
Email Isn't Just More Effective — It's Cheaper and Easier to Use
The reach of social media and paid searches comes at a price. On the one hand, social networks are aware of businesses' over-reliance on their channels to engage with audiences, and they continually change algorithms to decrease organic reach. On the other hand, search-engine PPC puts you in fierce competition that drives bids higher and higher.
By contrast, an email solution like Constant Contact will let you communicate with anyone on your subscriber list, as often as you want, and for a low fixed fee. You can reach an audience empirically proven to convert for a small fraction of the cost of other channels. Check out our Constant Contact expert review to learn more the platform's capabilities.
No matter how you look at it, email is a channel that SMBs need to invest in. The longer you wait to get started taking the channel as seriously as possible, the more money you're leaving on the table.
---
Sources
https ://www.huffingtonpost.com/entry/check-work-email-hours-survey_us_55ddd168e4b0a40aa3ace672
https ://www.campaignmonitor.com/resources/guides/why-email/
https ://www.marketingsherpa.com/article/case-study/customer-communication-by-channel
https ://loyalty360.org/content-gallery/daily-news/customer-loyalty-shouldnt-be-about-rewarding-high-spenders-insight-from-pun
www.mckinsey.com/insights/marketing_sales/why_marketers_should_keep_sending_you_emails
https ://contently.com/2015/07/13/the-magic-content-marketing-ratio-email-conversion-rate/
https ://marketingland.com/the-email-metric-you-should-be-tracking-but-arent-8879
https ://www.growcode.com/blog/ecommerce-conversion-rate/
https ://www.smartinsights.com/ecommerce/ecommerce-analytics/ecommerce-conversion-rates/
https ://inboundrocket.co/blog/6-reasons-why-email-marketing-is-important-for-internet-marketing/