eClincher might be smaller than Buffer or Hootsuite, but it comes with comprehensive analytics and reporting functions, including everything from cross-channel data to customizable reports.
In this article, we'll dive into eClincher's analytics. We'll discuss the types of analytics offered (and not offered) and how they'll help your social media strategy, what's missing. If you'd like to learn more about eClincher, head over to the full review.
Comprehensive Reporting and Analytics
eClincher offers analytics from Facebook Analytics (including real-time traffic), LinkedIn company page analytics, Instagram, Blogger and YouTube (not Pinterest, if that's important to you). You can review the individual social channels or a combined report across all channels.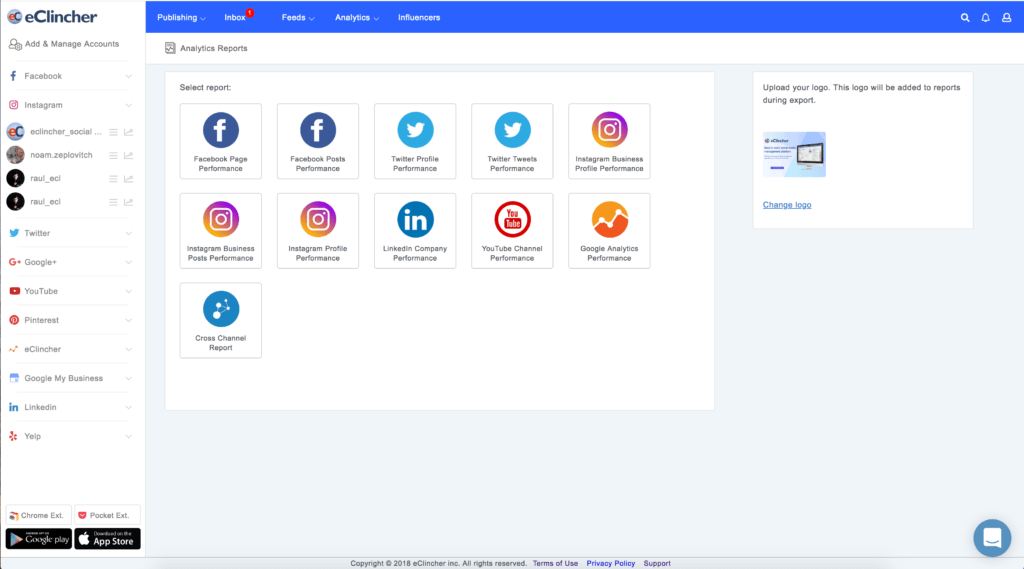 It's good to see support for Google Analytics data, so you can understand how many people visited your website, how long they stayed, where they came from, and so on. In fact, compared to all of the other social media tools, eClincher's offering is one of the most comprehensive in terms of included platforms.
eClincher isn't as good-looking as some of the other tools, but it is functional. You can easily customize the analytics dashboard by pinning important graphs, dragging and dropping to change the order, or adding and removing graphs. Custom reports and competitor reports are also available to Premier, Agency, or Enterprise plans.
An extra feature is the "Repost" option. If you find a post which has been shared or liked more than other posts, you can click Repost to reschedule its delivery. This is a simple feature, but a nice value-add to save time and utilize your data to improve your social media strategy.
Testing the Analytics
To test the analytics, I posted a Facebook and Twitter post from inside eClincher. I logged back in after 24 hours and headed to the analytics tabs to review the data. As I'd connected our Twitter and Facebook accounts, I was given the option to view analytics for Facebook pages, Facebook posts, Twitter Profiles, Twitter Posts, and a cross-channel report.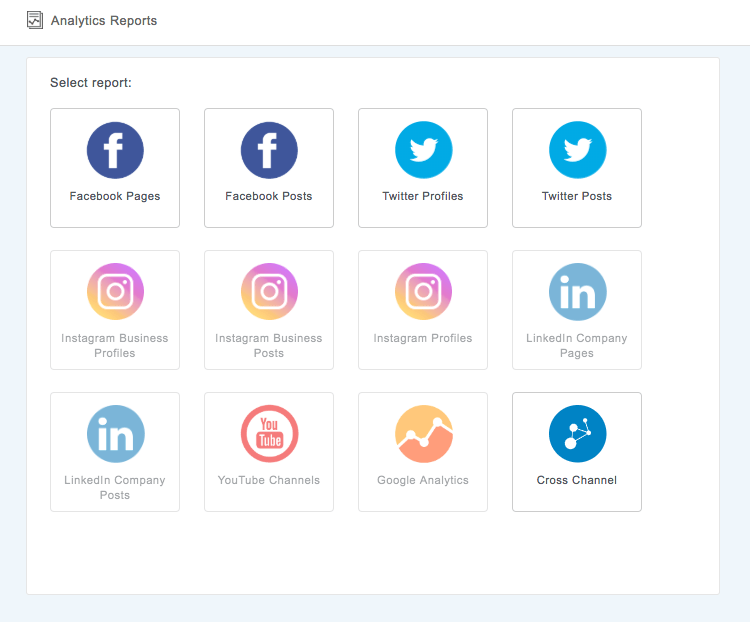 When I selected Facebook posts, I could see an overview of the posts within my date range. I was presented with the total number of posts, the posts' engagement, and posts' reach.

I could also see an overview of how the posts had performed compared to each other and which was my top post. It's easy to see the performance of the post, reach, clicks, reactions, likes, comments, and shares.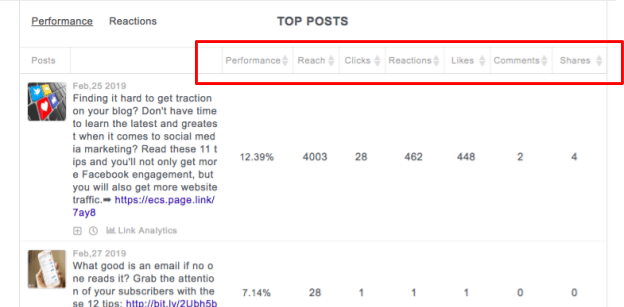 By reviewing the Facebook page data, I could see the location of my fans, page impressions, and demographic data for the page fans. The graphs looked nice and were easy to read.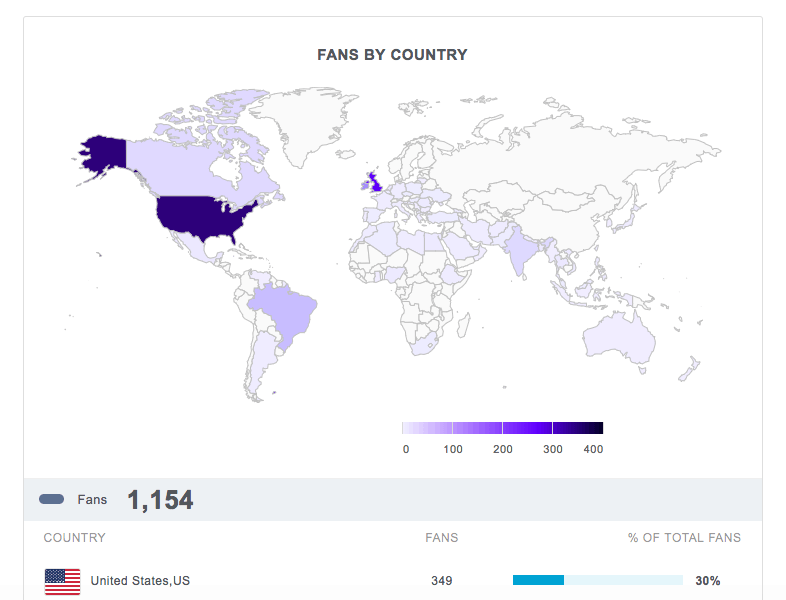 eClincher also neatly displays the best time of day to post based on past data.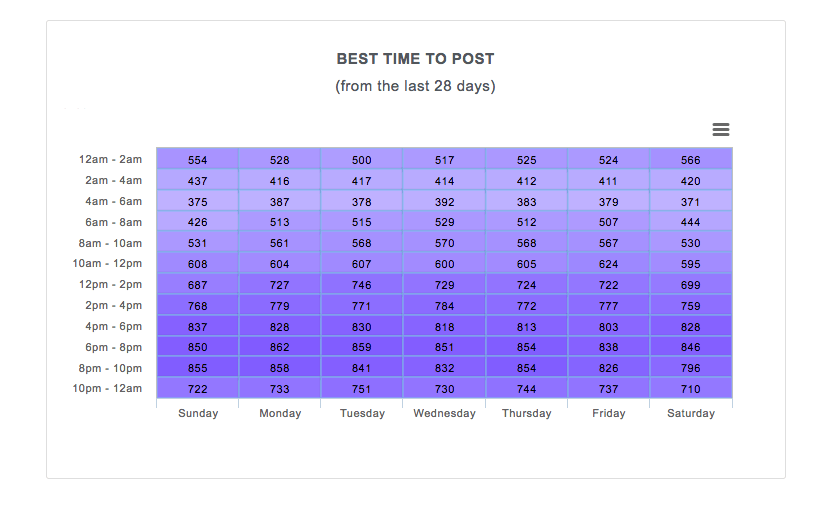 Setting up a cross-channel report was equally simple. All I needed to do was select to present the data from both Twitter and Facebook and the data was pulled into one nice looking graph. Straight away, I could tell which channel had performed better within my specified date range.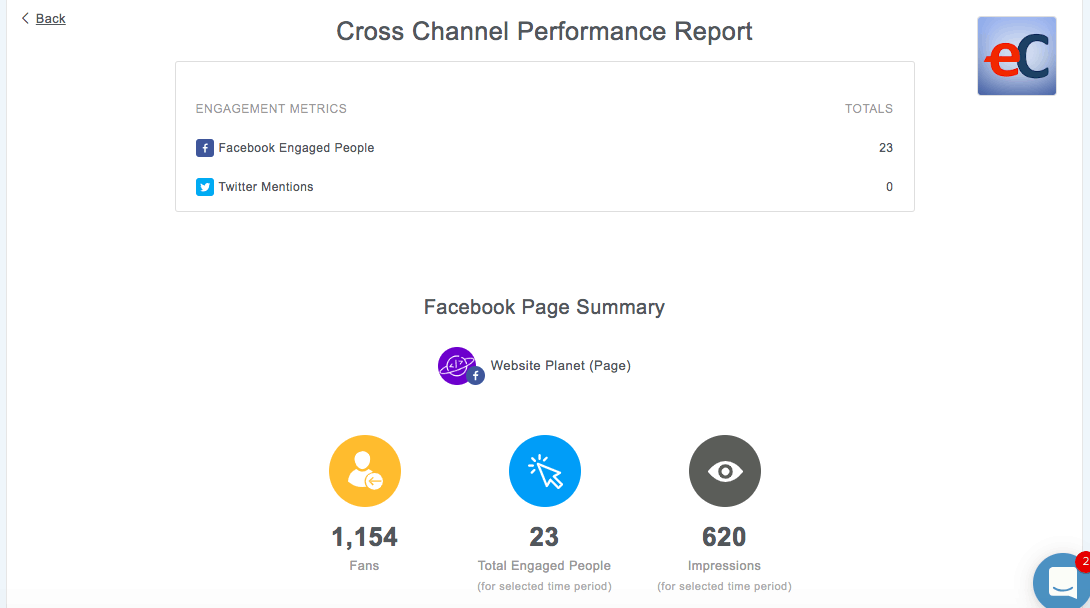 Once, I was finished, all I needed to do was select "Export PDF" and I had a customized, attractive report which was ready to send to a client.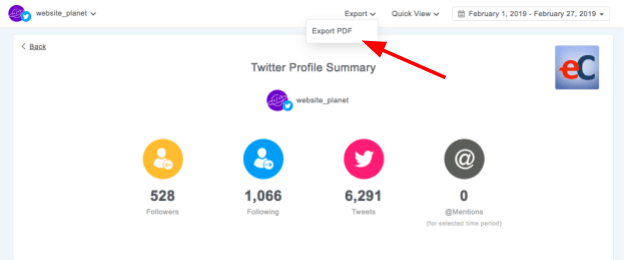 How to Use eClincher Analytics to Improve Your Social Media
You can use eClincher's analytics to improve your social media strategy in many ways, but let's take a look at some examples.
First, by tracking increased engagement, followers, likes, and retweets you can understand if your brand awareness is increasing.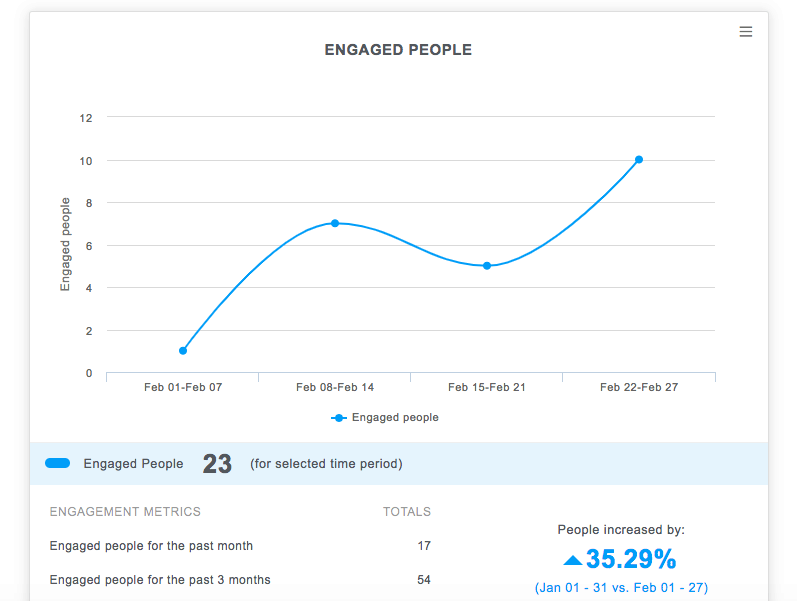 Second, you can track follows, mentions, likes, and retweets to discover if you're on track to build up a community of brand advocates.
Finally, by tracking increases in website traffic and click through rate, you can check if your campaigns are driving leads and conversions.
Conclusion
Overall, I am impressed with eClincher's analytics. Unlike other companies, you can see data from all of the major platforms, including Linkedin, and Instagram, which is often not included.
If you don't need that kind of depth and you're in the market for a simpler solution, read my Buffer review.