AWeber email marketing is well known for being a good fit for small businesses.
It focuses on the essentials, without including unnecessary features that might be distracting. The reporting interface, recently redesigned to be easier to use, is no different from the rest of AWeber in that aspect.
I've gone through AWeber's email analytics tools in detail here so that you can find out if they're good enough for you.
If you're interested about the rest of AWeber, take a look at my detailed review.
The Old Reporting Interface
The old reports were around for a very long time; I still remember them from when I first started learning about marketing in 2008.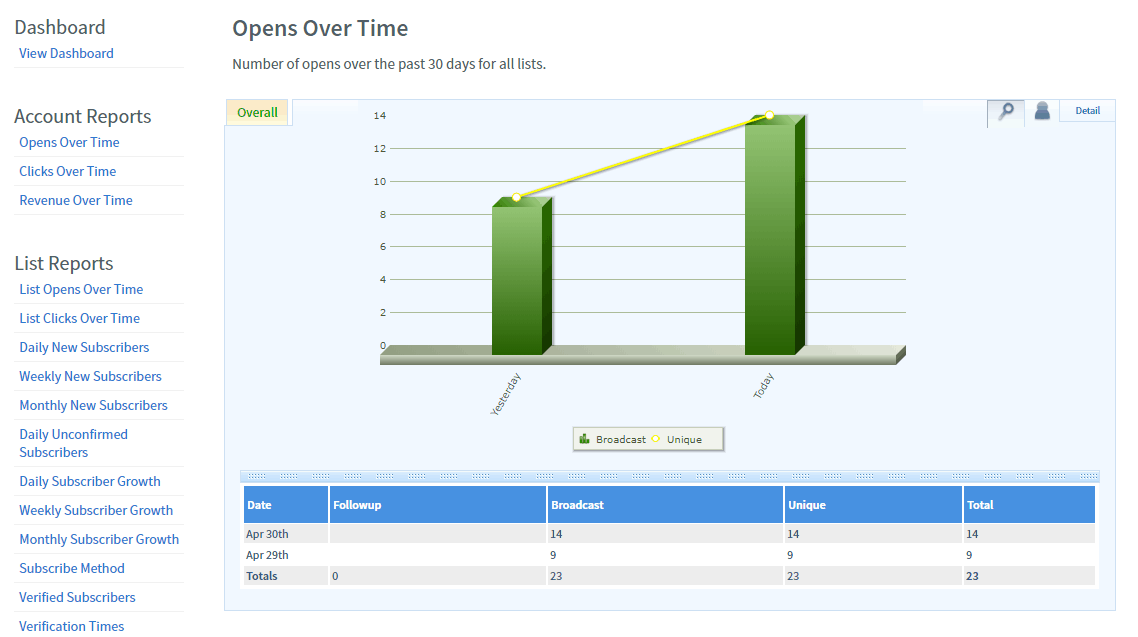 They weren't pretty, but they had the essential email marketing metrics like opens and clicks over time.
There were a ton of other reports as well. Most weren't very useful, but some, that showed you subscriber growth, could come in handy.
But overall, they were ugly and it was a cluttered interface. That's why AWeber created a new reporting dashboard.
AWeber's New Reporting Interface and What It Offers
The first things you'll notice about the new reports are that they're a lot prettier, and that there are fewer reports to choose from: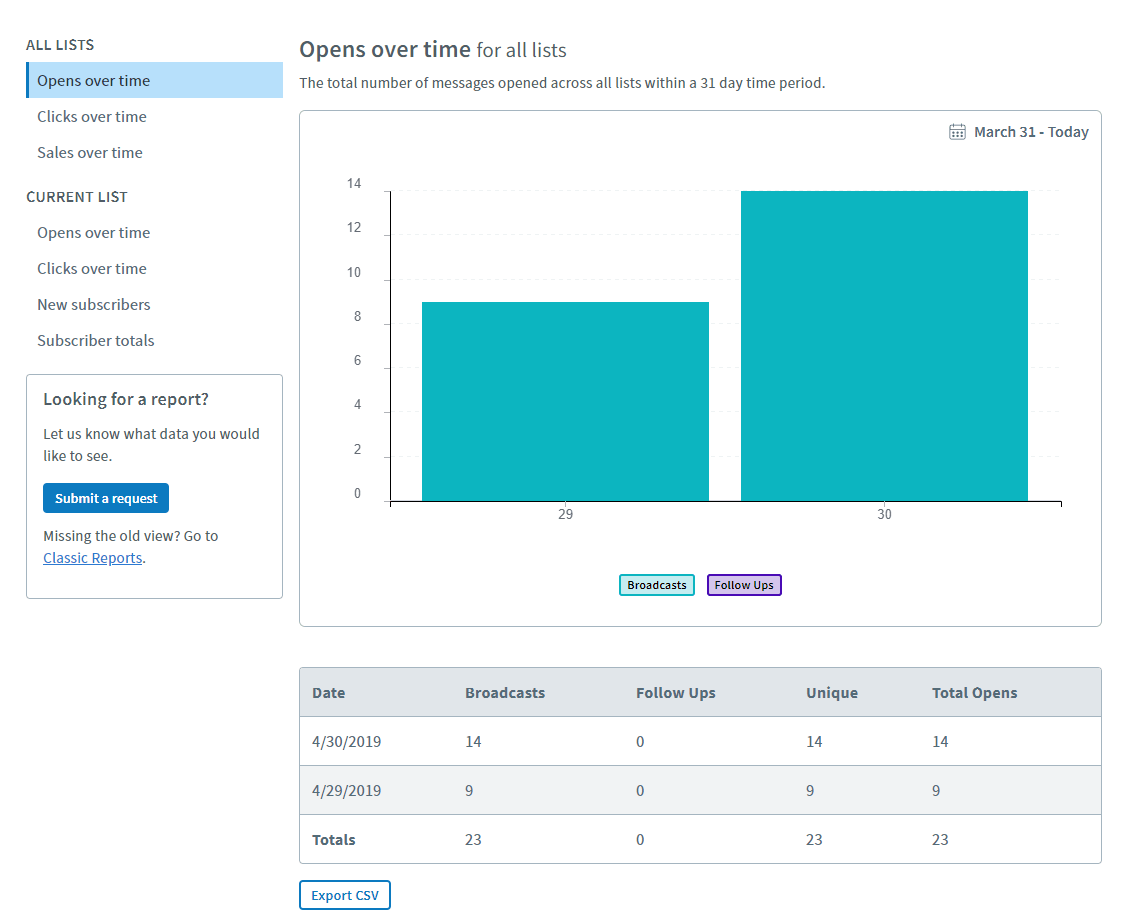 The essentials of email marketing tracking are there, but there aren't any "extras." I do expect AWeber to add a few more reports over time, though.
Currently, you can look at some data across all lists (e.g., email opens or clicks), while others can only be seen on a list-by-list basis (e.g., new subscribers).
In total, there are five types of unique reports.
You can see email opens by day, as well as email link clicks (if any):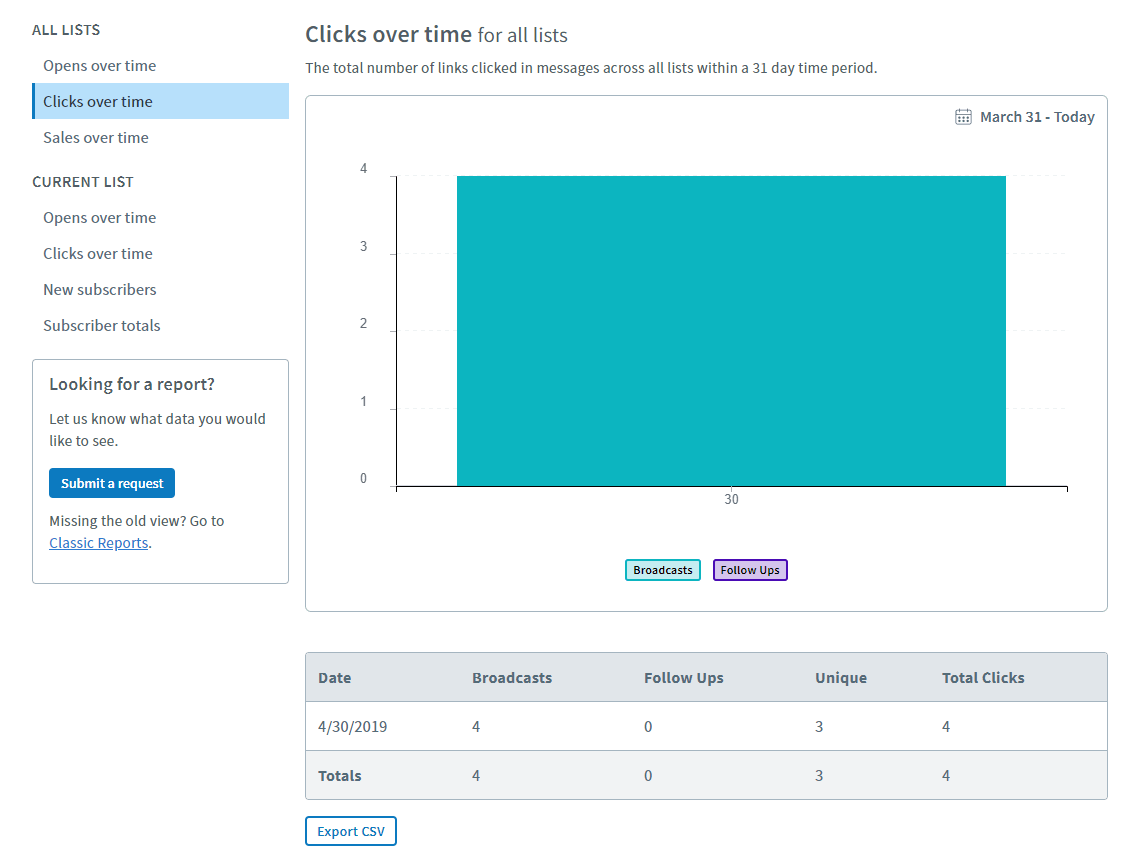 The big thing that's missing is the ability to see how many emails you sent. Currently, you can't see what percentage of users opened or clicked a link in an email.
On top of those reports, you can view your email conversion rate by tracking sales that came as a result of emails you sent out. You do this by enabling sales tracking, which involves adding a small snippet of code (that AWeber gives you) to sales pages on your website: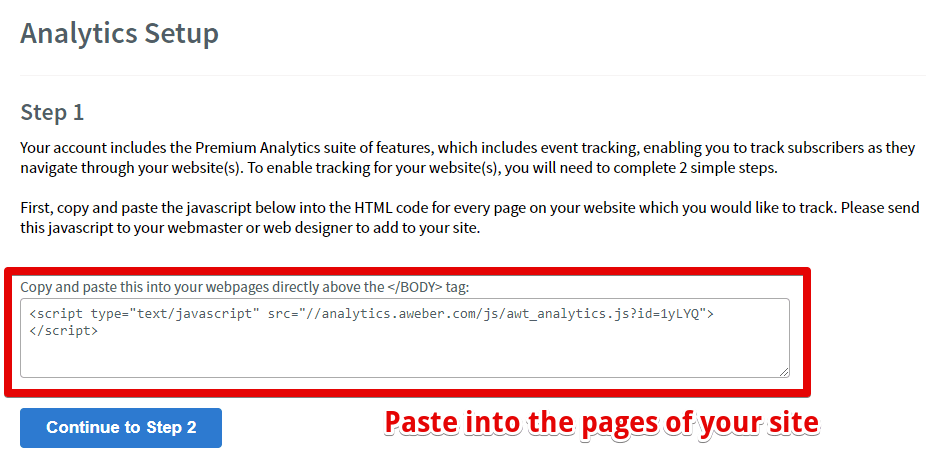 Finally, there are a few reports that show either your new subscribers over a time period (you can select daily, weekly, or monthly) or your subscriber total.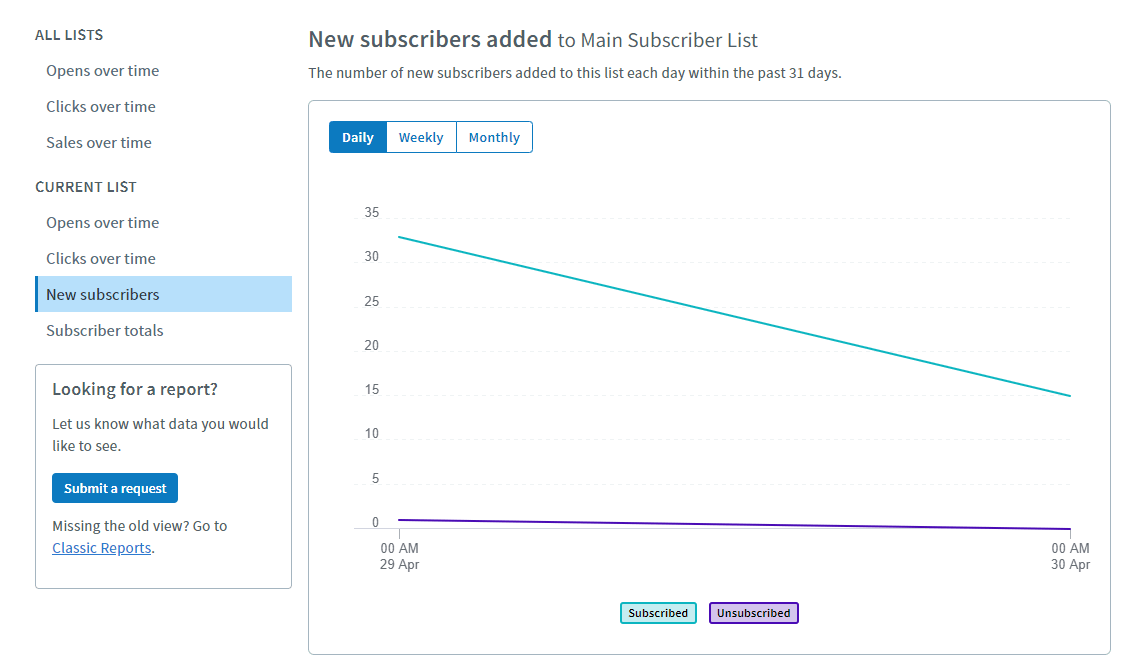 These reports show you only subscriber counts for individual lists, not your account as a whole.
Individual Email Analytics and Reports
The reports AWeber gives you cover the basics.
But there's data that would be really useful to have a report for that isn't there yet. Hopefully, some of it will be added in the future. With the reports themselves, it would be nice to be able to view the unsubscribes, bounces, or complaints with each email.
You can get this data, but not in a convenient report in the "report" section. Instead, you'll have to find each individual email in the "messages" portion of your account: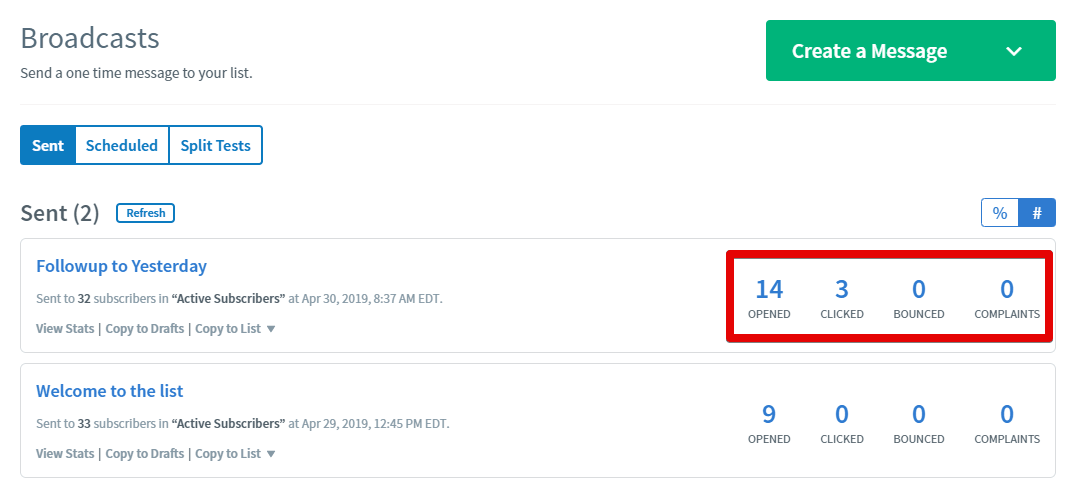 You can click "view stats" below the title of each email to get a bit more detail, even if it's not obvious or intuitive to find.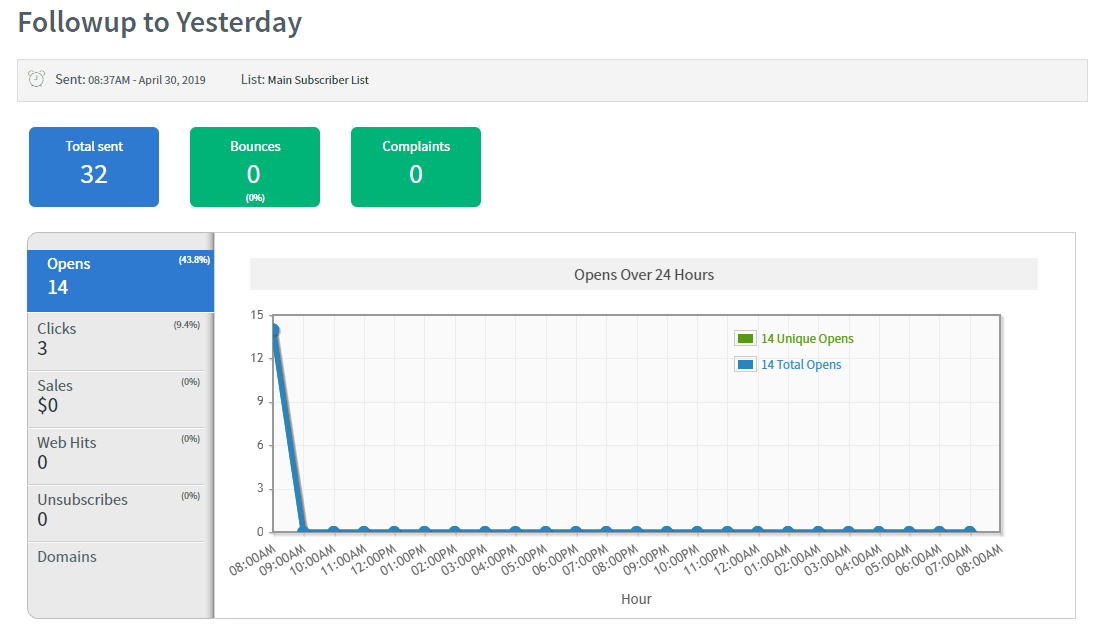 The same goes for data from split tests, as there are no detailed reports available on their performance.

A report for individual automation campaigns would also be useful.
So overall, the data is there. It's just a little inconvenient to access, and might not be as useful as having it all in one reporting section.
Get Immediate Results with QuickStats
One nice feature is that if you schedule emails, or send broadcasts and step away, you can get an email summary of the initial important stats automatically: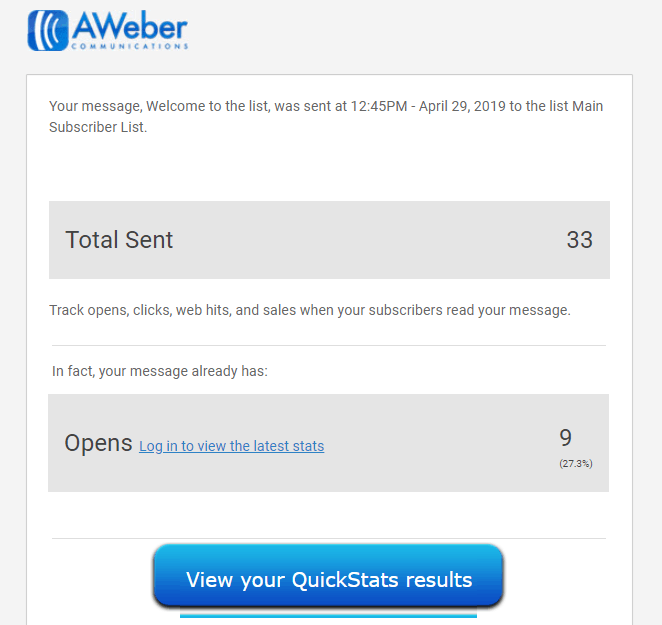 It will show you total emails sent, emails opened, and email links clicked (if applicable). It includes and links you to the individual email report in AWeber.
Exporting Report Data

AWeber does have a convenient export button for each report in the new reporting interface, which generates a CSV for you. It's not pretty, but it's well organized, and can be useful if you're trying to analyze your data in more detail.
It might also be nice to be able to export reports as PDFs with attractive graphs, but that's not available.
The Data Is There, But Some Reports Are Not
Overall, all the data you'll need is available somewhere in AWeber.
The problem is that it's not necessarily convenient, especially once you send a lot of emails and have to dig around for stats.
The new reports are a step in the right direction, with a more attractive interface that's intuitive, but could still be improved.
If advanced reporting and nice PDF exports are important to you, I'd recommend taking a look at Benchmark Email instead, which has more advanced email analytics software. Check out our Benchmark Email review for more information.
But if you think AWeber has the data you need, and if you'd like to take a look at what else it has to offer, see my full review for an overall look at the platform.
And if you're ready to launch your next email campaign with AWeber now, click the button below.