Understanding the differences, and how to use each dataset effectively, is necessary for any social media marketer who hopes to be successful.
So, What's the Difference?
Before going any further, we should define these two important metrics:
Reach
counts the unique views that your content receives, i.e., the number of people your post has reached.
Therefore, no matter how many times an individual sees your ad, and regardless of the source, they will only ever be counted once when calculating reach.
Impressions refer to the total number of times that your social media content has been viewed by individuals.
This includes unique views, as well as those that have viewed your post multiple times, or even shared it. Basically, whenever a person encounters your ad, this counts as an additional impression. Ideally,
you want both your number of impressions and your reach to be increasing, as this shows that your brand awareness is expanding
. By using the
best social media management tools
available, such as
Hootsuite
and
Sprout Social
, both of these important metrics—as well as others—can easily be tracked on a number of different social media platforms. One important thing to remember is that
different social media platforms and social media management tools may have a distinct approach to calculating these metrics
. It pays to be aware of these differences when tracking any marketing campaign.
When and Why Reach Is Important
Let's talk about reach first. An important metric that has many valuable uses,
reach gives you a clearer idea as to how many people are aware of your brand, product, or service
. Reach is also one of the primary metrics used by marketers when trying to determine your engagement rate.
Follow these three simple steps to calculate a post's engagement rate:
Add up each time a user engaged with your post, e.g., anytime someone liked, shared, commented, or clicked through in a given time period
Next, you want to divide the sum of these numbers by your total reach for that same time period
Multiply the results by 100 to get your percentage rate of engagement
On Facebook, an average of 10% of those that you reach will actually engage with your ad.
For this reason, it's obvious to see why a higher reach is desirable. A higher reach leads to a higher engagement rate, which, in turn, will increase your conversion rate: the end goal of any ad campaign. This helps you to determine which campaigns are more effective, and which ones have room for improvement. If a campaign resonates with your followers, both your reach as well as your engagement rate should be high, and steadily increasing. When you have determined a campaign to be successful, it's then a good idea to create additional posts that are similar, as this will help to advance your organic reach.
When and Why Impressions Are Important
It's not uncommon for social media marketers to focus primarily on reach when it comes to tracking a marketing campaign's success, however, this is a mistake.
While it's true that reach is a better metric for determining engagement, impressions help to nurture familiarity with your brand in those that are already aware of it.
The more interactions that a user has with your brand, the more likely they are to recall it when they're in need of the product or service that you're offering. The most important time to focus on raising your number of impressions is when your goal is to both increase brand awareness as well as cement your brand into the memories of your potential customers. And when more than
80% of B2C marketers say that increasing brand awareness is a top priority
, anything to help attain that goal should be pursued. Your impressions can also be used to determine how many times, on average, users are coming into contact with your content. By dividing your total impressions by your total reach (in a given period of time), you can get a sense of the average number of impressions per individual. The higher that this number is the better, as
studies have shown that it takes an average of five to seven brand impressions before the brand is firmly planted into a user's long-term memory
. For those whose impressions are in decline, there's definitely reason to be concerned. You want your number of impressions to steadily climb, and if they're not it's a good indication that you're doing something wrong. This can often be caused by a lack of valuable content being provided. To fix this, try and alter your approach and use content that in some way benefits a user's experience. Another common cause of a decline in impressions is that many marketers forget about optimizing their content for the platform on which it's being posted.
Each platform follows a different algorithm which arranges how content will be displayed
, as well as differences in how both impressions and reach are measured and tracked. Being aware of these differences is important for any campaign.
Impressions and Reach on Twitter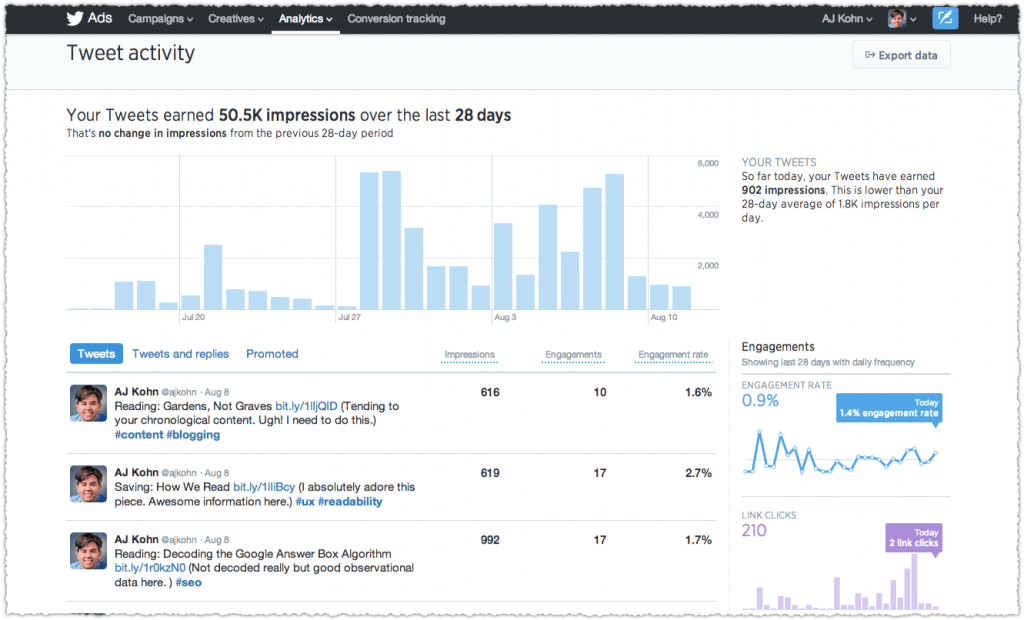 In Twitter's analytics, only impressions are measured, not reach. Therefore, on Twitter, there's no built-in method for analyzing your number of unique visitors,
although there are other third-party social media management tools
that can help you track this important number. Twitter considers an impression as any time a user happens to
see your content in their news feed or search results
. Tweets that are seen within your profile will not count as an impression, meaning that your number of impressions will usually be lower on Twitter than on other platforms. On this platform, posts that are published on your followers' news feeds will almost always receive the most impressions. Responses to other tweets generally get far less, so it's a good idea to focus more time on creating new posts rather than responding to other users.
Impressions and Reach on Facebook
Facebook's analytics are fairly in-depth, and do a great job of breaking down your reach and impressions. So good, in fact, that there are three different types of each on this platform.
Paid: This is the number of people that saw any sponsored content that was paid for
Viral: This indicates how many users saw your content due to others sharing, liking, mentioning, or commenting on your post; a high number of viral impressions is a great indication that you're creating quality content that resonates with users
Organic: Measures how many people stumbled across your content organically (for free) in their news feeds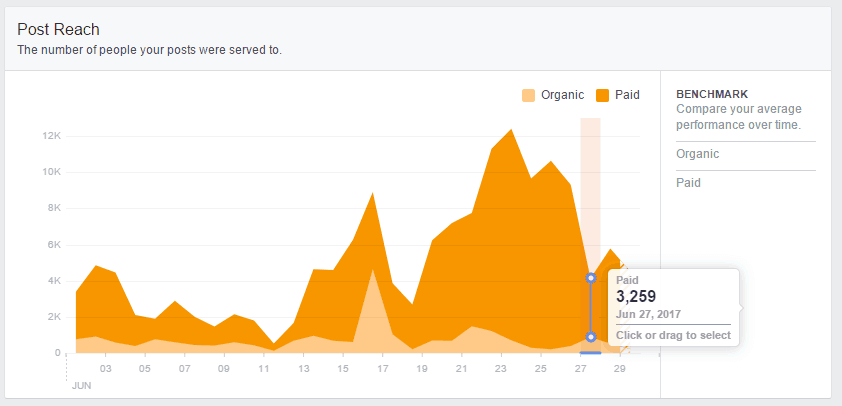 In the Facebook Insights' reach section, you have the opportunity to observe a detailed breakdown of engagements with your post. This breakdown encompasses metrics like the quantity of likes, comments, shares, mentions, and any other conceivable forms of interaction. Moreover, the tool will provide insights into the frequency of post concealment and reports for spam.
Other Important Metrics to Track
While this article's primary focus is on impressions and reach, with regard to Facebook and Twitter, these are far from the only metrics that matter. When tracking a marketing campaign, it's important to pay attention to as many important metrics as possible. From measuring your rate of growth to your conversion rate, there are many ways to measure a campaign's success—or failure. Finding the most relevant metrics for your content, and tracking them accordingly, is one of the most important things that we can do as social media marketers. So, for your future campaigns, know the metrics that matter and you'll be better prepared for success!
---
Sources:
https://www.cpcstrategy.com/blog/2018/07/reach-vs-impressions-compared-and-explained/
http://burkhartmarketing.com/3-key-differences-impressions-reach/
https://www.lucidpress.com/blog/25-branding-stats-facts
https://blog.hootsuite.com/reach-vs-impressions/