The purpose of this guide is to help you understand the online sign up process for whatever hosting service you decide to buy.
We are using iPage to illustrate the process because iPage received the highest overall score on our Web Hosting Reviews page as of the time this eBook was created. If you want to get in-depth reviews on 10 of the best known web hosting brands, be sure to check it out.
Now, keep in mind that various hosting websites may have slight differences, but the process to purchase them overall should look pretty much the same.
Let's proceed here by starting at the iPage hosting home page.
FIRST, CLICK THE SIGN UP NOW BUTTON.
Next, you will need to enter the Domain you want hosted.  You can either click the register a new domain button or click I plan to use a domain I already own.  Next, type the domain name into the bar pointed out below.
If you are registering a new domain, some hosting services will charge a fee for the registration of that new domain, typically around ten dollars per year. But some hosts, like iPage, offer a free domain registration in their sign up deal.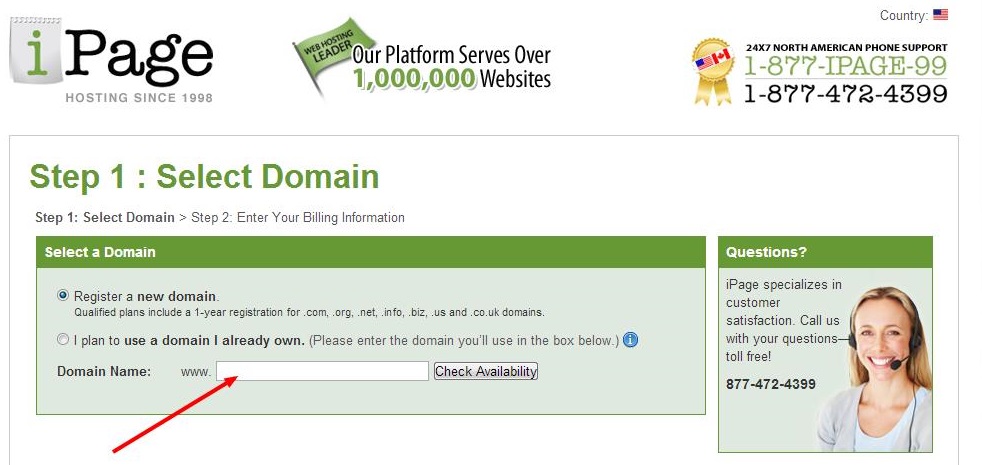 As long as the new domain is available, your next step is to simply enter your billing information.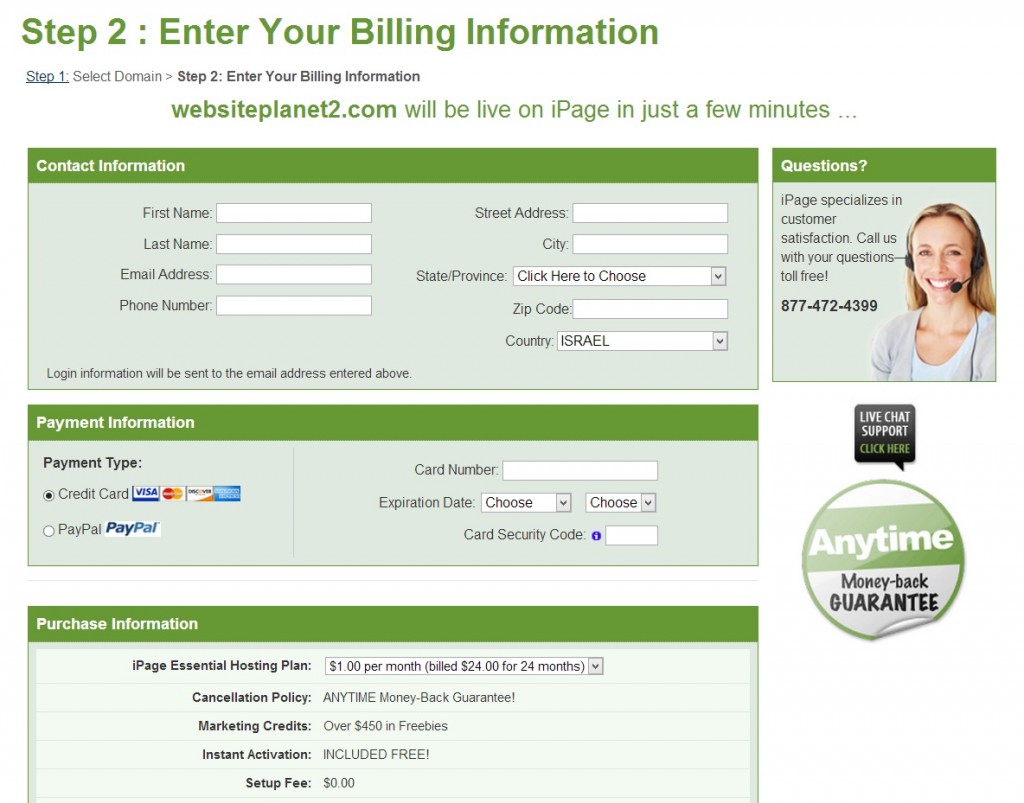 Did you notice the Website Essentials module? Most hosting services offer extras you can choose to add to your package, like iPage does here. You can see in the lower half of the screenshot, there is a Web Essentials module listing various extras. Of course, each upgrade will increase your cost of purchase.  It will be up to you whether or not you need or want to add these upgrades or not.
Let's take a quick look at each upgrade to help you decide.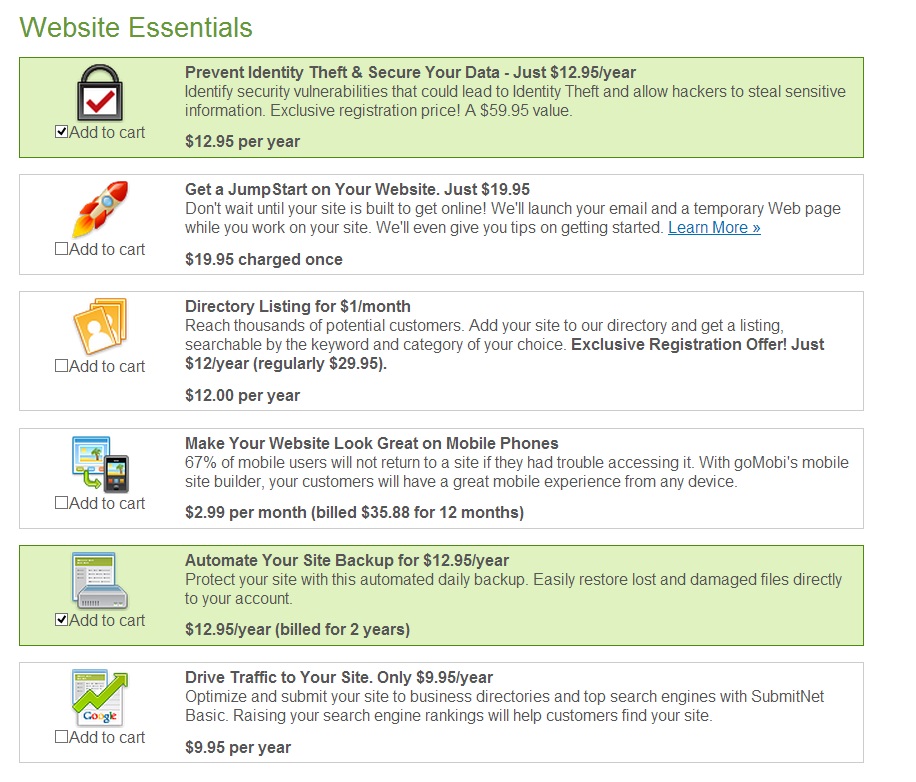 PREVENT IDENTITY THEFT AND SECURE YOUR DATA
This is good to pick up if you have an e-commerce website. If you use https to take credit card orders, then you should consider this one. If you don't, then you won't need it.
GET A JUMPSTART ON YOUR WEBSITE.
If you really want to get your online presence going without actually having a website ready, then this might be your answer. Your domain will have a page, and you will be able to start using email with your domain immediately. But this is actually not a necessary purchase if you are going to be able to build a great website speedily. This upgrade includes an online business card that's accessible at your web address, along with two email boxes.
DIRECTORY LISTING.
That can be helpful for SEO, but there are better ways to get links to your site than getting listed in a directory. But don't get us wrong. Being listed has some benefit, but not a lot.
MAKE YOUR WEBSITE LOOK GREAT ON MOBILE PHONES.
Although pricey, this service might be beneficial for you, if your design framework doesn't provide enough. Considering how the number of people using mobile devices for their online activity keeps rising, this is an upgrade to consider.  Like it says above, a whopping 67% of mobile users will avoid your site if they had trouble accessing it on their phone. That's just too significant to ignore.
AUTOMATE YOUR SITE BACKUP
The boy scout motto– Be Prepared—comes to mind when considering the one and only upgrade that we definitely recommend. Automate Your Site will look like a great idea once you need it. And chances are you will. Things happen and there may come a day when you do something on accident that causes your website to go down. In our opinion, the extra $12.95 is worth it. You could end up spending more on headache medication later if you don't add this service.
DRIVE TRAFFIC TO YOUR SITE.
Skipping this upgrade or buying it won't make much difference either way. You can do most of this for yourself at no charge. Plus, there are tons of SEO tips available for free today.
Once you have completely filled in all requested information, and chosen your upgrades, simply click Check Out.
That's it. Your website now has a host!