Please describe the story behind the company: What sparked the idea, and how has it evolved so far?
A friend of ours ran for office way back in 2003. She was an underdog in the campaign and needed all the help she could get. We thought the best way to help was to build her a campaign website. This was back before having an online presence was a large part of political campaigning and fundraising. The site was successful and had a large impact on the campaign. It helped raise issue awareness on local development and many of the back-room deals being made without public knowledge or input. We managed to get our website to show for searches on our opponent's name. We also managed to get unflattering articles about the opponent to appear, as well. This was due to linking out to those articles from the site to influence rankings. (Today this would be called 'Google Bombing'.) The campaign promoted the website on signage and in local newspaper ads. This bad publicity spooked the opponent and led him to spend a lot of money on a competing site. In the end, our candidate won the election. That success gave us the idea of using our web skills to help other local candidates. We believed the web was going to be a powerful tool for organizing people. At the time, building any sort of website required a fair amount of technical skill. That idea led to the creation of
Online Candidate
in 2004. We put together a process to let people order a website package online. The domain name was registered, and the content management system came with pre-built pages and tools. The client could choose from pre-designed headers and color schemes to get the look they wanted. They could also easily add and edit content. Today the Online Candidate system is fully automated for domain registration and account setup, so a client can immediately register and start creating their website. The system has more built-in tools and produces sites that are fully mobile-responsive. As the need for online campaigning has grown, we've added additional services like our social media setup and candidate intro videos to help our clients build an online presence faster.
What are the campaign website packages?
All Online Candidate websites include our content management system, tools, and additional resources. We have website packages that bundle different services, depending on how much a client wants us to do for them. For example, our Enhanced Website Package includes a domain name, custom design, initial content setup, along with 12 months of initial hosting. Our Regular Website Package includes all the Enhanced Package, except the client adds their own content. Our Lite Package is six months of hosting, with just the content management system, where the client can edit their own design and content. Finally, we have a Monthly option, for those who have short-term needs, or want to just pay monthly. Custom design and content setup can be added separately to the Monthly or Lite Package. The options and combinations can get a bit confusing, but we have a tool that helps potential clients determine what services best fit their needs.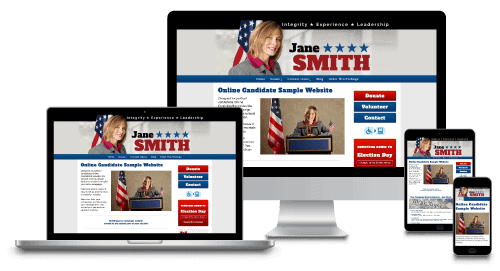 Do you only support US campaigns?
We get a few clients from other areas of the world, but most are from Canada and Australia. The length of political campaigns varies for each country, and they are usually shorter than they are in the United States. Between fifty states and some 3000 counties, there are elections, special elections, and primaries all year round.
What makes campaign design different from traditional website design?
In the United States, particularly, campaign websites tend to have a particular 'look' and various design conventions. Political sites tend to have donate and volunteer buttons, specific forms, and social media integration. There may be additional design and disclaimer restrictions depending on the location and position sought. Beyond that, there is a lot of overlap with commercial web design. Because we focus on the political niche, we can provide a much faster turnaround and better pricing than a developer who is creating a new site from scratch.

What level of web design experience do your clients require in order to use your services successfully?
They don't need much. If we are customizing the design and adding the site content, the client just needs to get us the information we need. We handle the rest. After that, the client can make any updates they want. We've worked to make our content management system easy for the least experienced user. There are default pages already set up and default settings are already in place. Images can be uploaded and edited, and the content editor is similar to Microsoft Word. Most people get the hang of it quickly. If they need a walk-through, we're glad to do that with them.
How can your clients achieve a unique look and feel to their website?
We have a large number of default color schemes that can be used as-is, or the colors can be modified however a client wishes. Almost all the site elements are controlled by primary and secondary colors, rather than each color set individually. This makes the color design more consistent and easier to control. For the site headers, we have a large variety of header graphics and fonts that can be selected. Clients can also upload their own header graphic or logo. Additional graphics can be found in the built-in image library, or they can upload their own photos. Candidate websites tend to be very personal, as they often tell the story of the candidate, what they stand for, and why they should be elected to office.
What can we expect to see from you in the next five years?
In many ways, it's a matter of keeping up with the ever-changing landscape of digital campaigning. Design standards have changed over the past two decades, and they will continue to do so. Our own designs and layouts will continue to reflect those changes. Looking forward, it will become more difficult to reach outside voters through social media and online advertising. The ability to target specific demographics has been reduced by Facebook, Google, and other online services. Advertising online is likely to become less targeted and more expensive. Successful campaigns will be those who can grow their own audience through social media, email, and text. We've always said that the campaign website is the hub of an online presence, and don't see that changing going forward.