Keep reading and I'll share my expert tips on how you can get your new logo for just $5.
---
9 Best Name Logos
When we needed a new logo for Website Planet, my colleague conducted an experiment testing the top logo design services on the market. Head over to his
detailed logo design service review
 to see which services were tested and how they fared (…and which became our new logo!).
How to Get a Pro Design for $5
Nope, that number isn't missing any zeroes at the end. It really is possible to score a professional name logo design for just $5. How you may ask? If I were you, I'd be asking the same question. And, before I discovered Fiverr, I wouldn't have believed the answer!
Fiverr is a freelancing platform where designers can offer their services in packages, often starting from the website's namesake $5
. Each freelancer can set their price higher if they like, but thousands of talented designers choose to stay at this price-point or near it. The designers on Fiverr aren't amateurs, either. Many of them have years of professional design experience well into the double digits. With thousands of designer options, you're sure to find one that meets all your needs. To check out the platform for yourself,
head to the Fiverr homepage
 and search "name logo". This will pull up all the designers with relevant packages. Take your time scrolling through the results and click on your favorites to see more information.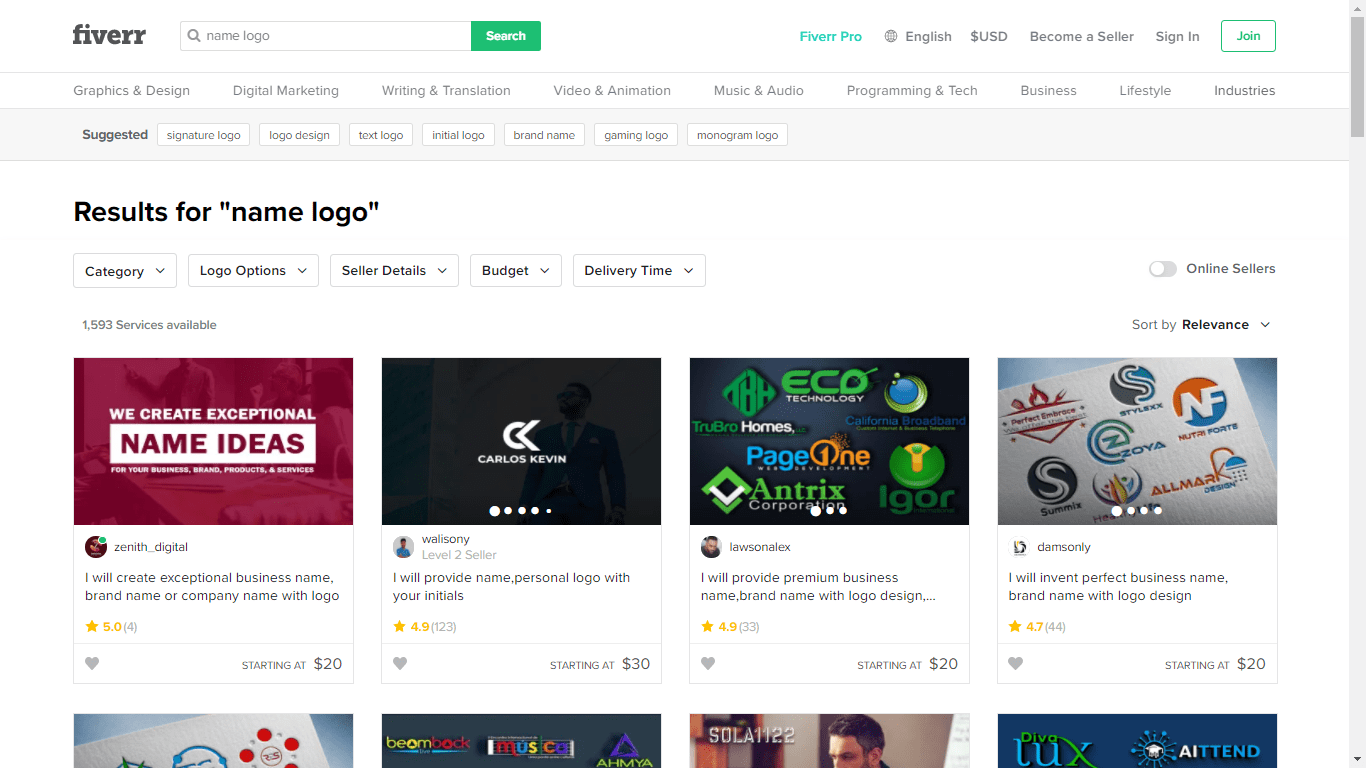 On their profile, each designer has a portfolio and "About This Gig" section to further showcase their work. You'll also find a list of services, along with the prices and details for their Basic, Standard, and Premium packages. If you'd like to speak to a designer directly, click
Contact Seller
to send them a message. Once you've decided to hire a designer, click
Continue
 to move on.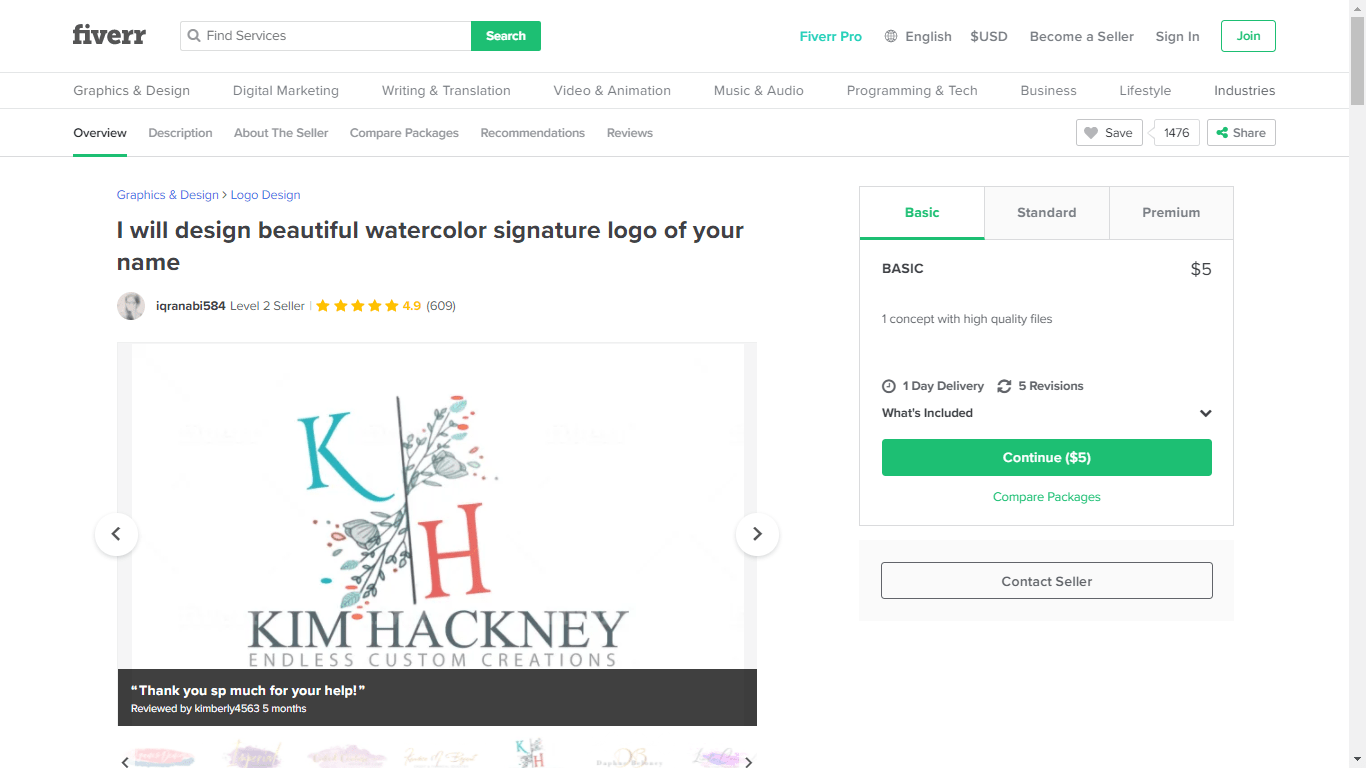 On the next screen, you'll see the final cost for your chosen package and each of the services offered. Once you're satisfied with everything outlined, click
Continue to Checkout.
Just enter your payment information and submit your logo requirements to your designer and your new logo will soon be on its way!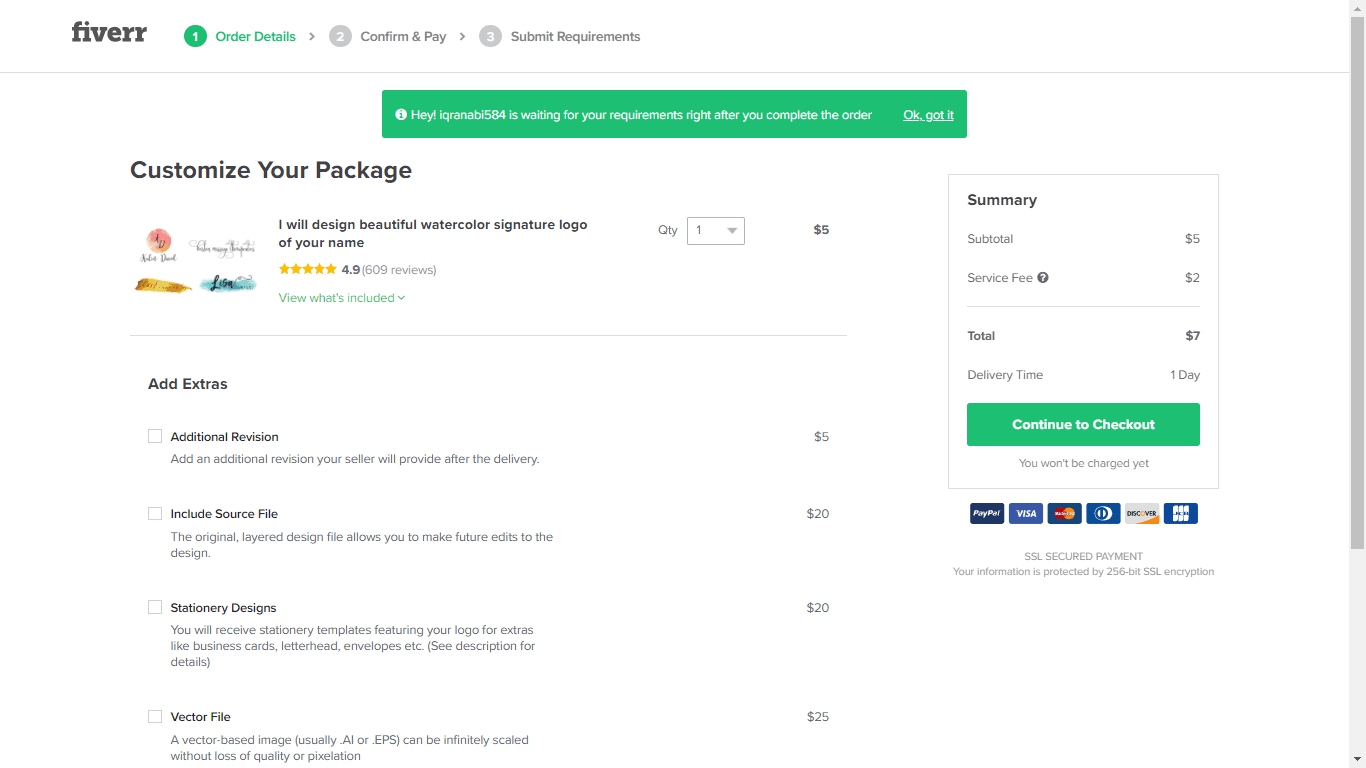 Here are some other great reasons to use Fiverr:
Easy search filters – If you need to find a designer that meets certain criteria, you can use search options like delivery time, budget, seller level, and logo style to narrow down your results.
Fiverr Pro – Some top designers have been assessed by Fiverr employees and awarded the "Fiverr Pro" title. These designers are more costly to commission, but their work and customer service are guaranteed to be exceptional.
Customizable packages – Many designers offer package additions that can be tagged on for a small extra cost. These include expedited delivery, 3D mockups, and stationery designs.
No surprise costs – Once you've made your payment, rest assured that a designer can't overcharge you or add extra fees.
Want to know more?
Read our expert Fiverr review
to see some logo samples.
How to Make Your Own DIY Logo
Are you interested in creating your logo design? If you are, don't be fooled into thinking that you need to splash out buying professional design software. Not only is professional software super complicated to use, but it's also often eye-wateringly expensive. So, what's the best DIY logo design solution? My all-time recommendation is Wix Logo Maker.
This tool uses impressive AI technology to suggest personalized logo templates that are easy to customize
. All you have to do is answer a series of quick questions at the start to help pinpoint your design likes and dislikes. To get started,
head to the Wix Logo Maker homepage
 and sign up for a profile. Enter your company information (in this case, your name) and a tagline to get started. If you don't have a tagline, you can leave it blank.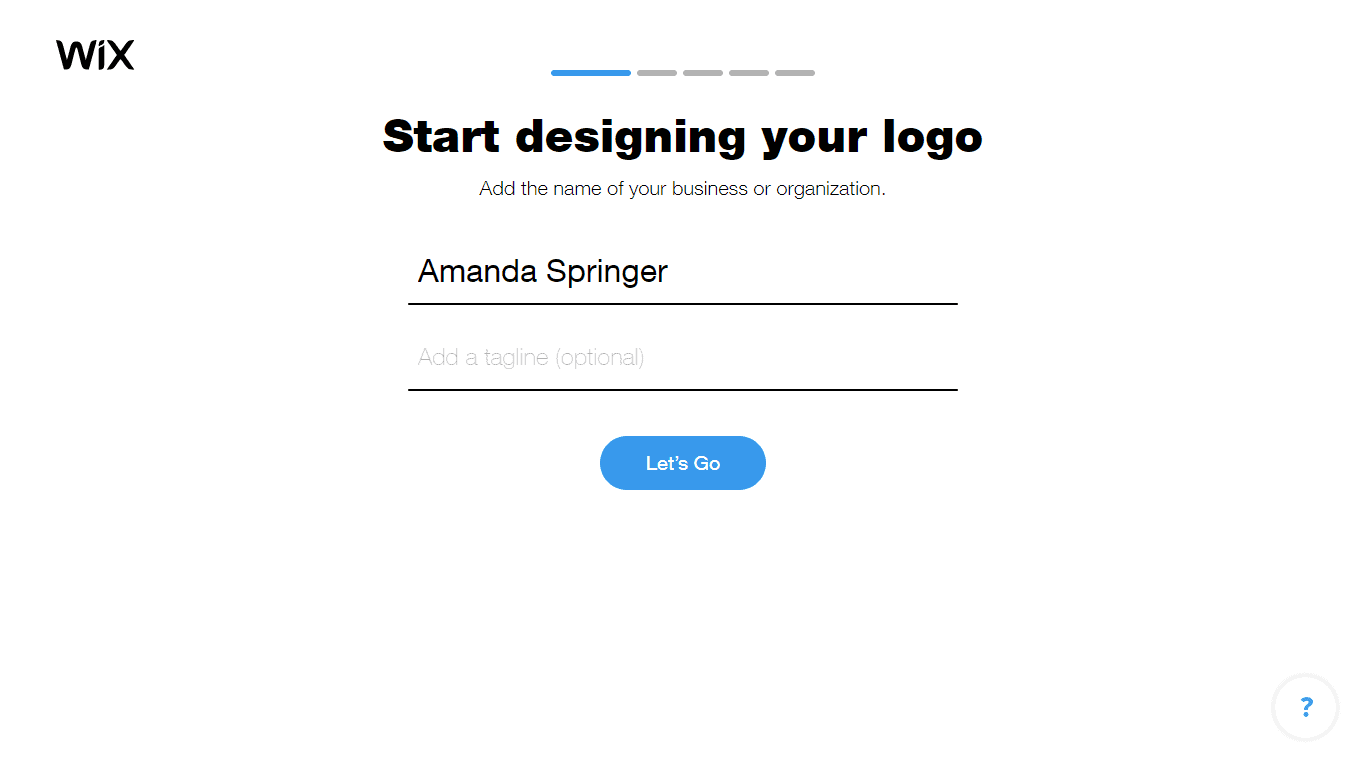 In the search bar provided, start typing the name of your industry and select it from the dropdown menu once it appears. There's a huge range of choices, so you should find a close match.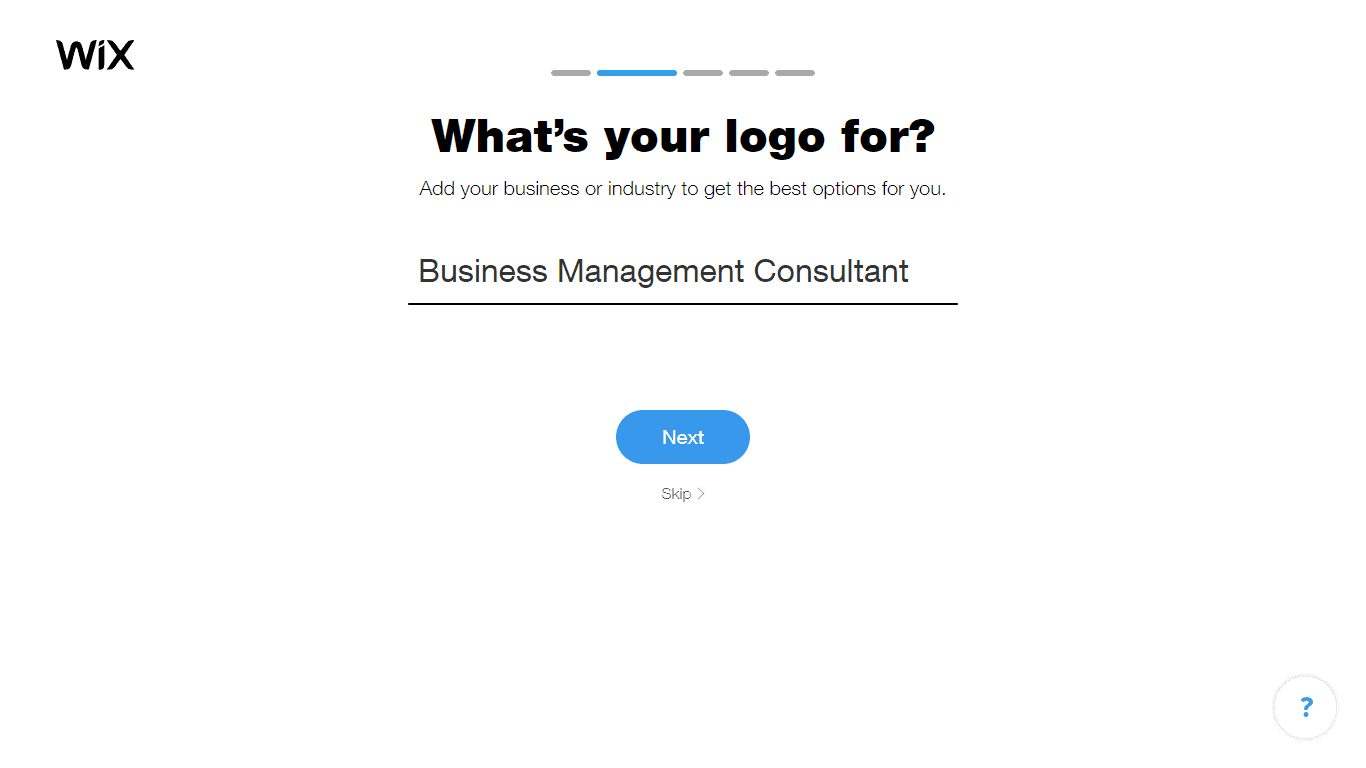 Do you know what you want your final logo to look like? What about how you want it to feel? On this next page, select adjectives to help describe your vision to the AI.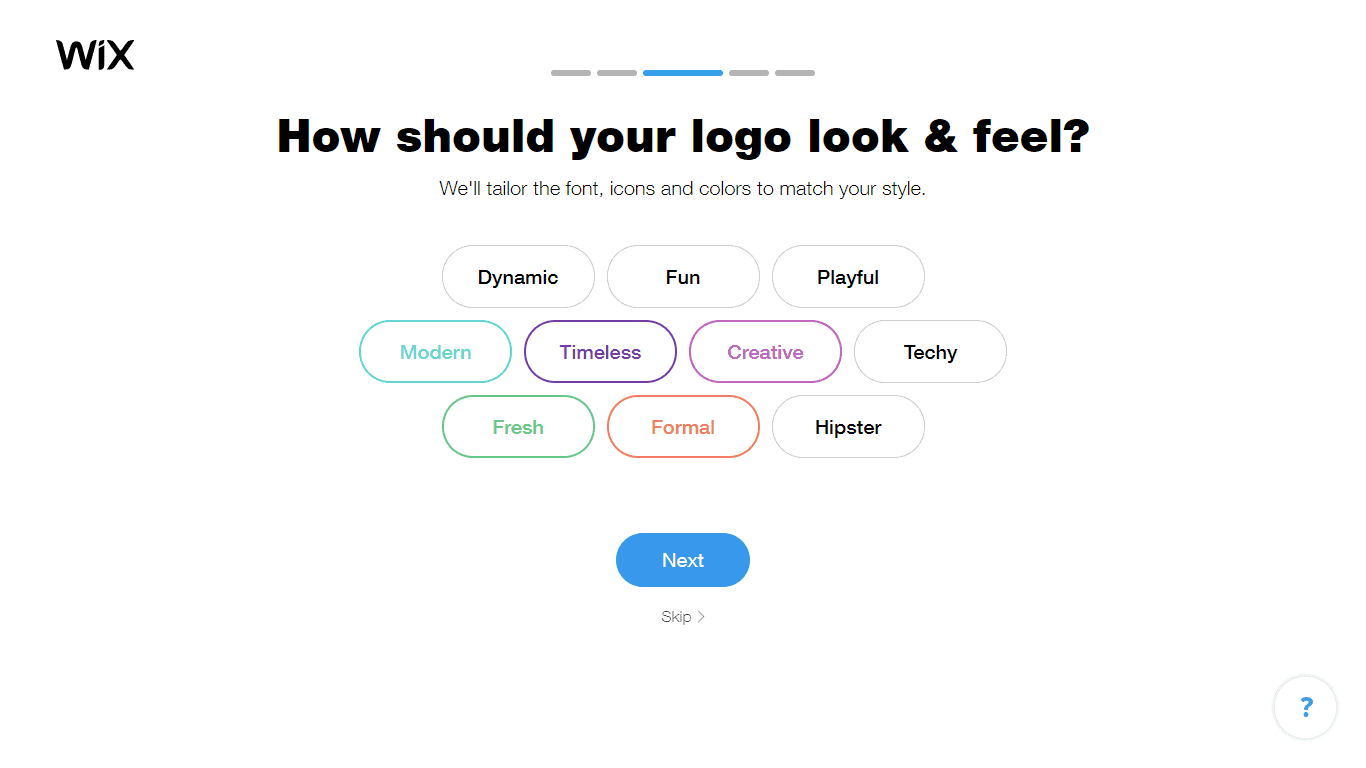 Now, for the logo pairs comparison. This section is important for the AI, so go with your gut instinct. Choose the logo in each pair that you like best, or click
I don't like either of them
to move onto the next one.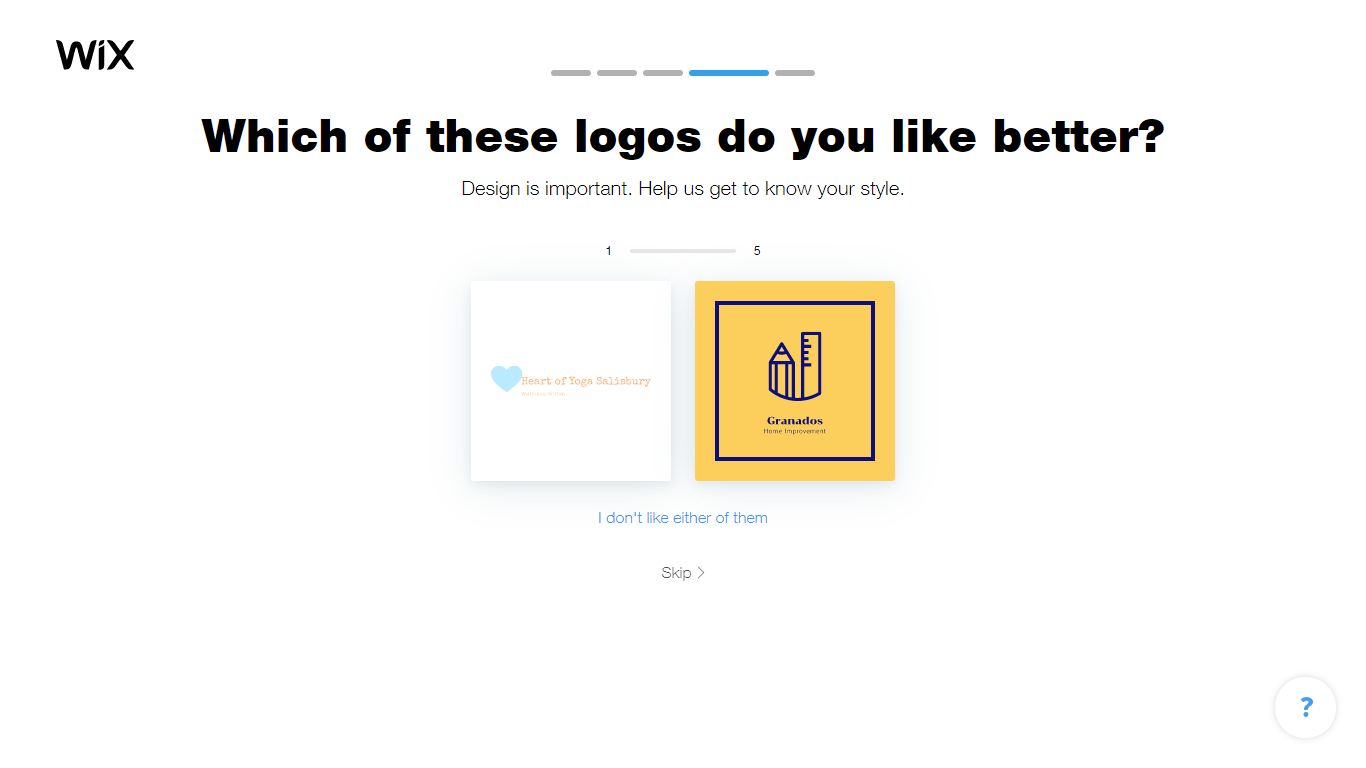 Lastly, indicate where you intend to use your logo, such as in a presentation, on merchandise, or on a website.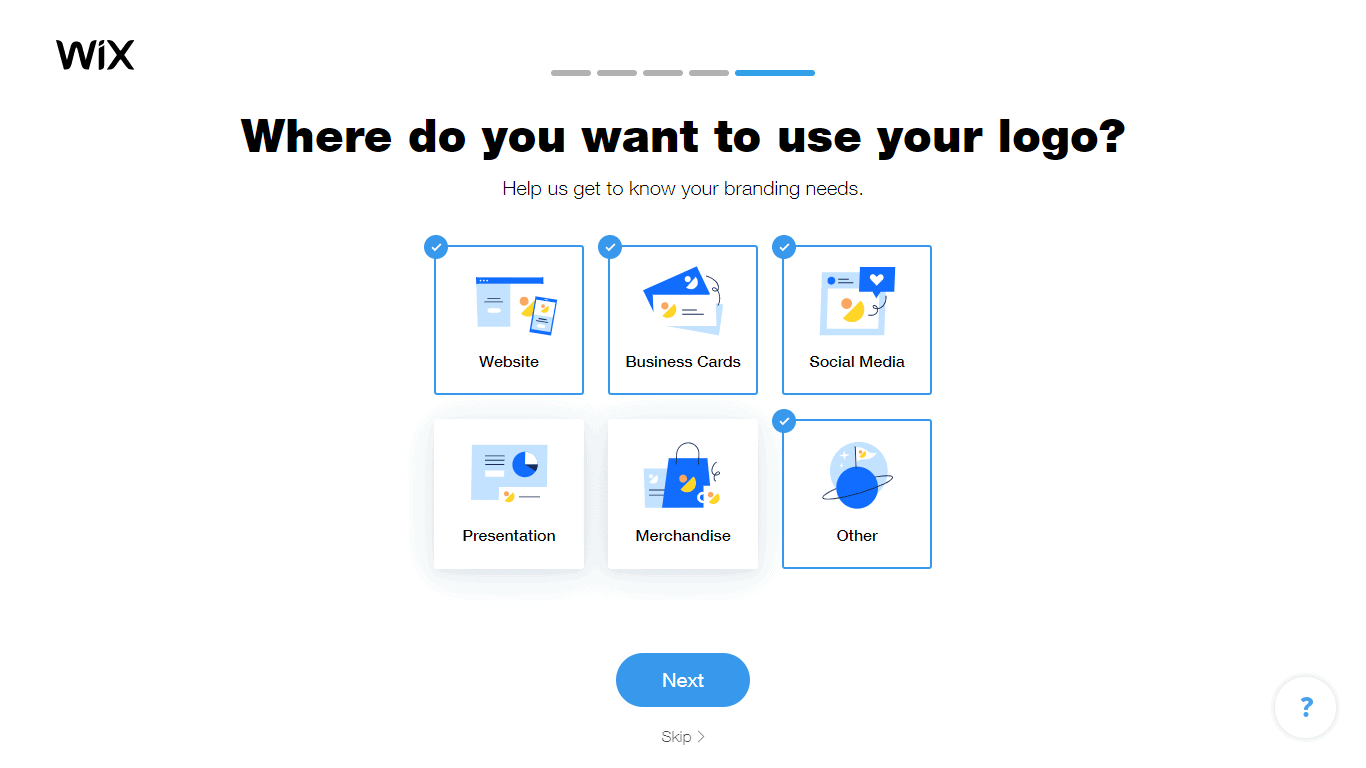 And now, it's time to check out your logo suggestions! You'll notice the templates are tailored to your industry. Explore the results and look for a design you'd like to edit.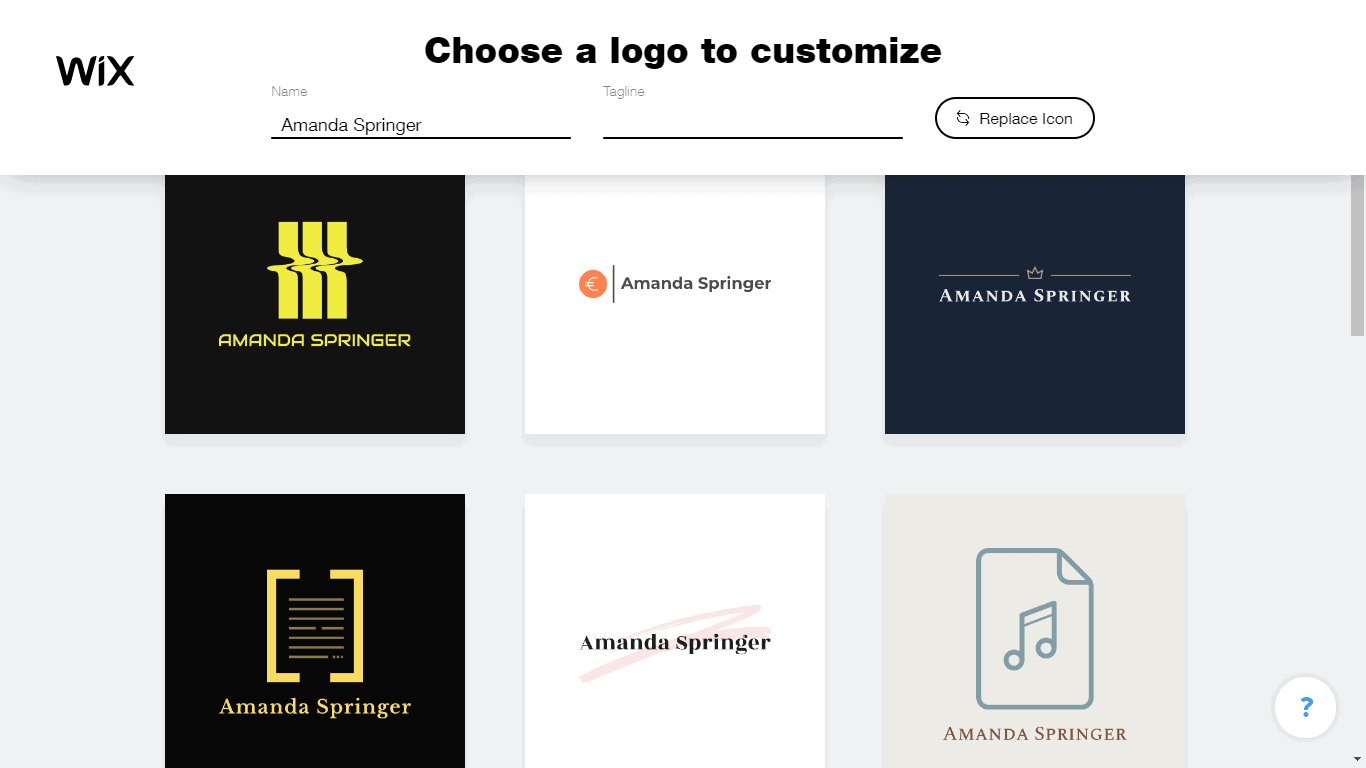 Want to see other icon options? Click
Replace Icon
to open the search feature, then type in whatever term you're interested in. I searched for abstract icons, but you can choose a term that matches your industry or the style you desire. Your new icon will appear in the results.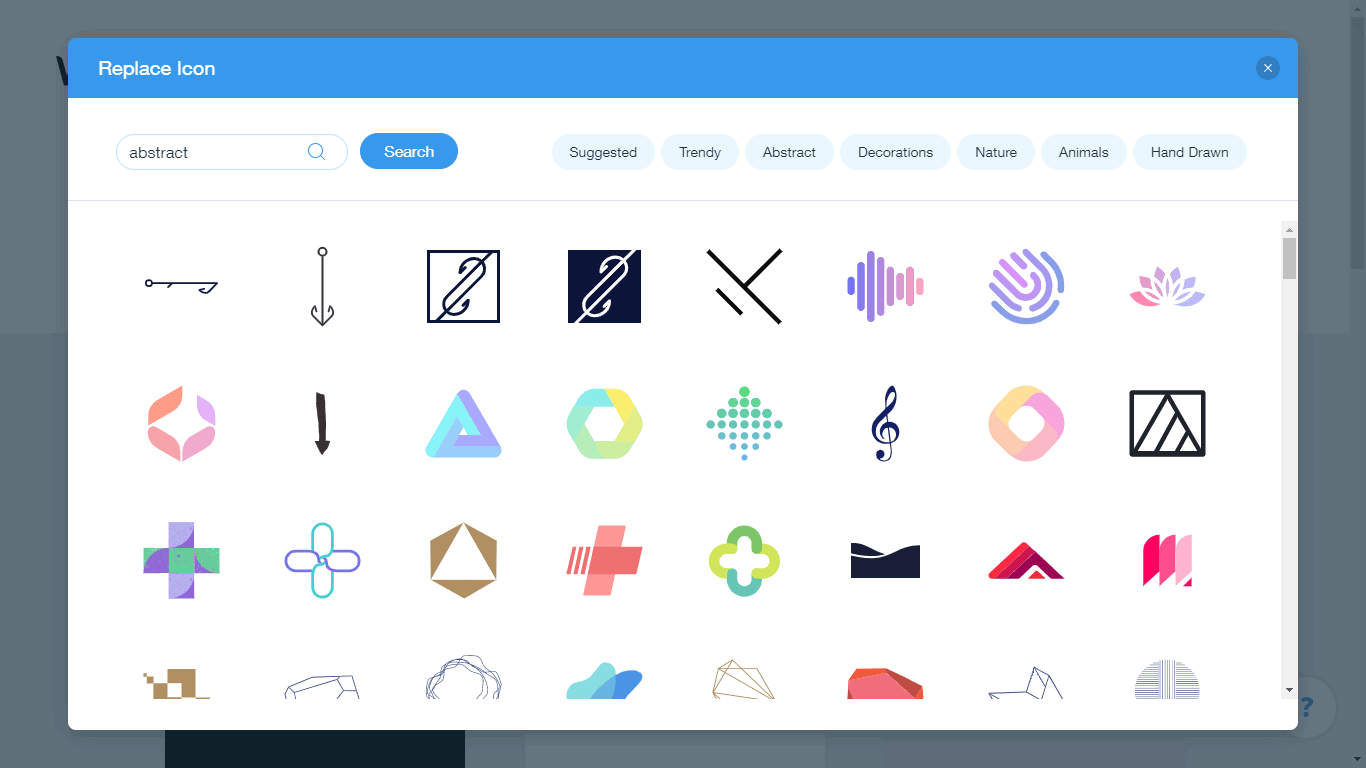 Are you prepared to start editing? Simply select the desired logo for customization and proceed to the logo editor. Within Wix Logo Maker, you'll discover a wide array of personalization choices. You can explore over 70 color palettes and access countless color possibilities while crafting your unique color theme. Additionally, there is a diverse collection of over 200 font styles and a multitude of high-quality icons. You have the freedom to incorporate multiple icons into your design.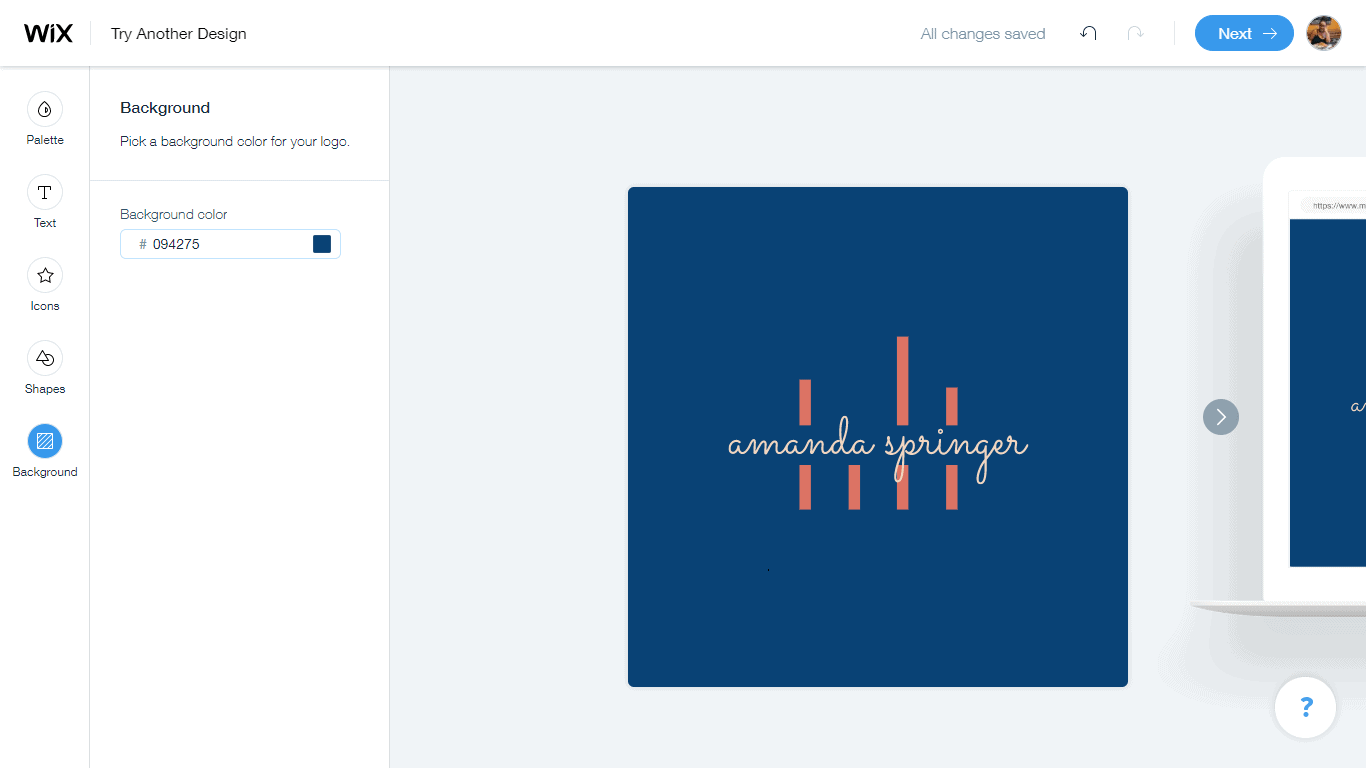 When you're finished with your edits, simply click
Next,
select your package, and pay. Once you've paid, your new logo can be downloaded in high resolution and is ready to use immediately! If you want to continue logo hunting, you can also download a free, smaller sized version of the logo to use for comparisons.
Wix Logo Maker Alternatives:
Looka – If you're a small business or a startup company, you likely need a new logo and company branding materials. With Looka, you can design your logo and purchase website and business card design, all in one place.
LogoMaker – Need a simple, no-fuss logo? Logo Maker takes just four quick steps to generate a basic logo design, perfect for if you need a logo in a hurry.
Want to learn more?
Read our full Wix Logo Maker review
for more example logos.
Get the Best Name Logo
Your new name logo should be expertly designed, but it doesn't need to be a burden to your budget.
Why spend hundreds on your logo when Fiverr can connect you to an affordable designer for much less
? With a talented pro on your side, you're guaranteed a beautiful, bespoke name logo, at an affordable price. Don't want to leave it to the professionals? Perhaps you have creative skills to utilize. In that case,
use Wix Logo Maker to create your DIY logo in no time at all
. With this tool, it's hard to mess up, thanks to its attractive, personalized templates. Still on the hunt for the right logo design option for you? Head over to my colleague's
expert logo design service comparison
 to see how other popular services ranked against Fiverr and Wix Logo Maker.