Have you heard of the term "marketing segmentation"?
If you're a newbie to the marketing world, your answer to this question might be "no"—and that's okay! I'm here to help.
Marketing segmentation, simply put, refers to dividing a broad audience into smaller subsections based on their interests, demographics, or other qualifiers. This makes it easier to craft messaging for each specific group, which ultimately means that your company resonates better with your audience as a whole.
Confused? Not to worry—let's take it one step at a time.
Your Quick Guide to Online Marketing Segmentation
To break it down for you, people visiting your website or landing page often have completely different needs. A "one-size-fits-all" communications approach is simply not the most effective way to develop meaningful relationships.
There's no right or wrong way when it comes to segmenting potential customers—this will depend on your specific audience and business offerings. You'll want to break your customers into categories that match their motivations and purchasing decisions. Search Engine People claims that the following methods are the most popular.
Geographic: This is based on the location of your audience, whether it's a country, city, or community
Demographic: This divides an audience based on age, gender, income, occupation, family size, race, religion, and nationality
Behavioral: This divides the consumer based on patterns of their behavior in terms of online activity and previous purchases
Psychographic: This is based on psychological aspects, such as lifestyle, interests, and opinions
Occasional: This divides an audience into groups based on the various occasions where consumers might plan to buy the product or service; for instance, Christmas or Black Friday
Cultural: This is based on the behavior, attitudes, and purchasing habits of certain cultural groups
Let's say, for example, that you sell cars. Your customers are likely prioritizing different aspects when they consider their options: they might be very family-oriented and concerned about safety features, or environmentally-conscious and looking for electric models or good gas mileage. By knowing more about your customers, and the things that are important to them, you can develop various messaging that is more likely to resonate with different groups and ultimately motivate them to purchase.
When it comes to segmenting your online visitors, there are three basic choices:
Pre-Click: This is where you focus on segmentation that is keyword-based through behavioral targeting to increase the likelihood of clicks
Post-Click: This refers to landing page segmentation that analyzes who the visitor is and what they're looking for, which tailors subsequent pages according to their requirements
Post-Conversion: This is all about email list segmentation that can improve the results of your email marketing efforts
All three of these types of segmentation are important; however, it's the post-click that's arguably the strongest performer.
Why? Well, it's the stage that secures conversion.
Plus, according to Convince and Convert, it can generate an 89% sales uplift while increasing average order value by 58%.
Can't argue with that.
5 Major Benefits of Marketing Segmentation
Regardless of how and when you decide to segment your consumers, there are many benefits involved.
#1: Save Your Resources
By grouping together a similar type of people that would be interested in your product, you can market to different groups directly, as opposed to wasting your resources on the masses who might not all be interested.
#2: Benefit from Consumer Insight
Marketing segmentation can also help you determine which segments you should be focusing on based on how they engage with your brand.
The best landing page builders will help you to undergo A/B testing, which allows you to create alternative types of experiences for different consumer segments. From this information, you can see which segment is engaging and/or converting and what sources of traffic are delivering the most influential visitors.
#3: Improve the Quality of Your Leads
By undergoing marketing segmentation, you're improving the relevancy of your message and gaining valuable insights when it comes to which visitors are or aren't clicking through to your landing page.
And you know what that means? You can allocate various messages to your different audience segments, thus boosting the possibility of sales.
For instance, MailChimp conducted an experiment with marketing segmentation and found that segmented emails were opened at a 14.31% higher rate, which resulted in a 100.95% higher click-through rate, compared to non-segmented campaigns.
Just take a look at the rest of these MailChimp stats: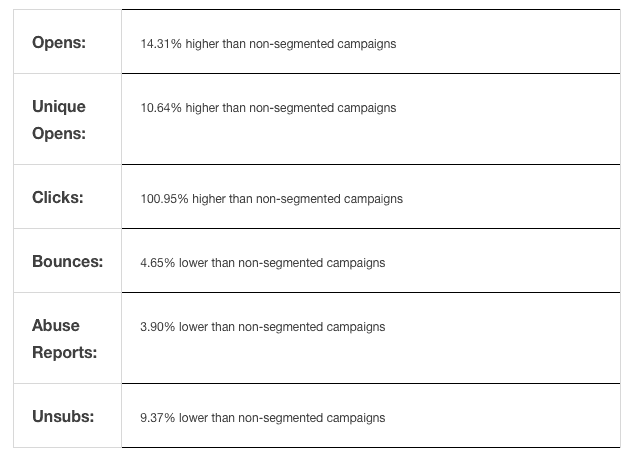 #4: Enjoy More Clicks and Conversions
It's been proven that marketing segmentation will ultimately lead to more clicks and conversions, even if it doesn't happen the first time around.
Take MVMT Watches, for example. They used segmentation to carefully select which consumers would see their Instagram advertisements.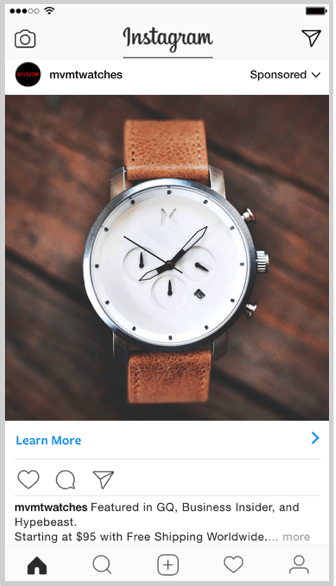 The company did this by creating a "Custom Audience" on Instagram that focused on Millennials interested in fashion and lifestyle brands. They also used this platform feature to retarget and re-engage consumers who had already visited their website or subscribed to their newsletter.
The result? A 75% increase in brand awareness and a 2x higher engagement rate than any other platform that they advertised on.
It was a major success, to say the least.
#5: Help Your Customers Feel Special
A study by Accenture showed that 73% of consumers would prefer to consult with brands that make their shopping experiences more relevant through the use of personal information.
Furthermore, 56% of brands claim that personalization contributes significantly to their content marketing success.
This is pretty much the definition of a win-win situation. Not only do your customers feel good, but your company benefits as well.
The Downside to Marketing Segmentation
Even though segmentation is awesome and can work extremely well, it isn't all positives. To find the customer segment that is the most relevant to your brand, you have to undergo a lot of trial and error.
A/B testing on your landing page certainly helps, but it could take a fair number of tests before you have enough evidence to make any solid conclusions. This will be harder for companies without sufficient web traffic; you should always keep your online traffic in mind when developing A/B tests, as you'll want to focus on the largest differentiators first, and then move your way up to the more delicate nuances.
You can determine effectiveness by analyzing how many consumers proceed to the second page of your landing page experience. Just keep in mind that it's good to double check your findings, as other outside factors could have contributed to a difference in your performance.
Segment Your Way to Business Success
Marketing segmentation divides your market into specific groups that target each with more relevant messages—and it's extremely effective in the online marketing world. Instead of concentrating on the many, you can prioritize the few. By doing so, you effectively generate a higher percentage of qualified leads, resulting in more loyal customers and—ultimately—an increase in sales.
---
Sources:
Word Stream mention:
https://www.wordstream.com/blog/ws/2010/03/08/segment-landing-pages
Convince and Convert statistic:
How to Segment Your Traffic to Increase Leads and Conversions
Search Engine People mention:
The Impact Of Segmentation On Conversions – Handy Guide For Marketers
MailChimp mention:
https://mailchimp.com/resources/research/effects-of-list-segmentation-on-email-marketing-stats/
MVMT Watches example:
https://business.instagram.com/success/mvmt/
Accenture study:
https://www.digitaltrends.com/social-media/why-consumers-are-increasingly-willing-to-trade-data-for-personalization/#ixzz2g8dgrqko
Seismic study:
https://seismic.com/company/blog/are-you-prepared-for-the-b2b-content-personalization-arms-race