Before anyone ever enters your restaurant or tastes your food, they're going to see your logo — and that image will give them an idea of what to expect. Nostalgic comfort food? Exotic flavors? Upscale classic fare?
If your logo is out of sync with the image you want to project and what you actually offer, your customers are going to be confused and probably disappointed. But if your logo is on point, it will create a memorable experience that will draw customers back again and again.
Your logo is the cornerstone of your brand. The longer you have it, the more recognizable it will be, so you don't want to have to go through a redesign and start the whole branding process again. You want to get it right from the start.
Read on to learn how.
Tip #1: Tell Your Story
This is the first and most important step in your logo design process. Think about who you are and what kind of customers you want to attract. Maybe you want to emphasize tradition and craftsmanship. Or maybe you want an image that's a bit sassy and that will attract a more hip clientele. Is your restaurant kid-friendly, or are you aiming for a chic grown-up vibe?
Let's take ice cream shops as an example. All of the following logos represent eateries that basically offer the same thing in the same price range — yet they each tell a completely different story.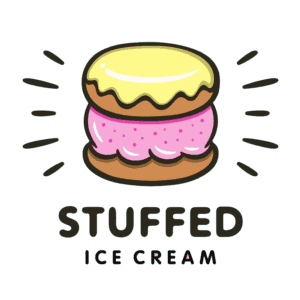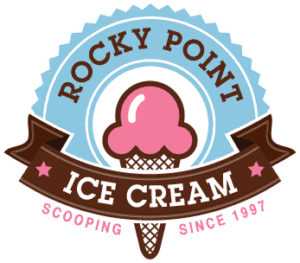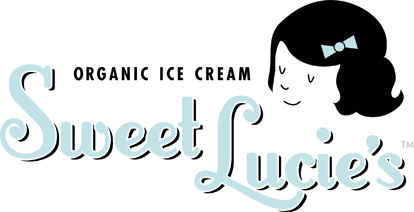 Each of these logos conveys a different concept. At the same time, they all exhibit a sweetness and playfulness that matches the product.
Now take a look at some ice cream logos that are less successful:
This logo is trying to project quality and tradition — attributes lots of people are looking for in their ice cream. The problem is that the drab colors don't match the fun and lightness achieved by the logos above. Moreover, the image of the boy is too detailed and will be difficult to replicate in different media (more on that below).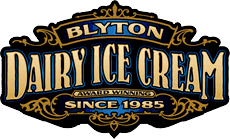 This logo has a story to tell – but it has nothing to do with ice cream. The dark gleaming blue and ornate banner design signify seriousness and trustworthiness. These are great qualities if your product is a car, but not if it's a cold summer treat.
Tip #2: Stand Out From the Crowd
One of the great things about already having a clear story in mind is that it's going to make it much easier to come up with a logo that's unique and that resonates.
An effective logo is one that isn't going to easily be confused with the competition. So take a look at the restaurants in your area that are aimed at the same clientele you want to target. If two blocks away there's an ice cream shop whose logo features a cow, you need to come up with a different concept.
Tip #3: Keep It Simple
That said, trying too hard to be different could result in an overly complicated logo.
This may seem obvious, but make sure the name of your restaurant is legible. Often people choose fancy fonts that they think have more "personality," but the result is that customers aren't even able to read the name of the restaurant, let alone remember it.
Having a memorable logo is crucial, since that's how your restaurant is going to be recognized. In order to execute a powerful branding campaign, you're going to want your logo to appear on all your marketing materials — including your menu, social media pages, and website. That means it's going to need to be scaled up and down, and it should look as good on a billboard as it does on a business card. You should also bear in mind that while lots of colors are going to grab attention, they may cost more to print.
Let's go back to the ice cream logos: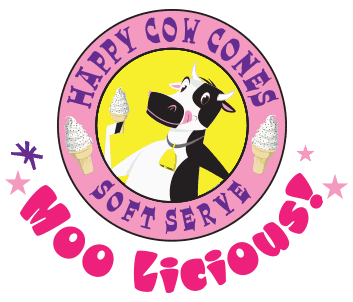 This logo exhibits the fun of eating ice cream, and shows that the restaurant is family-friendly. But there are too many competing elements: the fonts don't match; there are ice cream cones in the center picture and in the surrounding circle; and while the three shades of pink/purple could perhaps work on their own, combining them with primary yellow is a bit much.   
Tip #4: Keep Your Customer Base in Mind
While being unique is crucial, you don't want your logo to be something so extreme that it turns people off.
Take, for instance, the logo of the New Jersey ice cream shop Dairy Air, which raised controversy back in December 2017.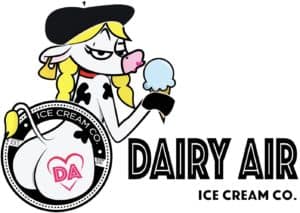 The logo is certainly unique, and definitely tells a story that's both fun and cheeky (har har). However, the owners didn't consider how their logo would alienate potential customers, especially those with children — a key target for their kind of restaurant.
As a result of the uproar, not only did the sexy cow get the boot, but the restaurant's manager resigned.
Tip #5: Be Aware of the Technical Matters
There are many technical issues you should consider when creating a logo. For instance, in order for the image to be scaled up and down, it should be designed as a vector graphic (which is made of paths) instead of a raster graphic (which is made of pixels).
When choosing your color palette, you should either use the Pantone Matching System (PMS) or the CMYK color model.
The CMYK process of printing uses only four colors (cyan, magenta, yellow and black) that are then mixed to create a more extensive palette. That's why printing with the CMYK method tends to be cheaper than PMS. However, if you decide to go this route, you have to make sure the original design uses only CMYK colors. Otherwise, the colors of your logo are not going to be consistent across different media.
The best way to maintain consistency is to use PMS, which uses 14 different colors for mixing. Also bear in mind that the colors used on screen (e.g., for your social media pages and website) are created using the RGB (red, green, blue) color model. Do not use RGB to create your logo, as converting it to PMS or CMYK for print materials could result in a dramatically different look.
Tip #6: Don't be Afraid to Ask for Help
If all these technical matters have you feeling like you're out of your depth, don't worry. You have options.
The most obvious is to hire a professional designer. However, it may be hard to find someone you see eye-to-eye with, and if they don't come up with something you like, you could be out a lot of money.
One way to get a bunch of different options and eliminate financial risk is by using a logo design service that employes crowdsourcing, like DesignCrowd.
Using DesignCrowd is really simple. You post a brief explaining what you want, set a budget, and then freelance designers from all over the world send you their designs. You can provide feedback and have them make changes, and once you settle on a logo you like, you receive all the relevant files and get copyright ownership. And if none of the submissions make the cut, your budget is refunded.
Another cool option is Tailor Brands. Tailor Brands uses AI to create a personalized logo in a matter of seconds. You just answer a series of questions, make some choices regarding aesthetic preferences, and a custom logo is instantly generated to suit your taste. Although the image selection and customization options are limited, in terms of speed and price, Tailor Brands is hard to beat.
And there are plenty of other options for the best logo design software.
Have Fun!
We've stressed how important it is to come up with a distinctive, simple logo that tells your story. Getting it right can seem daunting, but with the right design service, it can also be really fun.
This is your opportunity to express yourself, and introduce your customers to a unique culinary experience only you can provide. Enjoy it.  
---
IMAGES:
Stuffed Ice Cream: https://stuffedicecreamnyc.com
Rocky Point Ice Cream: http://rockypointicecream.com
Sweet Lucie's: http://www.ilovelucies.com/Sweet_Lucies.html
Gifford's Famous Ice Cream: https://www.giffordsicecream.com
Blyton Ice Cream: https://www.blytonicecream.co.uk
Happy Cow Cones: http://www.happycowcones.com
Dairy Air Ice Cream: https://dairy-air-ice-cream-co.business.site