9 Best Landscaping Logos
How to Hire an Expert Designer for a Cheap Price
Investing a small amount in a clever, professional designer could help your business grow in the long run. And when I say small amount, I really do mean small. We're talking as little as $5 when you search for a designer through Fiverr. Fiverr is a global online platform for freelance services (called gigs). Gigs range from logo to web design, but the one thing they all have in common is the low starting price of $5.
I found out about Fiverr when we were looking for a new logo for Website Planet. My teammate went on a mission to test a bunch of the most popular logo design services out there. The results took us all by surprise. Read all about it and check out the winning logo in his
full comparison of logo design services.
Finding a Landscaping Logo Designer on Fiverr
It's super easy to use the Fiverr website.
Go to the Fiverr homepage
 and start by typing in a relevant keyword (e.g., landscaping or landscape logo) in the search bar.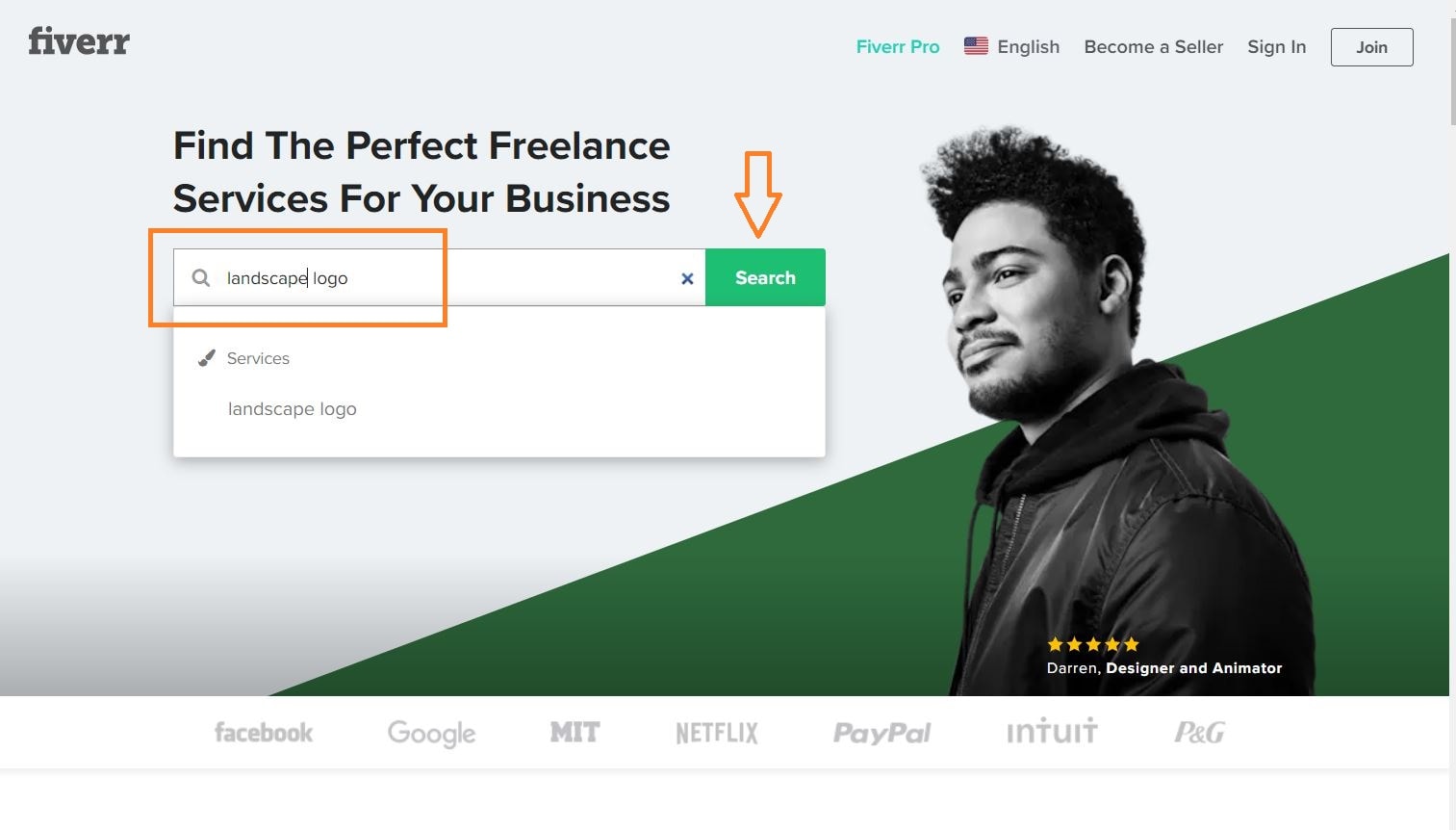 This will bring up lots of results. Expand the
Category
menu, then choose
Logo Design
.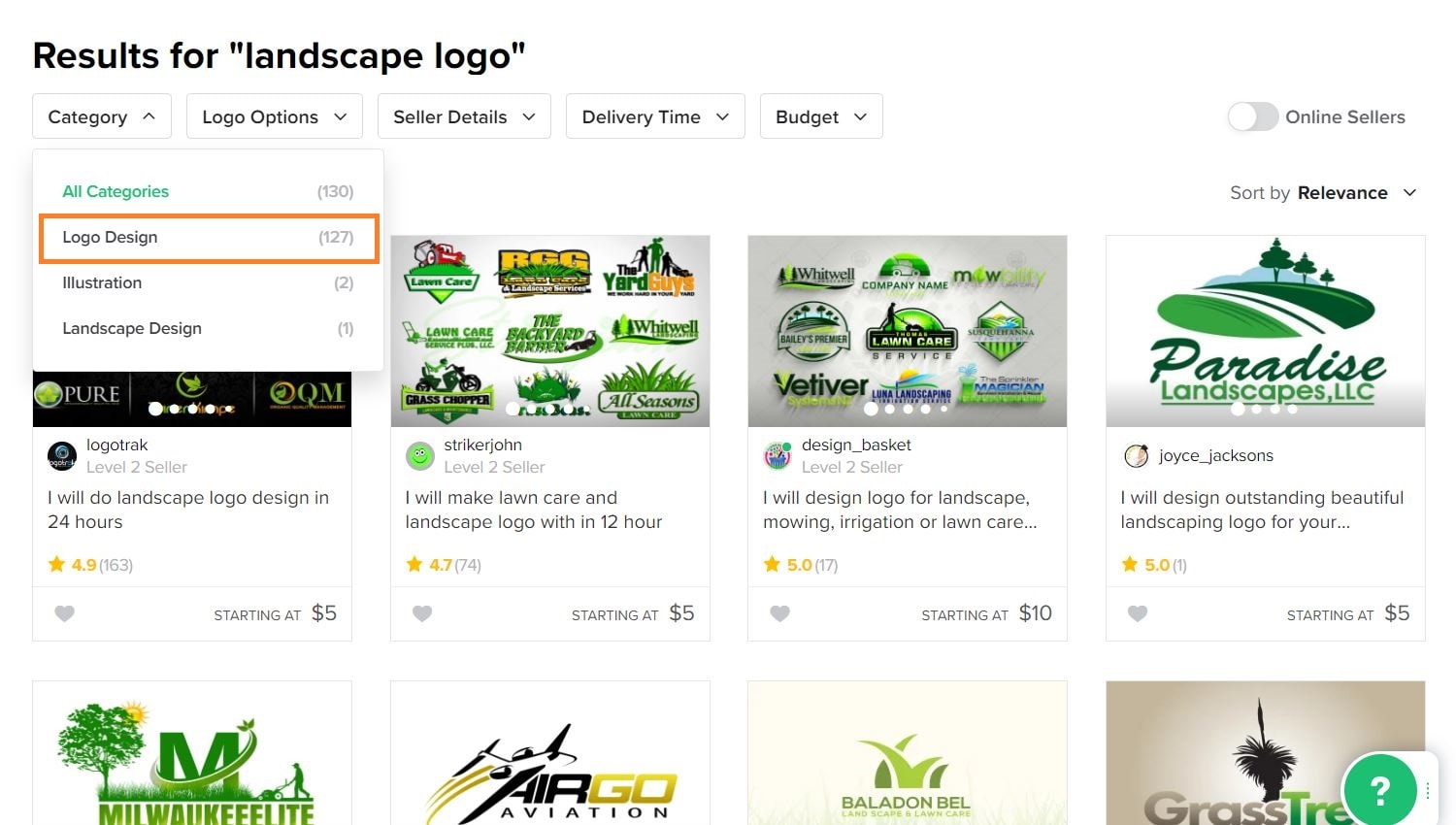 Use Fiverr's advanced search filters to further narrow your results – you can specify the style of logo, set a specific delivery time, and change your price range.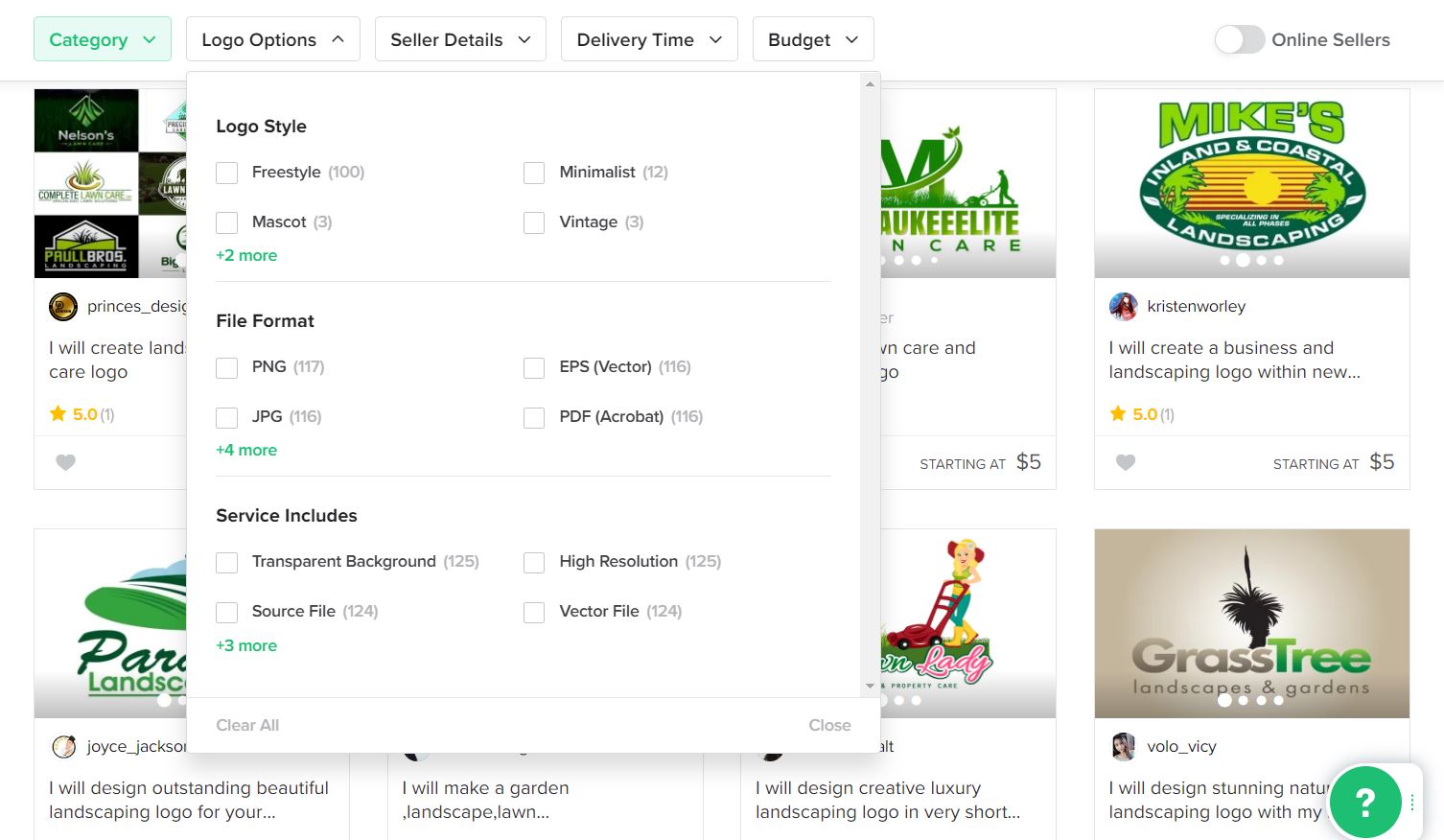 Click on any design you like the look of to expand the designer's portfolio. You'll also be able to check their ratings by other users and contact the designer directly with any queries before buying a package.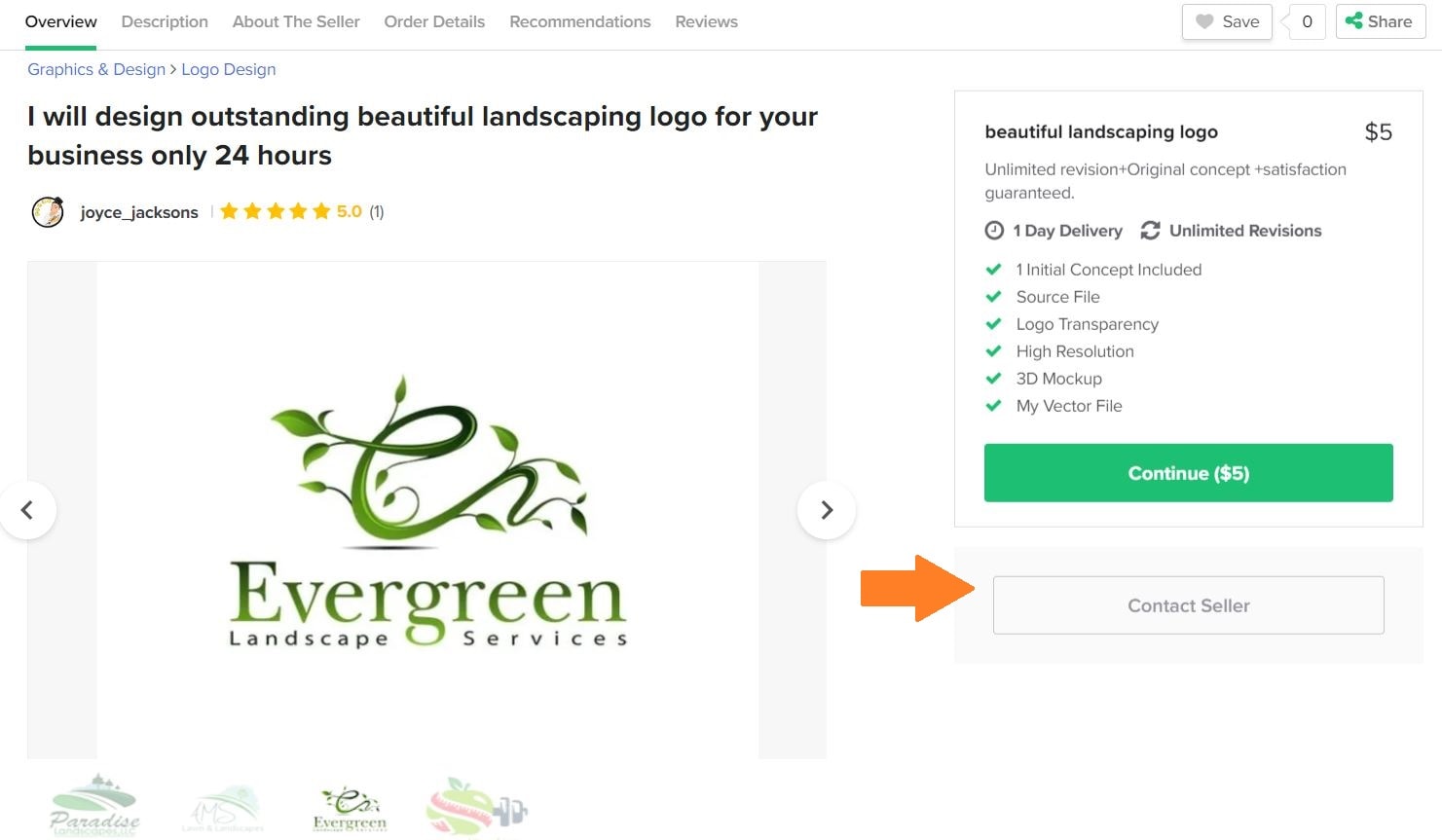 Check out what our experts say about hiring the right designer in our
in-depth Fiverr review
.
More Features from Fiverr
Customized packages – Most freelancers offer a range of fixed packages, but some designers can customize a package to fit your exact needs and budget.
Safe payments – You pay for your gigs in advance, but Fiverr holds this payment in escrow and only releases it when your project is delivered and you're happy with the result.
Express delivery – Most designers complete your logo within 72 hours, but some can finish it within 24 hours for an extra fee.
Chat with the designer – Fiverr's website and free mobile app have a built-in messaging system so you can chat with the designer before committing to the gig, and keep in touch with them throughout the whole process, too.
Making Your Own Landscaping Logo
Creating your own logo from scratch is not as cheap as you might think, especially as most free tools charge when it comes to actually downloading usable files. However, if you like to have full creative control, a logo maker is the best DIY option out there.
Wix Logo Maker
Wix Logo Maker is a low-stress tool that's excellent for beginners, thanks to its fast artificial intelligence (AI) system and customization options.
Go to the Wix Logo Maker homepage
, click
Start Now
to create a free account, then fill in the required information.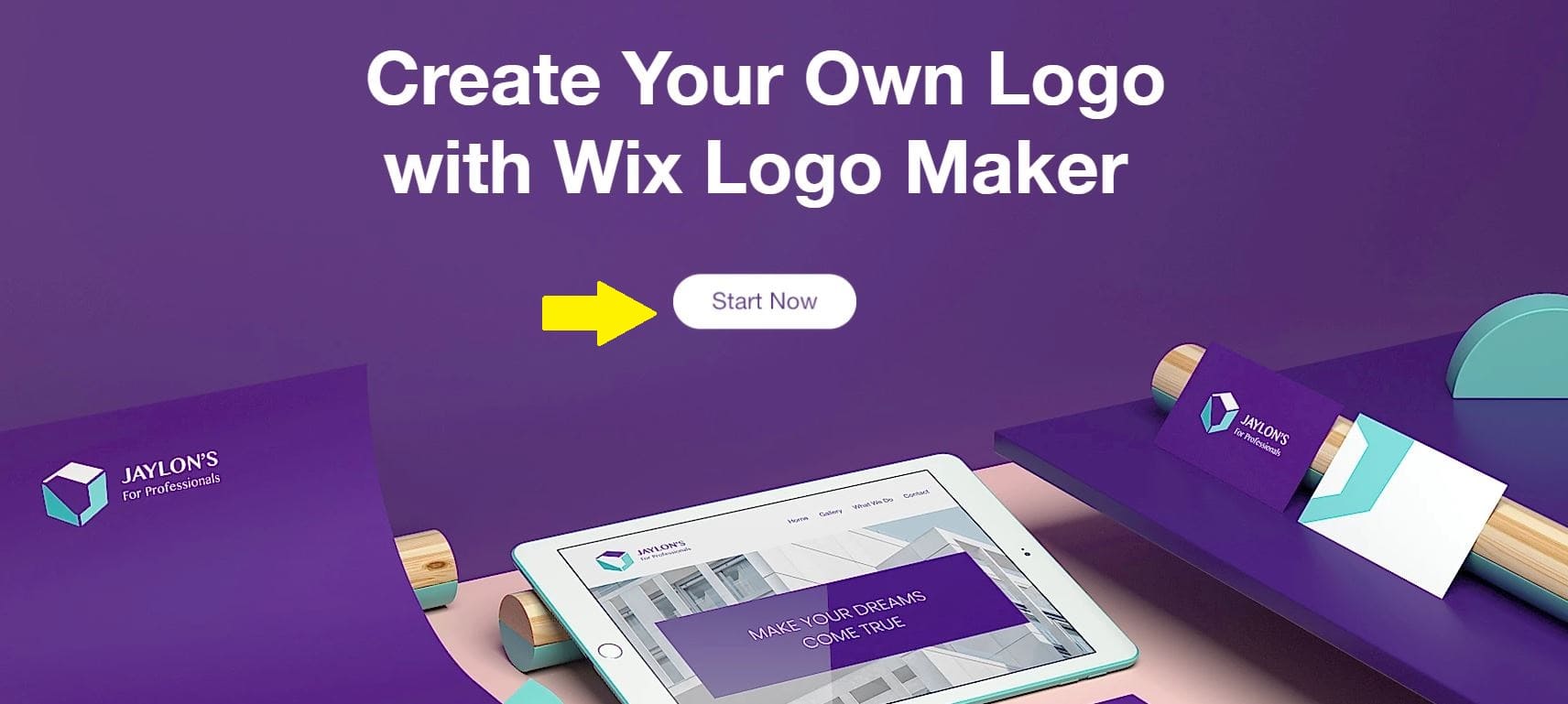 After creating an account, you'll be asked to fill in more details about your business. This is for the AI to understand your company and style choices. The first question will ask for your company name and tagline.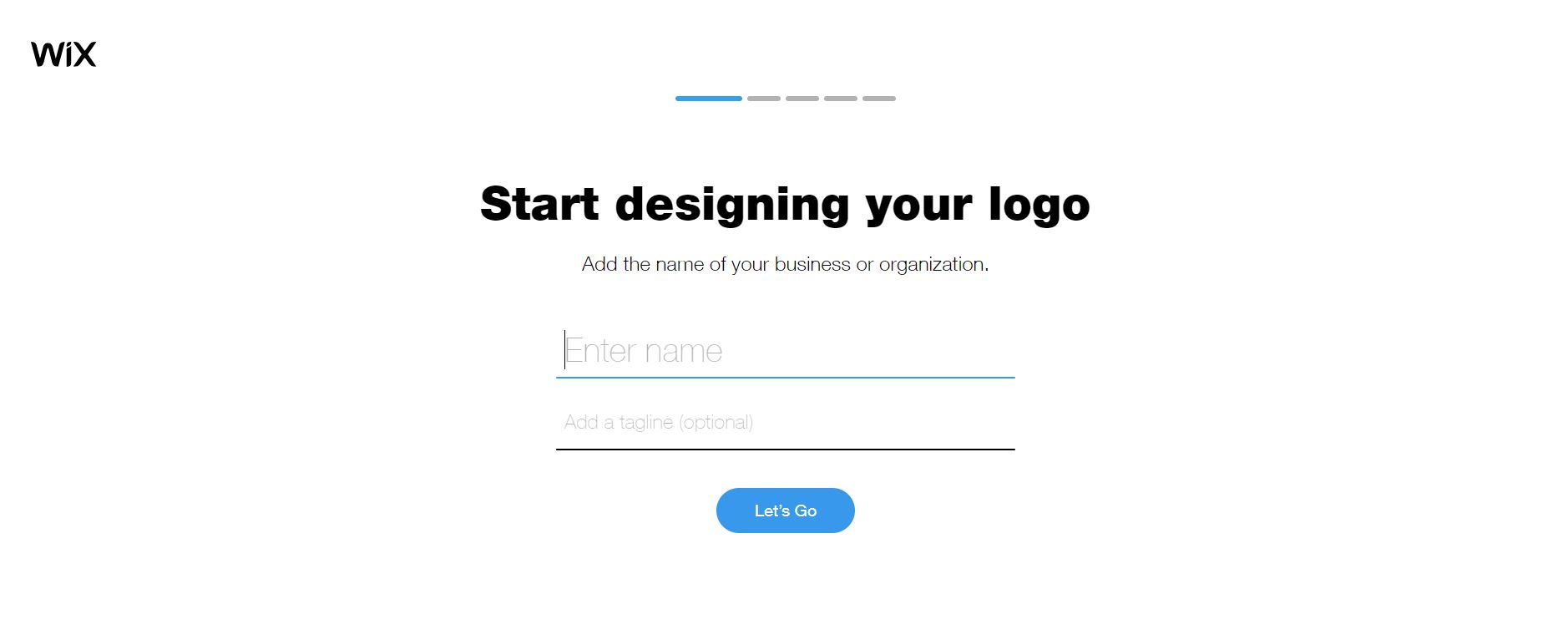 Next, the AI wizard will ask you a few questions more specifically about your preferred logo styles – it'll ask you to compare pairs of logos and to choose words that best explain the aesthetic you're after. It'll use your answers to generate a range of logo options it thinks you might like. You can improve the results by choosing a new icon yourself. Click
Replace Icon
at the top of the page, then type in a relevant keyword in the search bar (e.g., landscaping) and select the most suitable icon for your company.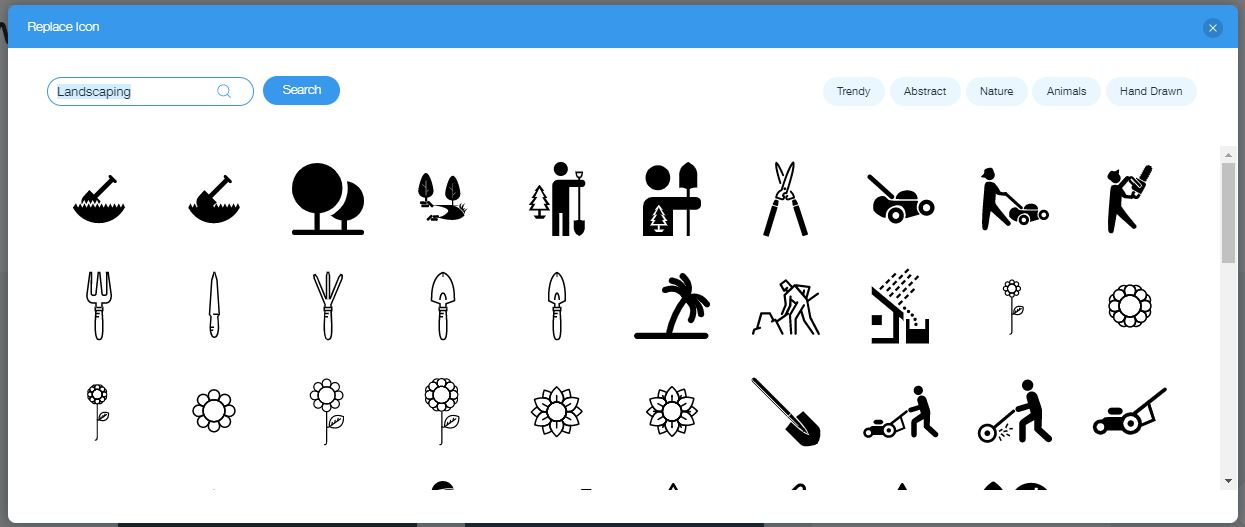 The generated logo templates will now automatically feature the new icon you've chosen. Click on the template that's closet to your dream logo to move on to the customization stage. Don't worry if you feel like a lot still needs changing. You can adjust almost everything in the logo editor, such as colors, fonts, text, icon size, borders, positioning, and more.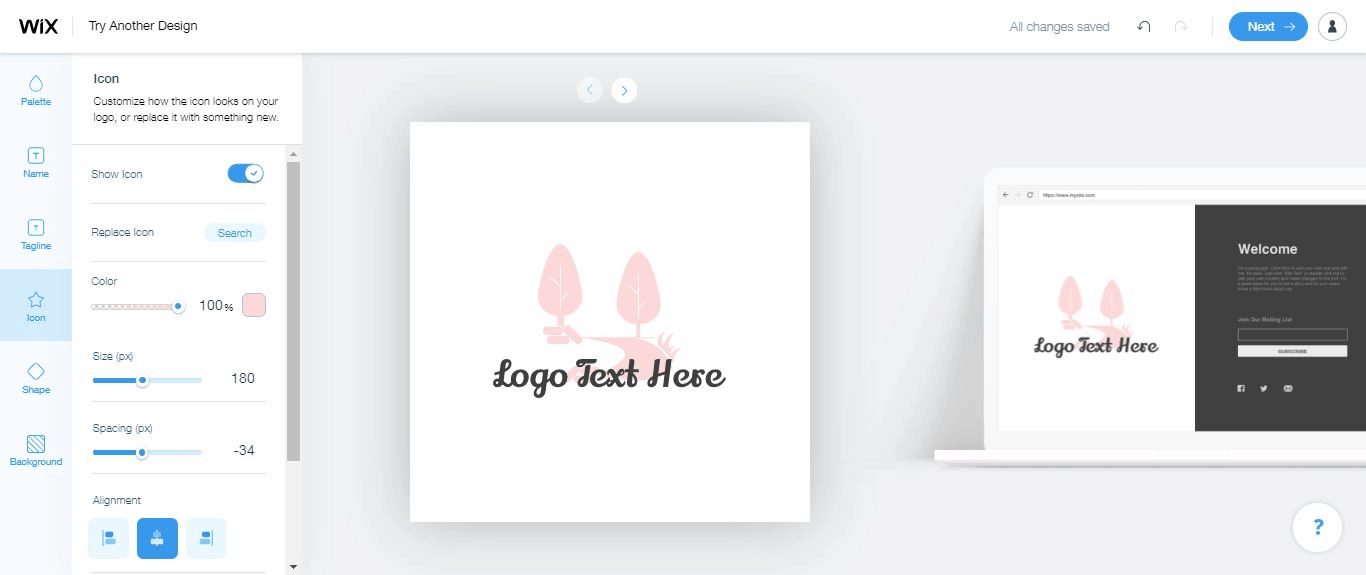 And that's it! Click
Next
at the top of the page to either make a payment to download high res files or get the free low res sample if you're not quite ready to commit. Find out more about the platform, including more logo examples, in
our full Wix Logo Maker review
.
Wix Logo Maker Alternatives
Looka – Indecisive? No problem! For the first 72 hours after buying your logo with Looka, you can go back and make an unlimited number of edits and revisions to your logo for free. Learn more in our in-depth Looka review .
Tailor Brands – Appeal to customers year-round with Tailor Brands seasonal logo generator, so you can add a special touch for occasions such as Christmas or Halloween. Find out if this platform is right for you in our expert Tailor Brands review.
Nurture a Beautiful Logo – My Final Thoughts
When it comes to designing an attractive logo, the landscaping industry is fertile ground for visually appealing imagery – lush greens colors, intricate foliage, and bold trees and plants could all be part of the ideal design for you. A creative expert can lift your design to the next level, and all for just $5 if you find them through
Fiverr
. If you're a budding designer yourself or a first-timer with an artistic streak,
Wix Logo Maker
 is my top choice to help you make a good quality landscaping logo in just a few minutes. Before you put those green fingers to work, do your research – check what your competitors are up to and get inspired by some of the
best nature and outdoor logos
around. Want to explore even more ways to create your dream logo? Don't miss our list of the
best logo design services
.