Being a freelancer can seem like a dream come true. You set your own schedule, dress as you please, and can work from anywhere you want.
But life isn't always perfect.
If you're a freelancer, you know how difficult it can be to stay motivated. All that freedom can lead to procrastination, poor working habits, and an inability to maintain a healthy schedule. This can leave you asking yourself, "Is this lifestyle even right for me?"
I know that I had to face all these issues when starting out. I'd sit in bed in my pajamas with my laptop, ready to work, then spend the next three hours scrolling through my Facebook feed. I lacked motivation, struggled to find clients, and when I had them, I struggled to stay on task.
Although, with time, practice, and experience, I recognized some poor habits I had to do away with, and some good habits I had to adopt.
So, whether you can't seem to stay motivated enough to locate clients, or you're having trouble staying on task with the ones you do have, the following tips will not only improve your productivity, but your revenue stream as well.
Remember that Patience and Dedication Pay Off
When I started out as a freelancer, I was writing clickbait articles for a sketchy client and getting paid $0.01 per word to do it.
A lot of people would get discouraged at this point, or hand in shoddy work due to the low pay.
If you're getting annoying work with low pay, don't get discouraged and let it hurt your motivation! Remind yourself that you're getting paid to learn, to build your portfolio, and to make a name for yourself in the freelance world.
This doesn't happen overnight, and if you do shoddy work, you won't have good examples to show future clients.
So, regardless of your area of expertise, whether you're a graphic designer, content creator, editor, or developer, don't give up, put in the work, and in time it will pay off.
Keep a Regular Schedule
Just because you get to choose your own hours doesn't mean you shouldn't be keeping a schedule.
As a freelancer, it's important to wake up, shower, get dressed, and start working at a regular time each day, just like with a "regular" job. Doing this has definitely helped me take my work more seriously and stay on task.
While working in your pajamas from your comfy bed may sound appealing, it's not helpful when it comes to staying motivated.
On top of this, studies have shown that people who wake up early are more proactive, so try and make a habit of getting up at a reasonable hour each day. Personally, I try to make sure that I'm out of bed by 8:00am, and ready to work by 9:30am. Establishing this habit has helped immensely with increasing my productivity.
Be disciplined and "get to work" on time each day. This will help you stay motivated and treat your freelancing career exactly like what it is–a career.
Plan Out Your Days
If you want to stay motivated and complete your daily tasks, planning out each day's activities is important.
I personally prefer to do this using pen and paper (something I've adapted from my days as a university student), because, for me, few things offer more satisfaction than crossing off a task in my daily planner.
If that seems a bit too old school for you, there are some great apps and websites you can use to list your daily activities. I like to use Evernote from time to time, but really, any word processor will do.
Try to create a realistic schedule that you can complete each day. Putting too much on your plate and leaving tasks unfinished can lead to unnecessary stress and guilt – but finishing everything you set out to do in a day is great for confidence and motivation.
It may take some time to figure out how much you can fit into a regular workday, but once you have this established, it can help quite a bit.
You may also want to try setting weekly and monthly goals for yourself, as this too can help you stay focused and give each workweek a sense of purpose.
Try to Get Out of the House
Being able to work from home is great. That is, until you start flipping on the news for quick updates, checking your fridge for snacks, taking your dog for a walk, or performing household chores when you should be working. When you're at home, you're surrounded by unnecessary distractions that traditional employees don't have to deal with. This can lead to motivational and even emotional problems.
For me, working at home tended to make me lazier, drain my motivation, and lead to less productive work days where it would take me ten hours to get four hours of actual work done (this is something I didn't realize until I started tracking my time, something we'll touch on later).
Therefore, finding a suitable place to be your "office" can do wonders for your motivation. As previously mentioned, try and arrive at the same time each day, and treat it as a regular job.
This will help to establish a difference between your "work life" and your "home life," helping to keep you productive.
Working from home has also been shown to lead to mental health issues, such as increased anxiety and stress, and a decreased sense of self-worth. It has also been correlated with increased levels of depression and isolation.
So, if you can, try and make your office somewhere outside of your home.
When Getting Out of the House Isn't an Option
Maybe you live in a remote area, or just lack good options for places to work in your town. Here are some tricks to staying motivated even when you're stuck working from home:
Set a designated workspace in your home. Be it your kitchen table or a home office, this can help minimize some of the negative aspects associated with working from home.
Don't work in your bedroom. According to the Division of Sleep Medicine at Harvard, working from your bedroom can cause your brain to associate this space as a place of work. This can lead to difficulties falling asleep, and when you're tired, your motivation will be one of the first things to suffer.
Maintain a social life. To prevent a sense of isolation, don't forget to hang out with your friends on a regular basis.
Minimize distractions. If you feel like having a snack or a cup of coffee, finish the task at hand first. Reward yourself with these treats during a designated break.
Use Productivity Apps
Productivity apps can work wonders for your motivation. Apps like Asana and Trello allow you to set tasks, organize your thoughts, and give yourself deadlines for completing them.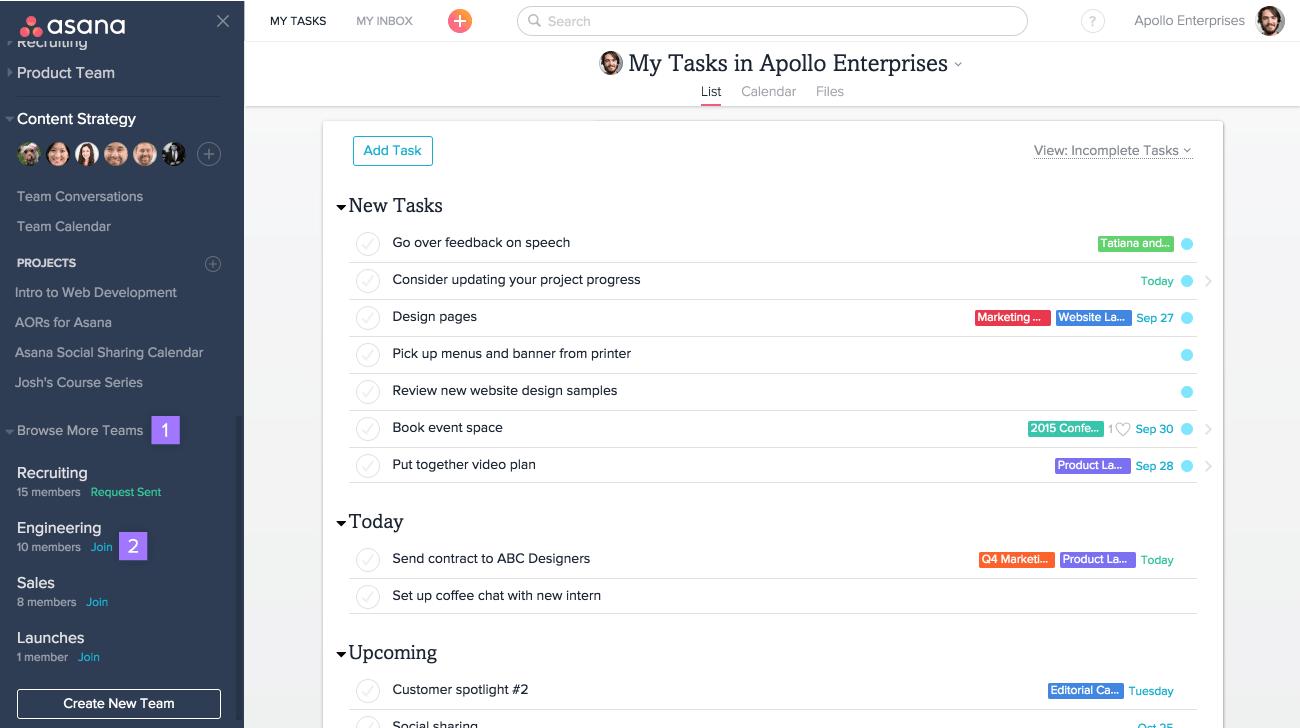 Break up each task you need to complete into smaller tasks, and set a realistic deadline for each one. Most apps will send you an email when the deadline approaches. These stress-inducing reminders are sure to keep you working.
While stress isn't necessarily healthy, it's also a great motivator. If you're anything like me, you'll do everything in your power to avoid these emails.
Take Advantage of Social Media
Social media can be more than a time-guzzling distraction. It can also be a great resource to keep you on task, offering communities where you can seek advice and exciting ways to find new clients.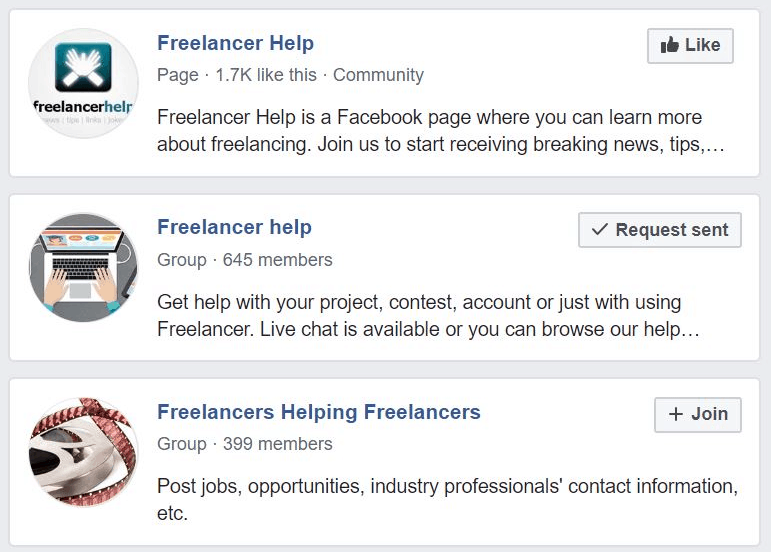 Remember that whatever motivational problems you're experiencing, there are others who have gone through the exact same thing. Use social media as a resource to find these people, talk it over, and see what they did to overcome their problems. You'll find that many freelancers are more than willing to offer up helpful advice based upon their own experiences.
Talking with others will help you get outside of your head a bit. This will not only motivate you, but also reduce your feelings of isolation by learning how others overcame the same hurdles you're experiencing.
Track Your Time
My productivity increased immensely once I began tracking my time each day, and it will help you too – trust me on this one. Whether you're tracking the time you spend working on existing projects or looking for new clients, it can be a huge motivation boost.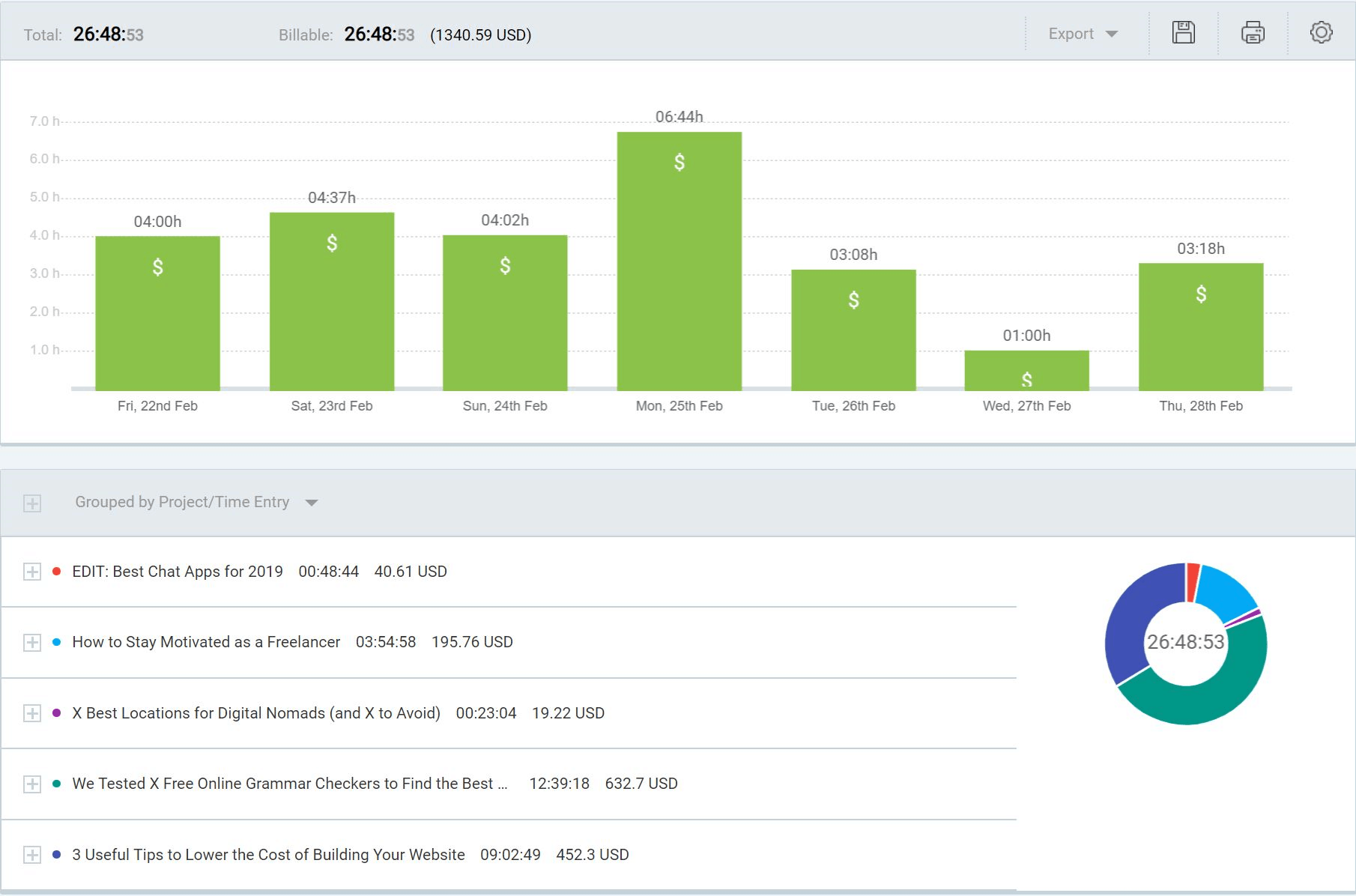 For me, I always thought I was spending way too much time looking for new clients, but once I actually started tracking my time, I realized it wasn't really all that much. It was my aversion to doing this unpaid work that made it seem so time-consuming.
Once I actually started tracking my time, I realized that each new client only took an hour or two to find.
So, try a free app like Clockify, use a stopwatch, or just watch the clock – just make sure you know exactly how you're spending your time.
Also, when setting your daily schedule and creating your lists, allocate specific amounts of time for each task and for looking for new clients. Track your time while you work, and, most importantly, stick to it.
Even if you're being paid by the task rather than by the hour, it's still important to know just how long things are taking you so you can get an idea of what your pay rate is. This can help you set performance goals, and motivate you to improve upon them.
Take Care of Yourself
While often overlooked by many freelancers, this is probably one of the best pieces of advice I can offer you.
Don't forget to take time to care for your own well-being. Being your own boss can be stressful, and making time for yourself can be difficult. However, neglecting to do so can be awful for your motivation as well as your emotional health.
Take the time to keep yourself healthy. Here are some great ways to do that:
Eat healthy meals
Don't consume too much caffeine and sugar
Take some time to meditate each day
Exercise regularly
Enjoy social activities with family and friends
It's easy to lose sight of your personal well-being when all your time is focused on freelance activities, but neglecting yourself can hurt you both physically and emotionally. It can leave you feeling exhausted and drained, which can really damage your motivation and productivity.
So, while the freelance lifestyle is a dream come true for many, it can also be an emotional roller coaster ride. Following the above advice might be the best thing you can do for yourself to ensure a happy, healthy, and most of all, productive journey down this exciting career path.