While some people or companies hire professionals to track competitors and assess the competitive landscape on a regular basis, others completely overlook the importance of knowing what else is out there.
Indeed, competitor research is a bit too important to be overlooked. However, is it really necessary to spend big bucks and outsource this entire process? The answer is, obviously, no.
These days, you alone can complete competitive research thanks to the wealth of data that can be assembled using the Internet. All you need is a list of categories to keep your eye on, and a spreadsheet.
Setting up the framework
The first step in gathering all that information is setting a framework for your competitive assessment using what we call a swipe file. A swipe file is a spreadsheet used to collect various marketing data, keyword ideas, copywriting headlines and so on.
In our case, we will use the swipe file to gather data from our research and draw ideas and trends from that resource. You can create a swipe file by opening up a new spreadsheet and titling each column as described in the table and list below.
Here is a pre-made spreadsheet for your convenience, note that it's a public file so it's best to copy the fields into your own private swipe file.
Breaking down the swipe file
We decided to dedicate a swipe file to satisfy our competitor research needs. But how do we use this swipe file? Where do we get all the information we need, and how do we fill it in? Let's break down each column in the table to find our answers.
Naturally, we would start with the company name, which is pretty straightforward. Try to keep track of their domain name as well. Keeping the domain names written in the file might help you brainstorm to come up with your own original address.
Our next step, would be to figure out how much traffic their website gets. There are many tools like Compete or Quantcast, to mention a few, that can help you gather data with easy to read and even free reports.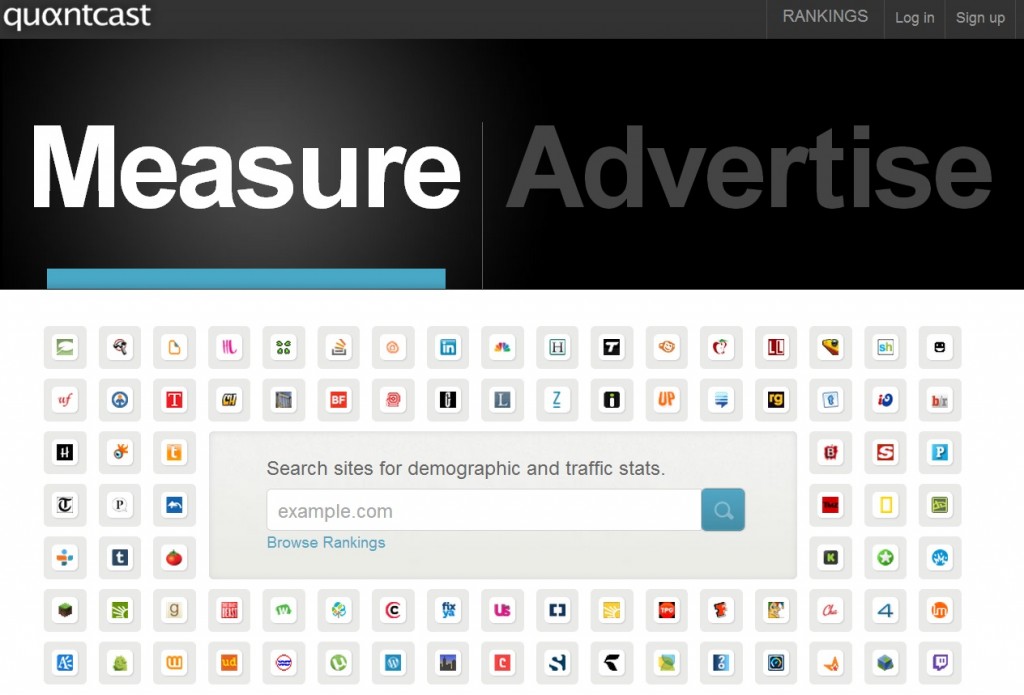 Knowing what amount of traffic a certain website gets will help you know what to look for. If their traffic is high, look for what they're doing right. And if it's low, it will be best to avoid their mistakes.
Now, while we are on our competitor's website, it's best if we note all  different products they have and their prices. This kind of information is valuable to us since now we can compare what they are offering to our product range.
The next thing we want to look out for are the content categories of their website. Content categories are basically whatever you can find on a website's top menu. In this column you should note down what sections your competitor website has. This will help you make decisions regarding what to put in your own website.
The strengths and weaknesses columns are where you write in a few short bullets your opinions on what the competitor is good at and where they fall short. With the overview of data collected from several competitors, you could analyze what areas you site could excel at.
Noting down your competitors targeted keywords is a must. In the next chapter we will discuss keyword research more extensively. However, Knowing what main keywords a competitor targets will help you come up with ideas for your own keywords.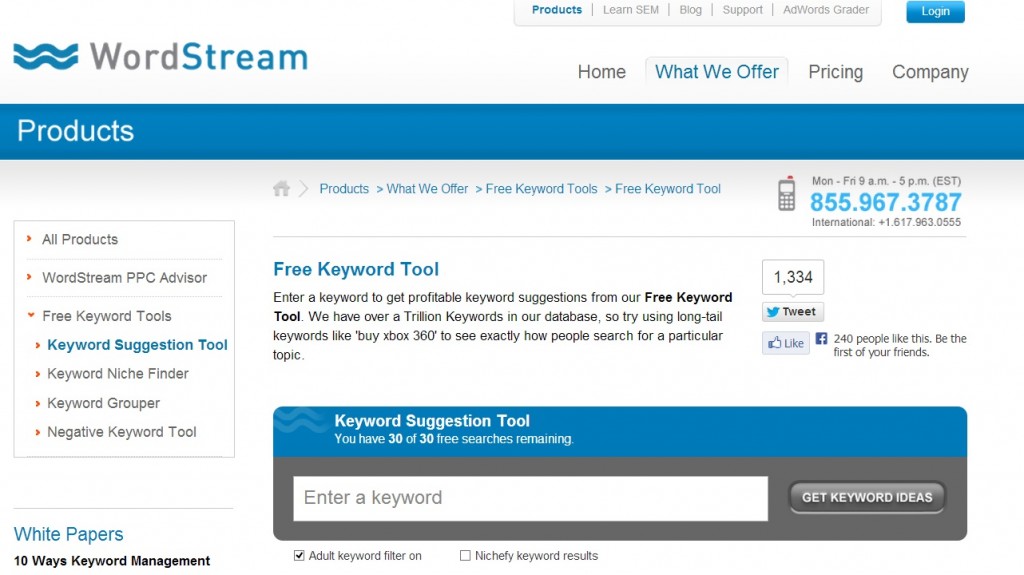 It is important to know that a lot of keyword analysis tools are available out there. From the free Google Keyword tool, to services like Wordstream and SpyFu which offer detailed keyword analysis and reports (free and paid).
The last pivotal part of our swipe file is analyzing a website's target audience. Using quantcast for this task is as easy as a piece of demographic pie.
An easy to read report simplifies all the statistics down, so can just easily note whether your target audience are women or men, their age group, and even where they come from. This invaluable information will help you adapt your website to catch the eye of your specific client base.
As you work through your swipe file you might find some other aspects of your competition that will be useful to track. While using these eight key factors is a great starting point, feel free to add your own categories you think are worth tracking.
There's no Business like Pet Business
Now it's time to put all this knowledge to the test. Let's say we have a great idea for a website that puts together pet owners to be with their future pets. With this in mind we decided to conduct a market research before going into the pet business.
By searching google with the keyword "find a pet" we have stumbled across the top website in this niche: "petfinder.com". At this point you can already fill the name column in your swipe file, and begin researching this website.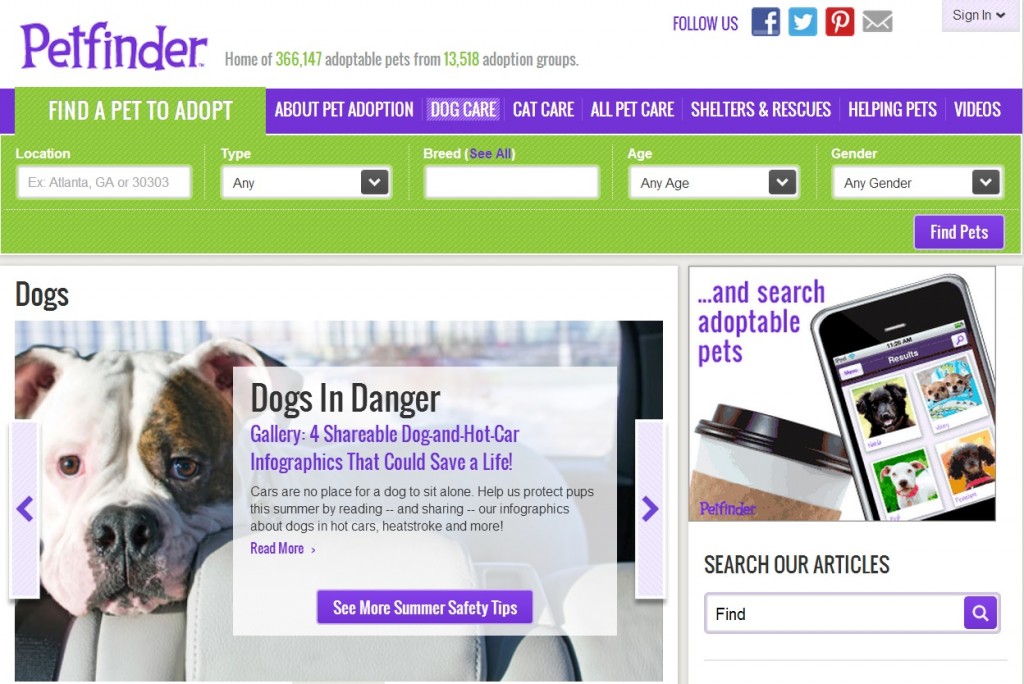 In order to get traffic data, we will use quantcast.com in this example. Nevertheless, it is important to stress that there are many more web analytics tools out there, and you should find the one that is right for you in terms of budget and comfort.
At Quantcast, we fill in the website's name in the search field and presto, a detailed report is available to us. According to this report, we have several ways to present Petfinder's traffic according to daily, weekly or monthly average. For our needs, we will write down the monthly average, which is approximately 3 million per month (nice!).
There are several ways to analyse a website's traffic: by unique people visiting the page, by number of visits or by page visits. It is important to remember that if you start analyzing data in a certain way, try to stick to it as much as you can, this will make it much easier for you to compare between competitors and their stats.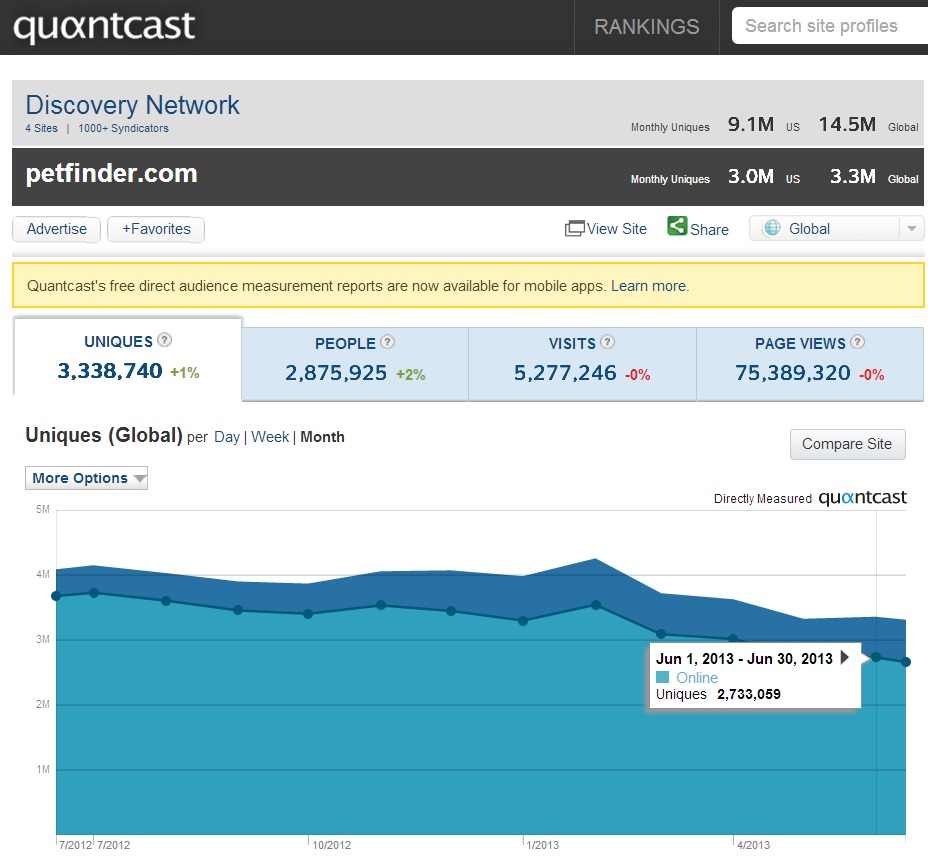 Back to our search results, it's time to snoop on the competition from up close.  When we click on Petfinder's site there are several things we should keep our eye on, and the first of them is their products.
Now this is where you might think our analogy come across a couple of snags. After all Petfinder is a charitable organization and they don't have products. This is definitely not the case. Even if something is free, it doesn't mean it's not a product.
What Petfinder are offering is a service that allows soon to be pet owners to find their pets by connecting them with adoption groups and animal shelters. What we want to offer is pretty much similar, regardless of the business model we decide to take.
Also, since Petfinder is a major player in this landscape. We cannot simply ignore them. Knowing how they work, who they belong to and how they manage to keep up their website is very much our business. That is why we will note their main product in our swipe file and it's price will be, of course, free.
The next thing we should notice on their site are their content categories. Just by looking at their main, most accessible menu, we could get an idea as to what content they are publishing.
In this case, we can clearly see that most of the content here is made up of articles or blog posts about various pet care and adoption topics. There are also some videos and, most importantly, a database search function which enables visitors to find their perfect pet. We write all this down in our swipe file and move on.
Finding the strengths and weaknesses of a website is never easy. Especially if this is your first stop on the road. It also really depends on what kind of audience we're gunning for and the market niche we're trying to squeeze in to.
However, there is at least one strength that we can find on Petfinder. For instance, the major strength here is the plentitude of content on issues that matter. Content has a very important role in drawing in visitors to your website and it seems like the people in Petfinder know it.
As we go along with this book and understand more about the various aspects of a good website, It will be much easier to spot strengths and weaknesses for our competitor research.
Moving on in our swipe file we get to the keywords column. In this case, We should first note the major keyword we found this site with: "Find a pet". Basically, any keyword that leads us to Petfinder as one of the first results in google, is a keyword that they are targeting.
In the next chapter we will learn how to use Google's Keyword tool in order to deepen our research into keywords, and who targets them the most.
The final step in listing Petfinder in our swipe file is determining their target audience. For that information, we will need to go back to Quantcast. In Quantcast's report, we can easily see that there is a demographic section waiting to be utilized by us.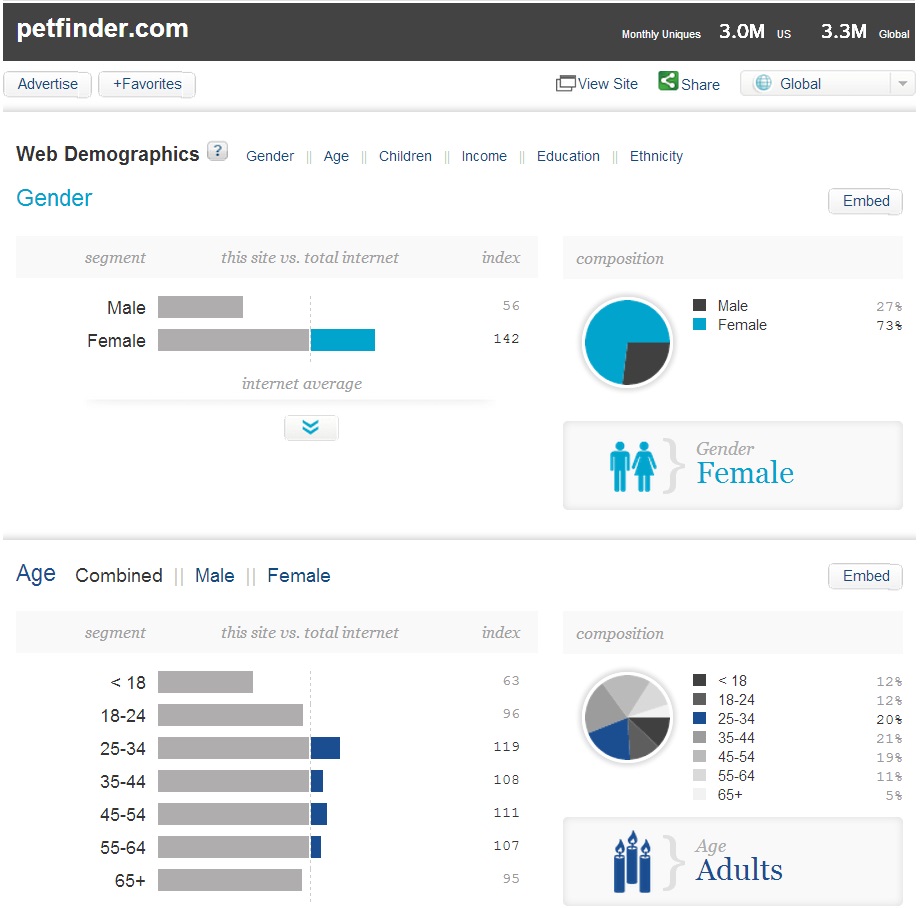 This clear and easy to understand report, points out that the major demographic sections Petfinder relies on are People with low income, Caucasians, Adults, Females, College Educated and People who have no Kids.
Various tools can give you various insights as to what the target audience for a certain website is. And mentioning this in your swipe file will help you understand who you are building your own site for.
Once we have completed our first iteration of data collection, it's time to move on to the next website on our list and start the whole process again. Once our data collection phase is over, we can start analyzing our swipe file and getting to work on beating our Pet finding competitors all the way to the top.