HostGator is a leading hosting provider with millions of domains hosted. It's easy to see why: the plans are feature-packed with high resource allocations. You'll need to sign up for longer terms to get the best prices and you'll need to beware of upsells, but overall, the plans are pretty solid.
If you've decided to try HostGator, this article will take you step-by-step through the simple account creation process. If you'd like to learn more, I'd recommend reading my in-depth review.
How to Create a New Account with HostGator
The first step when you are purchasing a plan with HostGator is to choose your package. The plans are called Hatchling, Baby, and Business. They all come with unmetered bandwidth, while the disk space is 100 GB, unmetered, or unlimited.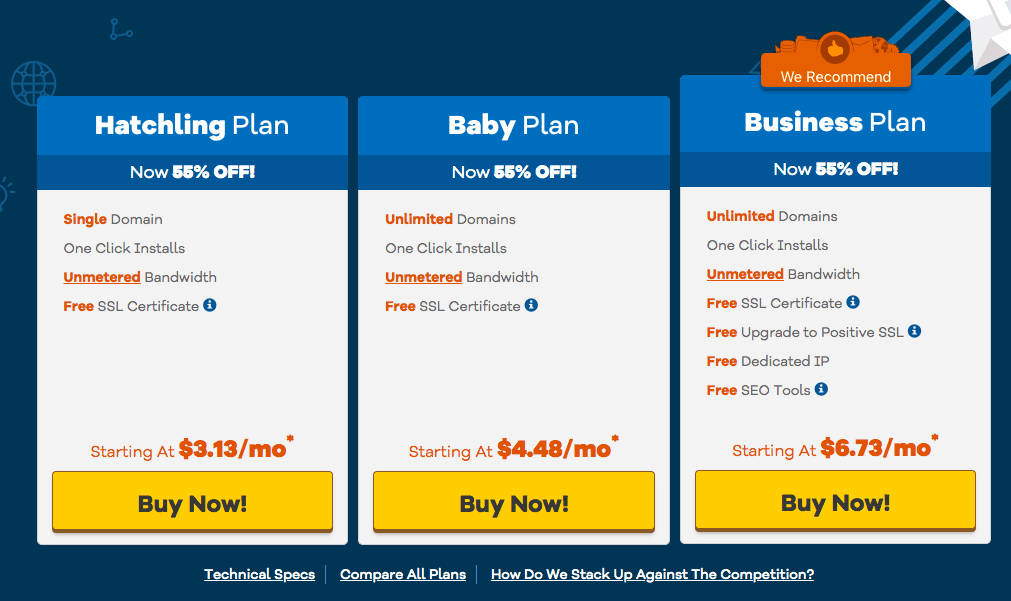 I opted for the Hatchling plan, as one domain was fine for my requirements. If you need more than that, the other two plans come with unlimited domains.
The next step is to choose a domain. You can either register a new one or use one that you already own. As you don't get a free domain name with any of the plans, I chose to use one of my own and update the nameservers to HostGator.

You can either get an expensive monthly plan or get a long-term discount by purchasing a term of one year or more. I selected the higher-priced short term contract, as I wasn't ready to commit to a multi-year plan.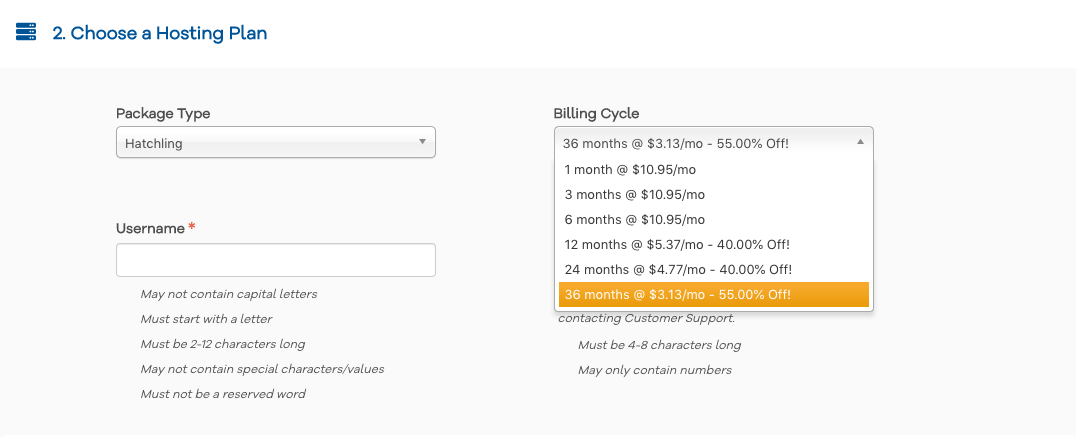 The next stage is simple and straightforward. You need to enter your personal and billing information.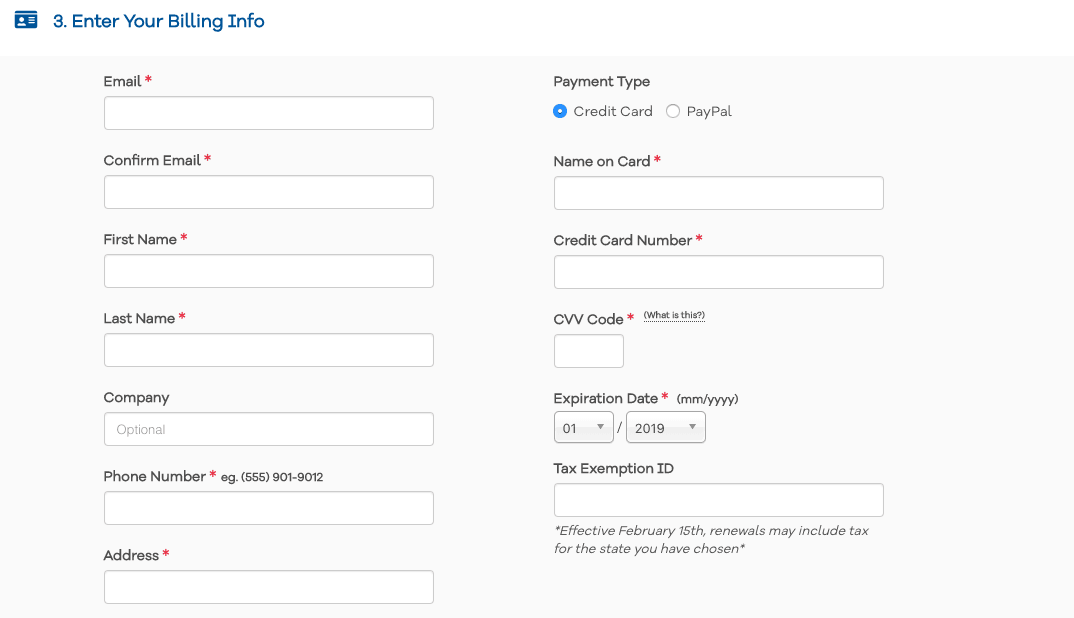 If you're not careful, you might get caught out on the next step. It's not unusual to be presented with a list of add-ons, but here, the way it's presented is quite misleading. SiteLock Monitoring and Site Backup are both checked by default, so you need to manually uncheck them if you want to avoid paying extra.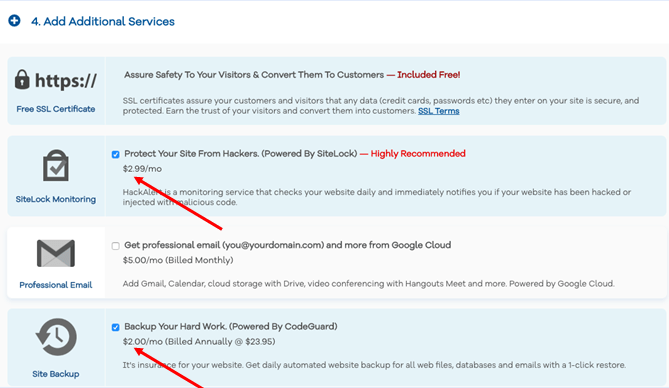 All plans come with a free Let's Encrypt SSL certificate, but beware: backups are an added monthly cost (a huge gripe of mine).
If you like freebies (who doesn't?), you'll be glad to know that all the plans come with $100 Google and Bing Ads credit. This is excellent if you're just getting started with online advertising.
Once you've completed the simple signup page, you can review your order. If you hadn't spotted the added extras in the last step, hopefully, you'll notice them here before checking out.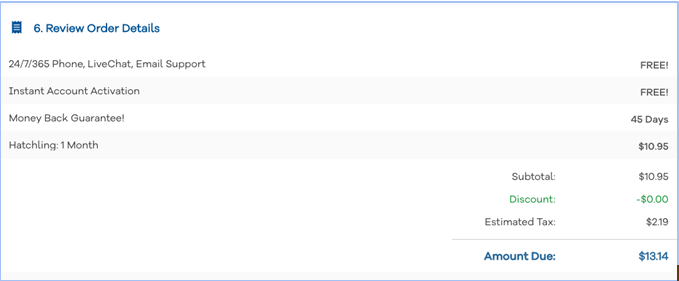 That's it! Once you've confirmed your order, sit back, relax, and wait (…and wait) for your account to be set up. I was surprised at how long it took for my account to be built. It was far longer than other hosts I've used.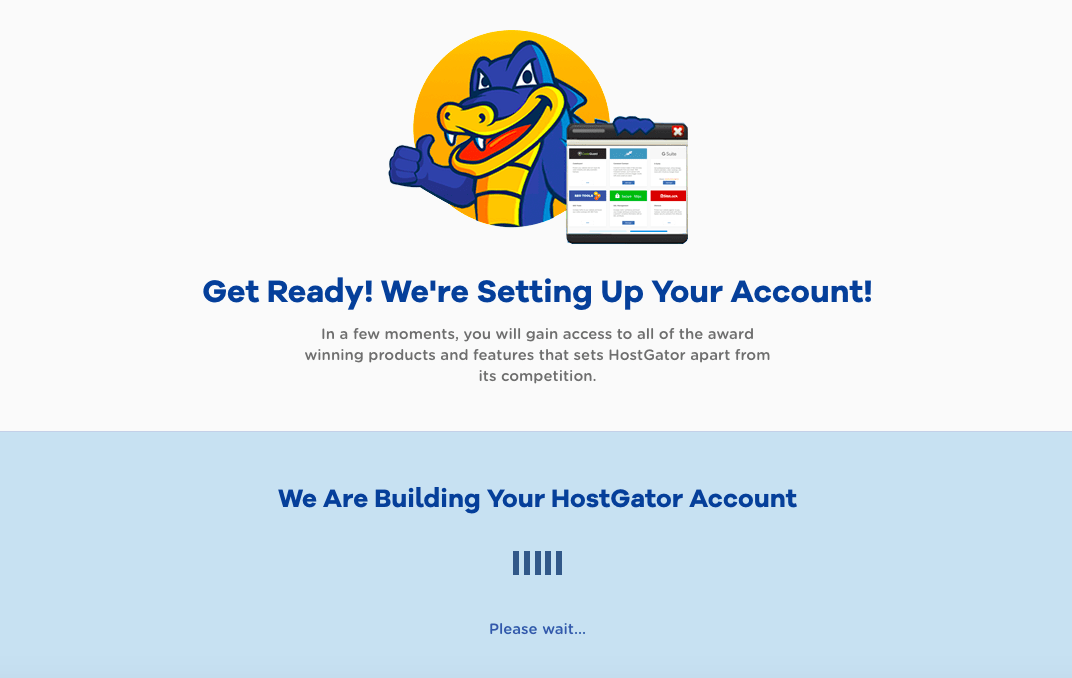 Once it's complete, you can access the dashboard, after completing a customer survey. This is a minor pain, especially after having waited a few minutes to get in, but you can skip it.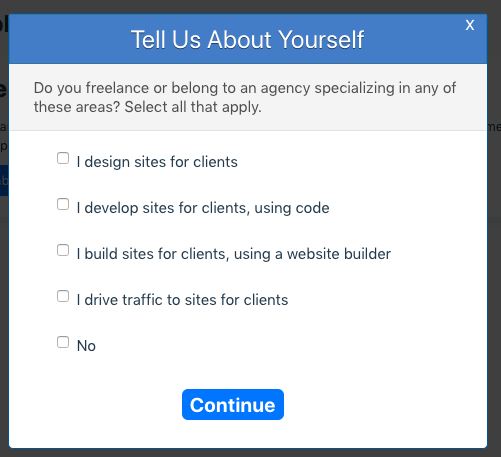 Finally, I was able to enter my dashboard and start using it.
Overall, the process was smooth, apart from the slight delay while waiting for the account to be prepared. But unlike other companies, it was all handled on one screen, without the need to open my email and log in via a welcome email.
Smooth, but Slow
Overall, I was happy with the signup experience. It took less than ten minutes in total, and it could definitely be done by a beginner. My major gripe was the add-ons being checked by default, but as long as you review your order, you should be fine.
If you're looking for a host who is quicker to sign up for, try SiteGround. If you need backups included, consider Bluehost. Or maybe, you like the beginner-friendly sign-up process and would like to learn more about HostGator. If so, I'd recommend reading my in-depth review.