some talk about whether it could actually do more harm than good
. According to HubSpot, more than half
(55%) of digital marketers claim that blog post creation is their top priority when it comes to inbound marketing
, as it doesn't just drive clicks, but can also increase sales. Read on to determine whether or not guest posting should be a top focus when it comes to your content development.
How Guest Posting Can Be Good for Business
There are several ways that guest posting can be a serious boost for business.
It Improves Your SEO Score: If Google's algorithm notices your website link on high-authority websites, it's naturally going to assume that your website is also super credible. A multitude of valuable backlinks to your website dispersed across the internet increases your Domain Authority (DA) and gives you what's called "link juice," which can boost your ranking on Search Engine Results Pages (SERP).
It Demonstrates Your Expertise: Sure, a backlink to your website is important, but if that's your sole aim then guest posting won't help you in the long run; rather, the primary objective should be to educate and provide value to a relevant audience. After all, there's no point in contributing a high-quality blog post to a low-quality or irrelevant website.
It Creates a Buzz: If you're a new business, guest posting can help get the word out about your products and services, especially if you propose interesting content to well-known bloggers, influencers, and publications in your industry. It's all about networking to achieve optimum word of mouth, which can then have a positive effect on your business by naturally growing your audience and reputation over time.
Ultimately, if you can drive further traffic to your website through guest posting on highly-regarded, high-traffic websites, you increase the likelihood of converting more readers into customers.
How Guest Posting Can Be Bad for Business
Not all guest posting opportunities are created equal; sometimes, they can actually do more harm than good.
No Editorial Control: Even if you deliver the best possible blog post with a high-quality backlink, there's nothing stopping the website owner from removing or changing your content in the future without your consent. Similarly, the owner might decide to stuff your content with keywords, which Google doesn't favor.
Waste of Time and Effort: Developing high-quality content takes considerable time and energy. By developing guest posts, you are taking away resources that could be spent toward strengthening your own web content. And a backlink that directs traffic to a site that can't sustain interest is hardly worth the trouble.
It Can Look Spammy: If you are going to guest post, then it needs to be done well, or you should forego it entirely. Content that is too short, unoriginal, or poorly written will not be well received by potential audiences, may be flagged by search engines, and could negatively impact your reputation in the long run.
Finding a Blog to Guest Post On
If you do decide to guest post for your business, you need to make sure that you're not trying to abuse the system and that you always follow Google's Webmaster Guidelines. Beyond that, the process of
finding a blog to collaborate with is relatively straightforward
. You have a few different options:
Come up with a good list of reputable thought leader sites in your industry and do a search for the name of the website plus "submit a post" or "guest post by;" this will help you determine whether or not the website is open to user submissions
Tap into your extended network, by making yourself available to guest posting on your website, personal and professional social accounts, as well as through the comments section on relevant blogs
Blogger directories for a variety of industries are frequently curated by websites, either for free or at a subscription cost; a simple Google search will uncover different options, but keep in mind that others may also be accessing these same lists
Simply type [Your Niche] + [Guest Post] into Google, and then a whole host of suitable websites should come up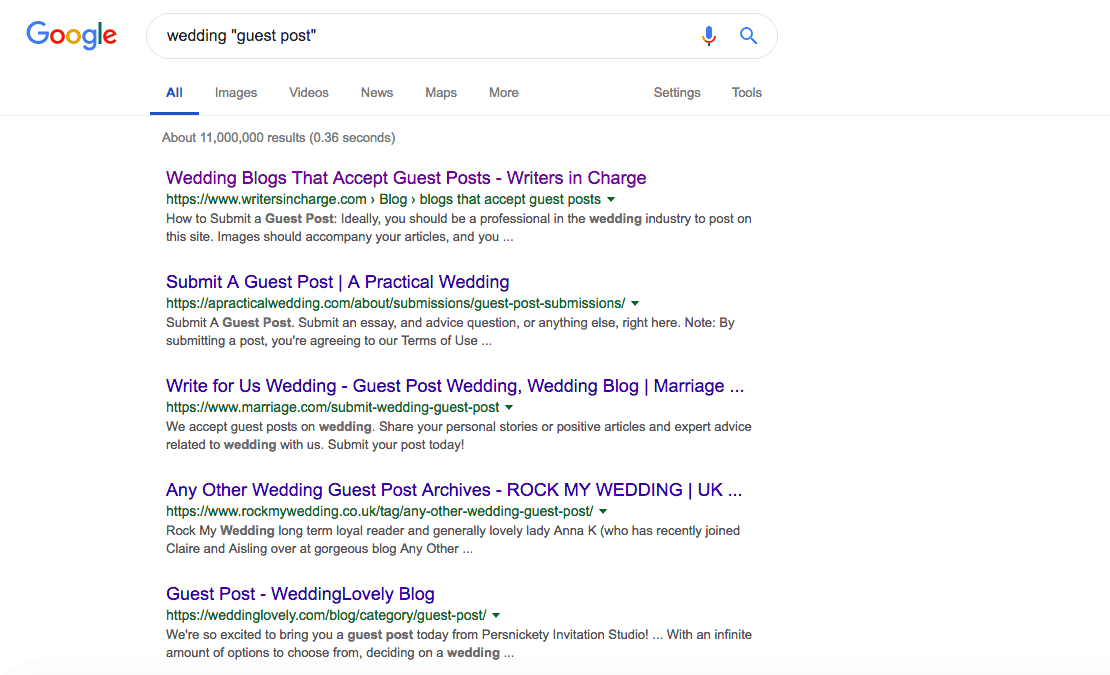 The question then becomes,
how do you determine whether a particular blog that is open to submissions will be a good business move
? Look for the following indicators:
The Website is Trustworthy and Reputable: Opt for a website that's user-friendly and already hosts an abundance of well-written content
The Website is Relevant: If the site doesn't match your target audience you won't be able to add any value or grow your readership in a meaningful way
The Website Has Decent Traffic and Engagement: There's no point in spending time and energy crafting a compelling blog post if no one is going to see it
The Website Has a Transparent Editing Process: Ensure that actual humans are moderating the content and there is a transparent and collaborative process
Always remember that quality over quantity reigns supreme when it comes to guest blogging. It's better to post on one well-known, high-quality website than multiple low-quality websites, which only comes across as spammy in Google's eyes.
Once you find a handful of good options that accept guest posts you'll want to prepare a pitch that is worthy of the owners' time and attention. Make sure that you:
Submit polished work; any typo is an immediate dealbreaker
Match their writing style and general thematics
Ensure it's an original topic they haven't covered before
Follow any stated guidelines listed on the site
Choosing the Guest Posting Route
To sum up, when executed correctly, guest posting can offer numerous advantages for your business. Apart from furnishing you with a valuable backlink to enhance your link juice and elevate your search engine rankings, it can effectively channel traffic to your website, leading to an augmentation in your revenue. However, if you do choose to go down the guest posting route, ask yourself the following questions:
Does the website reach your audience?
Does the post offer tremendous value to the reader?
Does the post demonstrate authority in your field?
Is the content creative and original, offering a unique perspective?
Is the content perfect and professional in terms of grammar, spelling, etc.?
Does your backlink direct the reader to high quality, valuable content on your own website?
Finally, Forbes claims that it's imperative that you
aim to write for new readers who have never "met" you
, and not produce fluff content just so that you can insert a backlink. If you take this advice, you will also create buzz around your business and build brand recognition, which can effectively establish you as an expert in your field.
---
Sources
https ://www.hubspot.com/marketing-statistics?__hstc=191390709.50a1544574548a6223b63c055f84a9c7.1542788268103.1542788268103.1543898168182.2&__hssc=191390709.1.1543898168182&__hsfp=1277755398
https ://webmasters.googleblog.com/2017/05/a-reminder-about-links-in-large-scale.html
https ://www.forbes.com/sites/johnrampton/2017/02/06/guest-blogging-for-seo-is-dead-or-is-it/#5acf32343f59
Image Credits
http ://www.mattcutts.com/blog/guest-blogging/
Screenshot Google search