In general, the features it offers are great, but the user interface could be a bit better, and the same applies to the analytics it gives you.
I'll take you through the email analytics tools GetResponse offers in detail to see how they compare with other email analytics software. If you'd like to read my thoughts on GetResponse as a whole, see my
full review of the platform
.
Stats at a Glance on Your Account Dashboard
Your account dashboard is quite flexible, allowing you to pick which "widgets" to show. Many of these include recent stats that can save you time from having to click around in reports.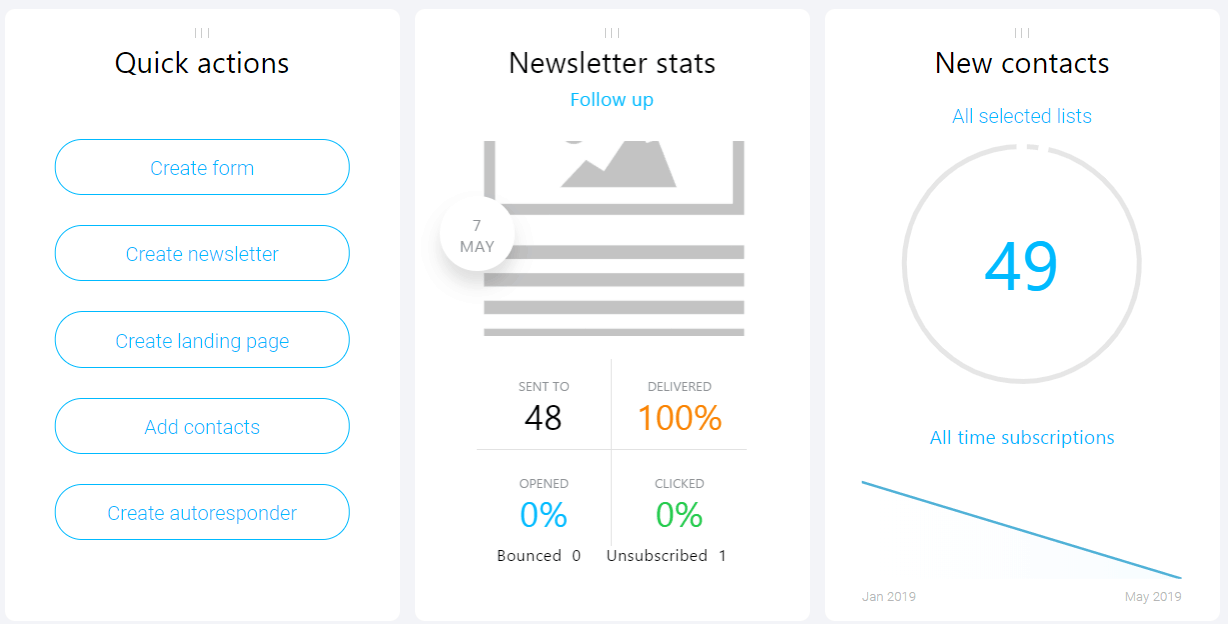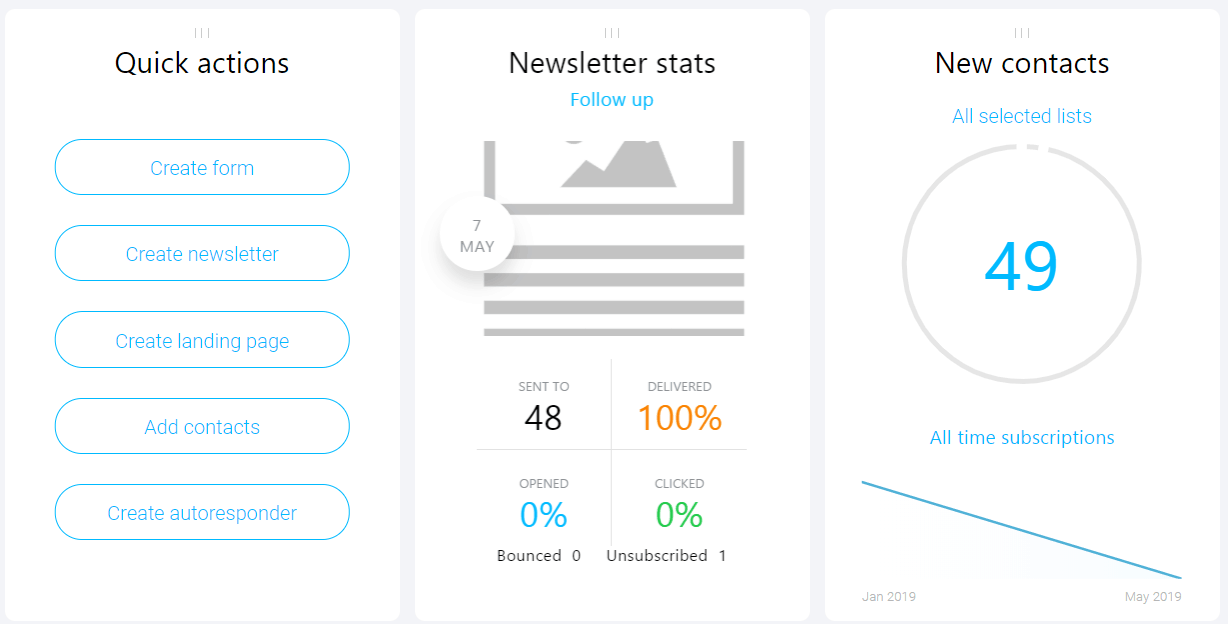 There's a widget for:
Newsletter send stats
Form stats
Landing page conversion stats
Webinar stats
Survey stats
But you'll need to access more detailed analytics, and that's where you'll need to head to the "
Reports
" section of your account. Inside, you'll find many report options: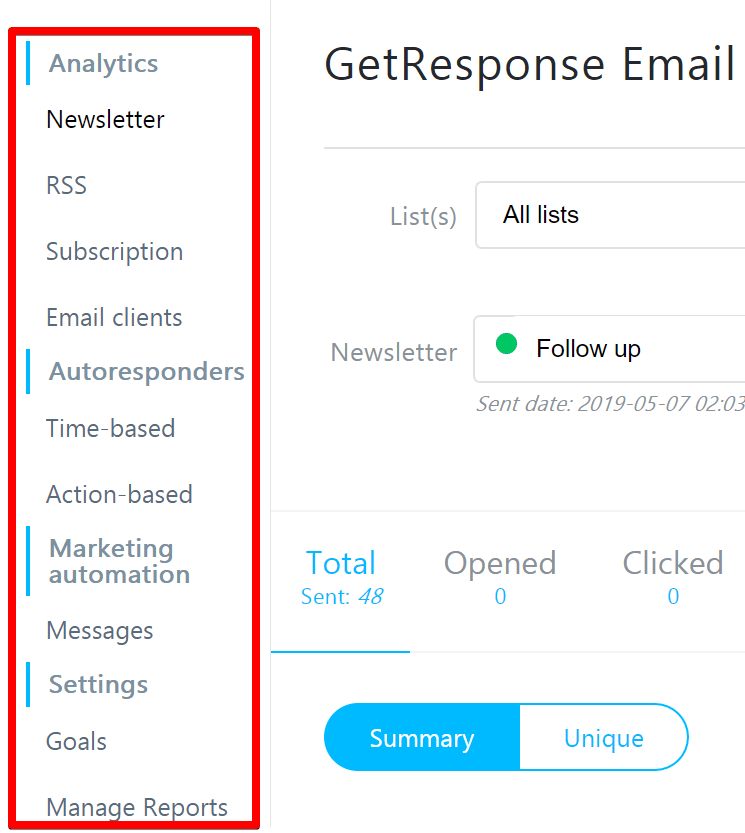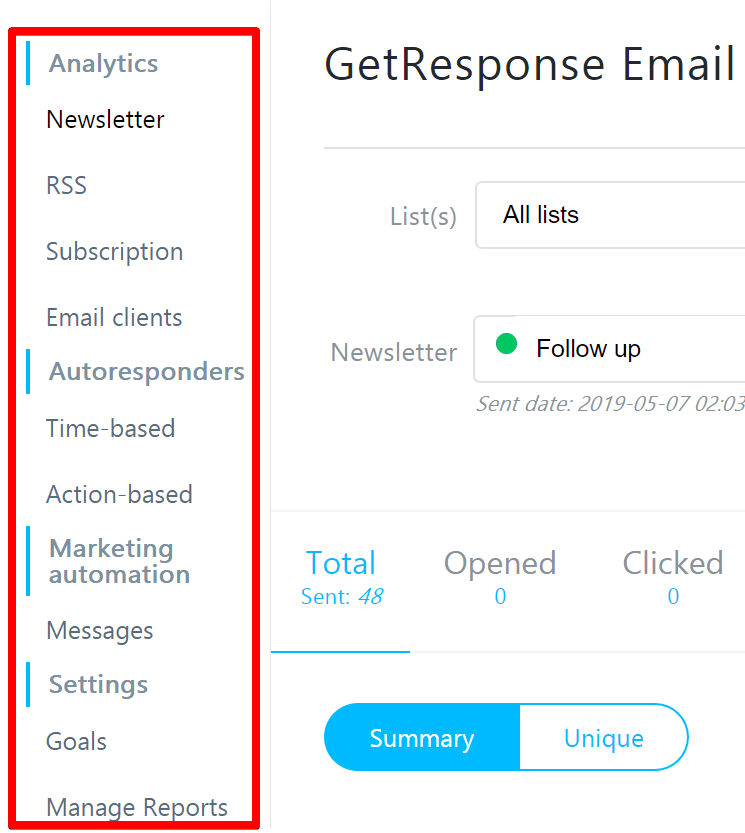 The interface isn't the prettiest or easiest to navigate, but there are quite a few options for us to look at.
Newsletter Email Analytics
For individual email performance, head to the "Newsletter" report section.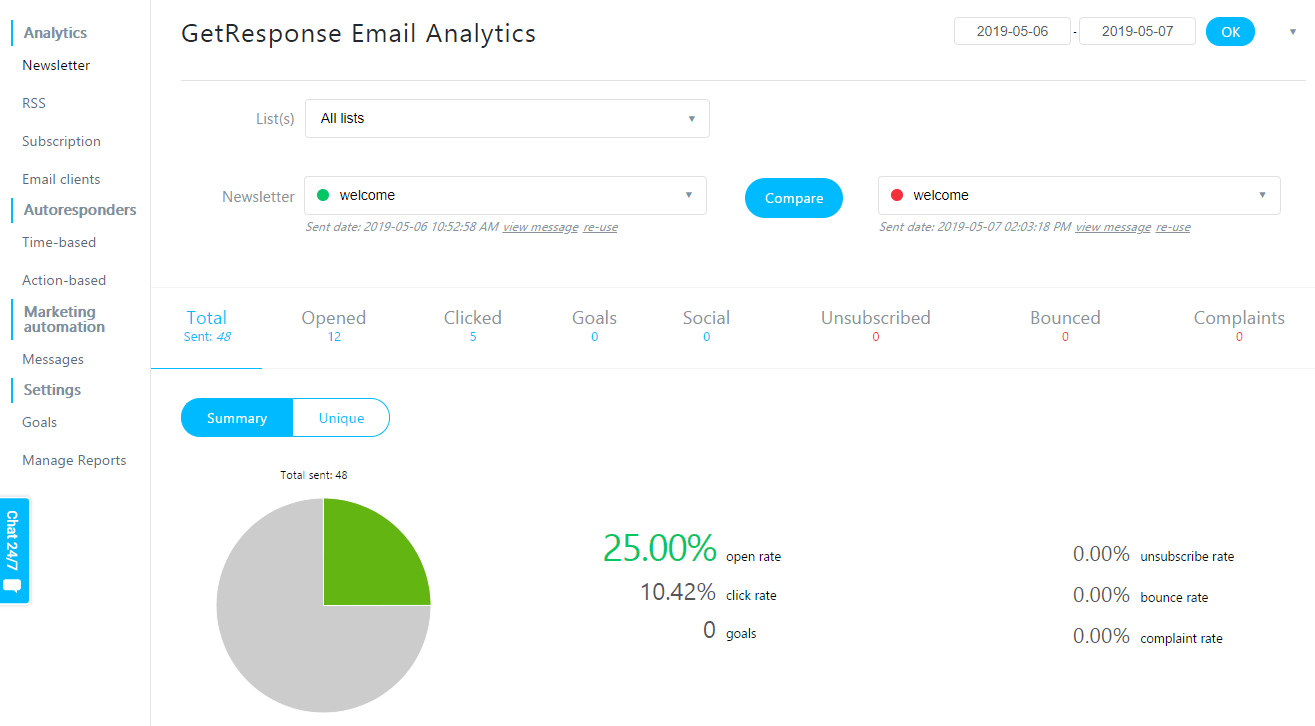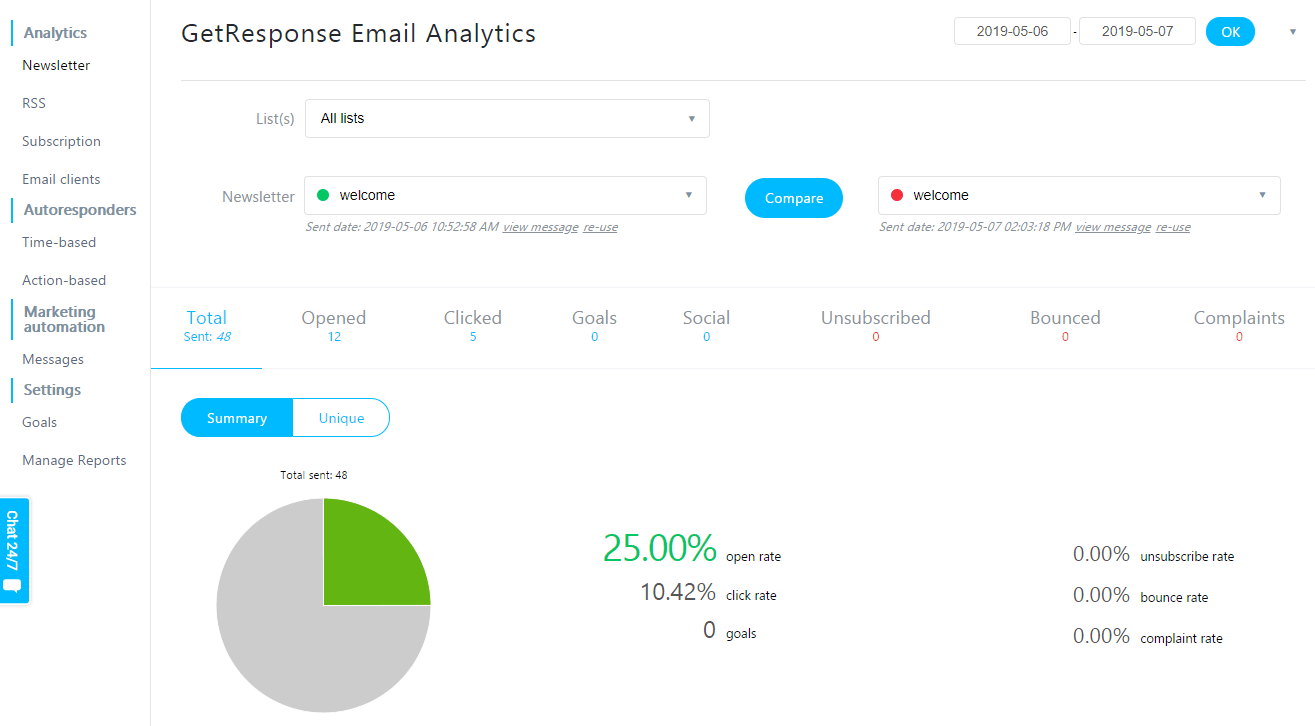 You'll find all the standard email marketing metrics here:
Open rate
Click rate
Goal conversions (if set up)
Unsubscribe rate
Bounce rate
Complaint rate
Using the dropdowns at the top of the page, you can select any individual email, or view the stats of all the emails sent to a particular list together. You can also compare individual emails together quite easily to
see their stats side-by-side
:


If you included social sharing buttons in an email, you'll also see a summary of any sharing stats in this report if you scroll down.


Finally, if you scroll down further, you'll be able to
quickly create segments based on subscriber actions
for that email (or group of emails):


You can create a new list segment to target based on whether the subscriber received, opened, didn't open, or clicked on a link in an email.
Autoresponder Analytics
There are separate reports for any autoresponders you've created. You can review the
overall performance of each email side-by-side
to see if subscribers are heavily dropping off at some point. Also, you can check overall campaign statistics to see if your autoresponder audience is growing, or if it's fizzling out and needs more attention.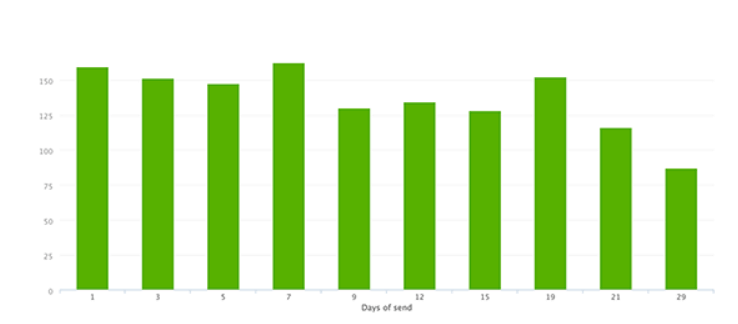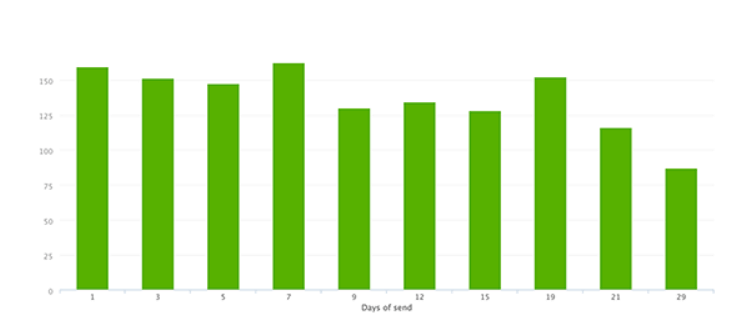 Tracking Conversions with Goals
Email opens and clicks are often vanity stats. They can look good, but if they don't result in actual customers,
what good are they
? It's simple enough to create "goals" that signify a sale if for your subscribers complete them. You just need to copy and paste a snippet of code that GetResponse gives you onto any payment page that you'd like to track. Then, head to the "Goals" section of the reporting page:


You'll be able to track goal conversions and attribute them to specific emails that you sent to track your email conversion rate.
Track New Subscribers
To see how fast an email list is growing, you'll want to use the "Subscription" report. You can see your stats by individual list or an overall summary of all your list growth in total.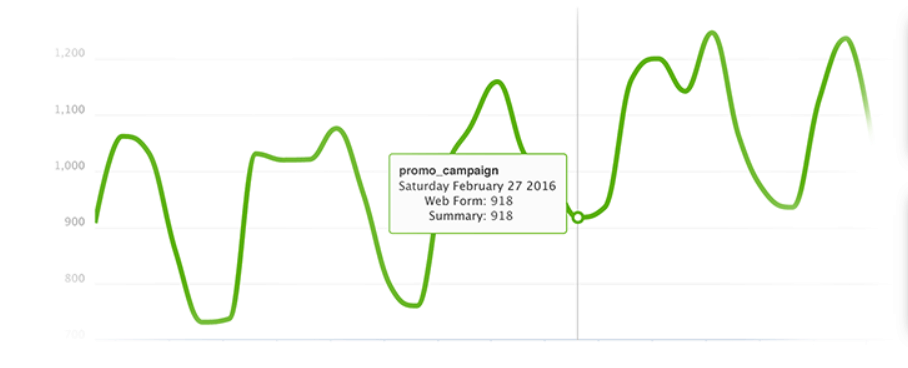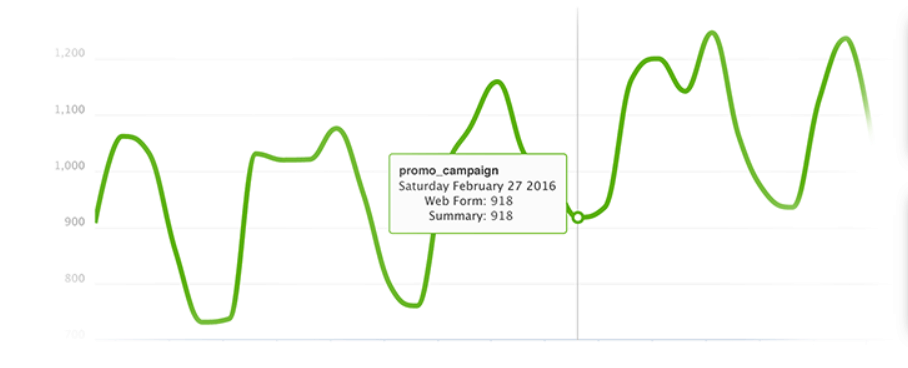 Additionally, there's
a highlighted map showing you where most of your subscribers are coming from
. This may help you target your campaign content or send time more effectively.
Seeing Workflow Performance at a Glance
On top of the detailed email reports we've looked at so far, there are a few more places in your GetResponse accounts where you have access to data. If you go to the automation section of your account, you'll see a list of all your workflows, along with how many subscribers are "in progress" in each, and how many subscribers have complete each workflow.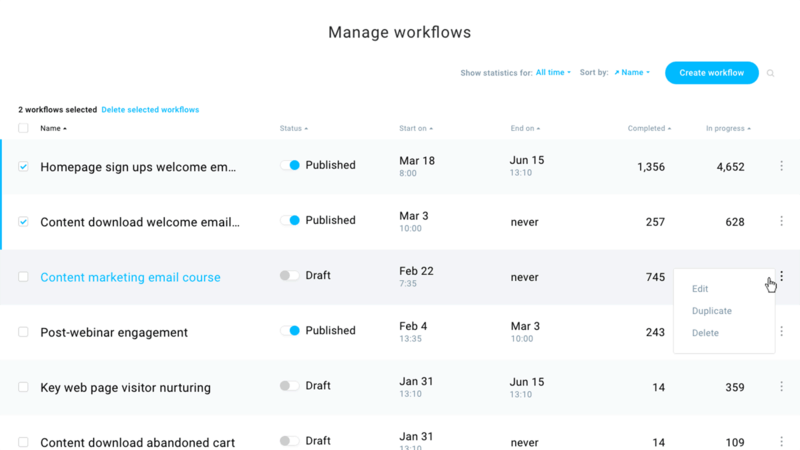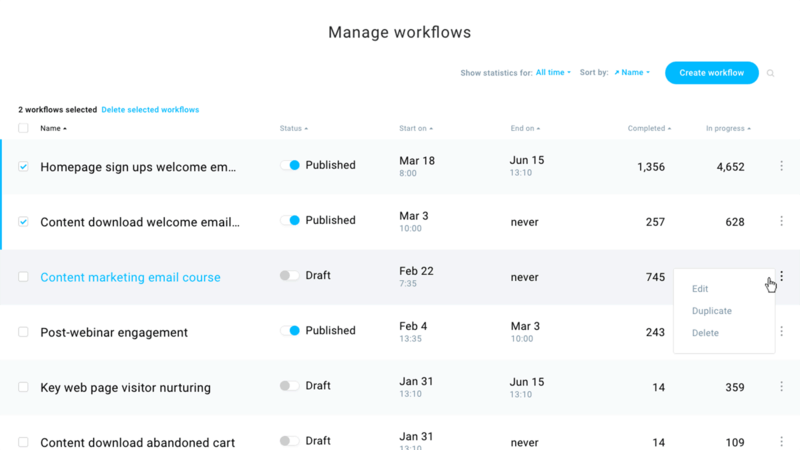 Viewing Split-Test Results
You can create split tests for any landing pages or emails that you create in GetResponse. While you can look at individual email performance using the detailed reports, you can also take a quick look at the performance of each variation in the "landing pages" or "email marketing" sections of your account:


For the landing page, you'll see
views, conversions, and conversion rate
, while for emails you'll see
sends, opens, and click rate
.
Exporting Performance Reports
This is the biggest area that GetResponse lacks in terms of analytics.
You can't export reports on demand
. It actually boggles my mind that you can't just export any of those reports we've looked at into a CSV or PDF easily. That said, you
can create automatic reports
that are sent to your email on a regular basis, with reports attached as a spreadsheet.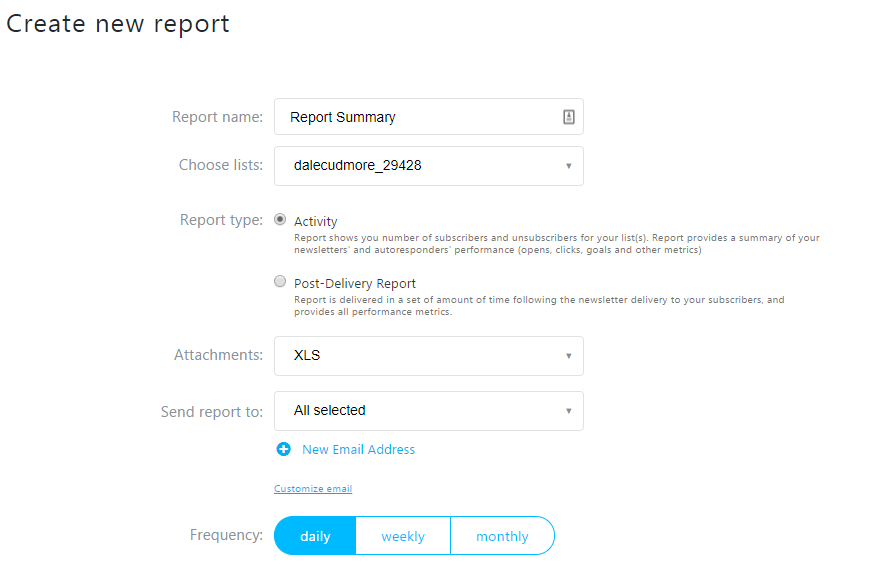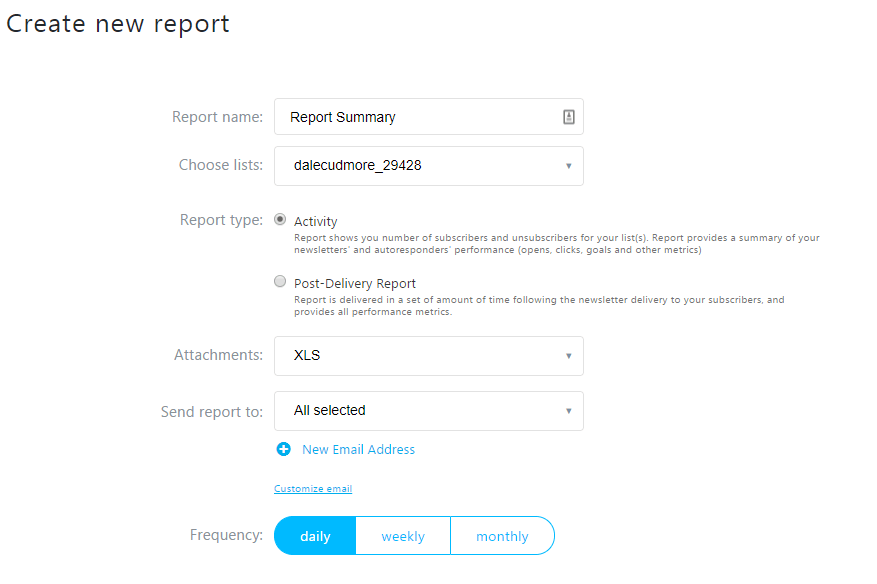 You can have a spreadsheet summarizing performance data for a particular email list sent to you daily, weekly, or monthly. Many other tools do not offer this great feature. However, it's important to note that this feature should complement the capability to export individual reports as required, rather than replacing it.
Does GetResponse Give You the Data You Need?
Compared with the rest of the platform, the email marketing tracking options that GetResponse offers are a bit disappointing. It's not all bad. You do get essential stats like email opens, clicks, and the ability to track conversions. But the user interface is clunky, and not being able to export performance reports on demand is a pretty big feature to be lacking. Overall, GetResponse's analytics features will do the job, but I prefer the report options that certain other email marketing providers offer. If you're looking for a more intuitive report interface, along with both PDF and spreadsheet exports on demand,
see my thoughts on Benchmark Email
. If you're curious to see why I like the rest of what GetResponse offers, you can read my
detailed review of the platform
. And if you're ready to launch your next email campaign with GetResponse, click the button below.