Even its entry-level plan includes the essential features you need to successfully build and run a WordPress website.
Moreover, all plans include optimizations, security tweaks, and design tools which more than justify the cost.
Flywheel offers four WordPress plans for personal and business use, as well as three reseller plans.
The Growth Suite package allows you to add collaborators, involve your clients in all web development phases, and improve your workflow with a variety of tools that help you focus on the job at hand, and not on tweaking and optimizing WordPress. I've evaluated all of Flywheel's plans thoroughly to help you choose which one is right for you, and if none of them are, I've also provided some more affordable, yet similar alternatives that may meet the needs of your planned online project.
Flywheel Features and Pricing Overview
You Can Choose a Plan or Customize One According to Your Needs
While expensive,
Flywheel's plan prices are market-appropriate
. It's not as cheap as Hostinger, but Hostinger doesn't deliver the same premium features or infrastructure, not even with its top-tier WordPress plan. And while
Flywheel's entry-level plan is not as expensive as Kinsta's, it offers similar WordPress features
on Google Cloud's servers – but with lower resource limits.
When purchasing a Flywheel plan, you can opt for monthly or annual billing.
However, it costs less in the long run if you choose an annual subscription because it lowers your monthly payment – this is a common industry practice to get you to commit for a longer term. Flywheel accepts payments via credit/debit cards and PayPal.
Flywheel offers a 60-day money-back guarantee with annual plans.
For monthly plans, you have 72 hours to decide whether to keep the service. The refund policy applies to all standard Tiny, Starter, and Freelance plans, but not to the Agency and Custom plans, or any others with custom onboarding, as the bulk of the custom service is delivered upon signup. It's also worth mentioning that
Flywheel charges overage fees on disk space and data transfer.
If your website exceeds the allotted traffic or storage, you have to pay for the surplus. Overages are billed monthly, and fees are low. Lastly,
Flywheel doesn't offer email hosting.
Other hosts, such as Kinsta and Kamatera, don't include it in their plans either. So if you want to have an email account with your chosen domain name, you'll have to pay an additional fee for email services from G Suite, Office 365, or some other platform.
Managed WordPress Hosting
Tiny
Starter
Freelance
Agency
Initial term starting price
$15/mo
$30/mo
$115/mo
$290/mo
Price on renewal
Same as above
Same as above
Same as above
Same as above
Number of websites
1
1
Up to 10
Up to 30
Managed WordPress
Managed caching and performance, managed security, expert WordPress support
Storage
5 GB
10 GB
20 GB
50 GB
Bandwidth
20 GB
50 GB
200 GB
500 GB
Free domain name?
✘
✘
✘
✘
Free SSL?
✔
✔
✔
✔
Data center locations
United States, Australia, Canada, Belgium, United Kingdom
Support
24/7 live chat and free migrations
24/7 live chat, free migrations, phone support (Monday to Friday, 9 AM – 5 PM CST), and dedicated account manager
Flywheel manages everything WordPress-related so you can focus on your project(s). It also ensures top-notch performance.
Flywheel offers five data centers worldwide, and all plans include the proprietary FlyCache and access to Fastly CDN.
My colleagues tested Flywheel's performance, and it delivered page loading speed that was well above average globally. Even
the best WordPress hosting
doesn't always cater to a wide range of users. However,
Flywheel's plans can accommodate anything from personal blogs to freelancers and agencies.
Not only do they include more than enough resources, but you can customize your plan to satisfy your precise needs. For instance, let's say you choose the entry-level plan but you decide to launch two websites. Flywheel allows you to keep using the same plan, but charges you a fee for the second website.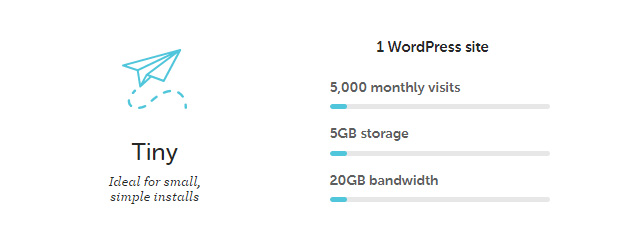 Flywheel's entry-level plan – Tiny – allows you to host
a single WordPress website, and you get 5 GB of storage and 20 GB of bandwidth.
While that may not seem like much, a small WordPress blog or site only takes up about 1 GB of storage space. If you want to include a lot of media, like photos, audio, or video, you'll need to pay for more space. The plan also includes 5,000 monthly visits. If your website endures occasional surges in traffic, you're not pushed to upgrade. You just pay a small fee for the overage. The monthly subscription costs
$15/month
, but if you choose annual billing, the price goes down to
$150/year
, meaning that you basically get two months of WordPress hosting for free. That's still not cheap, but even
Flywheel's entry-level plan includes premium features
like CDN access, site cloning and staging, and auto-healing technology. Hostinger offers none of those with its cheapest plan, for instance.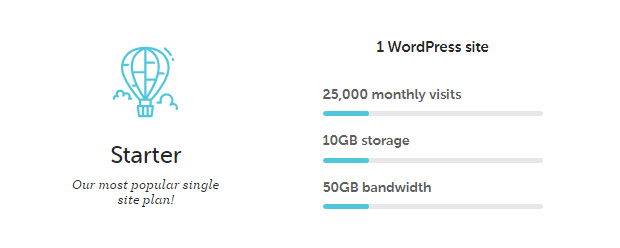 If your small WordPress website grows and needs more traffic, Flywheel's Starter plan is the way to go. It costs
$30/month
with 10 GB of storage, 50 GB of bandwidth, and 25,000 monthly visits. The increased resource limits represent the only difference between this and the entry-level option, and it's the obvious choice when you need an upgrade. As with the entry-level plan,
Flywheel's Starter plan gives you two months off with annual billing
. To compare, Flywheel and Kinsta are both powered by Google Cloud Platform, but Kinsta charges more for similar resources while adding Cloudflare Enterprise integration. On the other hand, budget provider Hostinger charges way less for more storage and bandwidth but doesn't have the same premium WordPress features.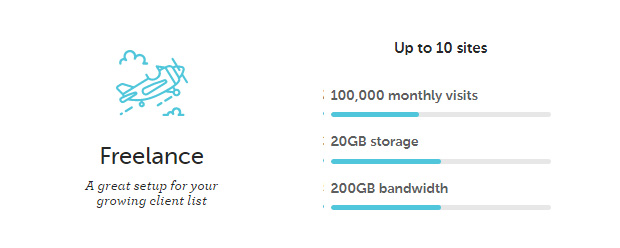 Flywheel's Freelance plan costs
$115/month
, and I recommend it if you're a solo freelance web developer and want to offer hosting to your clients, for instance.
It includes 20 GB of storage and 200 GB of bandwidth.
It also allows up to 100,000 monthly visits. Splitting these resources between 10 websites can be a bit of a stretch, but in case you need just a little more, Flywheel's overage fees are low. Apart from resources, the difference between this plan and the other two lower-tier plans is, it includes support for WordPress Multisite. This is a special setting that can be enabled in WordPress that allows you to build and manage a network of similar blog sites from a single dashboard. This would be ideal for a bunch of similarly-branded news or entertainment sites with multiple writers.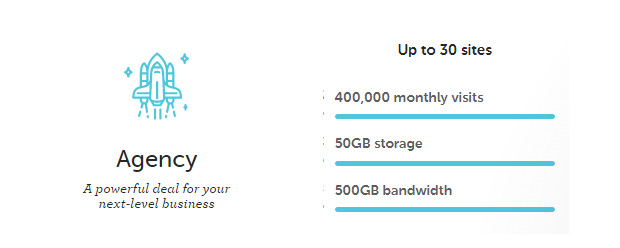 Flywheel's Agency plan is where things get serious. For
$290/month
, it allows 400,000 monthly visits, and you get 500 GB of bandwidth and 50 GB of storage. Now, if you actually do create 30 websites, that leaves less than 2 GB per website. If your sites are content-rich, you'll have to budget for small monthly overage fees.
Agency includes a migration dashboard and phone support
. The migration dashboard allows you to submit, prioritize, and monitor your migrations, which are still handled for you by tech support. Phone support can be reached during business hours: Monday to Friday, 9 AM – 5 PM CST.
This plan also includes a dedicated account manager
, a specialist whose job is to help you with tasks like upgrading or downgrading your hosting plan.
Is Managed WordPress Hosting Right for You?
Flywheel's managed WordPress hosting is expensive, but it offers very good quality.
With top-notch performance-enhancing features and WordPress-specialized tools, it should deliver superb performance for one or more sites. If I were to recommend a plan for you to start with, I'd go with Tiny. Flywheel's entry-level plan includes enough resources for one basic WordPress website, and this should give you a sense of how well the platform works, as
Flywheel includes many of its premium features in its cheapest plan.
Reseller Hosting (Growth Suite)
Freelance
Agency
Custom
Initial term starting price
$135/mo
$330/mo
Determined by consultation
Price on renewal
Same as above
Same as above
Depends on initial rate
Number of websites
Up to 10
Up to 30
Starting at 50
Managed WordPress *
Managed caching and performance, managed security, expert WordPress support
Storage
20 GB
50 GB
120+ GB
Bandwidth
200 GB
500 GB
1+ TB
Free domain name?
✘
✘
✘
Free SSL?
✔
✔
✔
Data center locations
United States, Australia, Canada, Belgium, United Kingdom
Support
24/7 live chat and free migrations
24/7 live chat, free migrations, phone support (Monday to Friday, 9 AM – 5 PM CST), and dedicated account manager
24/7 live chat, free migrations, phone support (Monday to Friday, 9 AM – 5 PM CST), dedicated account manager, and quarterly business reviews
Flywheel's Growth Suite (formerly White Label) caters to agencies, developers, and resellers.
There are two set plans and one entirely customizable option. The best part? These plans include a set of tools that make client management easy. So what exactly does Growth Suite bring to the table, aside from Flywheel's hosting stack? Here are some of the most important features: •
Client portal
– A dashboard with your agency's brand for your clients to log into
•
Personalized dashboard
– You can see the data most important to you
•
Client reports
– Allows you to send agency-branded reports to your clients
•
Bulk site management
– One dashboard for all your websites Plans also include customer management software, recurring and one-time invoicing, Stripe payment integration, and support for multiple billing currencies. The prices are not exactly low. For instance, Hostinger's Agency range plans cost a fraction of what Flywheel charges, but they don't appear to include anywhere near the same quality of client management features. Side note: Flywheel's prices for Growth Suite may vary depending on which data center you choose. Some of Google Cloud's locations are more expensive than others.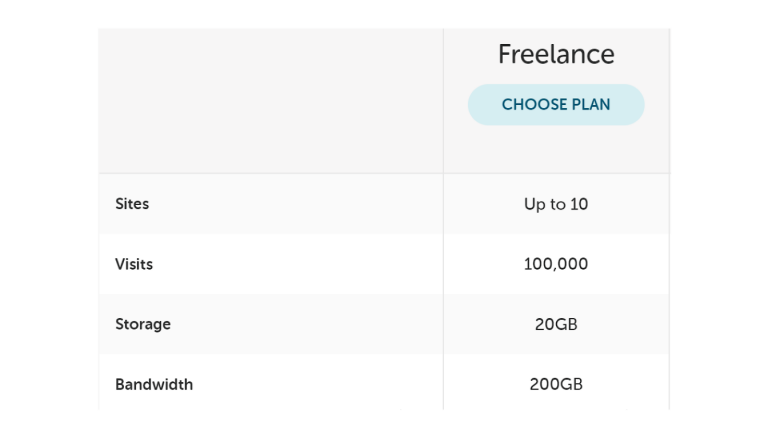 Flywheel's Growth Suite-enhanced Freelance plan costs
$135/mo
. If you take a look at the Freelance plan from the managed WordPress solutions, you'll notice that the resources are the same. The price difference, which is not that significant, is justified by all the client and billing management tools Growth Suite has to offer. This plan offers the same two-months-free discount as all the others if you pay annually, and if you don't customize any of the resources, it is also covered by Flywheel's 60-day money-back guarantee. The host has a no-questions-asked policy, and getting a refund is fast and easy.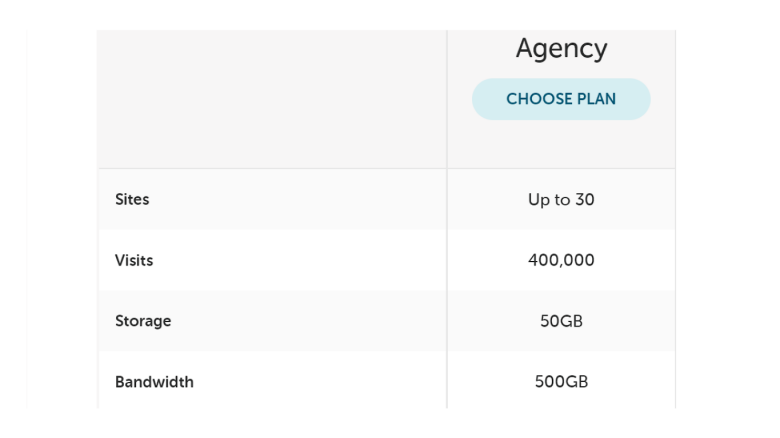 Flywheel's Growth Suite Agency plan costs
$330/mo
. Once again, this plan is similar to the one from managed WordPress hosting, except that it includes extensive client management features. Apart from resources, Growth Suite Agency includes more features than Freelance. You get access to phone support, a dedicated account manager, and a migration dashboard to manage your site transfer requests. Another thing worth mentioning – this plan is not covered by a refund policy, but you can of course use the monthly payment option if you don't want to commit for a year.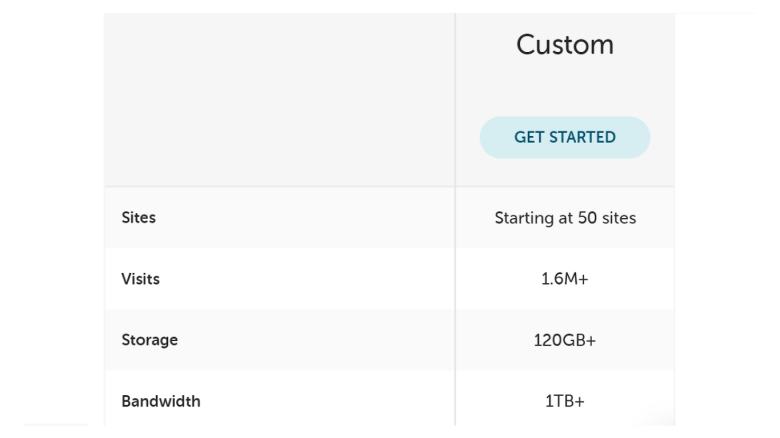 The price of Flywheel's Growth Suite Custom plan is established by consultation, so you can get a plan tailored to your more specific needs with an appropriate price.
Flywheel suggests minimum allocations
: 50+ websites, 1.6+ million visits, 120+ GB of storage, and more than 1 TB of bandwidth, but
don't hesitate to ask Flywheel if you have something specific in mind
. The most significant difference between all the other Growth Suite plans and the Custom plan is represented by resources. However,
there is one exclusive feature to Growth Suite Custom: quarterly business reviews
you can set up for your clients that provide data-based reports to help them increase revenue. Since this is a custom plan, it's not covered by Flywheel's 60-day money-back guarantee, but you can opt for monthly payments to avoid a long commitment.
Is Reseller Hosting Right for You?
Whether you are a freelancer or an agency looking for a simple solution that allows you to manage and bill clients, Flywheel's Growth Suite is right for you. Whatever the case,
Flywheel has all the necessary features to help you create powerful and well-performing WordPress websites
that can easily be managed from a single dashboard. While Flywheel may not be affordable for everyone, it offers premium client management features which other providers offer at higher prices. And if you're just starting out as a freelancer, for instance, Flywheel's Growth Suite Freelance plan can cover your needs until your operation grows.
Recommended Flywheel Alternatives
With all its customization freedom, Flywheel might not be for everyone. Maybe it's too expensive for you. Or doesn't have the features you want. That's why I put together a list of Flywheel alternatives.
Starting Price
Main Pro
Main Con
Flywheel

$

13.00

Premium WordPress features
No email
Kinsta

$

24.00

Fastest managed WordPress hosting
Expensive
Kamatera

$

4.00

Affordable customizable cloud hosting
Self-managed
Nexcess

$

21.00

Affordable managed WordPress Hosting
Not the best for beginners
Hostinger

$

1.99

Cheapest WordPress host
Most suitable for small websites
Kinsta
Kinsta's WordPress hosting plans
cost about the same as Flywheel's. The difference between the two is that Kinsta doesn't have a cheap entry-level plan. What it does have is a stellar reputation. If you can afford it, it's definitely worth considering because Kinsta is the best-performing WordPress host
we have ever tested
. Just like Flywheel, Kinsta is on Google Cloud Platform, and it allows you to tailor a custom plan based on your specific needs. It caters to both small and large-scale projects.
Kamatera
With prices starting at
$
4.00
,
Kamatera offers customizable solutions
, allowing you to configure your own server, add or remove resources at any time, and pay only for what you use. That being said, I don't recommend it if your hosting-related knowledge is limited. Unlike Flywheel, Kamatera doesn't handle anything.
You have to configure and manage your own server.
It may also help you to know that Kamatera has a 30-day free trial. You can customize your own server and try out most of its services without exceeding a nominal fee.
Nexcess
Unlike Flywheel,
Nexcess's managed WordPress plans
are more competitively priced, with prices starting at
$
52.00
. They offer a few features that make it stand out, such as the plugin performance monitor. When you install new plugins or change the theme, this tool keeps an eye on your site, and if performance decreases, it provides suggestions for optimization. While Nexcess is a worthy Flywheel alternative, it comes with a minimal learning curve. It's not necessarily challenging to use, but if you've never hosted and created a website, you might want to consider a more beginner-friendly WordPress host to start with. Like Hostinger.
Hostinger
Hostinger is known for two things: affordability and ease of use. Its prices start at
$
1.99
, a fraction of what Flywheel's entry-level WordPress plan costs. Plus, unlike Flywheel,
Hostinger's WordPress plans include email hosting
. The host also delivers some of the best performance results we've seen from a shared hosting provider, so it's definitely worth a try. Especially if you're a beginner. While Hostinger might not be the preferred option for large-scale projects, it utilizes the LiteSpeed web server alongside the LiteSpeed Cache plugin for WordPress to power WordPress sites. Additionally, the higher-tier plans come equipped with staging and cloning tools.
Conclusion: Flywheel's Prices Are Justified, but You Can Do Better
While it's expensive,
the quality of Flywheel's managed WordPress hosting justifies its prices.
However, I think you can get better value for your money elsewhere. For instance,
Kinsta delivers better performance
,
and it's just as customizable as Flywheel. If Kinsta is too heavy on your budget but you still want decent managed WordPress hosting,
Nexcess might be a better choice
.
It offers decent resources, email hosting, and a proprietary WordPress performance monitor to diagnose site slowdowns from new or updated plugins.
Kamatera might sound even better if you're an experienced developer
.
It allows you to tailor your own plan, and the prices are even more affordable than Nexcess'.
FAQ
Is Flywheel any good?
Flywheel is a good hosting option. Its WordPress services are fully managed, and you'll get access to many premium features even with just the entry-level plan. Flywheel also delivers excellent performance, and the Growth Suite offers top-notch client management tools. However, if you can afford it, Kinsta offers even better performance and the same premium WordPress features.
Is Flywheel hosting free?
Flywheel hosting is not free, but you can set up a free demo site on Flywheel. The trial period lasts 14 days, and you only have to pay when your website goes live. Or, if this is on behalf of a client, you can transfer billing and website ownership to them.
Is Flywheel hosting worth it?
Flywheel's prices are justified because it offers premium WordPress hosting and features, but there are other solid alternatives to Flywheel out there. Also, if you find it too expensive, you can choose one of our recommended web hosts in 2023.
Is Flywheel shared hosting?
Flywheel is not shared hosting. It's VPS hosting on Google Cloud's servers, so you get your own virtual server on some very solid physical infrastructure. If you're looking for shared hosting, or if you're not sure what you're looking for yet, have a look at our complete guide to choosing a host and launching a website.