click here to jump to the tutorial
). There's a lot of strong examples to draw from to help you get started. In less time than it takes to do a seven-minute workout, we'll have you well on your way to a great logo. Need more inspiration?
See a collection of famous fitness logos below
.
9 Best Fitness Logos
How to Make Your Own Fitness Logo
Now that we're warmed up, you're ready to dive into creating your own gym logo design. For this project, I'm going to show you how to use
Wix Logo Maker
. I've found the tools it offers are the easiest to use once you get a feel for how everything works.
What's especially great about Wix Logo Maker is how it integrates with a range of other Wix services, including business websites and social media tools.
Want to know more? Watch the video below or
click here to read the full review
.
1.   Sign Up for a Wix Account
I recommend signing up for a Wix account before you play with fitness logo ideas. That way, you can save the designs you like and resume them at any time. It's free to sign up, and
you don't have to commit to buying anything until you've made a logo you're happy with
. To get started, just
go to the Wix Logo Maker homepage
 and sign up. You can use a Google or Facebook account to sign in, or a business email if you prefer.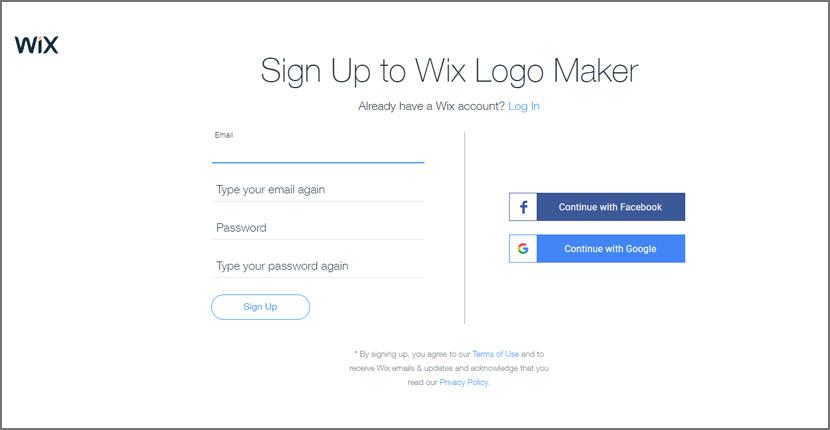 2.  Breaking Down Your Logo Design
Now it's time to answer a few simple questions.
You can skip over them, but it helps Wix learn your design preferences, so it can create tailored fitness logos for you
. The drop-down menu lets you select from a list of related keywords. Choose the one that's closest to your business.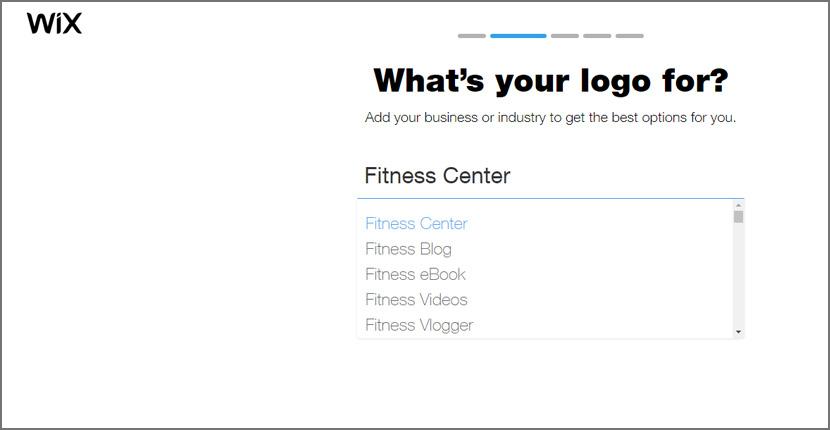 Expert Tip: Choose some adjectives that fit the style and mood you're hoping to project through your logo design. For example, playful, dynamic, and fresh are good words to describe an active gym environment.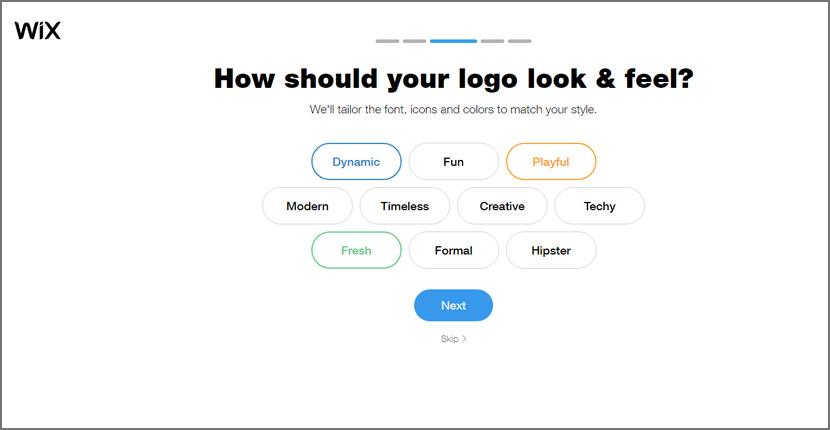 Wix Logo Maker also asks where you intend to use your logo to help you build your brand
. This way, you can extend the use of your logo using its range of business services.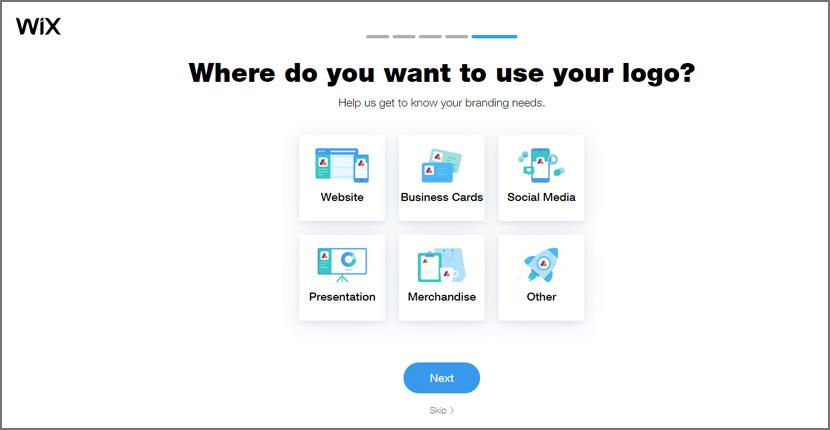 Using AI (Artificial Intelligence) technology, Wix Logo Maker generates a range of logo options for your consideration. I ran into a bit of a design hiccup here; none of the generated designs fit the concept for a fitness center logo. Thankfully, you can replace icons with one that's more suitable for your design.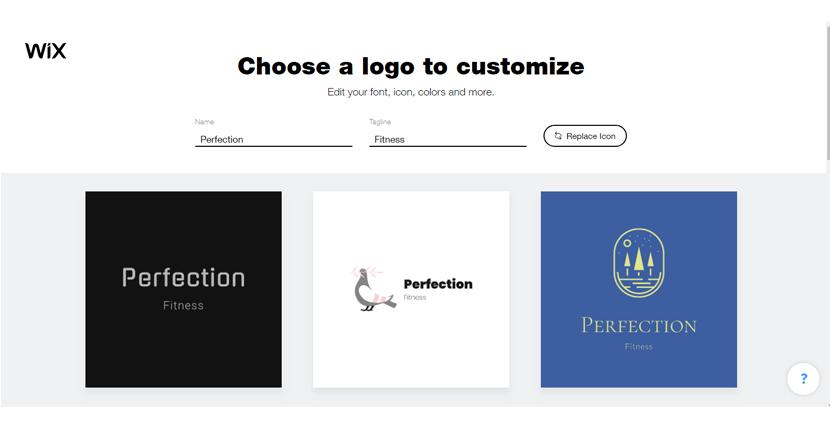 Expert Tip: You can only select one icon per logo, so think about your particular needs. Do you offer yoga? How about weightlifting equipment? Is there CrossFit training available? The icon library covers many sports and fitness activities with plenty of variations to choose from.
3. Refining the Details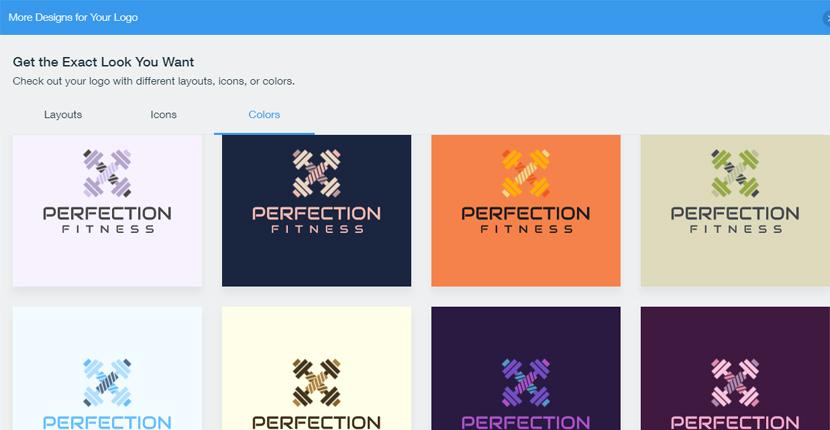 Found the perfect combination of design elements but still not feeling the burn? Check out the "
More Designs for Your Logo
" section, which shows you previews of layouts, icon variations, and color palette tweaks. Options include pre-designed color schemes, or you can edit them yourself using the built-in color picker.
4. We Have a Winner
After you've nailed down the best fitness gym logo, it's time to make a purchasing decision.
The basic package offers standard logo files suitable for everyday needs, while the advanced package boosts your marketing potential even further with resizable images and social media ready files.
Expert Tip: If you're planning to use your logo on apparel, business cards, and gym signage, the advanced package is the best option for you. The resizable vector artwork ensures your design looks crisp and readable at any size. This is especially important if you're trying to attract people with a range of promotional materials such as bumper stickers, large-scale banners, and informational flyers.
Here are some designs I created with Wix Logo Maker.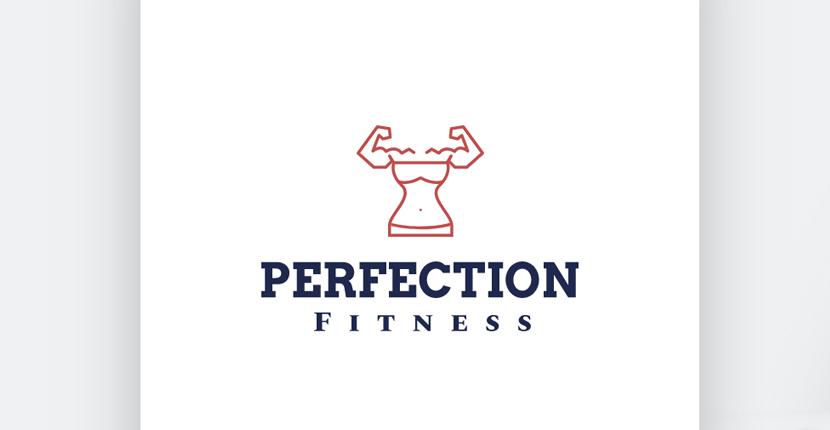 A clean, yet feminine logo design that could help women set out to achieve their own version of perfection.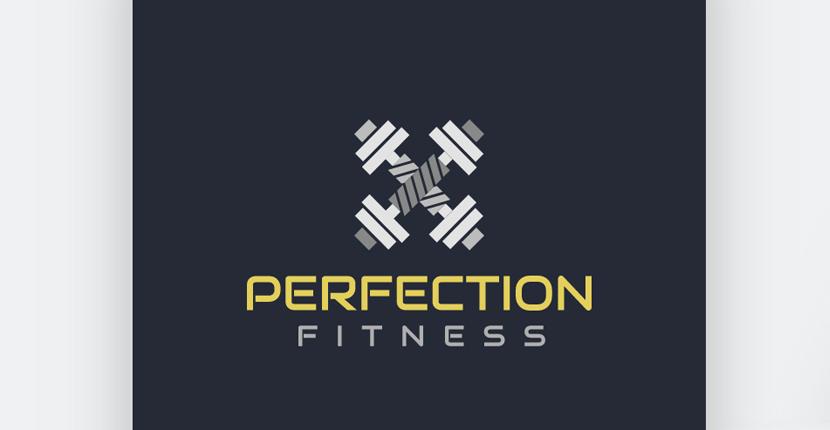 This logo has a more unisex feeling to it. The colors and font would work well for gyms looking to attract a broader clientele rather than a specific demographic.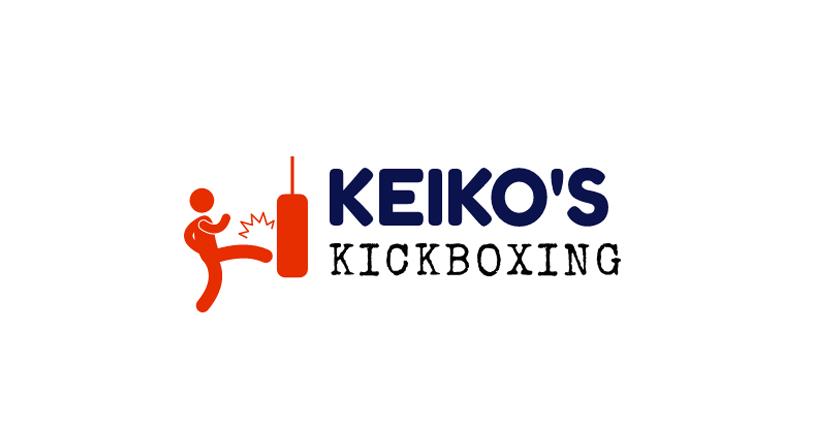 This logo is all about being active. The color orange gives it an energetic quality, and the illustration indicates a sense of movement.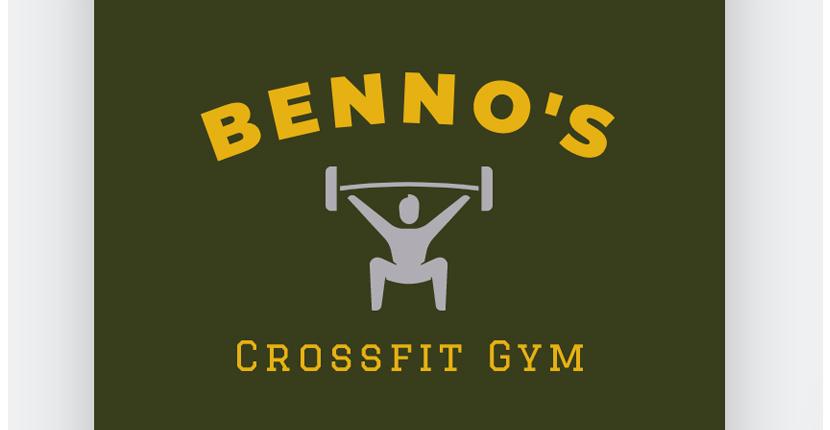 This logo concept would work well for fitness apparel, especially garments featuring a camouflage color scheme. It could appeal to those serving in the military but would work equally well for people looking to gain superhero strength.

Wix Logo Maker Alternatives
Is Wix Logo Maker missing some of the functionality or features you're looking for? Here are a few more options you might be interested in.
Need more design options? Looka offers an extensive range of container shapes, and it features a design interface that works very similarly to Wix Logo Maker.
Are you looking for logos suitable for seasonal marketing needs? In addition to its standard logo design tool, Tailor Brands offers a logo maker that's perfect for designing holiday-themed fitness promotions.
In a hurry to create branded apparel? With LogoMaker, you can choose from a wide selection of promotional products featuring your fitness logo design.
Prefer to Have Your Logo Created by a Designer?
Overwhelmed by the logo design process? Not to worry, you'll find plenty of well-trained logo design professionals over at 99designs who are ready to help.
What you'll love about 99designs:
It has designers covering over 90 categories ranging from logos, mobile apps, clothing, and more; pretty much everything you'll ever need for a fitness brand.
You can work with designers directly, ensuring every detail is exactly how you want it. Plus, if you're not happy, you have 60 days to request a full refund.
If you want to keep your options open, you can launch a design contest. You'll receive dozens of potential logos from a variety of designers, and you get to choose the winning logo at a price point that suits your budget and specifications.
Want to know more about 99designs? Read about our experience with the platform in our
in-depth review
.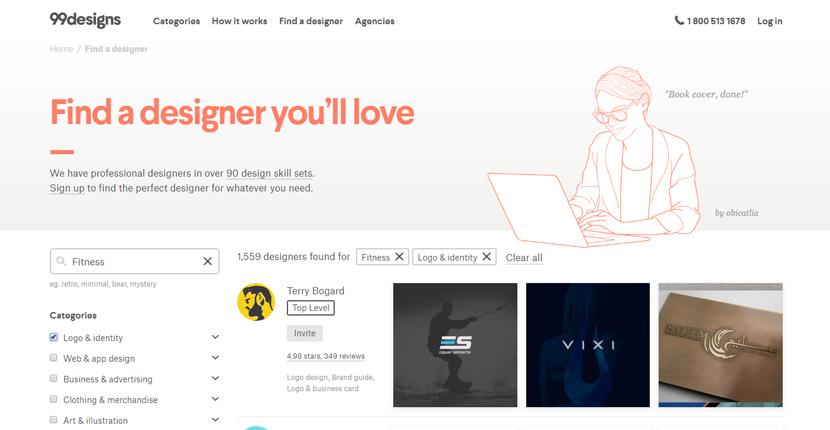 To quickly find the perfect designer for you, you can narrow your options down by category and keyword. Just type in "fitness," and you'll see a list of people specializing in that type of design. Like what you see? Simply click Invite to get in touch with a designer.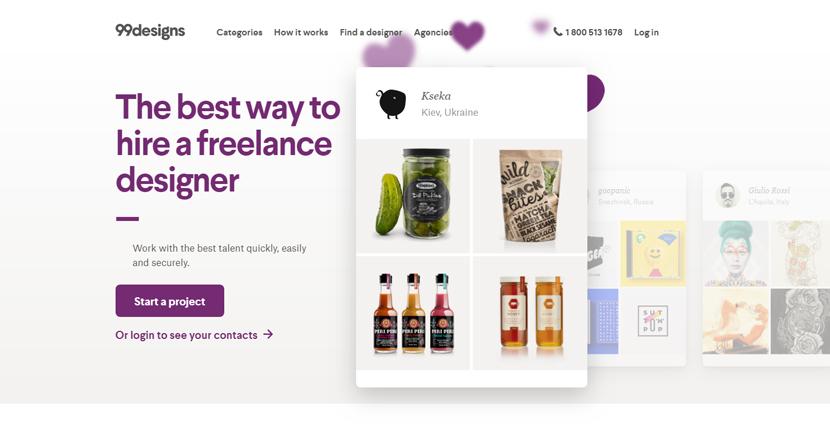 Before you choose a designer for your logo project, check out the portfolios of the designer(s) whose work catches your eye
. It will give you a good idea of the type of styles and categories they specialize in, ensuring they're able to work with your design preferences. If you're feeling stuck trying to communicate your vision, try clipping out ads from your favorite magazines, or screen-capture some athletic-inspired designs from the internet to give your designer an idea of what you have in mind. Not completely sold on 99designs?
Read about DesignCrowd
, where you'll find even more freelancers for hire in addition to competitive logo design contests, or
Fiverr
, where you can find a great designer for an amazing price.
Get Inspired by Famous Fitness Logos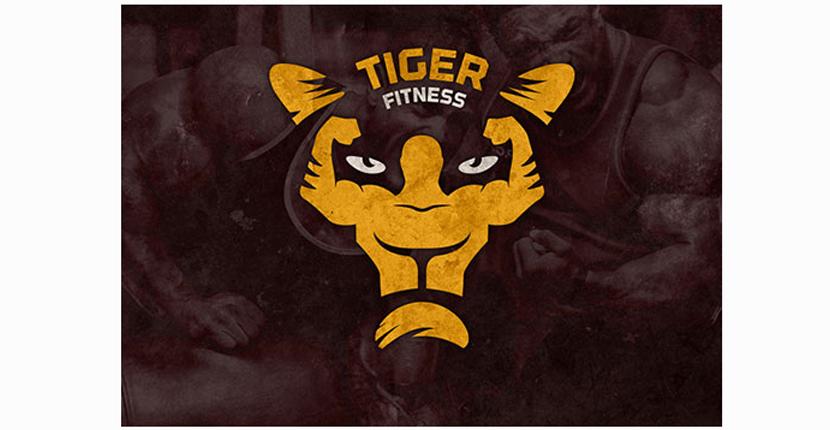 This design for
Tiger Fitness
is brilliant. The shape of the bodybuilder making up the tiger's face is a perfect pairing. The yellow-orange color exudes energy, and the curvature of the text ties everything together nicely.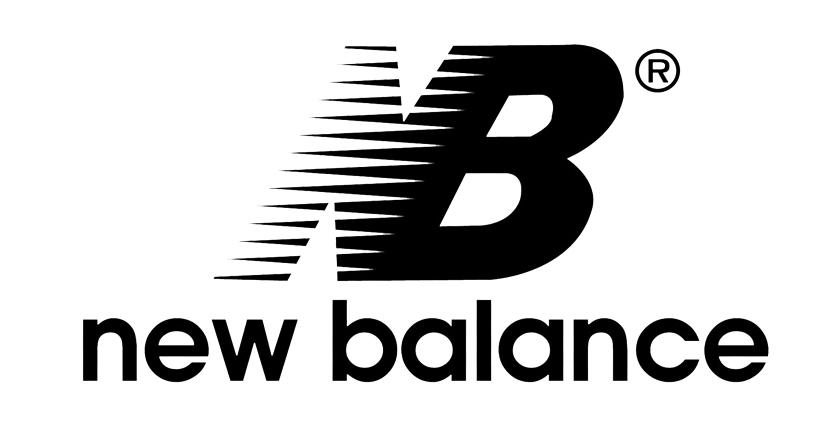 This logo for
New Balance
is clean and simple, yet stands out on the products it produces. The angled NB lettermark indicates quick movement, a key element when it comes to living an active lifestyle. The single-color design also makes it versatile for use on a range of fabric colors.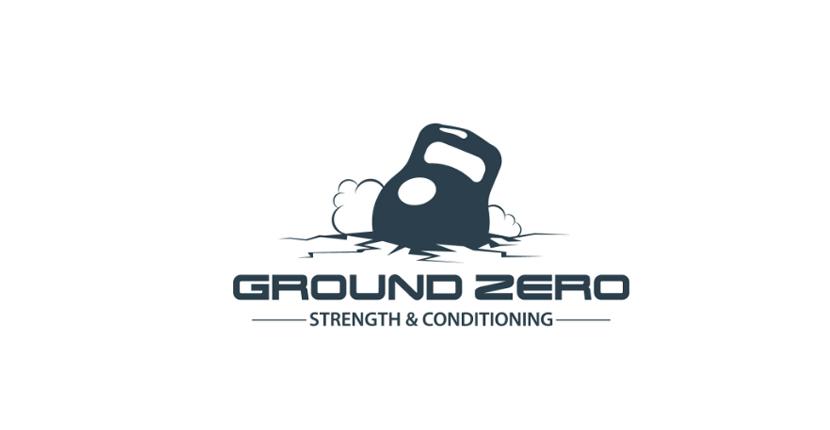 This design for
Ground Zero Strength and Conditioning
conveys a lot with a very basic image. The quaking earth beneath the kettlebell adds a lot of punch to the logo's overall feeling and fits the name of the business quite well.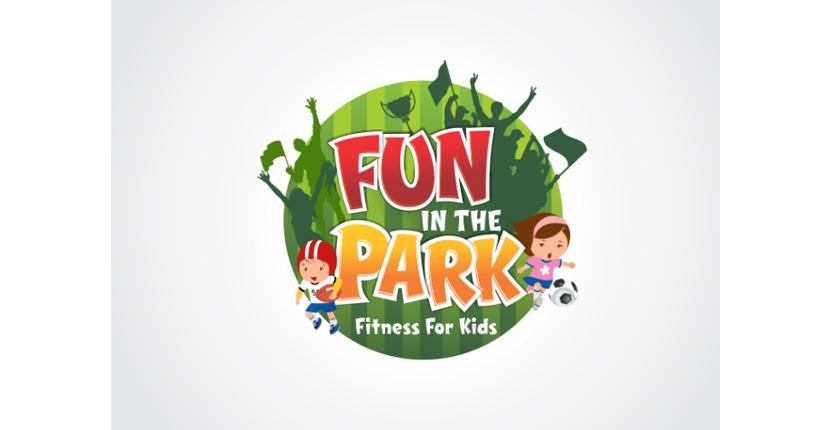 This illustrated logo for
Fun in the Park Fitness for Kids
is colorful and whimsical and is sure to attract its intended audience. It would look great on screen-printed apparel, which is an excellent way to promote a fitness business.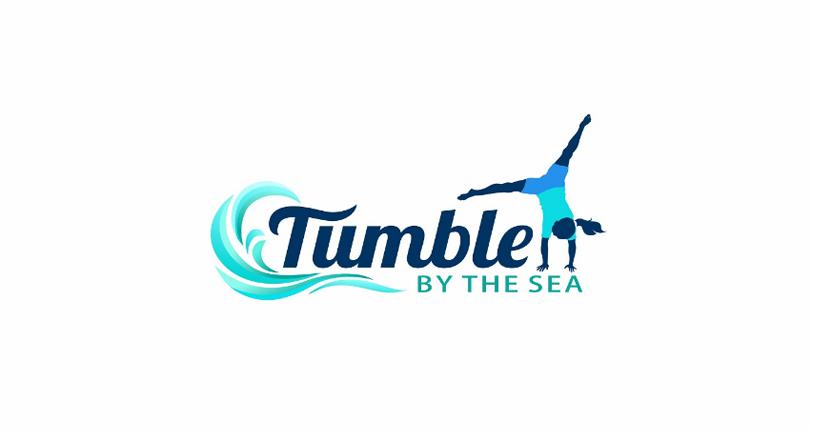 This logo for
Tumble by the Sea
features a color scheme that ties well into its sea-side location. The overall design also provides a sense of direction and movement without taking your eyes off the page. The wave and font carry the eyes over to the tumbler, while the tumbler's legs point back to the wave and logo text.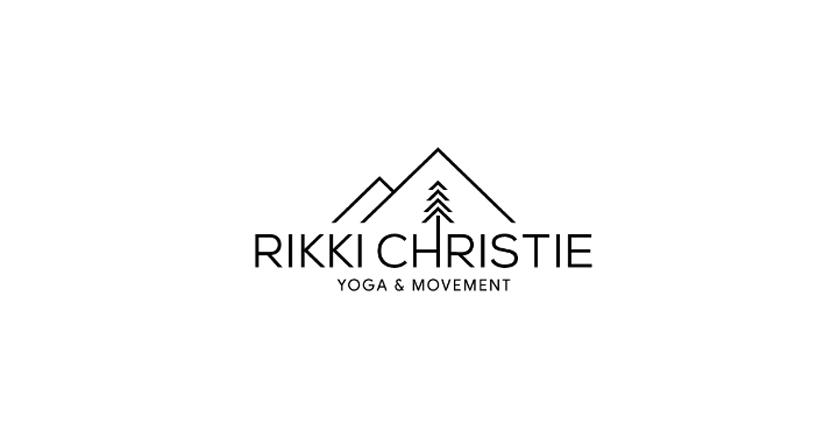 This logo for
Rikki Christie Yoga and Movement
is minimalist and clean, which perfectly represents the simple principles behind yoga. The tree within the "H" ties well into nature and the sky, and the tree pose is also one of the key asanas in yoga practices.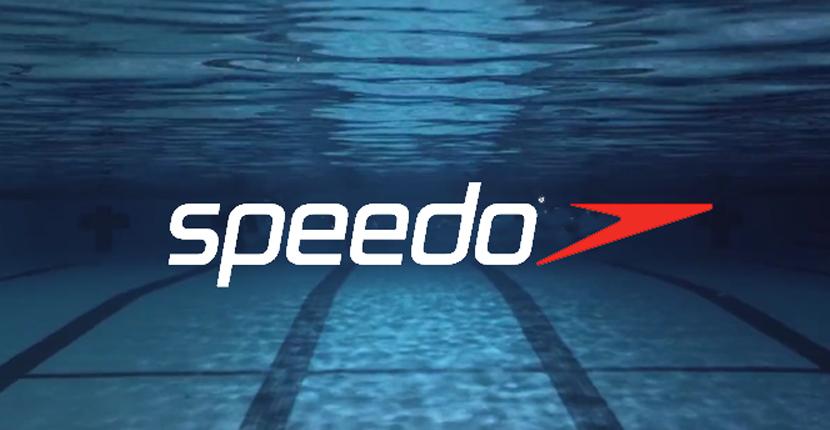 A staple in the competitive swimming world,
Speedo's
logo is another good example of indicating movement without going overboard (pun intended). The logo's simplicity also pulls the focus toward the quality of their product line, which is what many consumers associate with the Speedo brand.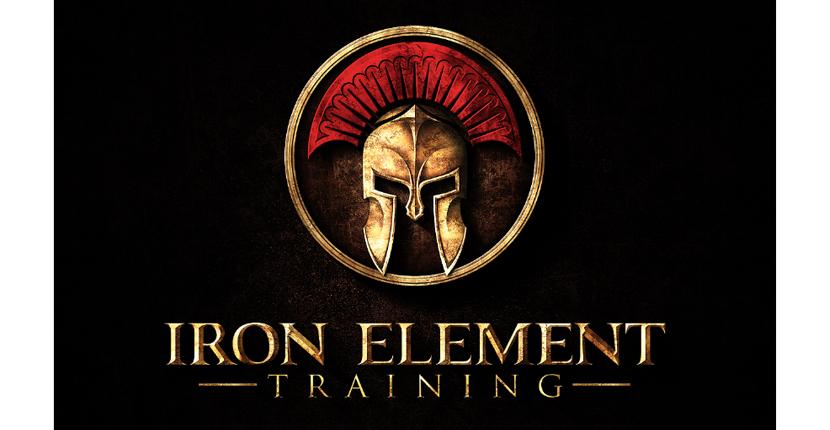 This well-designed logo for
Iron Element Training
embodies grittiness and a warrior-like mindset. Clients would likely expect tough workouts that prepare them for massive feats of athleticism and gaining a tightly-chiseled body.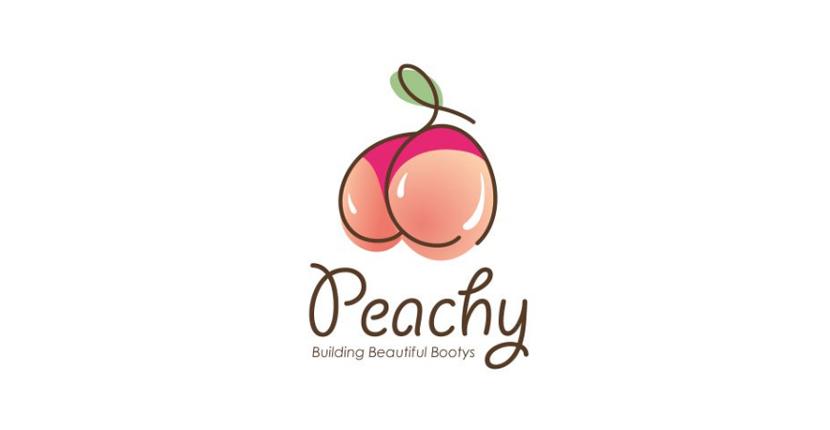 This rather cheeky logo for
Peachy
is fun, curvy, and feminine. The matching curly font and outer stroke of the "peach" illustration tie well into the theme of women's fitness and health, plus the colors are light and refreshing.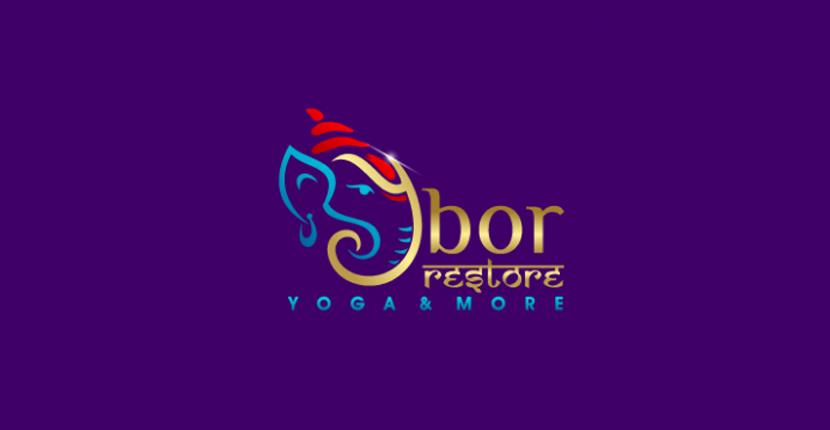 This logo for
Ybor Restore Yoga and More
is very cleverly executed. Incorporating the Y within the elephant's face works very effectively, and the gradient gold text against the purple background gives it a particularly regal feeling. I also appreciate the use of a Hindi font, which ties back into the heart of yoga itself.
*Website Planet is not affiliated with any of the fitness brands above.
Cooling Things Down
As you look back on the logo creation process,
think about how you want to move your brand forward
. Take a deep breath; you know you've got what it takes to say, "my gym logo really rocks." If you remain uncertain, consider asking your esteemed clients about the factors that attracted them to your fitness center. Did they find the logo appealing, the workout routines engaging, the camaraderie with fellow members appealing, or was it a blend of all these elements? Take note of the attire worn by club members, including the colors and patterns on their leggings. Elements that energize them are likely to strike a chord with similar-minded customers. Just like workout regimens that help bodies stay physically fit,
it's also good to keep your creative muscles fresh by keeping a pulse on the latest design trends
. This will help to ensure your branding looks and feels strong well into the future. Once you have a good idea of what you want,
Wix Logo Maker
is an excellent solution if you'd like to design it on your own. If you'd rather leave the design work to the professionals, you can run a contest on
99designs
to get lots of different options to choose from. For even more great logo design solutions, check out our list of
the best logo design services
.