jump down now to find out how you can hire a logo designer for only $5
.
I'll also show you how you can design your own logo for free. But first, let's get inspired by some of my favorite fish logos.
9 Best Fish Logos
The Website Planet Logo Project
My teammate here at Website Planet tested and evaluated over a dozen logo design services, including the big names and the lesser-known platforms, to find our new logo. You can get the full story in his
detailed comparison of the top logo design services
.
Catch a Great Logo Designer for a Great Price
The logos above used different types of fish images and different design concepts to express the unique personality of each business. You might be considering making your own logo to save some money, but unless you have the design skills, there's a better solution. Some logo makers claim to be free, but if you want to use your logo commercially, you have to pay. To my surprise,
I found it cheaper to work with an experienced logo designer on Fiverr
– and you get more professional results, too.
Notable Fiverr Features
Logos for any budget. The cheapest Fiverr "gigs" (projects) really do cost just $5 US.
Tens of thousands of designers. Fiverr is home to logo designers from all over the world, offering a huge variety of design styles.
Direct messaging. You can use Fiverr's free mobile app to exchange messages with your chosen designer.
Escrow-protected Fiverr is completely safe to use. Your payment is securely held in escrow until the job is done.
To learn more about the platform and see logo samples, read our
in-depth Fiverr review
.
How Fiverr Works
Navigating through Fiverr is easy, thanks to an intuitive and user-friendly layout. Just
go to the Fiverr homepage
, hover your mouse over
Graphics & Design
, then select
Logo Design
under
Logo & Brand Identity
.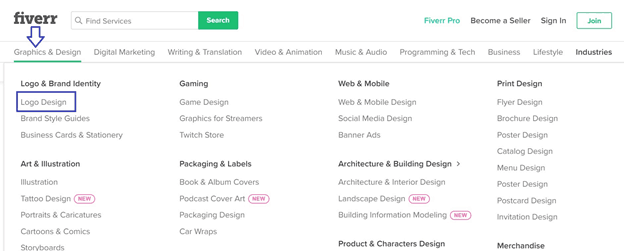 To begin your search for a designer who specialized in fish logos, you can either enter keywords in the search bar (e.g., "minimalist fish logo"), o
r get some help for Fiverr's logo designer search wizard.
The wizard will ask you a few questions about your logo project, and then suggest designers who might be a good match.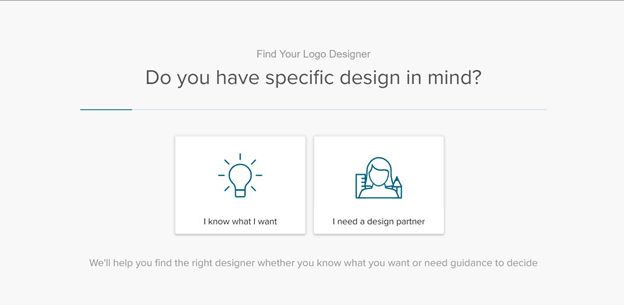 There are plenty of search filters to help you find the designers who best fit your needs. For example, you can specify the type of logo you want (such as a mascot icon), your project deadline, and your price range.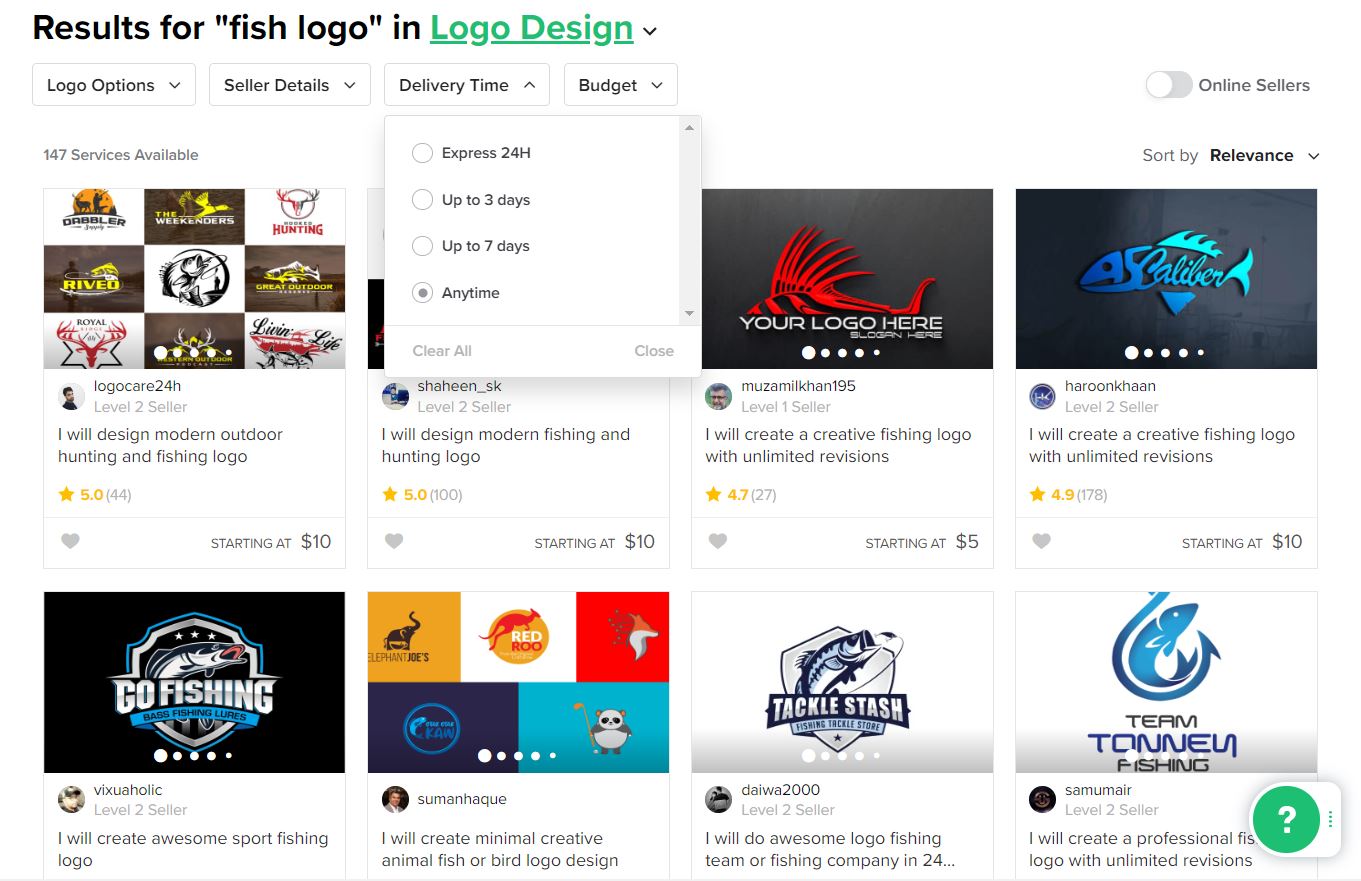 Expert Tip: When evaluating logo designers on Fiverr, make sure to review their portfolios thoroughly, along with their client reviews. If a designer's style doesn't match the look you want for your logo, or past clients have negative things to say about them, keep looking.
How to Make Your Own Fish Logo
If you have an eye for design, you might want to try creating your own logo. Playing around with a free online logo maker can also help you come up with initial ideas, which you can then share with a Fiverr designer. I'll show you how to do it with Wix Logo Maker, my favorite logo design tool. It uses AI (artificial intelligence) to generate custom logo concepts based on the nature of your business and your design preferences. To learn more about how it works, read our
in-depth Wix Logo Maker review
. But before we go any further, an important caution:
while many logo makers are free to use, you do have to pay to actually download and use your logo.
To get started,
go to the Wix Logo Maker homepage
. After you sign up for a free account, the AI wizard will ask you a series of questions about your business and your logo style preferences. Based on your responses, the wizard then shows you possible logo designs. Don't be afraid to reject the first few options and ask for more. Once you choose the suggested logo with the most potential, you'll move to the part of this tool that I like best: the logo editor. Here,
you can customize almost every aspect of the logo design, including the icon, colors, fonts, and layout details.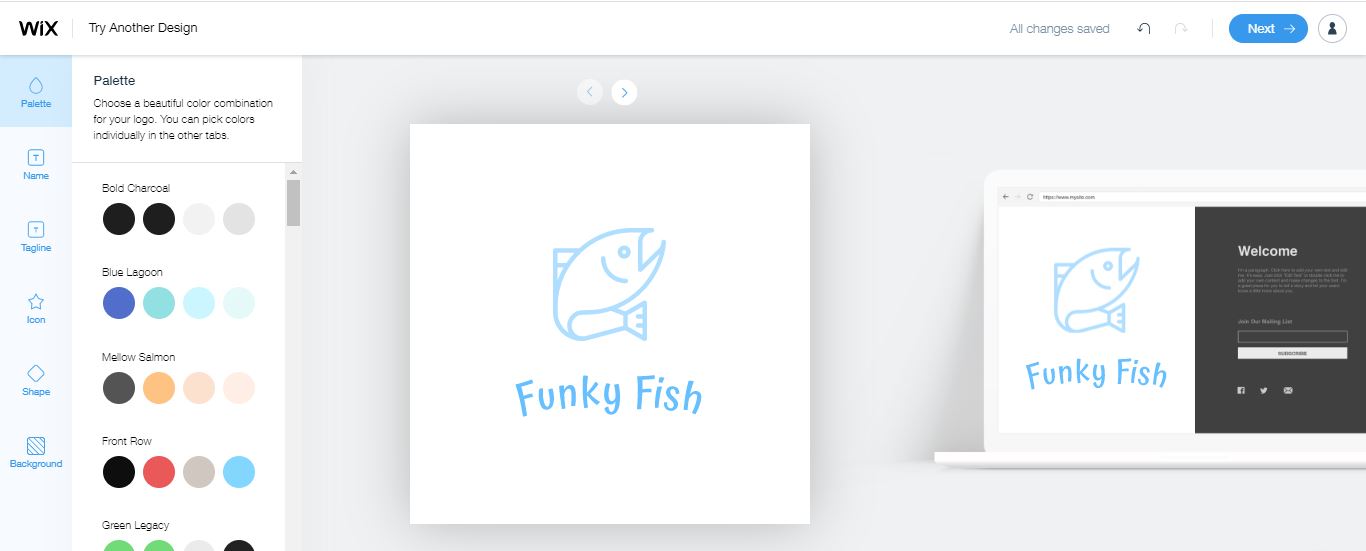 If you end up with a fish logo you love, great – go ahead and pay for it to get high-quality image files and full commercial usage rights. If not, just download the (low-resolution) free preview file. Then seek feedback from your friends and coworkers on how to make it better.
Wix Logo Maker Alternatives
If you don't get the logo of your dreams from Wix Logo Maker, then I suggest checking out these other options:
Tailor Brands also uses AI, and offers especially eye-catching preset color palettes. And you get access to a huge icon library. For more information, read our expert Tailor Brands review.
Looka offers excellent customer service, and its customization options are more limited, the AI has a knack for generating nice-looking logos right from the get-go. See some examples in our in-depth Looka review.
Cast Your Net Wider – Some Final Thoughts
It takes time and a discerning eye for details to find the perfect logo for your company. Whether you opt to engage a designer on Fiverr or experiment with crafting your own logo using Wix Logo Maker, I suggest that you closely examine your preferred fish logos. Learn to identify the specifics that contribute to the excellence of a logo. Not sure if a fish is the right mascot for you? Read our
guide to creating an animal logo
. If you're looking for more logo design ideas, don't miss our
detailed list of the best logo design services
.