If you're a small-business owner, design briefs are requirements you'll have to face eventually. They're an integral part of branding and ensure your unique vision is communicated properly. If you overlook their importance, the results can be disastrous.
A well-constructed design brief can:
save time
save money
help meet deadlines
guarantee a successful final product
Your company has its own tailored personality, and only you know what that is. Your logo and other branding elements must reflect these ideas. The job of a design brief is to capture your vision so designers can work from your perspective. Otherwise, their designs will represent how they interpret your business, with barely any prior knowledge or understanding.
Why Use a Logo Design Brief?
Creating a good logo is essential, but it's also important to keep costs low if you're just starting out. Many of the best logo design services exist online, and they offer professional-looking designs for a reasonable price tag. Popular avenues include:
AI design bots
Templates and editors
Crowdsourced designs
Online design houses
While some of these options require little-to-no information from you, others ask for a more traditional design brief.
Logo Design Contests
Websites like 99designs, HiretheWorld, and crowdSPRING offer a unique branding opportunity. They host logo design contests, which can be entered by anyone in the world. Often, these platforms result in hundreds of design submissions. You choose your favorite and can engage in further discussions with the designer to refine it. If you don't find one you like, you're refunded the full amount.
Private Designers
You can also connect one-on-one with designers online, using platforms like Fiverr or Upwork. This method also uses design briefs, but is more traditional in structure. You post your brief like you would a job ad, including the job requirements and commitment required. Then freelancers can apply for the role and you choose the best one based on their profile and experience.
All of the above options result in a high-quality logo for an affordable price. However, to ensure a design that really speaks to you and your brand, you need to first create a first-rate design brief.
Essential Information to Include
Most websites are similar in their initial design brief process. You sign up to the website, then you'll be presented with a webpage similar to this: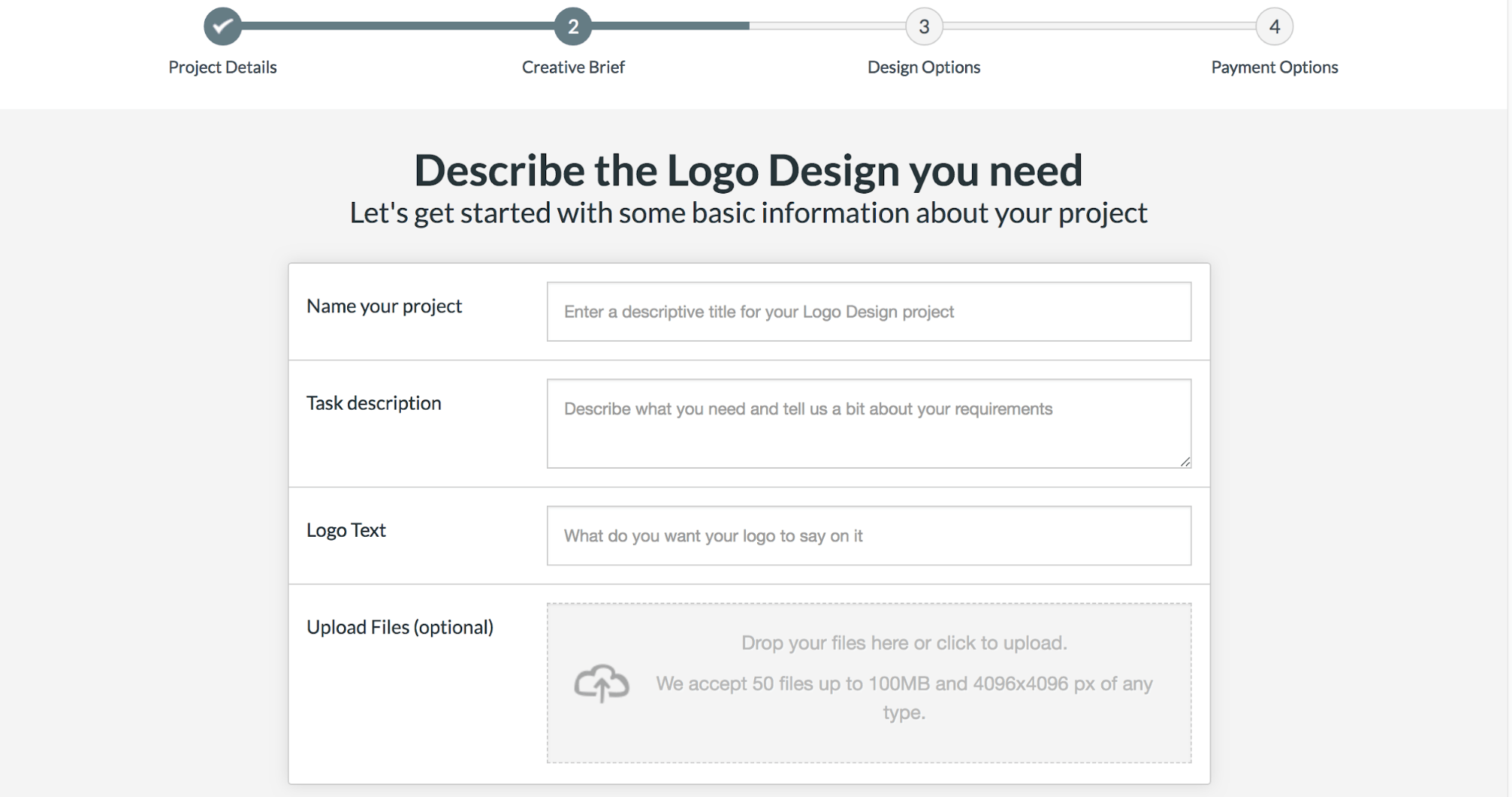 Every website asks for your project name, and the task description. Some will include extra boxes for logo content, or offer additional specifications about logos you like and your brand personality.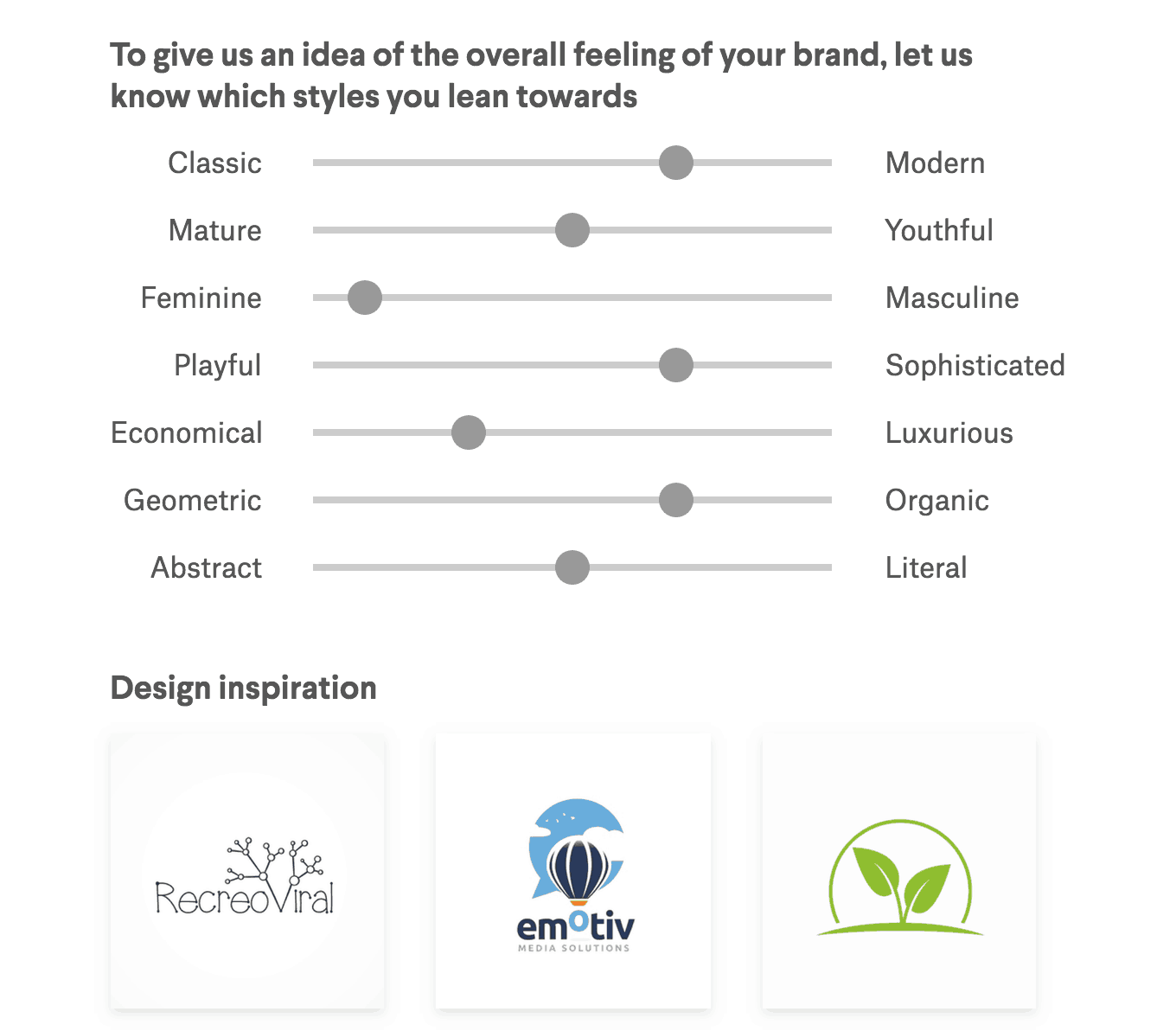 Most of these other fields are pretty self explanatory; the field that requires the most focus is the task brief. This section could make or break your design collaboration, so you need to ensure you've included all the necessary information. Make sure you've included the following:

Background Information
Alongside company name and tagline, offer an insight into who you are as a business. What do you do? Who is your audience? Mention any recent developments or poignant stories. Your goal is to communicate as much of the core essence of your brand as possible. Really try to consider what makes you stand out from the crowd. You can include links to your website or social media webpages, if you think that will help.
Logotype
Three main logotypes exist. Although they are simple, they can drastically affect the image you convey.
An initial logo takes the first letter of your company name and develop the design from there (e.g., McDonalds, Beatz)
A text logo utilizes the whole of your company name in the design, (e.g., Coca Cola, Disney)
An icon logo, probably the most popular of logotypes, uses a picture or abstract image as the basis of the branding, but can also be incorporated with the company name (e.g., Burger King, Wendy's)
Color
Color psychology plays a crucial role in branding. It's well documented that different colors inspire different emotions in people. You may have already done your research and chosen a strict color scheme to which you want to conform. In this case, you should express that directly in your brief. If you're not sure, you can always let the designers choose — after all, they are the professionals! If you choose the latter option, then it's twice as important to explicitly communicate your brand personality.
Specific Iconography
Iconography is a major factor in any logo. If you already have a vision for a specific pictorial, then be sure to mention it. For example, at Website Planet, there's a picture of a planet because it communicates the brand in a second. However, other designs opt for more abstract images. A good example is the famous Nike tick. Even if you don't have a clear icon vision, it helps to specify which type you'd prefer.
Style
Just as in any other industry, logo trends exist. While you don't want your icon to be the same as everyone else's, these patterns are great points of reference in a design brief. You could specify that you want a vintage design, or opt for a modern and sleek finish; you could ask for bold and impacting, or sleek and elegant. If you can give specific pointers, you're more likely to end up with a successful finished product.
Top Tips for the Best Results
After completing a design contest, I quickly realized that internal factors influenced the overall success significantly. By browsing through other examples on the website, it became clear that certain tactics achieve better outcomes than others.
1. Discuss Company Personality
I've already briefly touched on brand personality, but it's essential to reiterate its importance. Before you start, note down some buzzwords that you feel describe your business well. You may see yourself as bold and groundbreaking, or trustworthy and secure. Perhaps there's a flirtatious element to the content, or a strictly professional tone.
Below is a particularly successful example of communicating your company personality.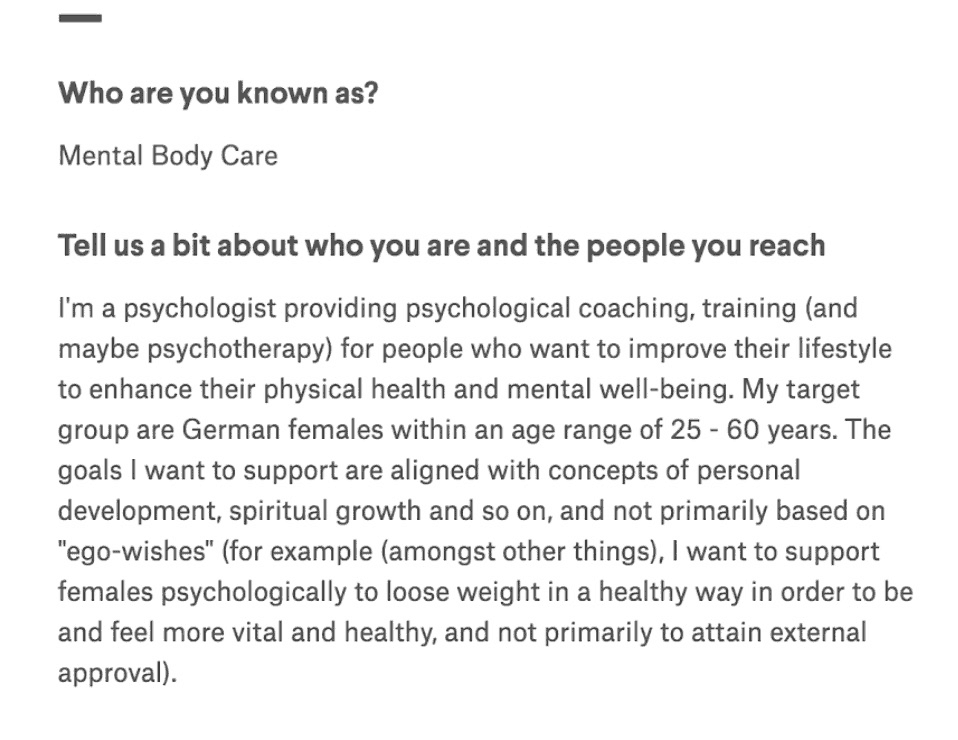 The owner of Mental Body Care was extremely thorough in describing her background, her business aims, the people she wants to connect with, and the overall feel of her company. She successfully used branding buzzwords, such as "wellbeing," "spiritual growth" and "vital and healthy." Without any specific aesthetic preferences, it's already easy to visualize her brand; unsurprisingly, the contest entries all pertained to a similar theme.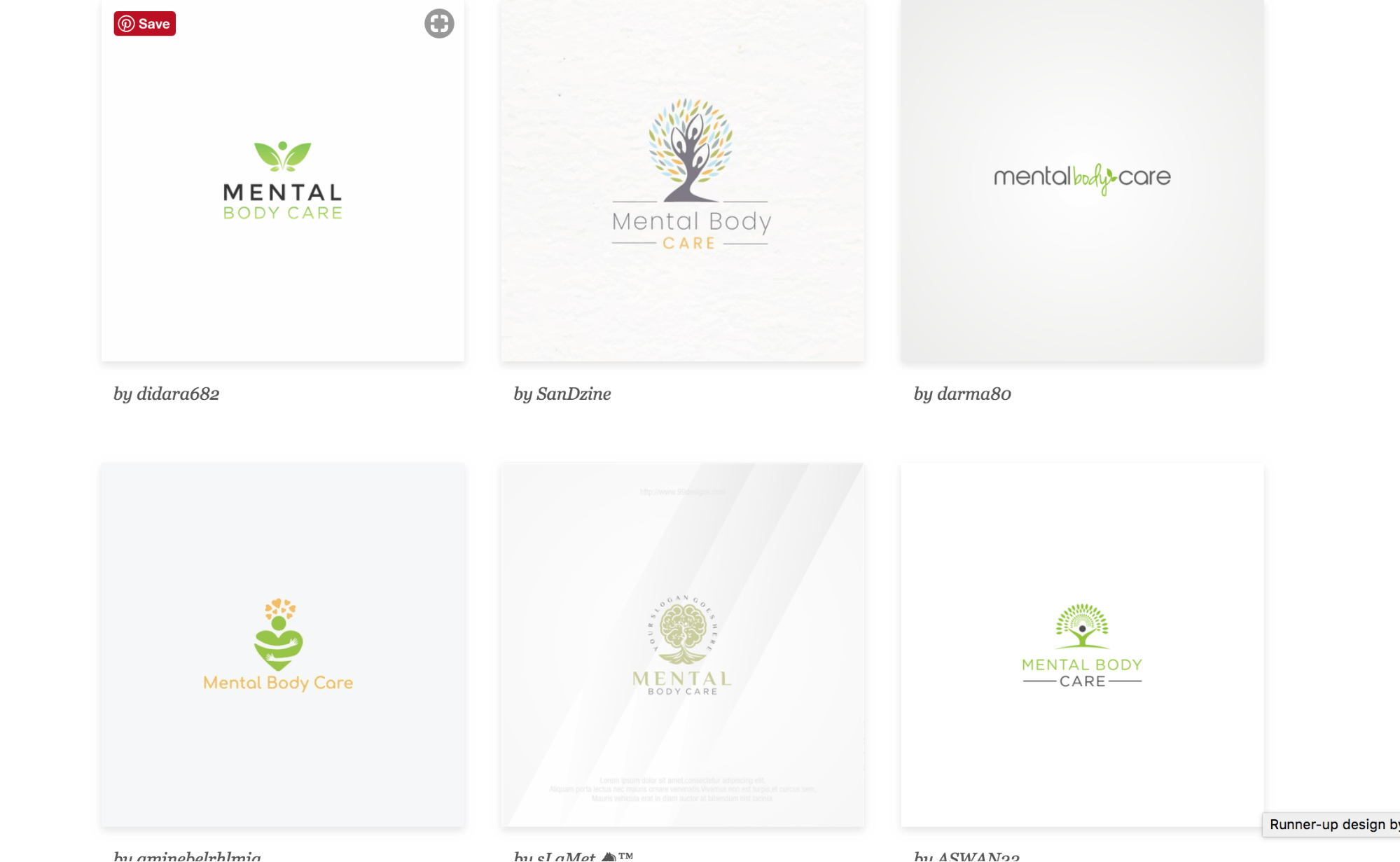 2. Have a Strong Idea Already
Another successful strategy is from business owners who already have a clear visualization of what they want. The following brief came from a boat owner who was looking for a logo to put on the side of the vehicle. Although the owner gave no description of his or her company or business personality, the end result was a success because of the clear instructions for the image.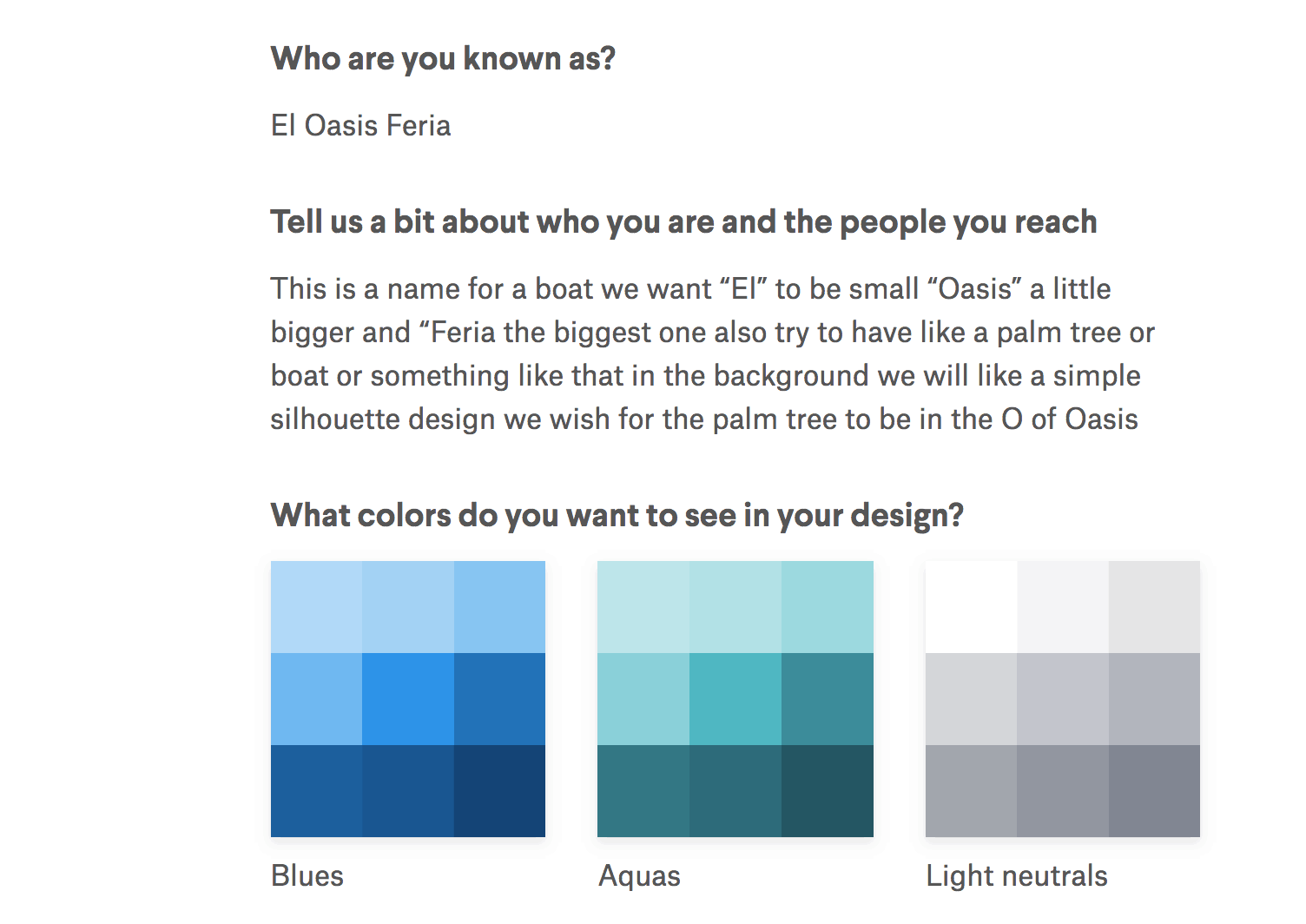 The logo design contest was entered by only three designers (often there's over one hundred), but the owner was still happy with the results. The success was possible, as the owner had given good, concise directions that communicated a clear vision. Here's the finished product:

3. Other Tips
Make comments on how you want to work. For example, you may need a fast turnaround, or prefer to go back and forth with designers. You can even notate the amount of revisions you're predicting. Some platforms offer settings for these specifications. For example, on 99designs, you can fasttrack the contest.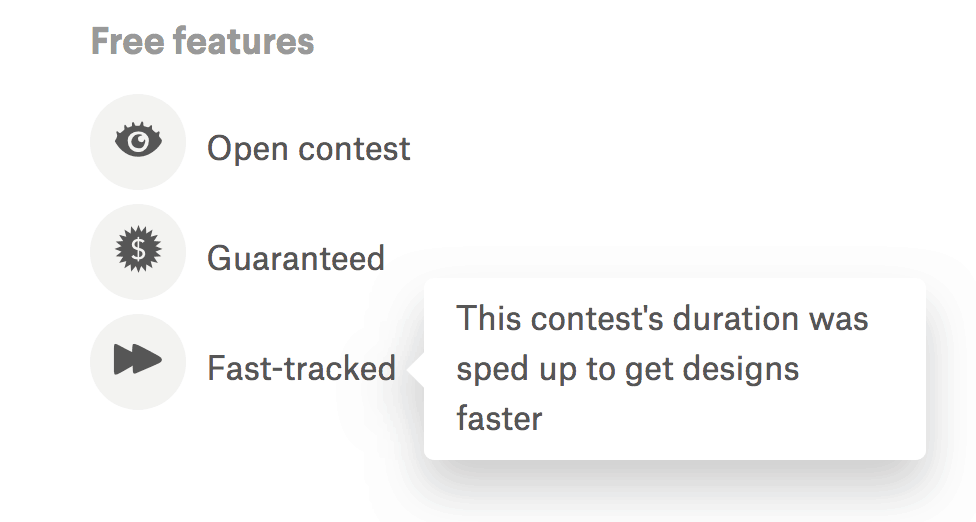 However, if there isn't an option, then it really helps to mention it in the design brief.
Consider the amount of options you're going to receive. If it's over one hundred, you may want to be vaguer in your specifications so you see a greater range of options. However, if you're only going to be able to choose from two or three options, you need to be specific about what you want.
Get High-Quality Results with a Top Design Brief
Design briefs may seem simple; perhaps you've never given them any thought. However, they are an essential part of any business, and critical to your success. Dedicating the time to crafting the perfect outline will not only guarantee high-quality results, but can also help you finalize the vision for your brand personality. Your company is always in development, so any task that helps you conceptualize your ideas is infinitely beneficial.
Use these tips to create a top-quality design brief, so you can present your customers with a professional logo that really communicates your concept. You can also utilize this format for any other branding elements that you need designed!