Nearly since its inception, Facebook has been a leading player in the social media scene. Now, with their impressive 2.27 billion monthly active followers, they're the largest social media platform by a wide margin. When you take this into account with their in-depth targeting functionality, it makes perfect sense that advertisements on this massive platform also receive the highest return on investment (ROI) for marketers.
Due to the success of ads on this platform, Facebook generated $40.65 billion—primarily in ad revenue—during the year 2017 alone. So if you're wondering if Facebook ads are effective, the answer is a resounding yes.
That said, there are a couple things you should take into consideration before placing an ad on any platform, such as how your target audience overlaps with the demographics of the platform, and the potential benefits of splitting your budget between platforms versus investing all in one place. Once you know these basics, you'll be much better suited to place effective ads on Facebook, or anywhere else you may decide.
Who Uses Facebook?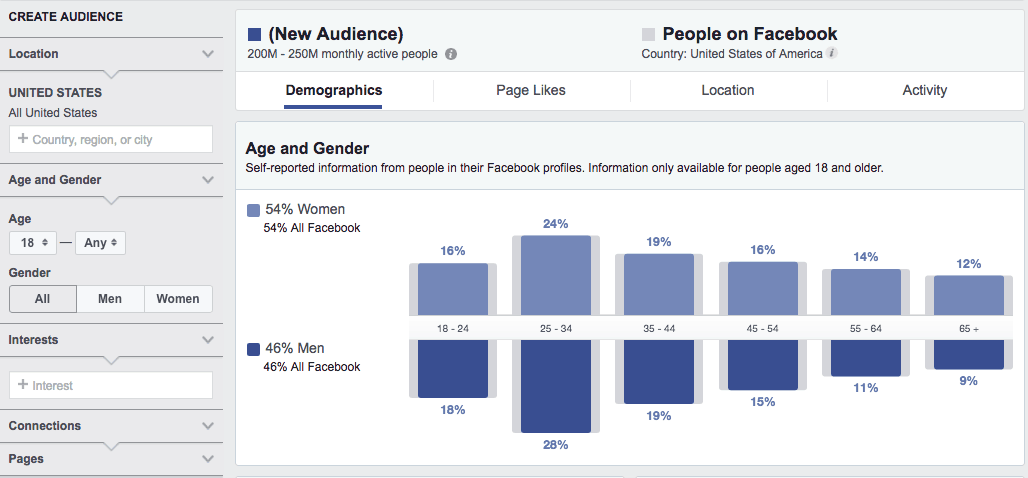 The first step to figuring out how effective your ad campaign would be on Facebook is to determine who exactly is using the platform, and whether or not they match your target audience. Depending on the size and offerings of your company, you may want to segment your audience and use Facebook ads to target specific groups, but not others.
When it comes to Facebook, the demographics breakdown as follows:
Facebook's users are international, as the platform is currently used by 22.9% of the entire global population; the top five markets are India, the U.S., Indonesia, Brazil, and Mexico
All age groups are represented, as the platform is currently utilized by 68% of all American adults; the majority of Facebook users (58%) are Millennials (aged 18 to 34); 36% are over 35 years old, while only 7% are between 13 and 17; 10% of global users are above 55 years of age, and the number of older users is continually rising year over year
Men are the majority users of Facebook globally, as 57% identify as male and 43% as female; however, within the U.S., females are the predominant sex on the platform
More than half of users (1.5 billion) log in daily, which accounts for 66% of all monthly active users across the globe
There is a wide range of socioeconomic levels represented: of all Americans that earn between $70,000 and $80,000 per year, 88% have a presence on Facebook, and 85% of those earning under $30,000 per year are also on the platform
Reach the People You Want, for Less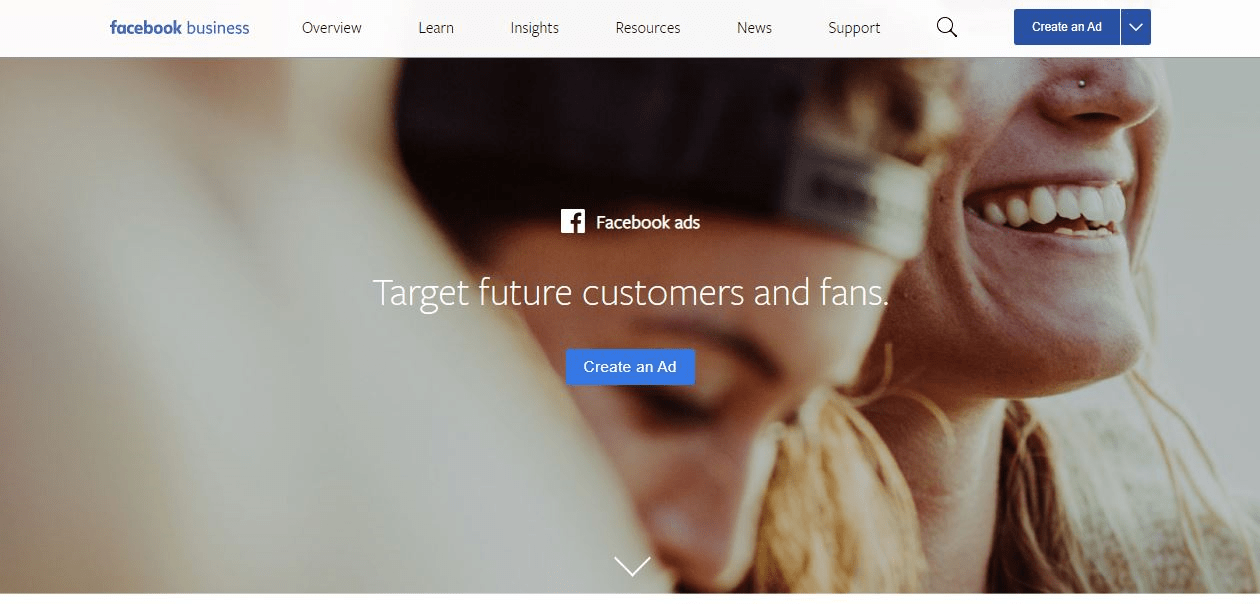 Reach Any Audience, Near or Far 
A major advantage that makes advertising on Facebook so effective is the platform's wide reach and opportunity for impressions across nearly every demographic. Read more about how to calculate these important metrics. Whether your target audience is predominantly male or female, young or old, rich or poor, rural or metropolitan, liberal or conservative, chances are that they're on this platform.
Facebook's widespread use around the globe makes advertising on their platform particularly attractive, especially when trying to penetrate new markets. And, for those only marketing within the U.S., this platform is still an excellent option, as 42% of all social media visits within this valuable market are to Facebook.
Increase Efficacy with Sophisticated Algorithms 
When using Facebook ads, in addition to telling you how broad or narrow your audience is, the platform will also give you advice on how to improve your ad's performance. Facebook's "Lookalike Audiences" function ensures that your ads are as effective as possible by allowing you to easily reach users with similar attributes to those who have interacted with your business in the past; this tool uses Facebook's algorithm to help you reach new potential customers who are more likely to be interested in your message.
More Cost Effective than Other Platforms
While Facebook is unsurpassed in terms of size—with over a billion more users than Instagram—it's still one of the cheaper places to advertise. In fact, Facebook is generally considered to be the best platform to invest your advertising dollars in terms of ROI. And in terms of cost per click (CPC), Facebook is less expensive than any other major platform, at an average of $0.51. Twitter is close behind at $0.53, whereas Instagram is more than double at $1.28 per click.
Testing the Effectiveness of Your Ad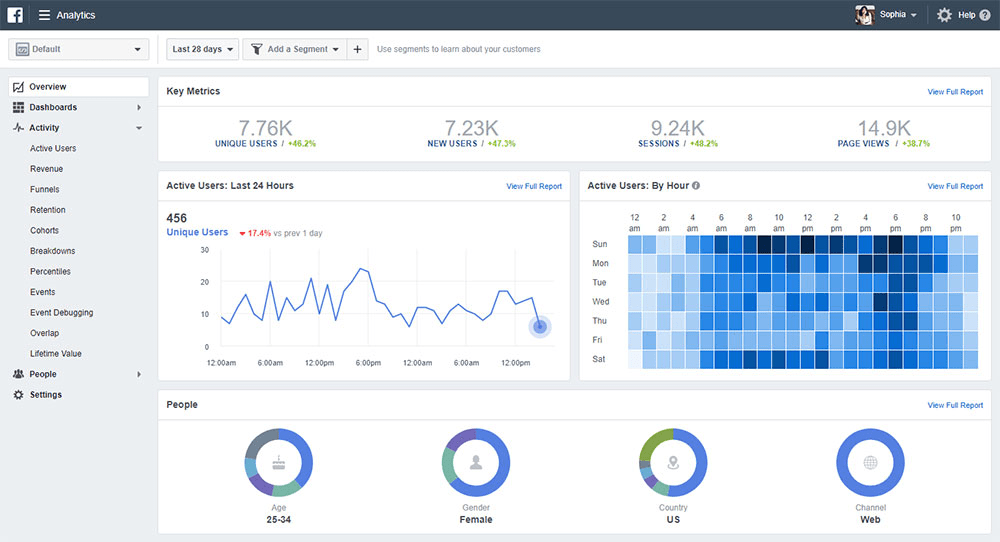 In May 2018, Facebook introduced a new analytics tool designed specifically to track the success—or failure—of an ad campaign. This new addition will track users across all Facebook channels, including mobile, desktop, Messenger, and more. It's available both through a mobile app as well as a desktop login portal.
This tool is capable of tracking both organic and paid marketing, in order to give you a full picture as to where your traffic is coming from, so you know exactly where you should be investing your resources. The best part about this new analytics tool is that it's absolutely free, giving Facebook marketers a fantastic advantage in tracking the effectiveness of a campaign using a variety of metrics.
While Facebook Analytics is an excellent way to test and optimize your campaigns, some marketers require tools with more functionality that are also capable of testing across multiple platforms simultaneously. This is why the use of social media management tools has become so prevalent among serious social media marketers.
Tools such as Hootsuite and Sprout Social can track a campaign across all major social media channels, simplify A/B testing, schedule posts, and are all-around excellent for creating effective campaigns. You can learn more about these tools from reading our expert reviews of Hootsuite  and Sprout Social . Both tools also offer free trial periods, allowing you to take a test run before committing any resources—try either Sprout Social or Hootsuite for one month absolutely free!
Creating Powerful Facebook Ads
If you are looking to improve your Facebook ad conversion rates, it pays to be informed. And while Facebook is an excellent platform for distributing your brand's message, if not used properly your ads will be ineffective at best, and harm the reputation of your brand at worst.
Keep the following in mind when running your Facebook ad campaigns:
Know Your Target Audience: Facebook ads allow you to target specific market  segments using their specialized algorithm; by knowing exactly who you want your message to reach you can make the most out of the tools Facebook ads provide
Choose the Right Objective: One of the first choices you'll be given when starting a campaign on Facebook is your ad's objective; including several options such as brand awareness, reach, video views, app installs, store visits, traffic, etc. Different objectives come with different bidding and optimization options, so choosing correctly is vital to maximizing your campaign's effectiveness
A/B Test Your Ads: It's always a good idea to run slightly different versions to see which elements are the most effective; try using different fonts, copy, images, or CTAs, while keeping everything else the same in order to see which variables work the best to increase your engagement rates
Through following the above steps, as well as putting in plenty of time, effort, and the necessary testing, you'll come up with a campaign that will maximize this unrivaled platform for engaging audiences.
---
Sources
https ://www.bigcommerce.com/blog/social-media-advertising/#the-6-best-social-networks-for-ecommerce-advertising https://www.statista.com/statistics/264810/number-of-monthly-active-facebook-users-worldwide/
https ://www.statista.com/statistics/346167/facebook-global-dau/
https ://www.statista.com/statistics/268136/top-15-countries-based-on-number-of-facebook-users/
http ://www.pewinternet.org/2018/05/31/teens-social-media-technology-2018/
https ://www.statista.com/statistics/376128/facebook-global-user-age-distribution/
http ://www.pewinternet.org/2018/03/01/social-media-use-in-2018/
https ://www.statista.com/statistics/246222/share-of-us-internet-users-who-use-facebook-by-household-income/
https ://www.falcon.io/insights-hub/topics/social-media-roi/how-much-do-ads-cost-on-facebook-instagram-twitter-and-linkedin-in-2018/
https ://sproutsocial.com/insights/facebook-advertising-strategy/
https ://www.facebook.com/business/help/164749007013531?helpref=page_content
https ://adespresso.com/guides/facebook-ads-optimization/campaign-objective/
Image Credits
https ://unsplash.com/photos/r02wxT3-PYw
https ://blog-assets.hootsuite.com/wp-content/uploads/2018/07/fb2.png
https ://www.facebook.com/business/ads?ref=ens_rdr (Screenshot)
https ://bebright.co/wp-content/uploads/2018/02/facebook-analytics-default.jpg