Online website security is one of the most important issues for businesses as online search becomes the main way to connect with consumers. Unfortunately, keeping your website secure online isn't always the easiest of tasks.
There are many different tools you can use and precautions you can take, and at least once every few years you're still bound to run in to some sort of spam issue or security problem. Regardless, it's still important to take every measure you can, and utilizing CAPTCHAs is one of the most popular.
As with all things online, however, CAPTCHAs have both positive and negative points, and as with all things online, SEO factors need to play a big role in your decision to use any given tool.
You have to ask yourself: Even though a CAPTCHA is sometimes great for website security, is it going to hurt my SEO?
How a CAPTCHA Works for Website Security
For those who are unfamiliar, a CAPTCHA stands for "completely automated public turing test to tell computers and humans apart." Most people don't know what it stands for, and to be honest, it isn't important.
All you need to know is that a CAPTCHA is a small little code that humans have to type in so that the website can determine if it is actually a human trying to access a particular aspect of your site. Below is a screenshot of a common CAPTCHA: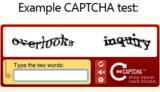 Of course, there are many different looking CAPTCHAs, some more complicated and fancy than others. You might recognize one of the following: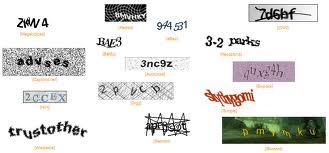 All of these little images are CAPTCHAs. If you don't type in the correct code, you get a few chances before the website will not let you entire the page you're searching for. It's an easy way for a website to monitor whether or not you're a real person.
If you're a robot, that means you're trying to spam or hack the website. Not allowed thanks to the CAPTCHA.
The Negative SEO Effects of a CAPTCHA
While the idea is definitely there, many are starting to question the CAPTCHA as it becomes more and more evolved for a few different reasons:
Conversion Rate Drops. This is the biggest and most important negative effect to recognize. Conversion rates can drop because of the use of a CAPTCHA. The Moz Blog highlighted one of the most popular studies completed was by Casey Henry who found that with the CAPTCHA turned off, a company's conversion rate would increase by up to 3.2 percent.
Annoying to Customers. Plain and simple, they can be annoying. Consumers are now used to the little codes, but if someone cannot figure out what the code is saying, it's annoying. After a few tries, you could easily lose that customer.
Tough for Those With Sight Disabilities. While all CAPTCHAs have some sort of audio option for those who are blind or have a sight disability, it isn't always clear. If someone cannot understand what the audio is saying, there really is no way around it.
Turning Into Advertising. This problem isn't seen on too many websites just yet, but some are beginning to ask users to watch a short video (advertisement) before answering a question or translating the random assorted letters.
So what are the positives?
As discussed above, CAPTCHAs exist to protect your site, and they do this by helping your website differentiate between humans and robots. It works, and this is a huge positive. It's up to you whether you think this benefit outweighs the negatives.
The SEO Effects of a CAPTCHA and Another Option
If your conversion rate is down, you are not going to find yourself with as much visibility on a Google SERP as you could. You want to become an authority in your niche, but that isn't easy to do if you're going to slowly lose customers. Read The Moz Blog here for statistics associated with some of the points above.
Hint: Only 71 percent of the time will 3 users agree on the translation of a CAPTCHA.
If you want the best of both worlds, there are other options that offer the same protection a CAPTCHA offers, such as Akismet (the most popular).
What are your thoughts on using CAPTCHAs for website security? Have you found them to be helpful, or do more harm than good? Let us know your experience and your thoughts in the comments below.